Famous Brands Ltd (JSE: FBR) is Africa's leading quick-service and casual dining restaurant franchisor operating franchised, master license and Company-owned restaurants. They have a vertically integrated business model and supply chain consisting of Manufacturing, Logistics and Retail operations.
The Company recently reported some preliminary earnings: Famous Brands flags earnings rise despite load-shedding worries (The fast-food group says SA's weak economy and increased power cuts have dimmed growth prospects across its entire value chain). In addition: Famous Brands says earnings could jump almost half after lifting of Covid-19 restrictions
OVERVIEW:
Famous Brands listed in 1994 with one brand and a limited supply chain. Today the enterprise consists of, among others, 2,824 restaurants and about 3,968 employees in three geographic regions. South African and selected African market brands are supported from South Africa by the Company's Manufacturing, Logistics and Retail operations. To service these markets, they have a fleet of trucks and 10 manufacturing facilities.
Famous Brands boasts an extensive, vertically integrated business model comprising Brands, Manufacturing and Logistics. The portfolio comprises Leading (mainstream) brands, Signature (niche) brands, Retail brands, Other brands, and associate companies.The Leading brands portfolio is segmented into Quick Service and Casual Dining brands:

Our Leading Quick Service brands are those that prioritise take away and delivery offerings. While these restaurants offer limited sit-down options, there focus is on quick service. The portfolio offers a wide range of menu options including burgers, pizza, chicken, fish and desserts.
Our Leading Casual Dining restaurants brands are those that offer patrons a full-service, sit-down experience. The menu offering consists of casual breakfasts, light meals and evening dining.

Several of our Signature brands are JV partnerships with the founders of the respective brands.
1 YEAR CHART:
LONG TERM CHART: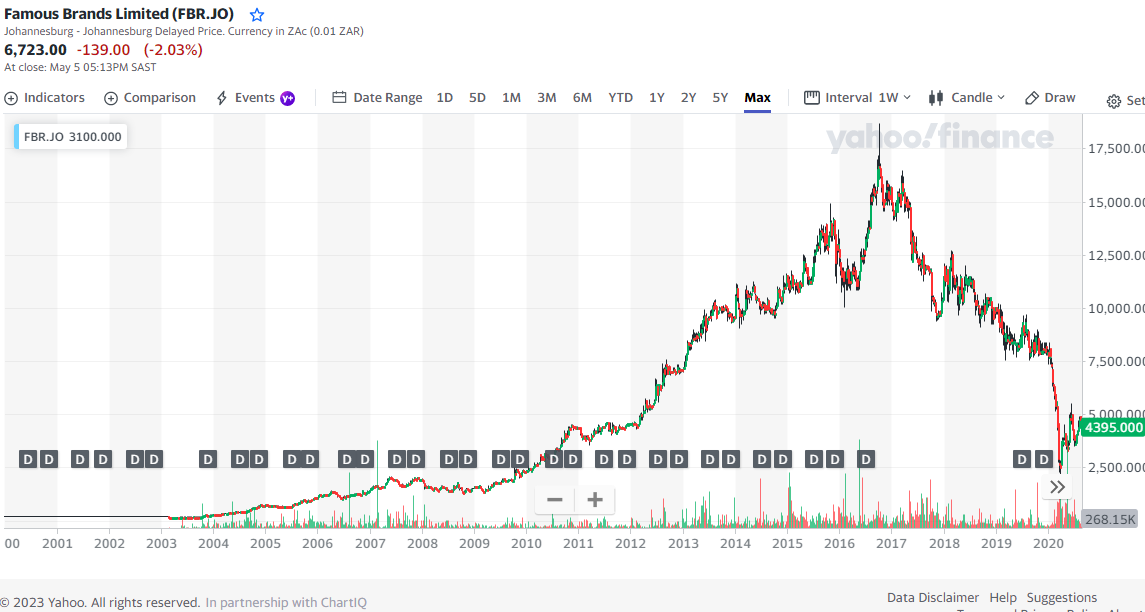 ADDITIONAL RESOURCES:
Disclaimer. The information and views contained on this website and newsletter is provided for informational purposes only and does not constitute investment advice and/or a recommendation. Your use of any content is entirely at your own risk and it is your sole responsibility to evaluate the accuracy, completeness and usefulness of the content. Seek a duly licensed professional for any investment advice. I may have positions in the investments covered. This is not a recommendation to buy or sell any investment mentioned.
Similar Posts: