Silicon Valley and China based ACM Research (NASDAQ: ACMR) is a leading supplier of wafer processing solutions for semiconductor and advanced wafer-level packaging (WLP) applications. A May 16th Nikkei Asia and FT article noted the Company switched its accounting work to Armanino in San Ramon, California, from BDO China Shu Lun Pan in Shenzhen, which had served the chip material supplier since 2015. The company said it made the move so it would "no longer be subject to the related delisting guidelines of the HFCAA."
However, ACM Research is still heavily dependent on China for revenues and could still be caught in the middle of the US-China chip conflict.
OVERVIEW:
Founded in 1998 in Silicon Valley by U.S. citizen David Wang (went public on the NASDAQ in 2017), ACM Research develops wet processing technology and products for the semiconductor industry. The company has produced equipment for a range of applications in IC manufacturing and wafer level packaging — with a special focus on cleaning technologies for advanced semiconductor devices.
In September 2006, ACM expanded its operations into Asia and formed the subsidiary, ACM Research (Shanghai), Inc. ACM now has complete R&D, engineering and manufacturing operations at its Zhangjiang High-Tech Park facility in Shanghai, China. In June 2011, the company formed a second subsidiary, ACM Research (Wuxi), Inc., to better serve to customers in that region. In addition, advanced service coverage has also been positioned at strategic locations around the globe, including Beijing, Taiwan, Korea, and the U.S., to provide world-class support for customers worldwide.
RECENT FINANCIALS / NEWS:
ACM Research Reports First Quarter 2023 Results May 2023

Revenue was $74.3 million, up 76.0%, reflecting continued share gains by our flagship cleaning products and incremental contribution from ECP, Furnace and other technologies, and Advanced packaging, services and spares.
Net income attributable to ACM Research, Inc. was $7.1 million, compared to a net loss of $5.8 million.
Cash and cash equivalents were $260.4 million at March 31, 2023, versus $248.0 million at December 31, 2022.
ACM's President and Chief Executive Officer, Dr. David Wang: "We delivered 76% revenue growth and good profitability. Our team executed well through the relaxed COVID policy, initial impacts from the U.S. advanced node export restrictions, and the Chinese New Year holiday. Our results demonstrate the positive trajectory of ACM's multi-product portfolio strategy. We had good growth from cleaning and increased contribution from our ECP, furnace, and other technologies. I am also pleased with our technical progress and growing customer interest in our new Track and PECVD platforms."
"We are moving forward with our global expansion efforts. We purchased land in South Korea, to serve as a site for a new R&D and production facility, in an effort to further leverage local expertise in the close proximity to large potential customers. The evaluation of two cleaning tools at the U.S. facility of a major U.S.-based semiconductor manufacturer is going well, and we recently leased a facility in Oregon to add to our services and demonstration capabilities in the region. We are excited to begin initial production at our new facility in Lingang, Shanghai in the second half of 2023."
"As we look to the rest of 2023, we expect growth to continue driven by new products, mature node investments in China, and initial contribution from certain international customers."
ACM Research: Risky And Potentially Rewarding At The Same Time (NASDAQ:ACMR) (Seeking Alpha) March 2023

The stock has rallied for months, but the charts suggest the stock is close to breaking the trendline that has kept the rally going.
There are several reasons why long ACMR looks appealing, which include low valuations and double-digit growth in a tough environment.
ACMR is a risky stock due to its exposure to China, which makes the stock prone to selloffs, often triggered by the U.S. government.
Long ACMR could be a winner, but people will have to accept the risk that comes with betting on ACMR.
KEY RATIOS:
1 YEAR CHART:
LONG TERM CHART: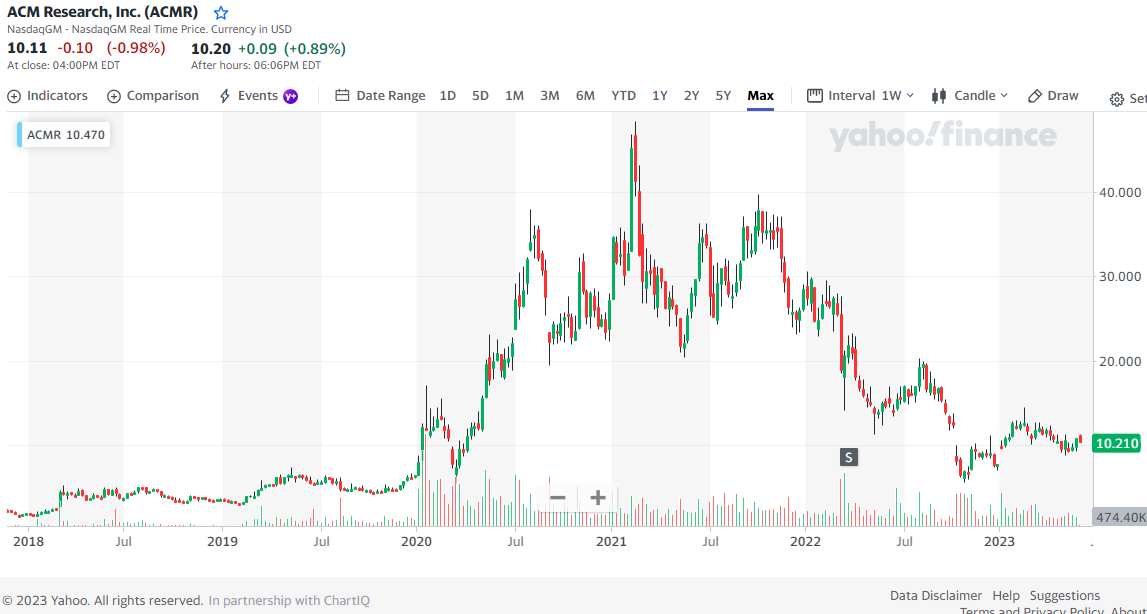 ADDITIONAL RESOURCES: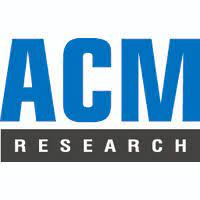 Disclaimer. The information and views contained on this website and newsletter is provided for informational purposes only and does not constitute investment advice and/or a recommendation. Your use of any content is entirely at your own risk and it is your sole responsibility to evaluate the accuracy, completeness and usefulness of the content. Seek a duly licensed professional for any investment advice. I may have positions in the investments covered. This is not a recommendation to buy or sell any investment mentioned.
Similar Posts: