Emerging market fund stock picks for China, Korea, Taiwan and Latin America along with other emerging markets are in focus this week. One thing that stands out: Many Asian stock picks are clearly off their COVID lows or bottoms and some have had some good recent performance runs or recoveries. But when you extend their charts out 5-10+ years, many remain far below previous levels or all time highs.
Of course, this does not take into account valuations, earnings, etc. both in the past and right now. But it is clear that outside of India, most Asian stock valuations are on the low side (compared to their USA, etc. peers) and still have room to grow.
However, one Southeast Asia focused fund has expressed frustration with the fact that international investors are still completely ignoring a region with growing economies and growing corporate profits. With little competition from other investors, the Fund says they were able to make money this year – despite the region being out-of-favor.
From the responses they have received from would-be international investors, the Fund's managers have come to believe the vast majority of the investing world equates liquidity with value. In their experience investing in SE Asia, the opposite is the case.
Meanwhile and in the semiconductor, tech hardware, etc. space, one fund has observed how inventory levels have come off gradually and are expected to reach reasonable levels sometime in the second half. This should help cushion the blow from any US or global recession or slowdown. Likewise, they mentioned a couple of tech areas that could see some coming growth.
Some stock pick highlights in this post includes:
An Asian lifestyle products retailer and brand who, despite being a copycat, is rapidly growing and is arguably doing better than the brands and retailers it copied.
A couple of Korean stock picks benefiting from the easing of auto supply chain bottlenecks.
Several Taiwanese stock picks who operate in the vast semiconductor, tech hardware, etc. space and are often overshadowed by a certain chip maker everyone always talks about. Some of these stocks have already made strong share price moves when the hype started about hot areas such as 5G, AI, and/or EVs.
A casino operator who's shares may have bottomed as they wait for tourists and (more importantly) the VIPs to return.
An Asian steel stock who is also involved in offshore wind power generation projects.
A SE Asian bank stock pick that is conservatively managed and well positioned to ride out recent political and currency turbulence.
An Indian manufacturer with a strong balance sheet who is moving up the value chain into finished consumer household products.
A beaten down vertically integrated Latin American aluminum stock pick along with a better performing oil stock focused on the redevelopment of mature oil fields along with new exploration.
A South American water and wastewater utility stock pick that also has renewable energy capabilities.
A Mexican liquor stock (who's name is almost synonymous with their major product…) that is well positioned for global growth and higher margins/profits as cost pressures ease.
Finally, I have moved the paywall down a bit so non-paying subscribers can get a feel for these posts…
---
Disclaimer. The information and views contained on this website and newsletter is provided for informational purposes only and does not constitute investment advice and/or a recommendation. Your use of any content is entirely at your own risk and it is your sole responsibility to evaluate the accuracy, completeness and usefulness of the content. Seek a duly licensed professional for any investment advice. I may have positions in the investments covered. This is not a recommendation to buy or sell any investment mentioned.
For a further disclaimer and an explanation of the reasoning behind these posts: DISCLAIMER: EM Fund Stock Picks & Country Commentaries Posts.
Note: Where possible, company links are to their respective investor relations or corporate pages. Region and country links are to our ADR or ETF pages where there are further country specific resources (e.g. links to local stock markets and media websites). Please report any bad links in the comments section.
---
The latest fund documentation and commentary for The China Fund, Inc (NYSE: CHN) are for February when Shenzhen New Industries Biomedical Engineering (SHE: 300832) was finishing another strong performance.
Founded in December 1995 and located in the National Biological Industry Park (Shenzhen), Snibe is a bio-medical company specialized in clinical laboratory instruments and in vitro diagnostic reagents (a full product list is here). As this 720 degree view presentation shows, it's definitely not a Wuhan bat lab:
However, the indicated P/E of around 35.09 appears rich when compared to other Asian stock picking opportunities out there while all the charts available go back to roughly the start of the pandemic: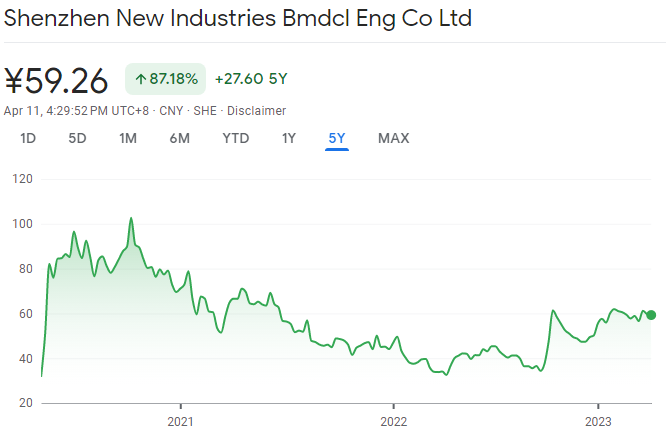 ---
The latest Factsheet for the Fidelity China Special Situations PLC (LON: FCSS) is for February and there were two stocks worth discussing again here.
Lifestyle products retailer MINISO Group Holding (NYSE: MNSO) has successfully entered 100 countries and regions and opened more than 5,000 stores around the world, covering the core business districts of world-renowned cities such as New York, Los Angeles, Paris, London, Dubai, Sydney, and Istanbul.
However, Miniso basically copied Japanese retail chains or brands Uniqlo, Muji and Daiso – and have arguably done it better than the originals:
Of course and when you don't come up with something original, everyone then copies you as now there are now copycat Miniso chains…
Last year, Miniso were also targeted by a short seller Blue Orca Capital (Blue Orca is Short MINISO Group Holding Limited (NYSE: MNSO)andBlue Orca's Rebuttal on MINISO (NYSE: MNSO)) who alleged:
Rather than operate an independent network of franchisees, our seven-month investigation of Chinese corporate records and store level data indicates, in our opinion, that hundreds of stores are secretly owned and operated by MINISO executives or individuals closely connected to the chairman.
Irrespective of those allegations, it appears the market has largely shrugged them off:
Albeit the longer term chart shows shares are still off their all time highs:
To read more, please visit this article on Substack after Tuesday, 9AM EST.
Similar Posts: