Singapore headquartered United Overseas Bank (SGX: U11 / FRA: UOB / UOB0 / OTCMKTS: UOVEY / UOVEF) is rated as one of the world's top banks with 500 branches and offices across 19 countries in Asia Pacific, Europe and North America. In addition, UOB Bank has already completed the integration of their acquisition of Citibank's retail business (2 million clients) in Thailand, Malaysia and Vietnam and will complete Indonesia by the end of this year.
The Financial Times also recently noted how Singapore's big banks have been breaking earnings record after record as Hong Kong wanes and money continues to flow to the city-state:
OVERVIEW:
Founded in 1935 as United Chinese Bank, UOB is rated as one of the world's top banks, ranked 'Aa1' by Moody's Investors Service and 'AA-' by both S&P Global and Fitch Ratings. With a global network of 500 branches and offices across 19 countries in Asia Pacific, Europe and North America. In Asia, the Bank operates through a head office in Singapore and banking subsidiaries in China, Indonesia, Malaysia, Thailand and Vietnam, as well as branches and offices throughout the region.
Singapore's UOB bets on Thailand, Vietnam in ASEAN growth surge (Asia Nikkei) May 2023

Lender wins 2 million clients from Citi buyout but economic headwinds pose risks
The bank on Thursday said its completion of the merger with Citi's consumer banking arms in Malaysia, Thailand and Vietnam had boosted its regional customer count from 5 million to over 7 million as of the end of March.
The deal is part of Citi's global restructuring plan, with the American lender pulling out of 13 international markets, including the four ASEAN countries.
UOB's Head of Group Personal Financial Services Jacquelyn Tan said in a briefing to the media that in ASEAN, Thailand and Malaysia are expected to contribute the lion's share of foreign income, with Vietnam and Indonesia expected to be emerging markets for UOB, tipped to see the highest growth rates.

Performance Highlights (1Q23) / CEO Slides (1Q23) / CFO Slides (1Q23) PDF Files

Mr. Wee Ee Cheong, Deputy Chairman and Chief Executive Officer, UOB: Our Citigroup integration is progressing well. We are on track to close inIndonesia by the end of the year after completing our acquisition in Malaysia,Thailand and Vietnam. As we scale up our regional franchise, we will continueto invest in capabilities and to forge partnerships.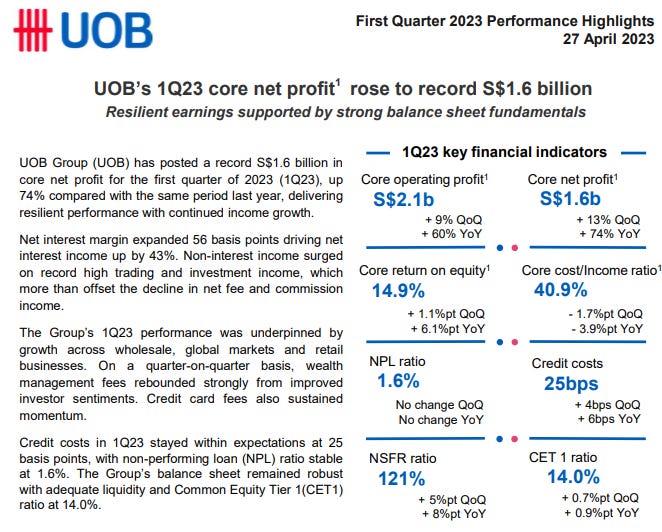 UOB CEO softens loan growth forecast as Q1 profit leaps 67% to $1.5 billion (The Straits Times) April 2023

UOB deputy chairman and chief executive Wee Ee Cheong downgraded the bank's forecast for loan growth in 2023 to a low to mid single digit, compared with a mid single digit previously.
Mr Wee noted that customers, conscious of rising interest rates, are focusing on paying down their existing loans. This is a good sign as it means they have liquidity to make these repayments, he told a briefing on Thursday.
Mr Wee at the briefing pointed to a bright spot from wealth management, with fees recovering strongly to hit their highest levels in four quarters.

DBS, OCBC and UOB All Reported Record Earnings: Which Bank Qualifies as the Best Pick? (The Smart Investor) May 2023

We size up the trio of local banks after their recent earnings period to tease out which qualifies as the best investment.
NOTE: They discuss 6 criteria in detail. OCBC was on top for one of their criteria:
UOB reports record net profit of S$4.6 billion in FY2022 (Youtube) February 2023 1:30 Minutes

UOB has logged bumper earnings for the financial year, fuelled by rising interest rates. The Singapore lender reported a record S$4.6 billion in net profit — up 12% and beating estimates. Net profit in the fourth quarter rose 13% to S$1.15 billion, after being weighed down by one-off expenses related to the bank's acquisition of Citigroup's Malaysia and Thailand consumer businesses. A rebound in travel also helped propel consumer spending, leading to the bank's stronger growth in credit card fees. UOB has proposed a final dividend of 75 cents per share.
1 YEAR CHART:
LONG TERM CHART:
ADDITIONAL RESOURCES:
Disclaimer. The information and views contained on this website and newsletter is provided for informational purposes only and does not constitute investment advice and/or a recommendation. Your use of any content is entirely at your own risk and it is your sole responsibility to evaluate the accuracy, completeness and usefulness of the content. Seek a duly licensed professional for any investment advice. I may have positions in the investments covered. This is not a recommendation to buy or sell any investment mentioned.
Similar Posts: