Airtel Africa (LON: AAF / FRA: 9AA / OTCMKTS: AAFRF) is a UK-based MNC providing telecommunications and mobile money services in 14 African countries. The Financial Times has recently noted how much oil prices matter to the Company's performance (Nigeria accounts for about 40% of revenues and ebitda) as cell phone towers in Africa tend to run on diesel generators:
OVERVIEW:
Airtel Africa is listed on the London Stock Exchange and is a constituent of the FTSE 100 Index. It is majority owned by the Indian telecommunications company Bharti Airtel (NSE: BHARTIARTL / BOM: 532454). Airtel is a global communications solutions provider with over 491 Mn customers in 17 countries across South Asia and Africa. The company ranks amongst the top three mobile operators globally and its networks cover over two billion people.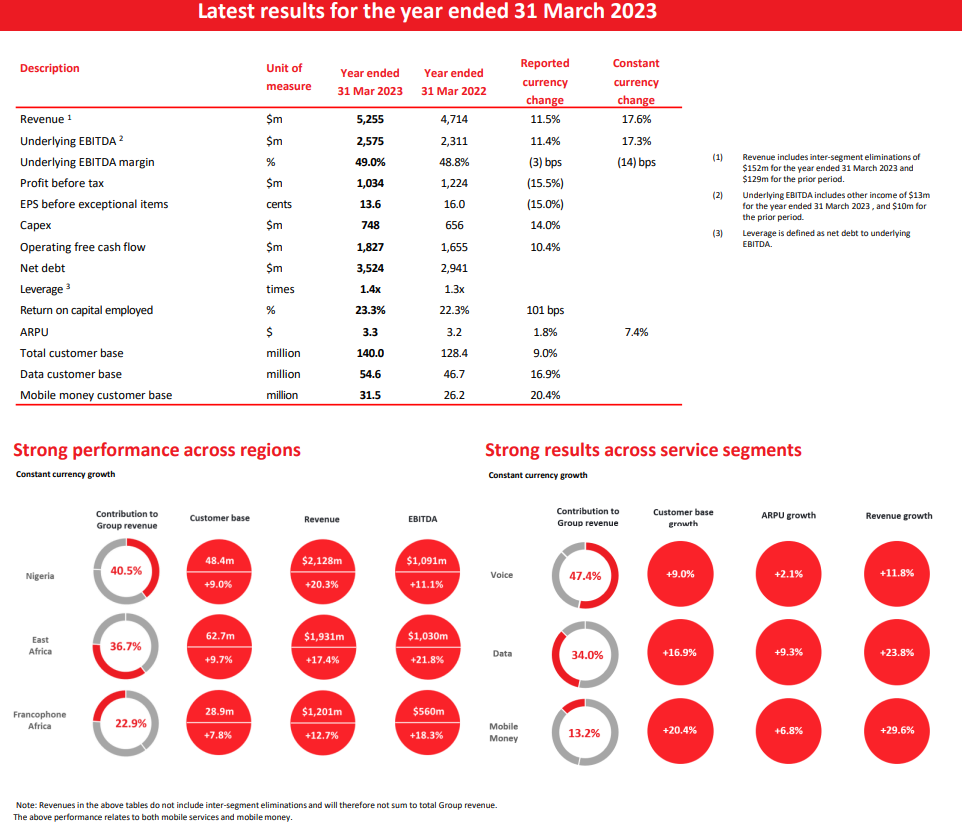 Press release FY 2023 (May 2023)

Olusegun Ogunsanya, chief executive officer, on the trading update: "…Currencies across our footprint have been under pressure, and the impact from the revaluation of our foreign currency denominated liabilities provided some headwinds in the last financial year. While currency devaluation is not in our control, we have plans to continue to mitigate its impact by growing our revenues at a faster pace than devaluation, with double-digit revenue growth in reported currency delivered this year and as we continue to reduce our foreign currency exposure across our balance sheet…"

Airtel Africa Q4FY23 net profit down 6% on-year due to higher finance (Economic Times) May 2023

Synopsis: Bharti Airtel Africa's Q4 net profit dipped to $227m, down 6% YoY due to high forex losses, even though revenue was up by 10% YoY. However, the company reported a 17.6% QoQ increase in net profit on strong growth in its customer base and quarterly data revenue. The number of customers increased 9%, while data customers rose nearly 17% YoY. Meanwhile, mobile money user base surged 20.4%. ARPU remained unchanged QoQ at $3.1 and went up 6.9% YoY. Airtel Africa CEO Segun Ogunsanya expects strategic focus to boost sustainable growth in the long run.

No plan yet to expand beyond existing 14 countries, Airtel Africa CEO tells Arise News (Youtube) 9:48 Min (May 2022)
Airtel Africa: weak oil creates cheap telecoms play on Nigeria (FT) May 2023

Airtel Africa's foreign exchange losses last year summed to $178mn, almost half of which came from Nigeria. The company conservatively includes these losses in its "adjusted" net income. As a result, reported earnings missed quarterly expectations.
Falling oil prices should decrease the cost of running generators to power cell towers on Nigerian diesel, New Street analysts have noted.

P/E (Google Finance): 8.12 / Forward P/E (Yahoo! Finance): 5.84
Dividend Yield (Google Finance): 3.81% / Forward Dividend & Yield (Yahoo! Finance): 3.80%
1 YEAR CHART:
LONG TERM CHART:
ADDITIONAL RESOURCES:
Disclaimer. The information and views contained on this website and newsletter is provided for informational purposes only and does not constitute investment advice and/or a recommendation. Your use of any content is entirely at your own risk and it is your sole responsibility to evaluate the accuracy, completeness and usefulness of the content. Seek a duly licensed professional for any investment advice. I may have positions in the investments covered. This is not a recommendation to buy or sell any investment mentioned.
Similar Posts: