Noah Holdings (NYSE: NOAH): A Chinese Wealth Management Firm Facing a "Crisis of Confidence" in the Sector
Noah Holdings Limited (NYSE: NOAH / HKEX: 6686) is a leading and pioneer wealth management service provider in China offering comprehensive one-stop advisory services on global investment and asset allocation primarily for high net worth investors. However, FT just republished a Nikkei Asia article entitled, China's wealth management sector reels from 'crisis of confidence' (Retail investors sell in panic after 'risk-free' investments tumble in value), which noted:
Many conservative investors panicked when bond yields surged and prices dropped as China suddenly abandoned its zero-Covid policy…
Nearly half of the wealth management market invests in corporate bonds. By December, more than 20 per cent of all products were worth less than their face value. In February, Standard Chartered warned that "unprecedented" losses for wealth management products would likely mean slower growth in the industry, and weaken demand for bonds this year.
Investors are now slowly trickling back into wealth management products, but choosing those with lower risk and volatility and retreating from asset classes that come with higher yields — and risk.
OVERVIEW:
Noah's network covers 75 cities in mainland China, as well as Hong Kong (China), Taiwan (China), New York, Silicon Valley and Singapore. A total of 1,276 relationship managers provide customized financial solutions for clients through this network, and meet their international investment needs. The Company's wealth management business had 437,288 registered clients as of December 31, 2022. Through Gopher Asset Management, Noah manages private equity, public securities, real estate, multi-strategy and other investments denominated in Renminbi and other currencies.
Net revenues in the full year 2022 was RMB3,100.4 million (US$449.5 million), a 27.8% decrease from the full year 2021, mainly due to decreases in one-time commissions and performance-based income. Net income for the full year 2022 was RMB971.6 million (US$140.9 million), a 25.6% decrease from the full year 2021.Noah Holdings Limited Announces Unaudited Financial Results For The Fourth Quarter 2022 and Audited Financial Results For Full Year 2022
"Shanghai-based Noah, which manages $22 billion in assets, plans to expand its front office in Hong Kong five-fold from about 20 to 100 relationship managers in 2023, hiring locally and transferring personnel from mainland China.The wealth manager's expansion plan is apart from other middle and back office staffing. Liu said overseas business was expected to make up over 30% of Noah Holding's total assets under management in 2023, up from 20% currently" (Wealth managers ramp up staff in Hong Kong to chase Chinese demand).
August 2019: "Not long ago, Noah was an emblem of China's burgeoning middle class, aiming to service clients with a net worth of at least Rmb1m ($140,000)… Problems began when Noah began distributing securities packaged by a Hong Kong-listed firm called Camsing International. The securities were allegedly backed by falsified transactions and accounts receivable with business partners including JD.com and Suning.com, according to Caixin, a respected mainland financial publication… The episode raises questions about the capability and risk management of a company that has received all kinds of accolades from industry publications…" (Noah's woes are a reminder of China's vulnerabilities – Troubles of Shanghai-based wealth manager highlight risks of huge and murky market)
Jan 2022: Chinese regulators imposed sweeping rules on the asset management sector in 2018 to rein in bank wealth management products, part of a broad push to clamp down on large and frequently opaque financial risks (China cleanup of non-compliant WMP securities 'basically complete', official says).
P/E (Finviz): 7.61 / P/E (Google Finance): n/a / P/E (Yahoo! Finance): 7.72
No Dividend
1 YEAR CHART:
LONG TERM CHART:
ADDITIONAL RESOURCES: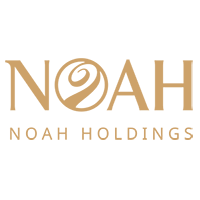 Disclaimer. The information and views contained on this website and newsletter is provided for informational purposes only and does not constitute investment advice and/or a recommendation. Your use of any content is entirely at your own risk and it is your sole responsibility to evaluate the accuracy, completeness and usefulness of the content. Seek a duly licensed professional for any investment advice. I may have positions in the investments covered. This is not a recommendation to buy or sell any investment mentioned.
Similar Posts: