GF Securities (HKG: 1776 / SHE: 000776 / FRA: 9GF): A Value Stock After Recent Scandals & Crackdowns?
GF Securities (HKG: 1776 / SHE: 000776 / FRA: 9GF) is a diversified investment management and brokerage group that's also the latest brokerage to be investigated by the China Securities Regulatory Commission (CSRC) amid the full roll-out of a registration-based IPO system. The stock suffered another underwriting scandal a few years ago that severely impacted its business and reputation.
As detailed in our Noah Holdings tear sheet, there are other problems (and opportunities) right now in the Chinese wealth management industry e.g. China's wealth management sector reels from 'crisis of confidence' (Retail investors sell in panic after 'risk-free' investments tumble in value).
Nevertheless, the stock was briefly cited as a potential value stock in: Rakesh Bordia – Emerging Markets: Finding Value in A Diverse Landscape (Opto Podcast) 43:27 Minutes.
OVERVIEW:
The Company's brokerage branches are strategically located throughout China's most economically developed areas. The Company has built a diversified business serving the various needs of corporations, individuals (especially affluent individuals), institutional investors, financial institutions and government clients.
The main business of The Company can be classified into four segments, namely investment banking, wealth management, trading and institution and investment management, and each operating indicator has ranked among forefront of the industry.
Hong Kong-listed GF Securities latest broker to be investigated for inadequate due diligence amid roll-out of China's market-oriented IPO reforms (SCMP) April 2023

Firm failed to exercise due diligence in the non-public issuance of shares by Misho Ecology & Landscape in 2018 and is suspected to be in 'breach of laws', it says in filing.
Northeast Securities, Dongxing Securities, Donghai Securities and Citic Securities have all received warnings and fines for inadequate reviews so far this year.

GF Securities General Manager Resigns Following Fraud Scandal (Caixin Global) April 2020

The general manager of Shenzhen- and Hong Kong-listed GF Securities Co. Ltd. has resigned following a major financial fraud by one of its clients and the failure of one of its hedge funds, triggering massive losses for the brokerage.
In addition, people with knowledge of the matter said Lin's resignation follows the failure of a hedge fund set up by one of GF's Hong Kong units, which lost GF more than 900 million yuan in 2018. Lin was chairman of the Hong Kong unit during that period.
It seems the successor will bear a heavy burden left by the Kangmei scandal. In 2019, GF reported credit loss expenses of nearly 680 million yuan, up 124% year-on-year, according to its financial report. Some losses were likely related to its loans to Kangmei shareholders.
GF's investment banking business, one of the company's most lucrative businesses, shrank heavily following the Kangmei scandal. GF reported investment banking revenue of 1.4 billion yuan last year and 1.2 billion yuan in 2018, down from 2.7 billion yuan in 2017.

Tainted by Kangmei Fraud, GF Securities' Underwriting Ban Starts to Hurt (Caixin Global) July 2020

GF Securities revealed that it has been suspended from sponsoring any equity-related issuance for six months and banned from bond underwriting for one year.

2022 FIRST QUARTERLY REPORT PDF File (Financial Reports)
2022 Annual Report PDF File (Financial Reports)
P/E (Google Finance): 10.00 / P/E (Yahoo! Finance): 10.21
Dividend Yield (Google Finance): n/a / Forward Dividend & Yield (Yahoo! Finance): 5.19%
1 YEAR CHART: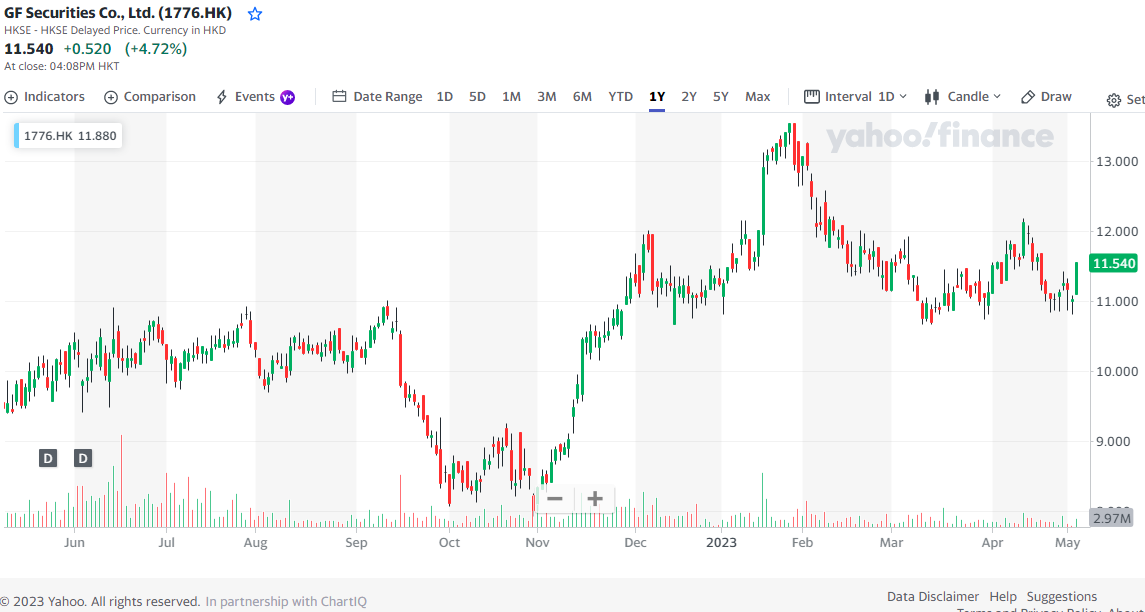 LONG TERM CHART:
ADDITIONAL RESOURCES:
Disclaimer. The information and views contained on this website and newsletter is provided for informational purposes only and does not constitute investment advice and/or a recommendation. Your use of any content is entirely at your own risk and it is your sole responsibility to evaluate the accuracy, completeness and usefulness of the content. Seek a duly licensed professional for any investment advice. I may have positions in the investments covered. This is not a recommendation to buy or sell any investment mentioned.
Similar Posts: