Chinese dairy stock and homegrown cheesemaker Shanghai Milkground Food Tech (SHA: 600882) has been described as a dark horse in China's cheese product market. However, the Financial Times has recently reported: Goldman Sachs loses taste for China's cheese lollipops (Demand for flavoured snack expected to weaken as consumers tighten belts, say analysts)
OVERVIEW:
Shanghai Milkground Food Tech has 4 factories in China, including Shanghai, Tianjin, Changchun and Jilin, producing all kinds of original and reprocessed cheese products and liquid milk series products. This includes ready-to-eat nutrition series cheese sticks, adult shredded cheese sticks, children's growing cups, mozzarella cheese, cheese slices, cream cheese, butter, grilled cheese, etc., as well as milk and related products through distributors, self-operated e-commerce channels, large shopping malls, and supermarkets.
It introduced its version of the cheese lollipop ("a delight that combines cheese with sweet flavours such as chocolate and banana, is aimed at the under-12s and claims to have solid nutritional value") and soared to the leading position against rivals Yili, Milkana and Dr Cheese.
1 YEAR CHART:
LONG TERM CHART: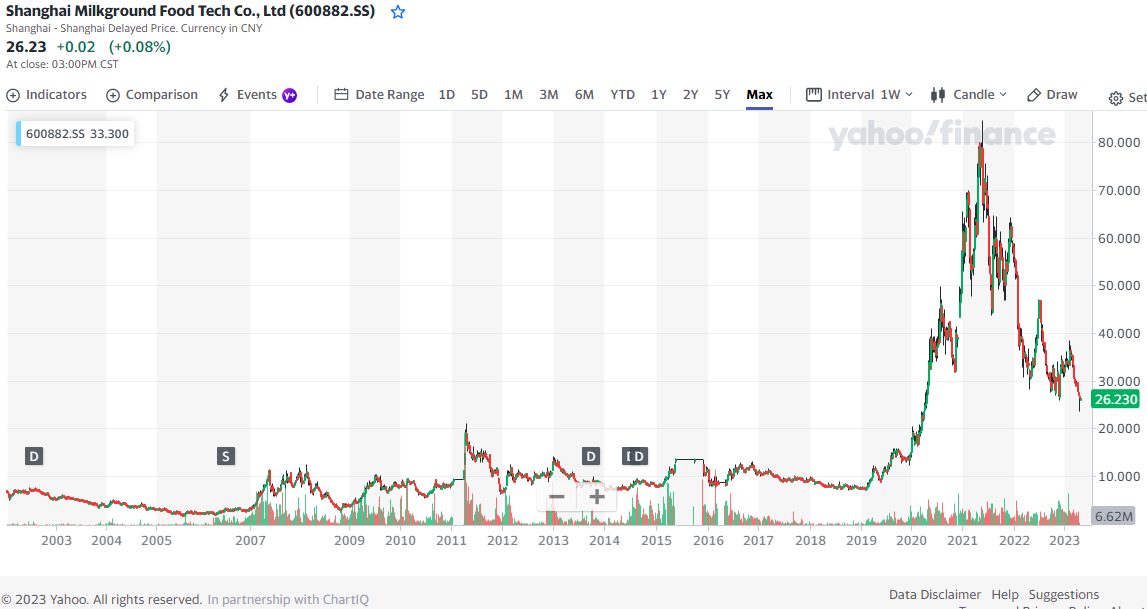 ADDITIONAL RESOURCES:
Disclaimer. The information and views contained on this website and newsletter is provided for informational purposes only and does not constitute investment advice and/or a recommendation. Your use of any content is entirely at your own risk and it is your sole responsibility to evaluate the accuracy, completeness and usefulness of the content. Seek a duly licensed professional for any investment advice. I may have positions in the investments covered. This is not a recommendation to buy or sell any investment mentioned.
Similar Posts: