TOP Financial Group (NASDAQ: TOP): Hong Kong's Latest Crazy Meme Stock
Tiny Hong Kong based online brokerage TOP Financial Group (NASDAQ: TOP) has become the latest crazy meme stock. They have just $5.2M in revenue ($1.8M in net income) for the last six months they reported financials (for the six months ended September 30, 2022)… Hong Kong broker Top Financial stock soars as much as 900% on meme trade (Yahoo Finance Video) 1:46 Min.
OVERVIEW:
Note: Previously known as "Zhong Yang Financial Group Limited." TOP Financial Group Limited Announces Corporate Name Change
"ZYFGL is a holding company incorporated in the Cayman Islands with no material operations of its own. As a holding company with no material operations of its own, ZYFGL conducts its operations in Hong Kong through its subsidiaries, Zhong Yang Securities Limited ("ZYSL") and Zhong Yang Capital Limited ("ZYCL"), both incorporated in Hong Kong, and WIN100 TECH Limited, incorporated in the British Virgin Islands ("WIN100 TECH", and collectively with ZYSL and ZYCL, the "Operating Subsidiaries"). The Ordinary Shares offered in this offering are shares of ZYFGL, the Cayman Islands holding company, instead of shares of the Operating Subsidiaries. Investors in this offering will not directly hold equity interests in the Operating Subsidiaries." Prospectus [Rule 424(b)(4)]
"Currently our customers are mainly high volume and frequency trading institutional and individual investors. Our clients primarily reside in Asia and we are currently focusing on expanding our customer base to Southeast Asian investors. Our trading platforms, which our Operating Subsidiaries license from third parties, enable investors to place trades on more than 100 futures products on multiple exchanges around the world including the Chicago Mercantile Exchange (CME), Hong Kong Futures Exchange Limited (HKFE), The New York Mercantile Exchange (NYMEX), The Chicago Board of Trade (CBOT), The Commodity Exchange (COMEX), Eurex Exchange (EUREX), ICE Clear Europe Limited (ICEU), Singapore Exchange (SGX), Australia Securities Exchange (ASX), Bursa Malaysia Derivatives Berhad (BMD), and Osaka Exchange (OSE)." Prospectus [Rule 424(b)(4)]
5-Day + 1 YEAR CHART:
LONG TERM CHART: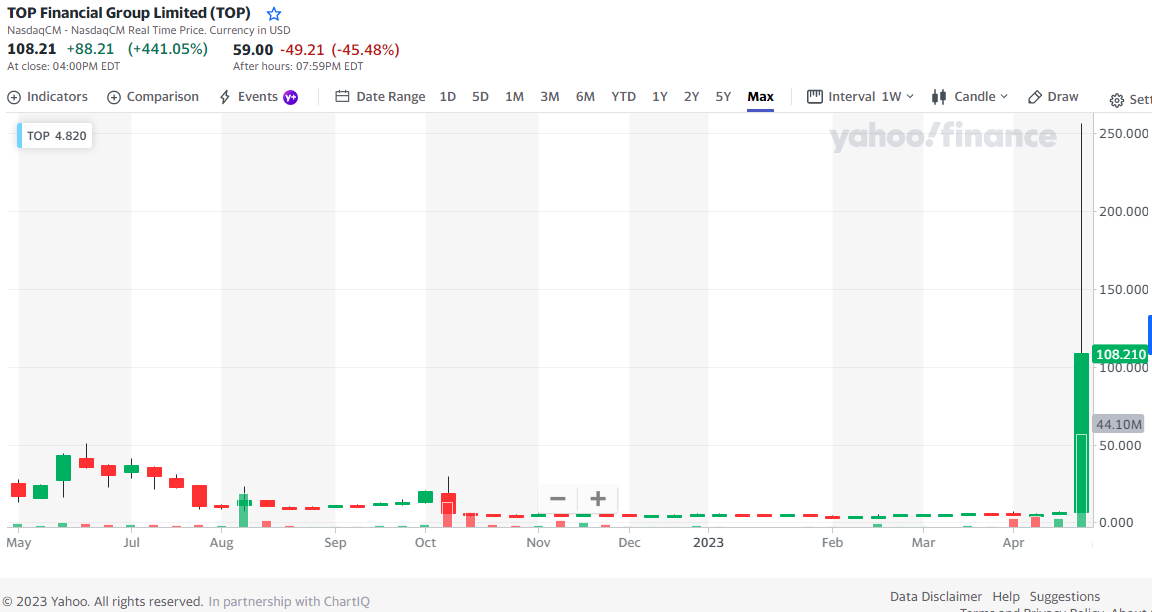 ADDITIONAL RESOURCES:

Disclaimer. The information and views contained on this website and newsletter is provided for informational purposes only and does not constitute investment advice and/or a recommendation. Your use of any content is entirely at your own risk and it is your sole responsibility to evaluate the accuracy, completeness and usefulness of the content. Seek a duly licensed professional for any investment advice. I may have positions in the investments covered. This is not a recommendation to buy or sell any investment mentioned.
Similar Posts: