The Morningstar Hong Kong & Singapore channel on YouTube does short (usually 1-3 minutes long) weekly Stock of the Week videos (plus other videos) profiling primarily China, Hong Kong, Japan, and Singapore stock picks.
Stocks featured in their Q2 Stock of the Week and other videos (from newest to oldest) covered in this post include:
I-Mab Biopharma, Kuaishou, PDD vs. JD.com, Link REIT, Shenzhou International, Japan Post Bank, Sumitomo Mitsui Financial Group, Sumitomo Mitsui Trust Holdings, Mitsubishi UFJ Financial Group, Grab vs. SEA, Sands China, Tencent, Country Garden Services, Singapore Airlines, Yum China, China Merchants Bank & China Mobile
To make your life easier, this post includes:
A quick description of the stock pick with links to the IR page and stock quote(s) on Yahoo! Finance.
A link to any Wikipedia page (for what it might be worth…)
The title and a link to the accompanied video transcript and their very brief video summary of the stock.
The embedded video (again, they are usually 1-3 minutes long).
Forward or trailing P/E and dividend yields linked back to the Yahoo! Finance statistics page.
The latest long term technical chart linked back to Yahoo! Finance.
And as always, this post is provided for informational purposes only (and to make your life easier by providing you with relevant information, links, and charts). It does not constitute investment advice and/or a recommendation…
---
I-Mab Biopharma (NASDAQ: IMAB) is a clinical-stage biopharmaceutical company committed to the discovery, development and commercialization of novel or highly differentiated biologics to address significant unmet medical needs in oncology.
Forward P/E: N/A / Forward Annual Dividend Yield: N/A (Yahoo! Finance)
Kuaishou Technology (HKG: 1024 / 81024 / LON: 0A74 / OTCMKTS: KUASF / KSHTY) is a leading partly state-owned content community and social platform and China's first short video platform. Working closely with content creators and businesses together, Kuaishou provides product and service offerings that address various user needs that arise naturally, including entertainment, online marketing services, e-commerce, online games, online knowledge-sharing, and more.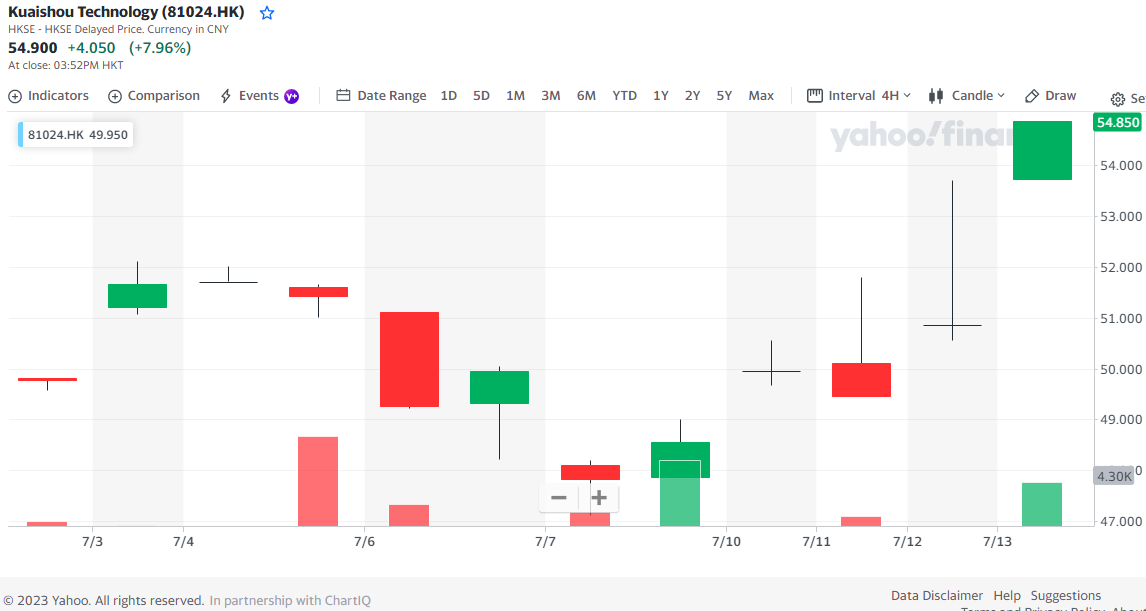 PDD Holdings vs. JD.com
PDD Holdings (NASDAQ: PDD) orPinduoduo started as a fresh agriculture platform before expanding to a leading social commerce player serving approximately 900 million users. Today, itis a multinational commerce group that owns and operates a portfolio of businesses, including Pinduoduo and Temu, an e-commerce marketplace in North America allowing Chinese vendors to sell their products directly to US consumers.
To read more, please visit this article on Substack
Similar Posts: