This post is a compilation of links and briefs for our short (1-3+ minute reads or graphic-chart skims, not counting any videos, for free posts while paywalled posts are longer and include any recent fund commentary) EM Stock Pick Tear Sheets (separate section) for the the last two weeks covering some interesting emerging market stock picks covering a variety of sectors based in China-Hong-Kong-Macau, Colombia, India, Poland and South Africa.
South Africa stock valuations are already cheap due to load shedding and other worries. The recent accusations from the US ambassador that South Africa supplied Russia with weapons (which seem to be designed to punish the country for not completely toeing the Western line on Russia and China…) has further hit the Rand (all time lows) and stock valuations.
Nevertheless, South African stocks are still producing earnings and growth. This shows what good management teams who are focused on what matters for their businesses (like keeping the electricity on…), and not the political or cultural nonsense that many large American or Western companies are now focused on (think Bud Light…), can achieve in difficult environments.
EM Stock Pick Tear Sheets Region/Country TAGS
Africa, Chile, China, Colombia, Eastern Europe, Hong Kong, India, Latin America, Macau, Malaysia, Mexico, Middle East, Poland, South Africa, Southeast Asia & Turkey
EM Stock Pick Tear Sheets Sector TAGS
Alcohol Stocks, AI Stocks, Bank Stocks, Battery Stocks, Casino Stocks, Consumer Stocks, Financial Services Stocks, Food & Beverage Stocks, Gaming Stocks, Health Care Stocks, Industrial Stocks, IT Services Stocks, Meme Stocks, Oil Stocks, Property Developer Stocks, Real Estate Stocks, REITs, Restaurant Stocks, Retail Stocks & Tech Stocks
PAYWALLED
NON-PAYWALLED
(NOTE: Forward P/Es and dividend yields are from the time of publishing and have likely changed while charts are from MAY 12th):
Cash richGalaxy Entertainment (HKG: 0027 / OTCMKTS: GXYEF) is one of the world's leading resorts, hospitality and gaming companies. It primarily develops and operates a large portfolio of integrated resort, retail, dining, hotel and gaming facilities in Macau where it has the largest undeveloped landbank of any concessionaire.
GF Securities (HKG: 1776 / SHE: 000776 / FRA: 9GF) is a diversified investment management and brokerage group that's also the latest brokerage to be investigated by the China Securities Regulatory Commission (CSRC) amid the full roll-out of a registration-based IPO system. The stock suffered another underwriting scandal a few years ago that severely impacted its business and reputation.
Chinese dairy stock and homegrown cheesemakerShanghai Milkground Food Tech (SHA: 600882) has been described as a dark horse in China's cheese product market. However, the Financial Times has recently reported: Goldman Sachs loses taste for China's cheese lollipops(Demand for flavoured snack expected to weaken as consumers tighten belts, say analysts)
Shanghai Putailai New Energy Tech (SHA: 603659) is focused on the development and sale of materials for lithium-ion batteries and automation equipment in China. It was recently reported:
However, the Company will fund 30% of the project and take out loans for the rest.
South African retailerPick 'n Pay (JSE: PIK / FRA: PIK) just released earnings that show some green shoots for the future as well managed businesses learn to adapt to deteriorating conditions in South Africa and the vacuum left behind by an increasingly non-existent government.
Famous Brands Ltd (JSE: FBR) is Africa's leading quick-service and casual dining restaurant franchisor operating franchised, master license and Company-owned restaurants. They have a vertically integrated business model and supply chain consisting of Manufacturing, Logistics and Retail operations.
The Company recently reported some preliminary earnings: Famous Brands flags earnings rise despite load-shedding worries(The fast-food group says SA's weak economy and increased power cuts have dimmed growth prospects across its entire value chain). In addition: Famous Brands says earnings could jump almost half after lifting of Covid-19 restrictions
Poland's state-controlled oil company Polski Koncern Naftowy ORLEN Spólka Akcyjna (WSE: PKN / FRA: PKY1) is a multinational oil refiner and petrol retailer providing energy and fuel for more than 100 million Europeans. The ban on Russian crude oil is costing the Company $27 million dollars a day as it struggles to find alternative supplies for its Czech refinery:
Nevertheless, PKN Orlen is looking to further expand it's existing operations in Germany, is focused on "energy transition" activities, and is paying record dividends.
In late April, baijiu liquor makerZJLD Group (HKG: 6979) was the biggest Hong Kong IPO of the year (and the first baijiu liquor stock to list outside of China) and it flopped:
Colombia based Tecnoglass (NYSE: TGLS) is the second largest glass fabricator serving the U.S. and the #1 architectural glass transformation company in Latin America. Shares have moved from the single digit level in 2021 to $46.46 as of last Friday's close as the company has continued to produce strong financial results and growth.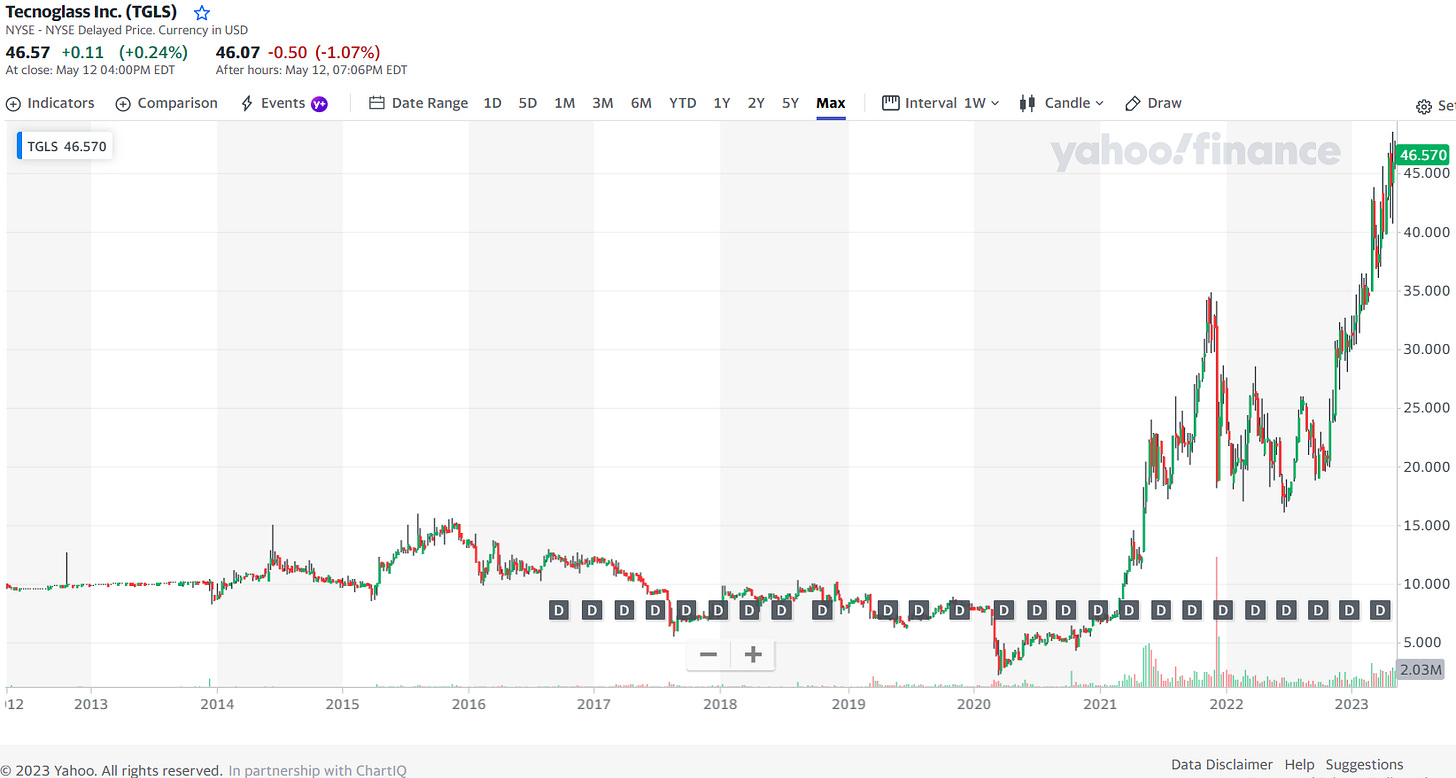 Share
Leave a comment
---
Disclaimer. The information and views contained on this website and newsletter is provided for informational purposes only and does not constitute investment advice and/or a recommendation. Your use of any content is entirely at your own risk and it is your sole responsibility to evaluate the accuracy, completeness and usefulness of the content. Seek a duly licensed professional for any investment advice. I may have positions in the investments covered. This is not a recommendation to buy or sell any investment mentioned.
Emerging Market Stock Pick Tear Sheets (May 1-14, 2023) was also published on our Substack.
---
---
---
Emerging Markets Investing Tips + Advice
Emerging Market Skeptic (Website)
Website List Updates + Site Map
Stocktwits @EmergingMarketSkptc
Similar Posts: