Canada based Frontera Energy Corporation (TSE: FEC / FRA: 3PY3 / OTCMKTS: FECCF) is focused on oil and natural gas (plus related investments) in Colombia, Ecuador, and Guyana. Recent unrest in parts of Colombia where the Company operates has impacted some operations or exploration efforts there. However, recent Guyana exploration efforts could be promising as the country has vast natural resources (forestry, mining and oil and gas) – albeit it's uncertain whether the Company's recent discoveries there are commercially viable.
Since 2015, oil companies operating off the Guyana coast have found more than 10 billion barrels of recoverable oil and gas – a tenth of the world's conventional discoveries (Guyana Is Becoming A Top-Tier Oil Producer and Factbox: Offshore discoveries turn tiny Guyana into oil hotspot). The country is also the only English speaking country in South America with a legal system based on English common law and its corporate system based on the Canada Business Corporations Act.
The WSJ recently mentioned the Company's more speculative Guyana joint venture partner in an article (As Oil Giants Retreat Globally, Smaller Players Rush In) about how the oil majors are still developing a handful of big oil and gas fields in Latin America. Increasingly, it is smaller, little-known oil firms who are moving into risky lesser explored regions and getting the fossil fuels out of the ground. These smaller oil players have lower costs and can quickly recoup their investment before the next oil price downturn.
OVERVIEW:
Frontera Energy is a Canadian public Company involved in the exploration, development, production, transportation, storage, and sale of oil and natural gas in South America, including related investments in both upstream and midstream facilities. We have a diversified portfolio of assets with interests in 31 exploration and production blocks in Colombia, Ecuador, and Guyana, and pipeline and port facilities in Colombia.
Frontera Energy has three core businesses: (1) its Colombia and Ecuador Upstream Onshore business, (2) its standalone and growing Colombia Midstream business, and (3) its potentially transformational Guyana Exploration business offshore Guyana.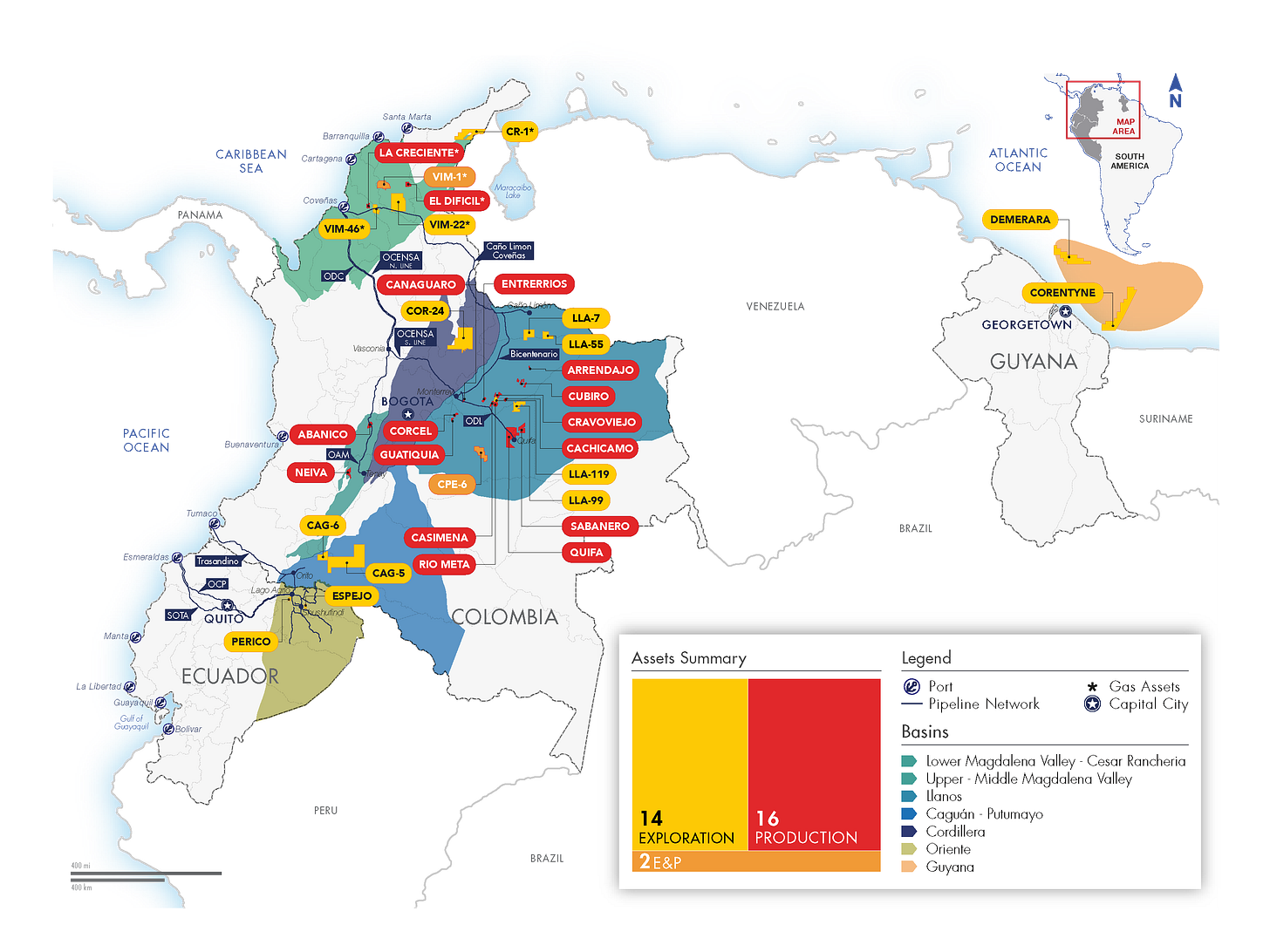 On January 23, 2023 Frontera Energy and CGX Energy (CVE: OYL / FRA: GXCN / OTCMKTS: CGXEF) (see: CGX Energy (CVE: OYL / FRA: GXCN / OTCMKTS: CGXEF): A Speculative Guyana Oil Small Cap Stock), joint venture partners in the Petroleum Prospecting License for the Corentyne block offshore Guyana, announced the spud of the Wei-1 well, on the Corentyne block, approximately 200 kilometres offshore from Georgetown, Guyana. The Well, planned to be drilled to a total depth of 20,500 feet, to date has been successfully drilled to a depth of 19,142 feet (5,834 metres). The Wei-1 well is located approximately 14 kilometres northwest of the Joint Venture's previous Kawa-1 light oil and condensate discovery. The Well has encountered oil-bearing intervals in the western channel fan complex of the northern portion of the Corentyne block in formations of Maastrichtian and Campanian ages.
RECENT FINANCIALS / NEWS:
RECENT STOCK ANALYSIS:
Frontera Energy Management Is At It Again (TSX:FEC:CA) (Seeking Alpha) April 2023

Frontera Energy Corporation has a cash flow source.
Financing a successful commercial discovery in Guyana through to production will be a difficult task for Frontera Energy Corporation.
The limited number of neighboring operators who might be interested in this situation could instead lead to a war of attrition.
The Frontera Energy Corporation balance sheet ratios look decent.
South America is a risky place to do business. Companies present there often have discounted valuations.
KEY RATIOS:
1 YEAR CHART:
LONG TERM CHART:
ADDITIONAL RESOURCES:

Disclaimer. The information and views contained on this website and newsletter is provided for informational purposes only and does not constitute investment advice and/or a recommendation. Your use of any content is entirely at your own risk and it is your sole responsibility to evaluate the accuracy, completeness and usefulness of the content. Seek a duly licensed professional for any investment advice. I may have positions in the investments covered. This is not a recommendation to buy or sell any investment mentioned.
Similar Posts: