Colombia based GeoPark Ltd (NYSE: GPRK / LON: 0MDP / FRA: G6O) is a leading independent Latin American oil and gas explorer, operator and consolidator with exceptional assets across Colombia, Ecuador, Chile and Brazil plus a track record of operational growth. However, GeoPark's two founders had a messy falling out in 2021 with the ousted Chairman and Company making various claims or statements about each other.
Otherwise, the WSJ recently mentioned the stock in an article (As Oil Giants Retreat Globally, Smaller Players Rush In) about how the oil majors are still developing a handful of big oil and gas fields in Latin America. But increasingly, it is smaller, little-known oil firms who are moving into risky lesser explored regions and getting the fossil fuels out of the ground. These smaller oil players have lower costs and can quickly recoup their investment before the next oil price downturn.
In addition, GeoPark's CEO was interviewed in this short 2021 Bloomberg segment about the region: How Latin America Plans to Dominate the Global Oil Market (Youtube) 6:20 Minutes (Oct 2021)
OVERVIEW: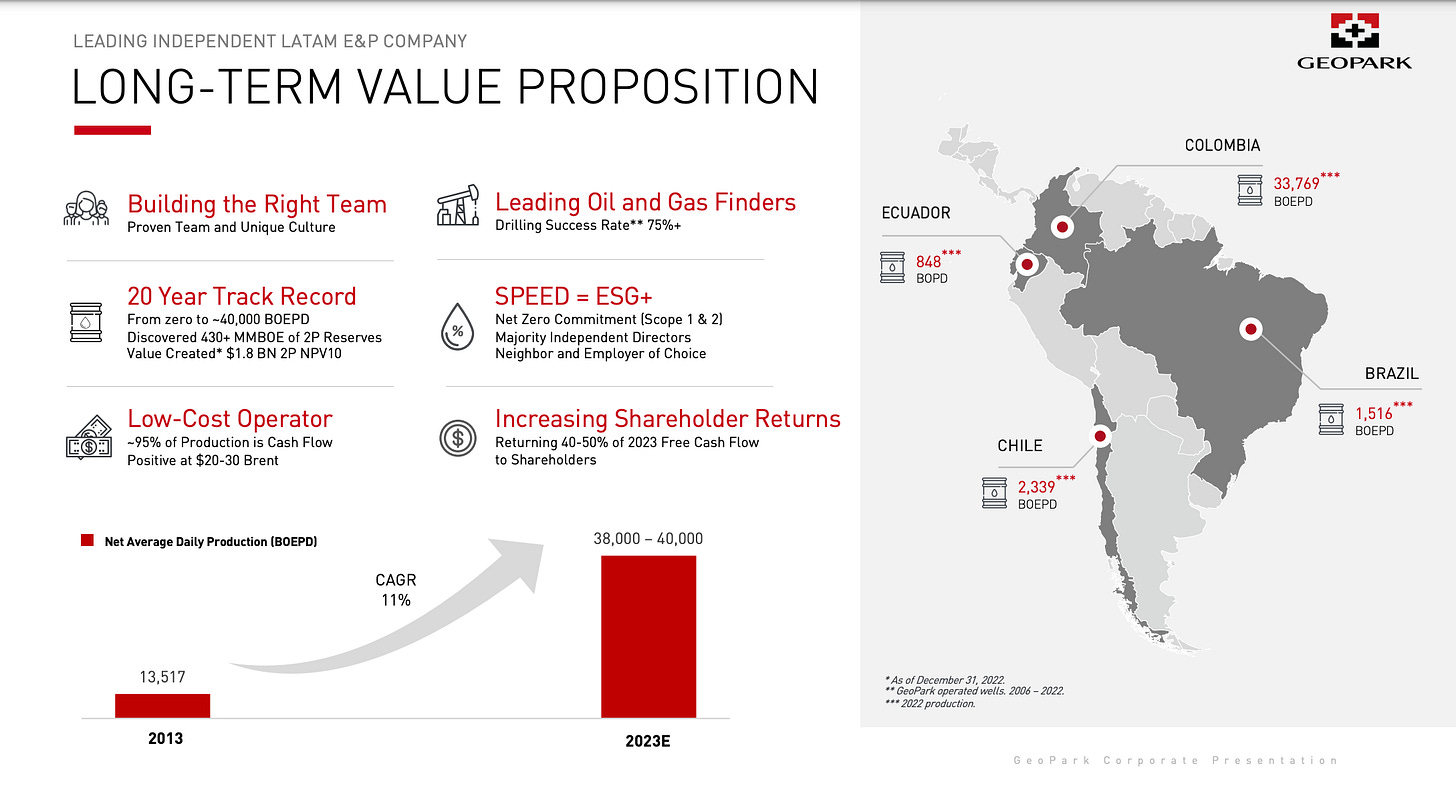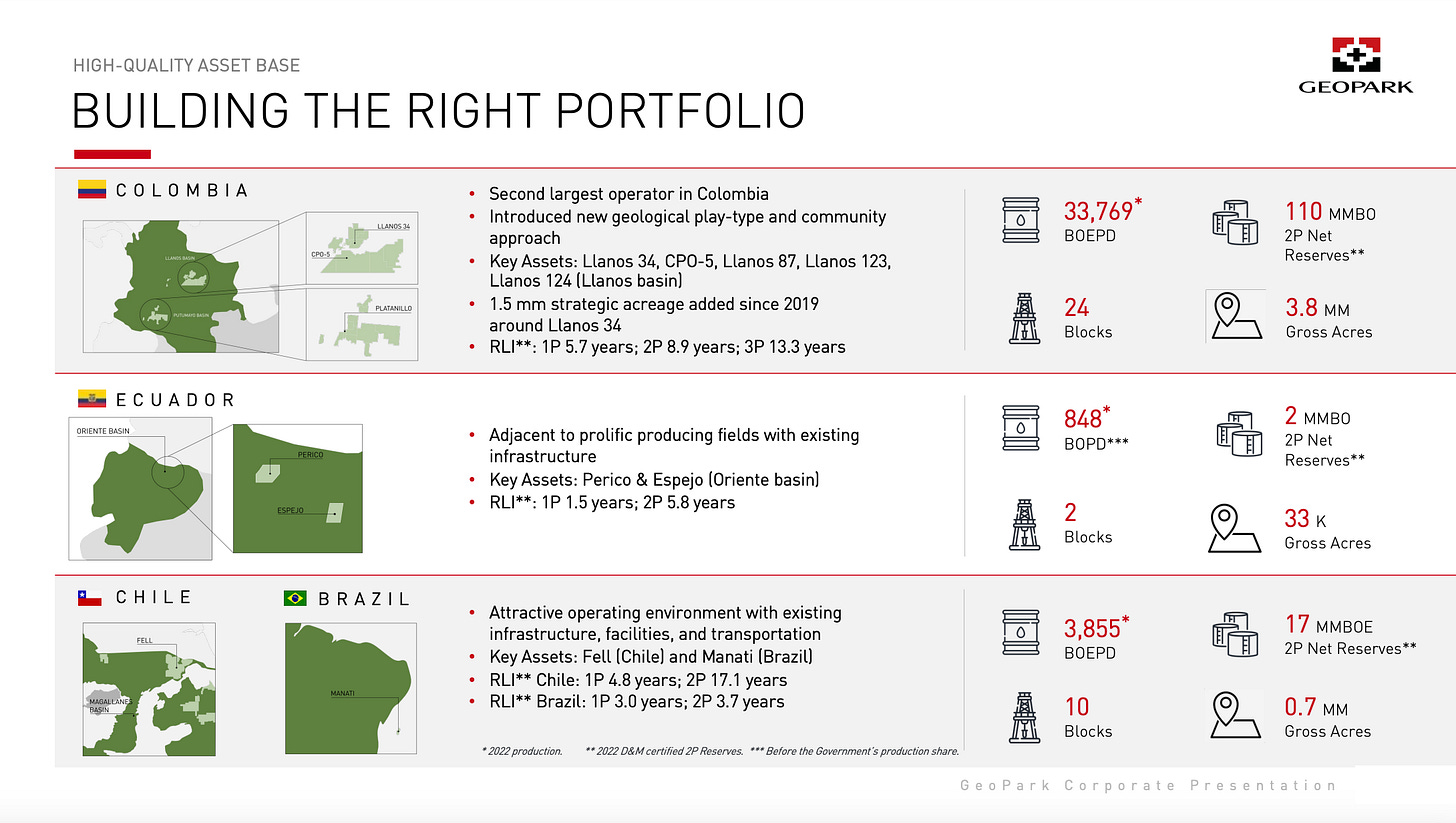 Llanos 34 block is the largest oil discovery in over 20 years in Colombia, having grown from 0 to 75,000 bopd gross production in less than a decade. In total, 13 oil fields have been discovered in Llanos 34, including the Tigana and Jacana fields that are among the top 10 producing fields in Colombia.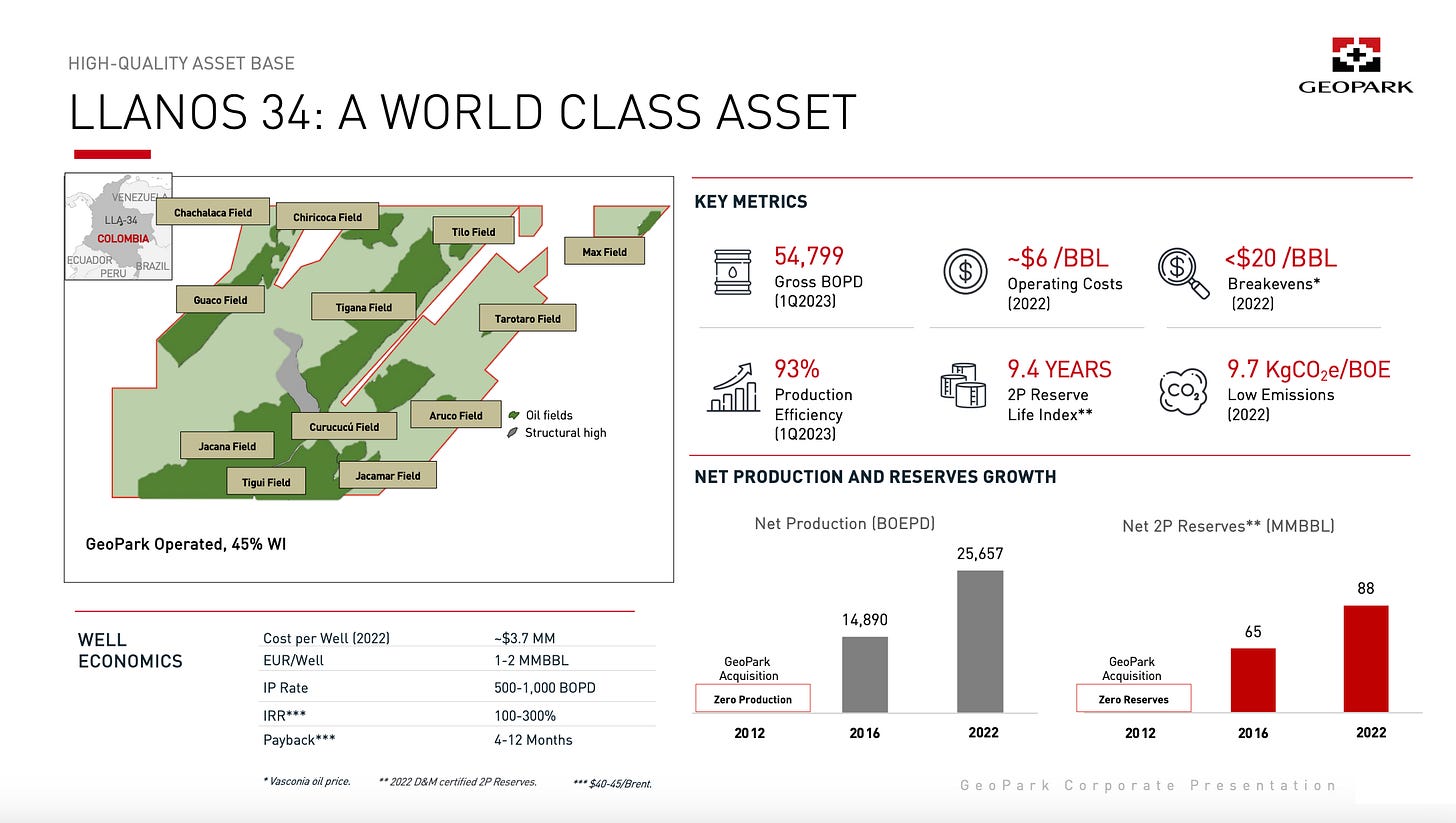 RECENT FINANCIALS / NEWS:
GeoPark Announces First Quarter 2023 Operational Update

Oil and gas production in 1Q2023 was 36,578 boepd. Adjusting for divestments in Argentina (completed on January 31, 2022), consolidated oil and gas production decreased by 4% compared to 1Q2022, due to lower production in Colombia, Chile and Brazil, partially offset by higher production in Ecuador. Oil represented 92% and 89% of total reported production in 1Q2023 and 1Q2022, respectively.

2023 Work Program: Growing Production, Drilling More Wells and Giving Back to Shareholders

2023 production guidance of 39,500-41,500 boepd (assuming no production from the exploration drilling program)
Self-funded 2023 capital expenditures program of $200-220 million to drill 50-55 gross wells (including 10-15 low-risk high-potential exploration and appraisal wells)
At $80-90 per bbl Brent, GeoPark expects to generate an Adjusted EBITDA of $510-580 million and a free cash flow of $120-140 million6
Targeting to return approximately 40-50% of free cash flow after taxes to shareholders

Colombian $4 billion tax reform becomes law, duties on oil and coal hiked (Reuters) November 2022

The new law states that oil companies will be taxed an additional 5% when international prices are between $67.3 and $75 per barrel. That then becomes an additional 10% when prices are between $75 and $82.2 per barrel and then 15% if they climb any higher.
Coal companies will face similar extra charges when prices exceed certain thresholds. Oil and mining companies will also not be able to deduct the value of royalties from income taxes.
BOARD ROOM DISPUTES:
GeoPark Board Room Disputes: Can A House Divided Stand (Seeking Alpha) June 2021

Who can foresee two great founders of GeoPark falling out, after having worked together for 18 years to make the company what it is today?
In this article, I analyze the confusing situation, hoping to figure out what an investor should do next with the stock.

GeoPark Limited Co-Founder and Former Chairman Gerald O'Shaughnessy Issues Open Letter to Company's Board of Directors (June 2021)

Company's Board Has Failed to Address Pressing Strategic Challenges that Will Impede Future Value Creation
GeoPark's Public Materials Contain Numerous Outright Lies – Including About Mr. O'Shaughnessy's Departure from the Board – and Shareholders Deserve the Truth
Jim Park's Lack of Transparency and Insistence on Control at All Costs Have Derailed Potential Strategic Options for Creating Value
Shareholders Should Vote AGAINST Four Company Nominees at Upcoming Annual Meeting to Signal that GeoPark Must be Run in the Best Interests of All Shareholders – Not for the Benefit of Jim Park

GeoPark Board Issues Response to Letter from Former Chair (PDF File)

As members of the Board, in addition to the above, we are also compelled to correct a number of other false and misleading claims in your letter.
KEY RATIOS:
1 YEAR CHART:
LONG TERM CHART:
ADDITIONAL RESOURCES:
Disclaimer. The information and views contained on this website and newsletter is provided for informational purposes only and does not constitute investment advice and/or a recommendation. Your use of any content is entirely at your own risk and it is your sole responsibility to evaluate the accuracy, completeness and usefulness of the content. Seek a duly licensed professional for any investment advice. I may have positions in the investments covered. This is not a recommendation to buy or sell any investment mentioned.
Similar Posts: