While there is much hype in Western media about China reopening as Zero-Covid and lockdown policies ease, the reality is more complex. Reopening or returning back to "normal" won't happen at the flip of a switch (especially in rural areas) while Covid weary wealthier Chinese continue to head for the exits (and to places like Singapore).
In the Philippines, shares of PLDT (the country's largest telco and only NYSE listed AFR) are taking a hit after an internal audit uncovered 48 billion pesos ($866 million) in capital spending overrun in the past four years (the original estimate was 130 billion pesos in undocumented purchase orders). There are unanswered governance and management questions as to how this could have happened at one of the bluest blue chip companies in the country.
Finally, Peru (see our Peru ADRs and Peru ETFs lists) continues to experience political uncertainty while other Latin American countries increasingly adopt "Peronist left" style politics. Mexico's Obrador (due to leave office in 2024) is also struggling to finish big ticket projects and position the country to win accessible parts of the semiconductor supply chain (like design, packaging and testing) that may shift back towards the USA (see our Mexico ADRs, Mexico Closed-End Funds and Mexico ETFs).
---
Suggested Reading
$ = behind a paywall
Covid-weary Chinese millionaires eye Singapore amid 'chaos and unpredictability' at home (SCMP) $ (Via The Star)
VIP clubs catering to Chinese are mushrooming across the city state, while Chinese foreign students are looking to stay after graduation.
"A sluggish domestic market, escalating lockdowns against Covid-19, depreciating properties and the [weak] yuan are all eating away at our wealth, as well as tighter tax scrutiny ahead. The point is, we don't know how long this will last," Zhang said.
The city is one of the top five destinations for high-net-worth individuals looking to emigrate, along with the United Arab Emirates, Australia, Israel and Switzerland, according to the Henley Global Citizens Report released in June. Russia, China, India, Hong Kong and Ukraine have the highest net outflows of wealthy people, said Henley & Partners, an investment migration consultancy based in London.
The most eye-catching Chinese immigrants to Singapore are wealthy entrepreneurs, who are setting up family offices in the city, said Joylin Su, an executive at an asset-management firm typically serving rich families.
COVID Chaos Unfolds in China (SPIEGEL International)
Chinese leadership abandoned its zero-COVID strategy practically overnight. The consequences promise to be enormous. Rural areas in particular will struggle with the suddenly spiking caseload in the country.
Dead Sheep, Dumped Crops as China Covid Rules Hit (Bloomberg Supply Lines Newsletter)
Note: From December 2
The livestock losses and destruction of fresh produce come at a time when many in China are under lockdowns and bracing for food shortages and other supply disruptions. The added pressures threaten to drive up food costs which are already elevated, and undercut Beijing's push to safeguard supply and eliminate waste.It's also another sign of how the rural economy is especially hard hit by China's Covid policies. A shortage of farm labor delayed sowing and harvests, while constraints on transport further reduced sales. While e-commerce has become a new vegetable value chain in China, there are still challenges for smallholders to participate in and benefit from online selling.
US adds 36 Chinese companies to export blacklist, including country's top flash memory chip maker (SCMP)
Biden administration also removed 25 Chinese firms from another trade watch list after successful end-user checks
Which Countries Are Most Influenced By China? (Oilprice.com)
NOTE: China's War Against Taiwan Has Already Started (How Beijing tries to make a democracy submit without putting up a fight) in The Atlantic [Very much a US govt-foreign policy mouthpiece…] discusses the group behind the China Index.
The China Index — a database relaunched on December 8 by DoubleThink Labs, a Taiwan-based research organization – measures China's influence around the world.
The China Index ranks Pakistan atop a list of 82 countries. Behind Pakistan, Southeast Asia features prominently in the rankings, with Cambodia and Singapore listed in second and third, followed by Thailand. The Philippines is seventh and Malaysia is 10th. South Africa is the first African country at No. 5, where it is tied with Peru, the highest-ranked South American country.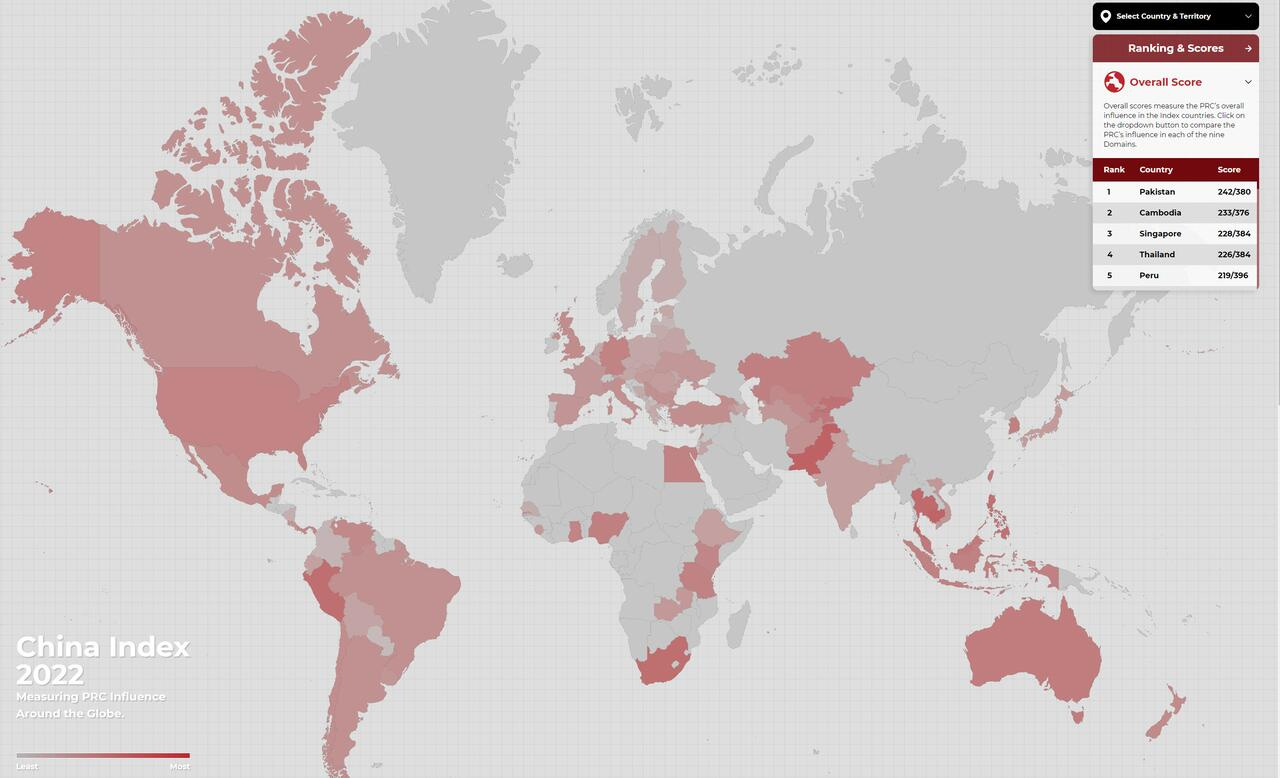 Chart of the Day: Chinese Bourses Top IPO League Tables (Caixin) $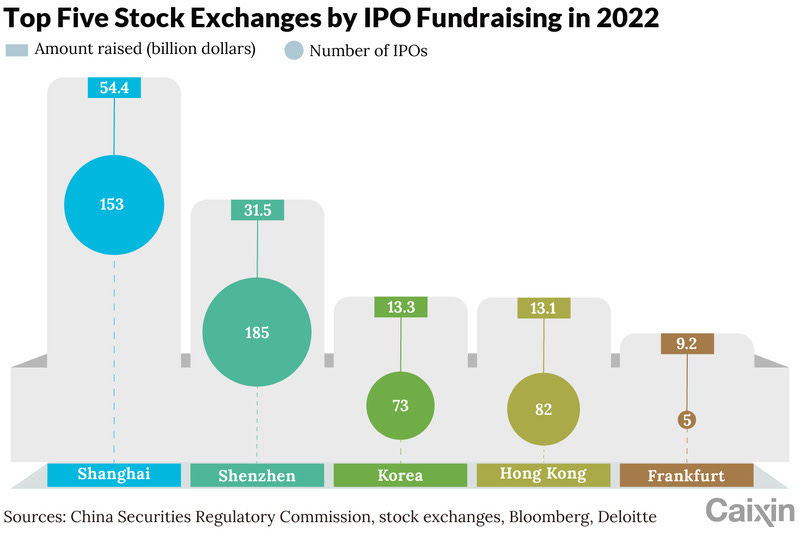 From Hong Kong to Malaysia, property markets set to decline: IMF (Nikkei Asia)
Price increases during the pandemic, underpinned by low mortgage rates as central banks eased monetary policy, are now being reversed. This creates the conditions for sizable price misalignments and a greater risk of price declines in the future. The drops could be on the order of 5% to 20% in some countries, the paper warns, with rising interest rates adding to the risks.
AFC on the Road – Sri Lanka (Asia Frontier Capital)
As we begin our travels again, this is the first travel report in almost three years. Ruchir Desai, co-fund manager of the AFC Asia Frontier Fund, visited Colombo in November for an investor conference and, after that, visited Weligama.
Though I mentioned that Sri Lanka is not out of the woods yet, valuations are at extremely depressed and all-time low levels. The Colombo All Share Index now trades at a P/E ratio of only 4x! All blue-chip companies trade at a P/E ratio of less than 10x, with Ceylon Tobacco and Nestle Lanka, which the fund holds, trading at a P/E ratio of only 6x! And this includes strong fundamentals and RoEs of greater than 15-20% more most blue chip companies.
It seems to me we are at the bottom of the cycle in Sri Lanka with valuations being so low and inflation and interest rates seemingly peaking out. If and when interest rates do begin to get cut sometime in 2023, it will not be surprising to see a stock market rally in Sri Lanka, given these depressed valuations.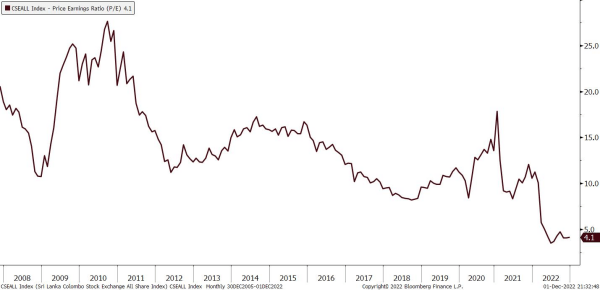 Heads to roll at PLDT, says 'disappointed' MVP (Inquirer)
"Certainly, we've taken a knock on our reputation. We pride ourselves on governance, on disclosures, and we're gonna get a knock. We have a job in trying to recover our credibility."Thus said Manuel V. Pangilinan (MVP), who chairs PLDT Inc., after he detailed in an exclusive to the Inquirer how he learned of initially as much as P130 billion in undocumented purchase orders made in the last four years at the country's largest telecommunications firm.On Friday, the company said the latest estimate of these questionable deals — which it described as "budget overruns" — had been trimmed to P48 billion, representing 12 percent of PLDT's P379-billion capital spending program of the last four years.

Latin America Slow Descent into Interventionism (Daniel Lacalle)
The problem? The new governments in Chile and Colombia are announcing policies that resemble those of the "Peronist left" in Argentina and the Fernandez government in Argentina is looking more like Maduro's Venezuela each day.Chile is expected to post no growth in 2023 despite an estimated higher copper price, and 15% inflation. Colombia, which showed the strongest recovery from the covid-19 crisis until 2022, in which consensus expects a 7% growth, is feared to stop on its tracks and deliver a poor 1.6% GDP growth with elevated inflation, close to 7%.
Are Peru's Exports In Jeopardy As Social Unrest Worsens? (Zero Hedge)
There are increasing concerns in the South American country that instability could spark trade disruptions at major ports. On Monday, Bloomberg titled a note called "Peru's Political Unrest Puts Global Fruit Supplies in Jeopardy."
However, Rabobank International's David Magana spoke with Bloomberg about the Peruvian fruit trade amid all the chaos. He said: "The Peruvian fruit industry has become an exporting powerhouse despite political instability."
Peru – Points on the Political Crisis (Latin America Risk Report Substack)
The paradox that Peru currently faces is that its political system is too broken to fix itself.
No politician is popular in Peru. The public hates them all. If a new presidential election were held today, the field would be divided with a dozen contenders taking less than 10% of the vote and nobody polling above 20%. That's essentially what happened last year. If new legislative elections are held, most members of Congress will lose their seats and the political system will be divided across 10 or so parties.
Energy Politics Cloud Mexican Bid To Join US Semiconductor Rush (Reuters via IB Times)
U.S. Commerce Secretary Gina Raimondo said in September a $52.7 billion U.S. bill known as the Chips Act would also create "significant opportunities" for Mexico in the energy and water-intensive semiconductor industry.But according to interviews with over a dozen people privy to investment discussions, if Mexico does not move quickly to improve power transmission networks and renewable energy access, as well as craft competitive incentives, it may lose out.The United States is building huge plants that make high-tech chips, the most expensive part of the semiconductor business. Mexico, meanwhile, has its sights on more accessible parts of the supply chain like design, packaging and testing.
Mexico's president likely to leave big projects unfinished (AP)
Meanwhile, an oil refinery — and a string of planned industrial parks — don't have a natural gas supply. And a government internet-for-all scheme has spent hundreds of millions of dollars without even matching private service coverage.
López Obrador admits the government is unwieldy — he often calls it a "rheumatic elephant" that must be pushed. He also blames delays on what he calls a broad conspiracy of conservatives, businessmen and U.S.-funded non-governmental organizations.
Few disagree with his desire to bring jobs, development, banking services, internet and decent health care to Mexico's poor and the remote countryside. But his big plans have been stymied, in large part by his own belief in a few central rules.
The USA Is Still Not The Most Innovative Country In The World (Zero Hedge)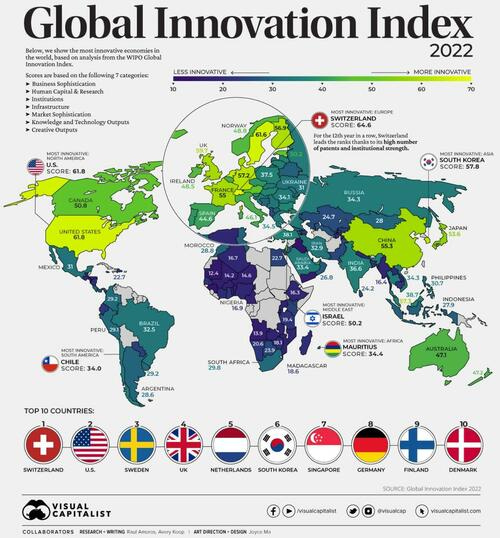 ---
Earnings Calendar
Note: Investing.com has a full calendar for most global stock exchanges BUT you may need an Investing.com account, then hit "Filter," and select the countries you wish to see company earnings from. Otherwise, purple (below) are upcoming earnings for US listed international stocks (Finviz.com):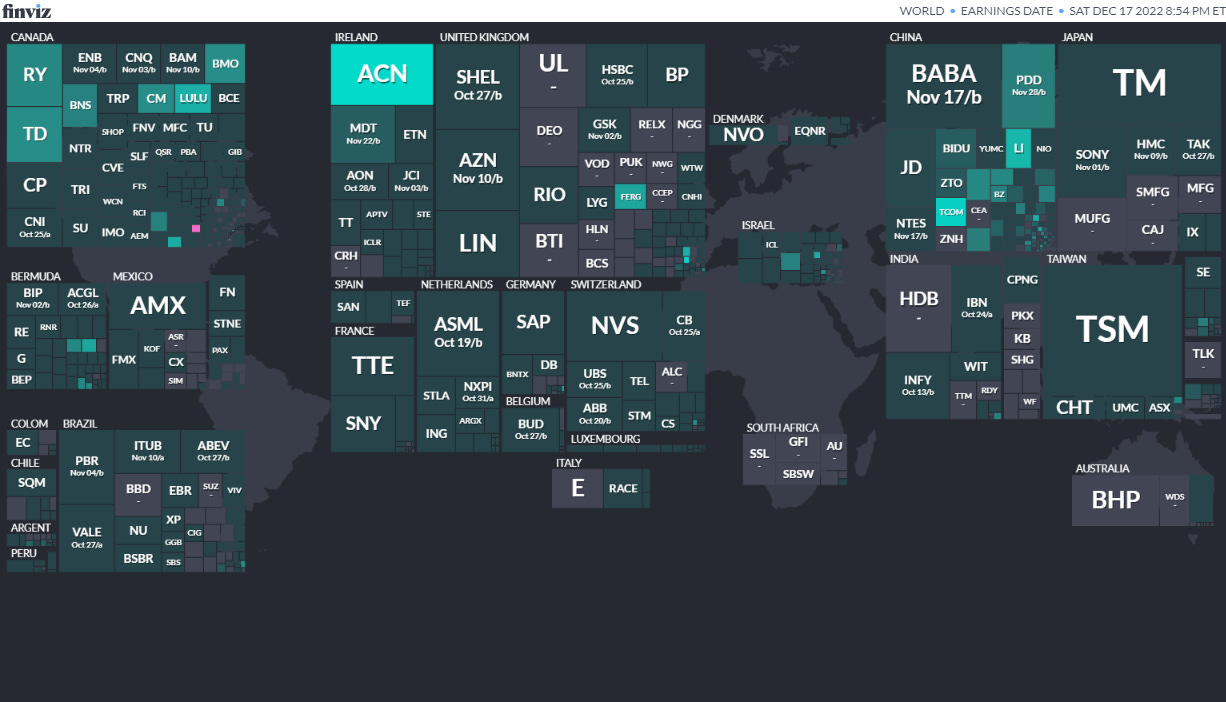 ---
Economic Calendar
Click here for the full weekly calendar from Investing.com containing frontier and emerging market economic events or releases (my filter excludes USA, Canada, EU, Australia & NZ).
---
Election Calendar
Frontier and emerging market highlights (from IFES's Election Guide calendar):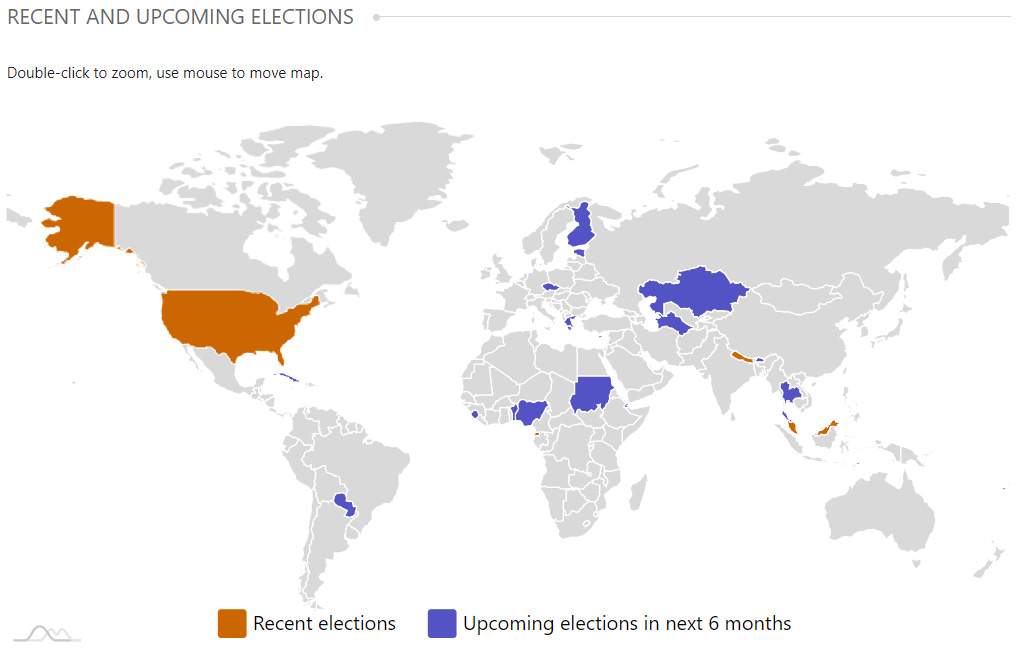 ---
IPO Calendar/Pipeline
Frontier and emerging market highlights from IPOScoop.com and Investing.com (NOTE: For the latter, you need to go to Filter and "Select All" countries to see IPOs on non-USA exchanges):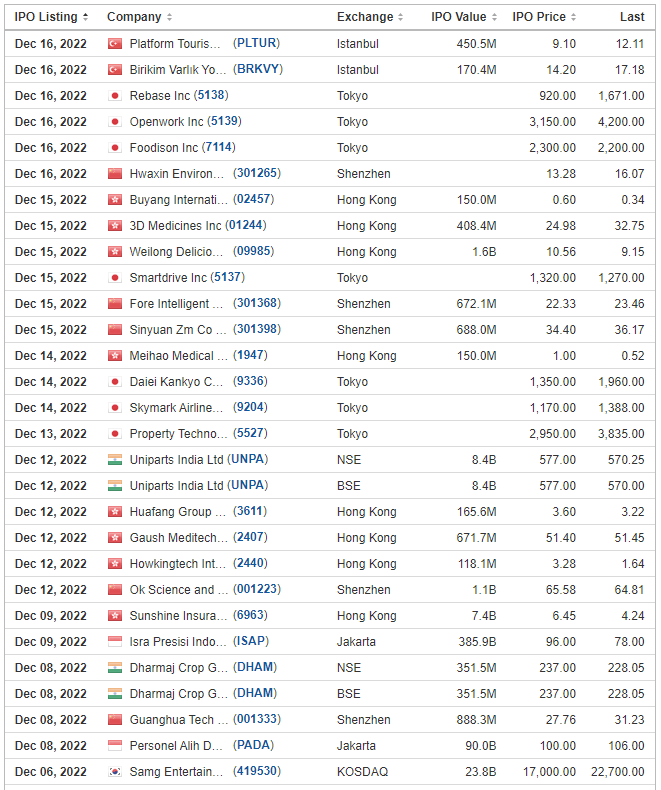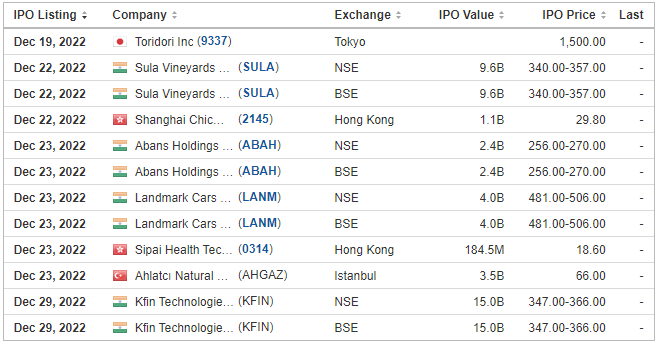 Intchains Group Ltd.ICG, 3.6M, $7.00-9.00, $28.6 mil, 12/19/2022 Week of
We are a provider of integrated solutions consisting of high-performance ASIC chips and ancillary software and hardware for blockchain applications. (Incorporated in the Cayman Islands)We utilize a fabless business model and specialize in the front-end and back-end of IC design, which are the major components of the IC product development chain. We have established strong supply chain management with a leading foundry, which helps to ensure our product quality and stable production output.Our products consist of high-performance ASIC chips that have high computing power and superior power efficiency as well as ancillary software and hardware, which cater to the evolving needs of the blockchain industry. We have built a proprietary technology platform named "Xihe" Platform, which allows us to develop a wide range of ASIC chips with high efficiency and scalability. We design our ASIC chips in-house, which enables us to leverage proprietary silicon data to deliver products reflecting the latest technological developments ahead of our competitors. As of Dec. 31, 2021, we had completed a total of seven tape-outs using our "Xihe" Platform for 22nm ASIC chips, achieving a 100% success rate for all our tape-outs.Our strong commitment to advanced research and development enables us to innovate continuously and create ASIC chips with superior performance to power ratio at reasonable cost. According to Frost & Sullivan, we have a leading market share in ASIC chips designed for several key blockchain algorithms including Blake2bsha3, sha512MD160, Cryptonight V4, Eaglesong and Blake2s, in terms of the accumulative computing power sold for the years ended Dec. 31, 2019, 2020 and 2021. We will continue to devote significant resources to design and tailor our ASIC chips for use in high-technology applications.
AlphaVest AcquisitionATMVU, 6.0M, $10.00-10.00, $60.0 mil, 12/20/2022 Tuesday
We intend to focus our search on businesses throughout Asia. However, we will not consummate our initial business combination with an entity or business with China operations consolidated through a variable interest entity ("VIE") structure. (Incorporated in the Cayman Islands)
CBL International LimitedBANL, 3.8M, $4.00-4.80, $16.7 mil, 12/30/2022 Friday
We are an established marine fuel logistics company providing a one-stop solution for vessel refueling, which is referred to as bunkering facilitator in the bunkering industry, in the Asia Pacific. (Incorporated in the Cayman Islands)We purchase and arrange (for) our suppliers to actually deliver marine fuel to our customers, some of which we provide certain credit terms of payment while we also receive payment credit from our suppliers. We rely on the permits and licenses of our suppliers for the actual delivery of marine fuel at each port. Since the establishment of our Group in 2015, container liner operators have been identified as our target customers. Container liner operators provide liner services which operate on a schedule with a fixed port rotation and fixed frequency, which is similar to bus operation under which buses go on fixed routes and call at fixed stops for passengers to board. Knowing the nature of the business of our target customers, we continually look to broaden our operations by (a) expanding our servicing network to cover more ports; and (b) providing more value-added services to tailor (our services to meet) our customers' growing demands with respect to vessel refueling.Our operations are based in Malaysia, Hong Kong and Singapore, but nearly all of our revenues were generated from China and Hong Kong (based on the location at which the marine fuel is delivered to the customer). For FY2020, FY2021 and the six months ended June 30, 2022, revenue generated from services provided in ports in China and Hong Kong accounted for a total of 88.8%, 95.9% and 92%, respectively, of our total revenue; whilst revenue generated from services provided in ports in Malaysia and Singapore accounted for a total of 10.7%, 2.9% and 7%, respectively, of our total revenue. Although we deliver our services mainly in China and Hong Kong, nearly all our customers are international container liner operators from outside of China and Hong Kong: Of our five largest customers from whom we generated 92.9%, 83.6% and 77% respectively of our total revenue for FY2020, FY2021 and the six months ended June 30, 2022, three customers are Taiwanese companies, one is a German company, and one is a Singaporean company.
Prestige Wealth Inc.PWM, 2.5M, $5.50-6.50, $15.0 mil, 12/30/2022 Friday
Prestige Wealth Inc. is not an operating company but a Cayman Islands holding company with operations primarily conducted by its subsidiaries. Investors in our Ordinary Shares thus are purchasing equity interest in a Cayman Islands holding company. Prestige Wealth Inc. directly holds equity interests in its subsidiaries and does not operate its business through variable interest entities. As of the date of this prospectus, Prestige Wealth Inc. does not have any subsidiaries incorporated in the mainland China. Through our subsidiaries, we are a wealth management and asset management services provider based in Hong Kong, with the majority of our subsidiaries' operations in Hong Kong. Our subsidiaries assist their clients in identifying and purchasing well matched wealth management products and global asset management products. Our subsidiaries' clients for both wealth management and asset management services are primarily high net worth and ultra-high net worth individuals in Asia, and a majority of our subsidiaries' clients reside in mainland China or Hong Kong. High net worth individuals and ultra-high net worth individuals refer to people who own individual investable assets, including financial assets and investment property, with total value over $1.5 million or over $4.5 million, respectively.• Wealth management services. Our subsidiaries work with licensed product brokers licensed in Hong Kong or in the U.S., who are primarily insurance brokers and distribute wealth management products, which currently consist only of insurance products, and assist them in customizing wealth management investment portfolios for our clients. Since late 2021, our subsidiaries started providing wealth management services in the U.S. Our subsidiaries also provide customized value-added services to their clients, including personal assistant services in Hong Kong, referrals to suitable wealth planning and inheritance related professionals such as trust lawyers and tax accountants, and referrals to renowned high-end medical and education resources. Our subsidiaries do not charge their clients fees for these value-added services. In addition to insurance products, we intend to expand the network of product brokers our subsidiaries work with to provide clients with access to other types of wealth management products.• Asset management services. Our wholly owned subsidiary, PRESTIGE ASSET INTERNATIONAL INC. ("PAI") and its subsidiaries provide asset management services to their clients acting as investment advisors and fund managers. Currently, our subsidiaries manage a fund of funds ("FOF"), Prestige Global Allocation Fund ("PGA"). See "Business — Asset Management Services — Asset Management Fund in Operation." In addition to managing PGA, our subsidiaries also provide discretionary account management services to their clients. Previously, our subsidiaries managed a fund Prestige Capital Markets Fund I L.P. ("PCM1"), and our subsidiaries also provided asset management related advisory services. See "Business — Asset Management Services — Prior Business." For our subsidiaries' asset management services, they charge investors certain fees for managing and advising a fund, including subscription fees, performance fees and management fees.
---
ETF Launches
Climate change and ESG are clearly the latest flavours of the month for most new ETFs. Nevertheless, here are some new frontier and emerging market focused ETFs:
---
ETF Closures/Liquidations
Frontier and emerging market highlights:
---
Check out our emerging market ETF lists, ADR lists (updated) and closed-end fund (updated) lists (also see our site map + list update status as some ETF lists are still being updated as of Summer 2022).
I have changed the front page of www.emergingmarketskeptic.com to mainly consist of links to other emerging market newspapers, investment firms, newsletters, blogs, podcasts and other helpful emerging market investing resources. The top menu includes links to other resources as well as a link to a general EM investing tips / advice feed e.g. links to specific and useful articles for EM investors.
Disclaimer: EmergingMarketSkeptic.Substack.com and EmergingMarketSkeptic.com provides useful information that should not constitute investment advice or a recommendation to invest. In addition, your use of any content is entirely at your own risk and it is your sole responsibility to evaluate the accuracy, completeness and usefulness of the content.
Emerging Market Links + The Week Ahead (December 19, 2022) was also published on our Substack.
---
---
---
Emerging Markets Investing Tips + Advice
Emerging Market Skeptic (Website)
Website List Updates + Site Map
Stocktwits @EmergingMarketSkptc
Similar Posts: