Anadolu Efes Biracilik ve Malt SanayiiAS (IST: AEFES / FRA: EF41 / OTCMKTS: AEBZY) makes more than two-thirds of its net sales in international markets and is Europe's 5th and the world's 9th largest brewer by production volume. Aside from Turkey (note that Turkish elections are scheduled for May 14th), the Company has operations in Belarus, Georgia, Kazakhstan, Moldova, Russia and Ukraine.
They also sponsor Anadolu Efes Spor Kulübü (English: Anadolu Efes Sports Club), the most recent Euroleague basketball champion and the most successful club in the history of the Turkish Super League (BSL).
OVERVIEW:
Anadolu Efes is part of the Anadolu Group ("The star that links Anatolia to the world and the world to Anatolia") and is involved in 8 sectors (beer, soft drink, retail, agriculture, automotive, stationery, quick service restaurant, and energy) with numerous local or international partners plus six listed companies – including Coca-Cola İçecek A.Ş. (IST: CCOLA) which Anadolu Efes is the largest shareholder in. (Anadolu Group Website)
Anadolu Efes serves a population of close to 750 million with beer and soft drinks brands in its portfolio. With 21 breweries, 5 malteries, 1 hops processing facility and 1 preform plant in 6 countries, and 29 bottling plants in 11 countries, including Turkey among others, Anadolu Efes is operating as one of the key players in its region and among the top 10 largest Coca-Cola bottlers by sales volume. The company ships its products to more than 70 countries. (About Anadolu Efes)
The beer operations reach out to almost 400 million consumers with over 100 beer brands including international and local brands.
Operations (NOTE: Blue is a brewery and Red is a soft drinks plant):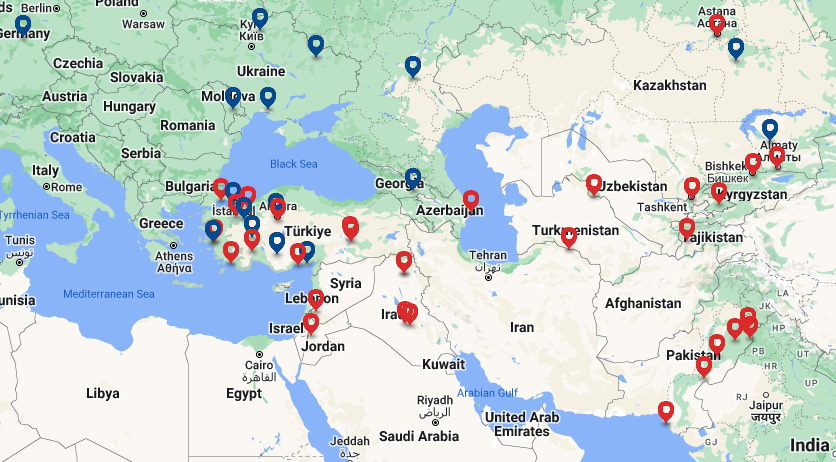 NOTE: It was reported last year that Anheuser-Busch InBev is selling its non-controlling interest in the AB InBev Efes joint venture, which operates in Russia and Ukraine. (AB InBev exits Russia)
In 2012, Anadolu Efes formed a strategic alliance with SABMiller Plc. In 2016, following the acquisition of SABMiller by Anheuser-Busch InBev ("AB InBev"), the world's largest brewer, AB InBev became the holder of a 24% stake in Anadolu Efes.
1 YEAR CHART:
NOTE: The Turks have been putting their money in the stock market to avoid currency devaluations and hyperinflation. The blue line is the Frankfurt listed shares.
LONG TERM CHART:
ADDITIONAL RESOURCES:
Disclaimer. The information and views contained on this website and newsletter is provided for informational purposes only and does not constitute investment advice and/or a recommendation. Your use of any content is entirely at your own risk and it is your sole responsibility to evaluate the accuracy, completeness and usefulness of the content. Seek a duly licensed professional for any investment advice. I may have positions in the investments covered. This is not a recommendation to buy or sell any investment mentioned.
Similar Posts: