Again, its very difficult to find any objective coverage of the Brazil elections as the English language media is largely against Bolsonaro. However and as predicted in alternative media, the Brazil elections are headed for a runoff and Jair Bolsonaro can still win against Lula. As a reminder for foreign investors of what happened after the last Lula Administration and what eventually spread beyond Brazil to ensnare corporate Latin America: Operation Car Wash.
Nevertheless, Brazil, Mexico and India remain bright spots for emerging market investors while ASEAN's growth is expected to outperform that of China's (who's problems are also benefiting India, Indonesia and Vietnam).
---
Suggested Reading
$ = behind a paywall
As stock picker dubbed British Warren Buffett winds up fund that wasn't doing well… should YOU steer clear of emerging markets too or is it time to buy? (Daily Mail)
Note: A great article. Even if you are not a UK investors, the funds mentioned are worth checking for their investing strategy, country focus and holdings. Also check out our piece: When Emerging Market Growth Stock Investing Fails: Fundsmith Emerging Equities Trust plc to Liquidate.
Matthias Siller, co-manager of Barings Emerging EMEA Opportunities, is excited by South Africa, because of its access to a broad range of metals. Charles Jillings, who runs the Utilico Emerging Markets Trust, has 22 per cent of his fund in Brazil, which is looking cheaper than for some months. Others are excited by India, a favourite of Darius McDermott, managing director at wealth platform Chelsea Financial Services. 'The demographics are great, and the politics are business friendly,' he says.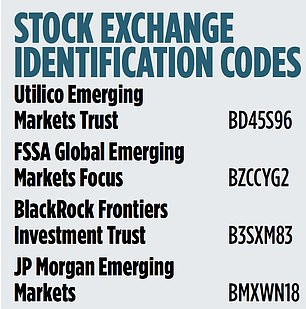 The Brazilian real and the Mexican peso have climbed against the dollar as it steamrolls rival currencies this year — but economic and political risks could eat into their gains (Markets Insider)
Edward Moya, senior market analyst at Oanda: "There's a lot that's wrong with the Brazilian economy, [however] some of its exports are still heavy in demand. There has been some benefit for soy and soft commodities. There are still a lot of currency traders that just can't pass up that yield."
"Mexico has been one of the key currency trades that a lot of people view as stable as emerging markets go," said Moya. Advantages for Mexico include its status as an oil producer and that is has the US as a major trading partner. Also, the Bank of Mexico has been more aggressive about raising interest rates to confront inflation than many other global central banks.
China's $5 trillion rout creates historic gap with Indian stocks (Bloomberg via Business Standard)
Regardless of how the Chinese market performs, abrdn Plc.'s Kristy Fong said India's attractiveness to global investors remains a long-term trend. "As a stock market, India is home to some of the highest quality companies in the region, with some of the most capable management teams anywhere in Asia," she said. "Segments where India excels include financial services, consumer goods and services and health care."
Exclusive-India's inclusion into key govt bond index pushed back to next year – sources (Reuters)
Local bond settlement rules, tax complexities and the way in which investors will repatriate dollars are among the operational issues that still need to be resolved, said a fund manager at a large global fund. Index investors tend to favour international settlement platforms such as Euroclear but India has said it wants to settle bonds onshore, like China.
Its inclusion could result in additional flows of as much as $30 billion within 10 months into the Indian government bond market, Morgan Stanley estimated earlier this month.
World Bank cuts China growth forecast as COVID-19, real-estate crunch take toll (WSJ via Fox Business)
The World Bank said in its latest assessment of the developing economies of East Asia and the Pacific that it expects China to expand 2.8% in 2022.
The region excluding China is expected to grow 5.3%, up sharply from the 2.6% recorded in 2021. Vietnam is forecast to expand 7.2%; the Philippines, 6.5%; Malaysia, 6.4%; and Indonesia, 5.1%.
Most countries have relatively low debts and manageable financing needs.
Asean stocks calm investors despite turmoil in other regions (Nikkei Asia via FreeMalaysiaToday)
"The spillover effect of the tourist rebound could lead to a strong recovery of activities and domestic demand," said Shiao of Invesco. The removal of Covid-related entry curbs has lifted domestic and regional consumption in sectors like food and retail, with some beating pre-pandemic levels.
The resilience displayed by Southeast Asian stocks contrasts sharply with North Asian peers, which are highly susceptible to trade and heavily dependent on China.
Asia's ticking debt bomb: Sri Lanka crisis sounds alarm bells across region (Nikkei Asia via Sri Lanka Brief)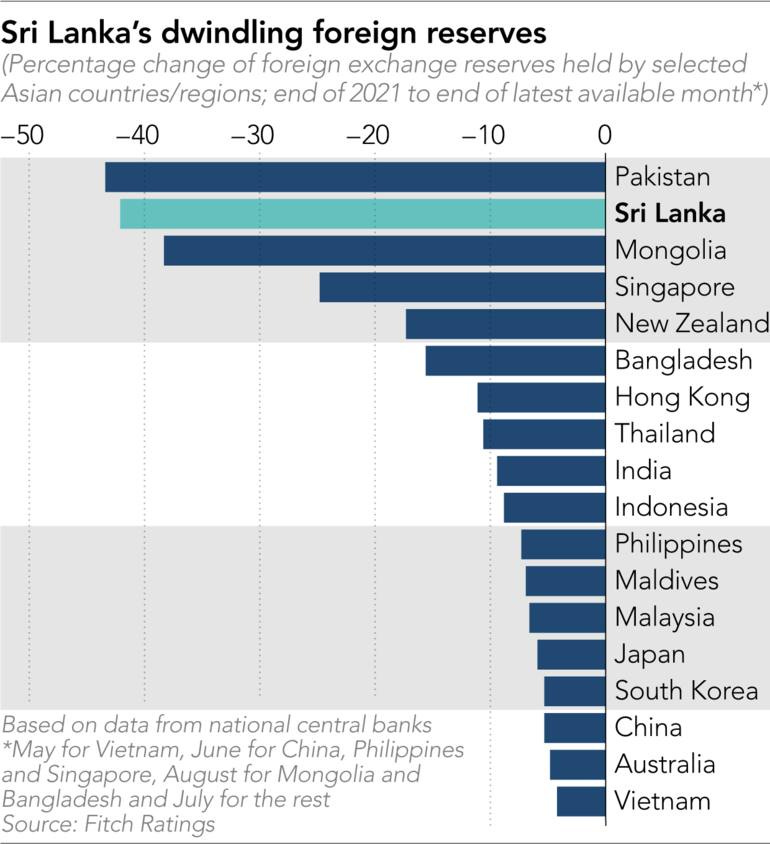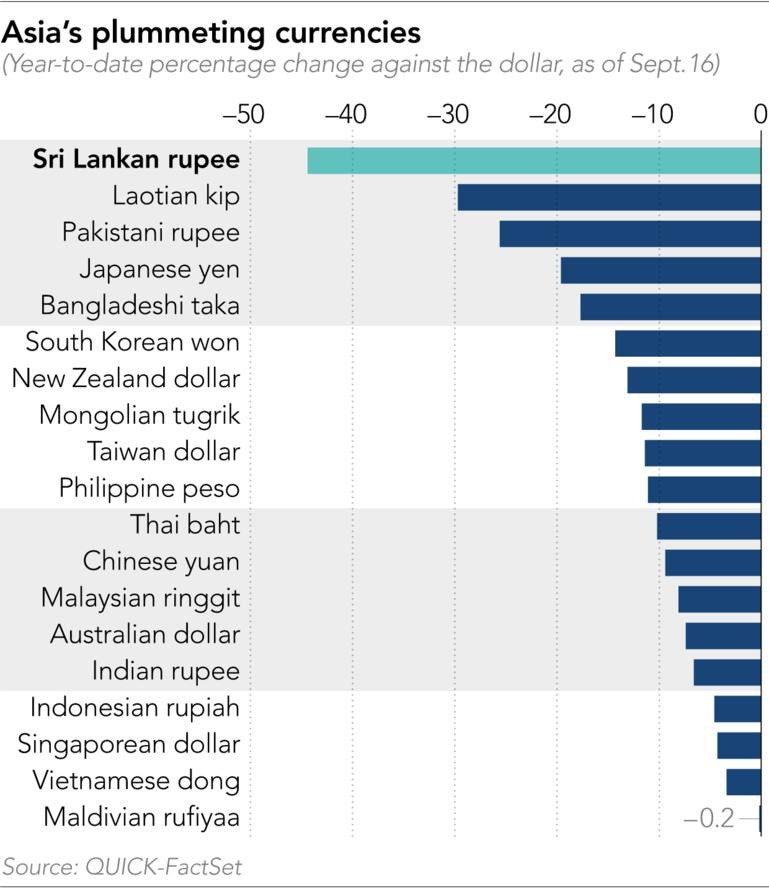 Asia-Pacific equities wait to emerge from the dollar's shadow (Robeco)
ASEAN is well placed in general but within the region our favored countries are Vietnam and Indonesia, with a combined population of 681 million and healthy demographics promoting a high propensity to consume. Vietnam and Indonesia are benefiting from the continued trend for supply chain diversification away from China, and Indonesia also benefits from an inflation hedge as a significant producer of commodities.
Confronting volatility with closed-end funds (Abrdn)
NOTE: Closed-end funds work differently than ETF or mutual funds who are often forced to dump holdings when investors make redemptions. However,many emerging market closed-end funds have liquidated or reorganized and/or consolidated. Check out our emerging markets closed-end funds list here.
Japan's exports of sanctions-exempt used vehicles to Russia surge (Kyodo News)
NOTE: Converting cash to physical assets is a common practice in emerging and frontier markets:
An official at the Japan Used Motor Vehicle Exporters Association suggested another reason for Russians snapping up secondhand Japanese vehicles. "Russians have a history of not trusting their government or currency, and have a tendency to convert cash into apartments, cars or other commodities in times of crisis," the official said.
---
Earnings Calendar
Note: Investing.com has a full calendar for most global stock exchanges BUT you may need an Investing.com account, then hit "Filter," and select the countries you wish to see company earnings from. Otherwise, purple (below) are upcoming earnings for US listed international stocks (Finviz.com):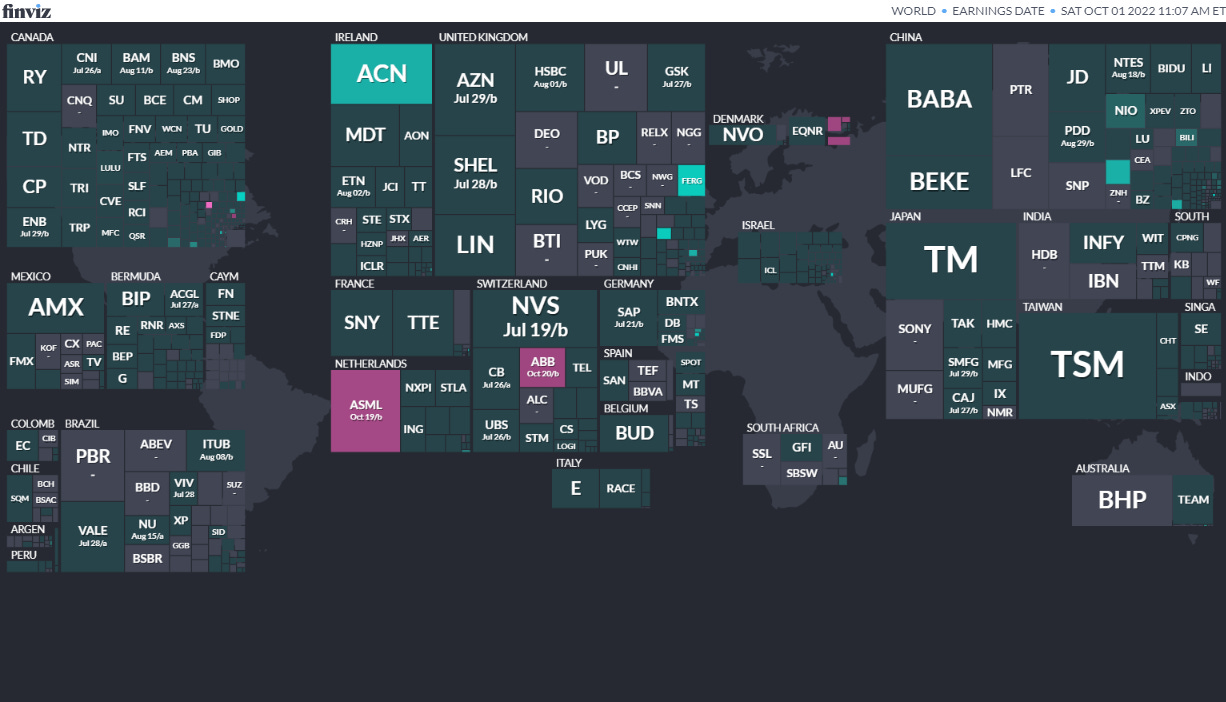 ---
Economic Calendar
Click here for the full weekly calendar from Investing.com containing frontier and emerging market economic events or releases (my filter excludes USA, Canada, EU, Australia & NZ).
---
Election Calendar
Frontier and emerging market highlights (from IFES's Election Guide calendar):
Check out: Thoughts for Investors: Bongbong Marcos Wins the 2022 Philippines Elections in a Landslide
---
IPO Calendar/Pipeline
Frontier and emerging market highlights from IPOScoop.com and Investing.com (NOTE: For the latter, you need to go to Filter and "Select All" countries to see IPOs on non-USA exchanges):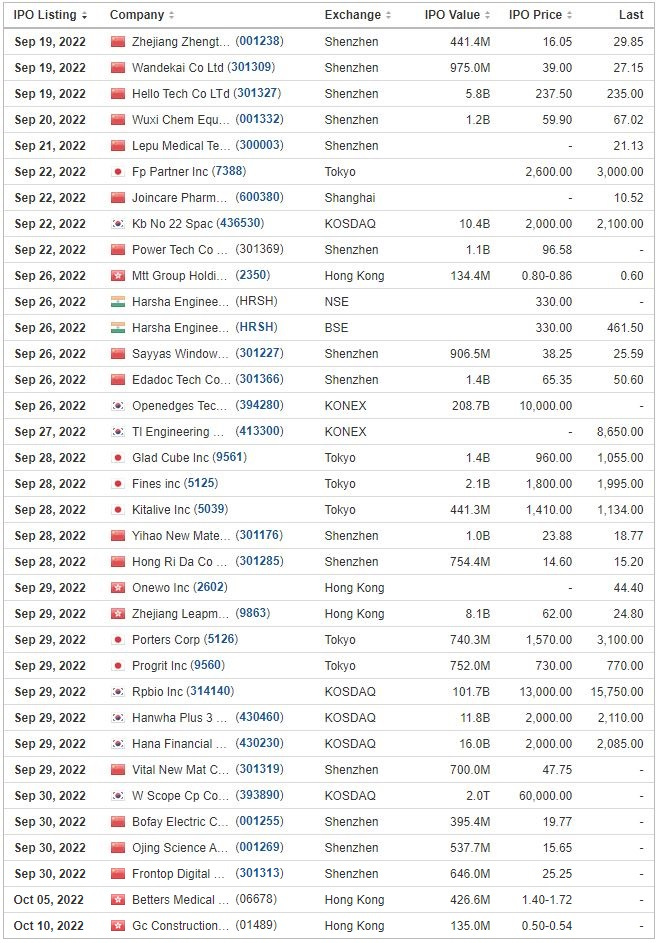 Beamr Imaging Ltd. BMR 3.0M, $5.00-5.00, $15.0 mil, 10/14/2022 Friday
We are an innovator of video encoding, transcoding and optimization solutions that enable high quality, performance, and unmatched bitrate efficiency for video and images. (Incorporated in Israel)With our Emmy®-winning patented technology and award-winning services, we help our customers realize the potential of video encoding and media optimization to address business-critical challenges. Our customers include Tier One over-the-top (OTT) content distributors, video streaming platforms and Hollywood studios who rely on our suite of products and expertise to reduce the cost and complexity associated with storing, distributing and monetizing video and images across devices.
---
ETF Launches
Climate change and ESG are clearly the latest flavours of the month for most new ETFs. Nevertheless, here are some new frontier and emerging market focused ETFs:
KraneShares Launches S&P Pan Asia Dividend Aristocrats ETF on NYSE (Ticker: KDIV)KDIV tracks the S&P Pan Asia Dividend Aristocrats Index, which provides exposure to companies in China, Japan, Australia, and other Asian countries that have paid and increased their dividends over a sustained period. Studies by S&P Dow Jones Indices have shown that over the long-term, dividend-paying companies have outperformed their corresponding broad market indexes on a risk-adjusted basis1. KDIV gives investors access to the S&P Dividend Aristocrats methodology applied to the Pan Asia region, one of the fastest-growing areas in the world.
---
ETF Closures/Liquidations
Frontier and emerging market highlights:
---
Check out our emerging market ETF lists, ADR lists (updated) and closed-end fund (updated) lists (also see our site map + list update status as some ETF lists are still being updated as of Summer 2022).
I have changed the front page of www.emergingmarketskeptic.com to mainly consist of links to other emerging market newspapers, investment firms, newsletters, blogs, podcasts and other helpful emerging market investing resources. The top menu includes links to other resources as well as a link to a general EM investing tips / advice feed e.g. links to specific and useful articles for EM investors.
Disclaimer: EmergingMarketSkeptic.Substack.com and EmergingMarketSkeptic.com provides useful information that should not constitute investment advice or a recommendation to invest. In addition, your use of any content is entirely at your own risk and it is your sole responsibility to evaluate the accuracy, completeness and usefulness of the content.
Emerging Market Links + The Week Ahead (October 3, 2022) was also published on our Substack.
---
---
---
Emerging Markets Investing Tips + Advice
Emerging Market Skeptic (Website)
Website List Updates + Site Map
Stocktwits @EmergingMarketSkptc
Similar Posts: