I am not a China shrill (Shaun Rein…) nor a China doom and gloom bear (aka the Coming Collapse of China…). As with Putin and Russia, there are many rumors surrounding Xi and what is going on in China right now. In light of those rumors, I highly suggest reading (especially Part 3) the series The Coming Removal of the Mandate of Heaven on the Crisis Watch Substack with an open mind but also a critical eye:
In addition, check out our emerging market ETF lists, ADR lists and closed-end fund lists (also see our site map + list update status as the lists are still being updated as of May 2022) along with our general EM investing tips / advice. All links to emerging market newspapers, investment firms, blogs and other helpful investing resources at the bottom of www.emergingmarketskeptic.com or on the menu under Resources have been update.
---
Suggested Reading
$ = behind a paywall
Investing in HK stocks (Turtles Substack) What I have learned over the years
Companies Should Come Clean on Their Ties to China (WSJ) $ (Click here for a non paywalled PDF file)

BP, Shell and Exxon Mobil have booked charges of $25.5 billion, $8.4 billion and $3.4 billion respectively, but the major oil companies aren't the only ones losing money. General Electric took a $200 million charge, and McDonald's is losing $50 million a month from closing its Russian operations. Netflix suspended service in Russia and lost 700,000 viewers
SEC staff has recently given the green light to my shareholder proposal for a "Communist China Audit," which asks companies to disclose to shareholders the extent to which their business relies on China…
The 3M and Verizon shareholder proposals will be voted on May 10 and 12, respectively…
These two recent research pieces from RaboResearch are excellent reads: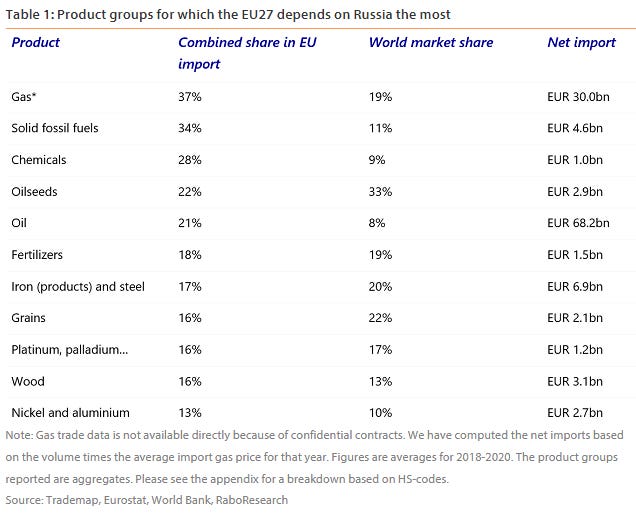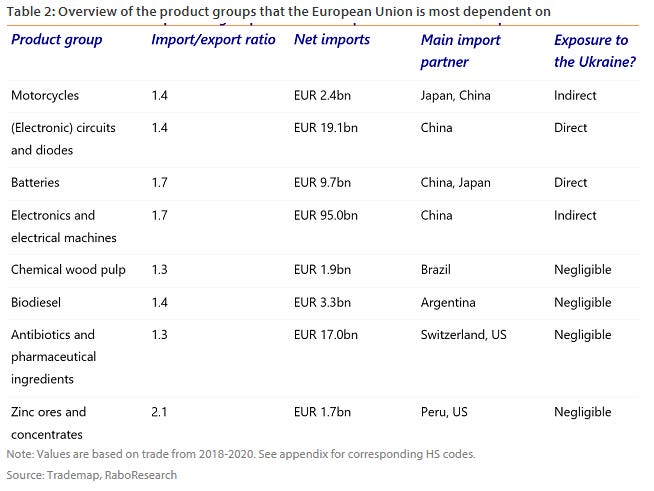 ---
Earnings Calendar
Note: Investing.com has a full calendar for most global exchanges BUT you may need an Investing.com account, then hit "Filter," and select the countries you wish to see company earnings from. Otherwise, purple (below) are upcoming earnings for US listed international stocks (Finviz.com):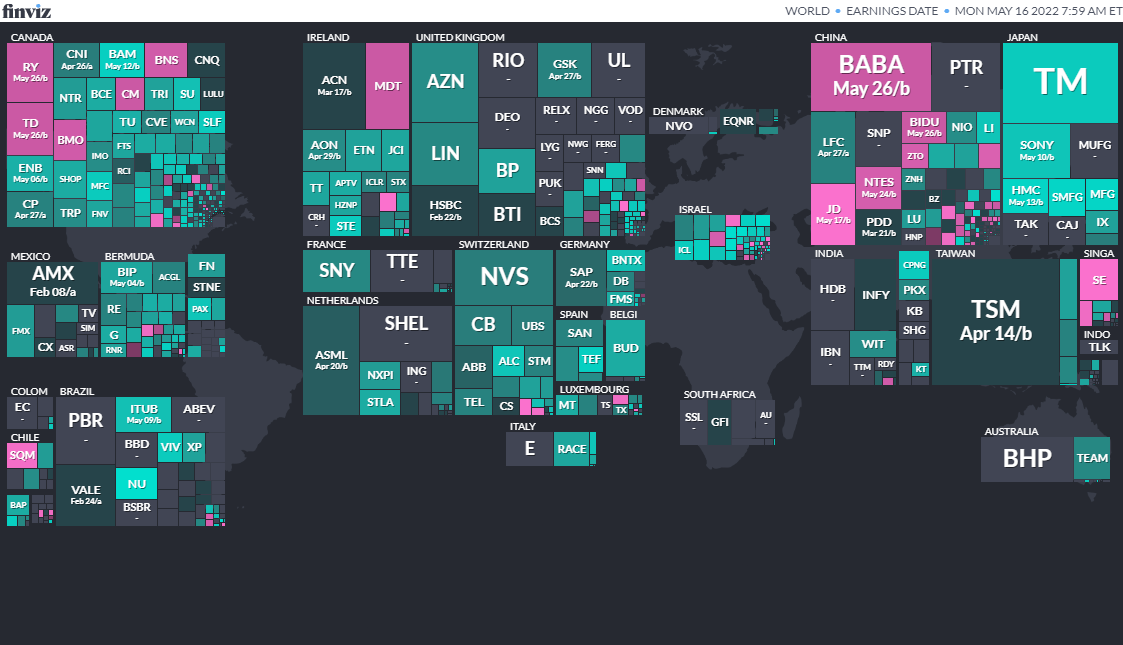 ---
Economic Calendar
Click here for a full weekly calendar from Investing.com (my filter excludes USA, Canada, EU, Australia & NZ). Some frontier and emerging market highlights:
Sunday, May 15, 2022

Tuesday, May 17, 2022


Wednesday, May 18, 2022



Thursday, May 19, 2022

---
Election Calendar
Frontier and emerging market highlights (from IFES's Election Guide calendar):
Check out: Thoughts for Investors: Bongbong Marcos Wins the 2022 Philippines Elections in a Landslide
---
IPO Calendar/Pipeline
Frontier and emerging market highlights (IPOScoop.com):
Zi TopRun Acquisition Corp. ZTOPU $110.0 mil 5/17/2022 Tuesday "We intend to pursue prospective targets in the transportation industry with a focus on companiesin North America, Europe and Asia. We expect to acquire one or more growth businesses with a total enterprise value of between $200 million and $600 million. (Incorporated in Delaware)Our search for a target business will include those involved in (i) battery or charging businesses, technology and software, (ii) auto pilot drive and Advanced Driver Assistance Systems (ADAS) related businesses, including both hardware and software, and (iii) general microchip design and production and technology. Our sponsor and certain members of our board of directors and management have significant business ties to the People's Republic of China, including Hong Kong…"
---
ETF Launches
Climate change and ESG are clearly the latest flavors of the month for most new ETFs. Nevertheless, here are some new frontier and emerging market focused ETFs:
---
ETF Closures/Liquidations
Frontier and emerging market highlights:
---
Disclaimer: EmergingMarketSkeptic.Substack.com and EmergingMarketSkeptic.com provides useful information that should not constitute investment advice or a recommendation to invest. In addition, your use of any content is entirely at your own risk and it is your sole responsibility to evaluate the accuracy, completeness and usefulness of the content.
Emerging Market Links + The Week Ahead (May 16, 2022) was also published on our Substack.
---
---
---
Emerging Markets Investing Tips + Advice
Emerging Market Skeptic (Website)
Stocktwits @EmergingMarketSkptc
Similar Posts: