Emerging Market Links + The Week Ahead (July 25, 2022)
Posted June 6, 2023 by Comments
China's mortgage problems are spreading as real estate developers increasingly cannot pay their suppliers who subsequently cannot pay their bills. On a related note, the General Crisis Watch Substack has published part four in their series covering China's (increasingly many…) problems: The Coming Removal of the Mandate in China, Part 4: Oil.
Meanwhile, China and Russia have announced a "New Global Reserve Currency" and nobody in the West seems to have noticed. I have seen various articles speculating about how such a currency (one backed by a basket of commodities like gold or other currencies) could work and the associated problems of creating such a currency. I plan to do a summary of such articles (and perhaps another for the growing Chinese property mess) along the lines of Digging Deeper: Vietnam's Stock Market Reforms and Frontier Market Status Update (July 2022) in the near future.
Finally, anyone investing in Asian stocks or emerging markets in general needs to read or listen to an Interview with Herald van der Linde (Chief Asia Equity Strategist at HSBC) on the Asian Century Stocks Substack.
Check out our emerging market ETF lists, ADR lists (updated) and closed-end fund (updated) lists (also see our site map + list update status as the ETF lists are still being updated as of Summer 2022) along with our general EM investing tips / advice. All links to emerging market newspapers, investment firms, blogs and other helpful emerging market investing resources at the bottom of www.emergingmarketskeptic.com or on the menu under Resources have been updated.
NOTE: The lists of new ETF launches and closures near the end of this newsletter have been updated. Several non-ESG or non-climate changed focused emerging market ETFs have recently launched while iShares appears to be doing another ETF cull with plans to close and liquidate (in August) the iShares MSCI Colombia ETF and iShares MSCI Argentina and Global Exposure ETF.
---
Suggested Reading
$ = behind a paywall
"We Decided To Stop Paying": China's Mortgage Payment Boycott Spreads As Property Suppliers Refuse To Pay Their Bills (Zero Hedge)
In a jarring case study of what happens when a ponzi scheme goes into reverse, hundreds of contractors to the property industry complained that they can no longer afford to pay their own bills because developers including China Evergrande Group still owe them money, Caixin reported, citing a statement it received from a supplier Tuesday.
It's so bad, even Bloomberg has given up trying to put lipstick on this particular pig…
Suppliers of Delinquent Developers Complain They Can't Pay Their Bills (Caixin)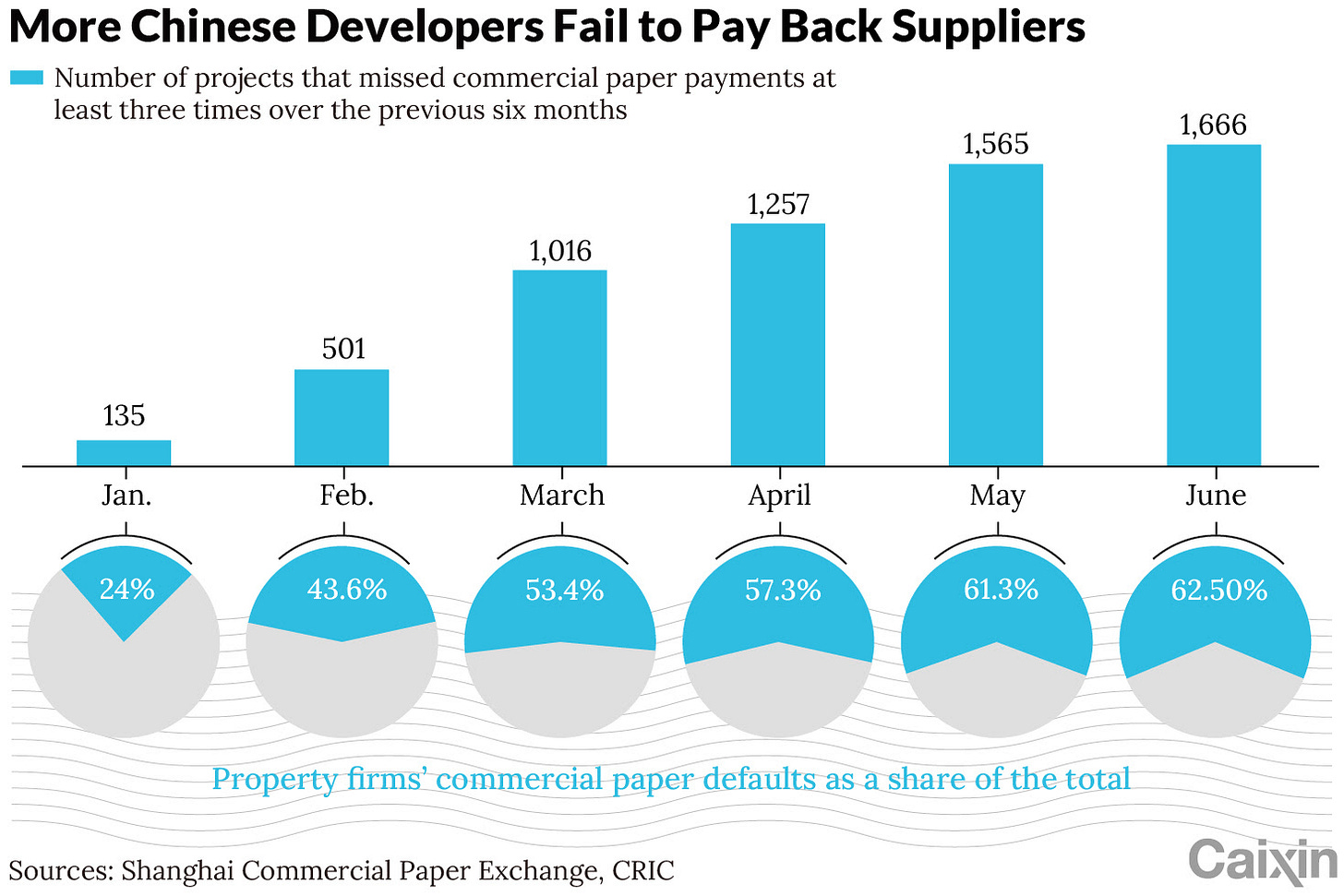 Dominoes – #13: On Bad Debt and Chinese Banks (The Last Bear Standing)
This week's post is the second half of a series on China's property and debt crisis. Last week's post provided background on the topic if you missed it!
The Coming Removal of the Mandate in China, Part 4: Oil (General Crisis Watch)
How China's legitimate need to bypass the Strait of Malacca will blow up in the CCP's face.
Although Russia is the most stable link in the Chinese link, Myanmar may be the most important link. It's also the one I believe is most likely to blow up in China's face.
When averaged out against the Chinese population, the People's Republic of China requires an average of 3 barrels of crude oil per person every year – almost one-sixth of the US requirement of 20 barrels per oil per person per year. However, this is peacetime. Should China find itself in an all-out war, the PLA Ground Forces will require 35k tons of fuel every day simply for routine operations, with similar requirements from the PLA Air Force and PLA Navy.
Russia And China Officially Announce A "New Global Reserve Currency" (QTR's Fringe Finance)
And once again, as happens often with consequential news in the United States and the West, no one has noticed and no one seems to care.
A MUST LISTEN TO OR READ THE INTERVIEW TRANSCRIPT:Asian Century StocksInterview with Herald van der LindeWatch now (31 min) | I had the pleasure of interviewing Herald van der Linde, Chief Asia Equity Strategist at HSBC who has worked in the region for over three decades. In the interview I ask him about: His background and what he does today Common misperceptions The question of business quality vs P/E ratios…Read more2 months ago · 12 likes · 4 comments · Michael Fritzell
His background and what he does today
Common misperceptions
The question of business quality vs P/E ratios
Whether reported GDP growth is important
Countries with great conditions for entrepreneurship
His thoughts on the pace of Indonesian reforms
Which sectors in China that could lead the next bull market
His bullishness about Bangladesh
Herald recently published a new book called Asia's Stock Markets from the Ground Up. It's a practical guide for Asia's stock markets, providing the reader with historical context and understanding of how these markets look like today.
Pakistan's Coming Collapse Should Worry the World (National Interest)
Between July 2020 and January 2021, for example, Pakistan was the third-largest consumer of Ukrainian wheat exports after Indonesia and Egypt. The price spike in oil prices has hit Pakistan hard, driving up the cost of its imports by more than 85 percent, to almost $5 billion, just between 2020 and 2021.For Pakistan, it is a perfect storm. At the end of Pakistan's fiscal year on June 30, 2022, its trade deficit neared $50 billion, a 57 percent increase over the previous year.
Emperador lists in Singapore to pursue global growth (The Asset)
Emperador, the largest liquor company in the Philippines, listed on the Singapore Exchange on Thursday (July 14) as part of its bid to accelerate international expansion.
Emperador aims to generate 50% of its sales from outside the Philippines by 2025.
As global funding dries up, Mexico's delivery startups see an opportunity (rest of world)
By hunkering down in specific cities and regions in Latin America these companies might shine as others fold.
Colombia's Economy May Yet Catch Up to the Hype (Bloomberg) $ (Non-Paywalled)
The country is full of entrepreneurial energy and vibrant businesses but has struggled to achieve robust growth. That could change.
[Left-wing president] Petro's party holds only a small number of seats in the two houses of Congress, limiting its influence.
By World Bank estimates, Colombia has a per capita income of slightly more than $16,000, using purchasing power parity standards. For purposes of comparison, Mexico comes in at slightly over $20,000. Argentina is considered to have been an economic failure since the Peronist years, but still has a per capita income exceeding $22,000.
Poll Tracker: Chile's Constitutional Referendum (AS/COA)
Ahead of the September 4 plebiscite, see where Chileans stand on approving or rejecting the new Magna Carta.
Panama's Inflation Upheaval Causing Food, Fuel Shortages (Zero Hedge)
It started as a teacher's strike to protest the high cost of gas, but it's now the largest civil unrest in Panama since the end of dictator Manuel Noriega's reign in 1989.
With protestors demanding economy-wide price cuts and increased spending on education and health care, the demonstrations continued, not only in the form of marches and strikes but also roadblocks of major highways, including the internationally-critical Pan-American Highway. The Panama Canal has thus far escaped disruption; strikes by canal workers are illegal.
Most Macau casinos reopen but business seen bleak (GGRAsia)
Most of Macau casinos reopened on Saturday (July 23) with limited operations as part of countermeasures against Covid-19, and with business volumes seen depressed as travel restrictions constrain the number of visitors from mainland China.
---
Earnings Calendar
Note: Investing.com has a full calendar for most global stock exchanges BUT you may need an Investing.com account, then hit "Filter," and select the countries you wish to see company earnings from. Otherwise, purple (below) are upcoming earnings for US listed international stocks (Finviz.com):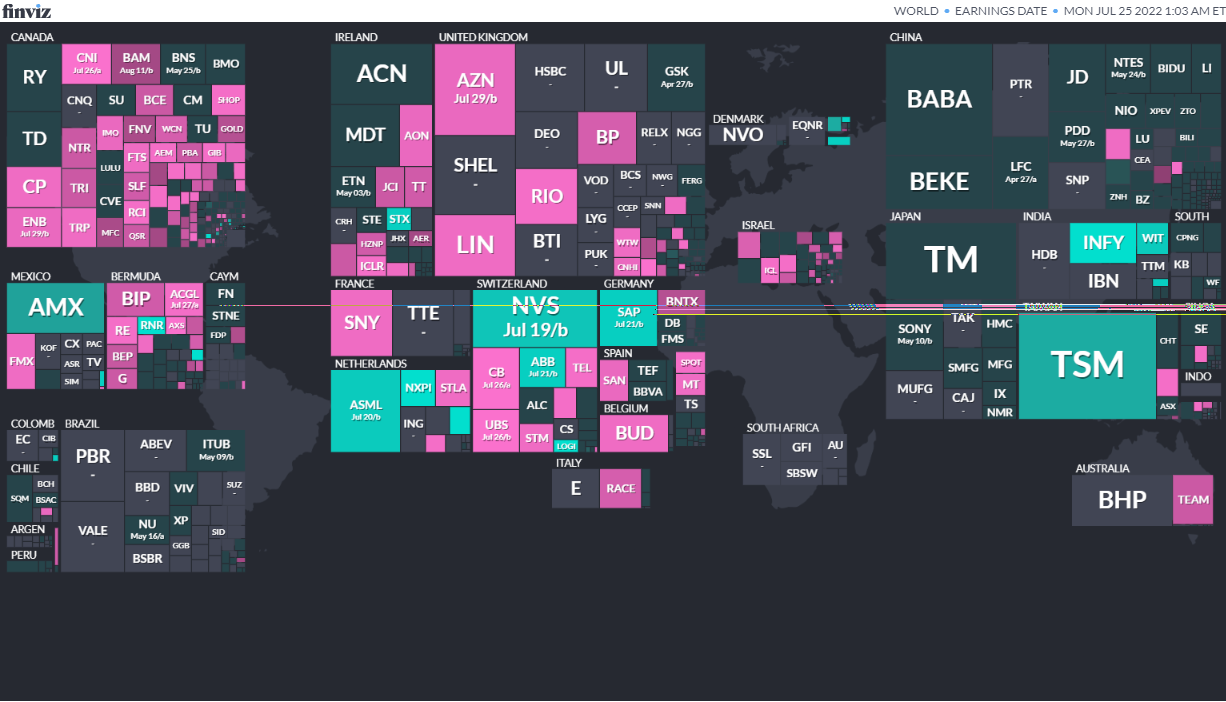 ---
Economic Calendar
Click here for the full weekly calendar from Investing.com containing frontier and emerging market economic events or releases (my filter excludes USA, Canada, EU, Australia & NZ).
---
Election Calendar
Frontier and emerging market highlights (from IFES's Election Guide calendar):
Check out: Thoughts for Investors: Bongbong Marcos Wins the 2022 Philippines Elections in a Landslide
---
IPO Calendar/Pipeline
Frontier and emerging market highlights from IPOScoop.com and Investing.com (NOTE: For the latter, you need to go to Filter and "Select All" countries to see IPOs on non-USA exchanges):

Jianzhi Education Technology Group Company Ltd. JZ 5.0M Shares, $5.00-7.00, $30.0 mil, Week of 7/25/2022
Since being established, we, together with the VIEs, have been committed to developing educational content to fulfill the massive demand for high quality professional development training resources in China. (Incorporated in the Cayman Islands)
Mobile Global eSports Inc. (MOGO) MGAM 3.8M Shares, $4.00-5.00, $17.1 mil, Week of 7/26/2022
Mobile Global Esports ("MOGO" or "Mogo," or the "Company") was organized in March of 2021 to carry on and expand an esports business (the "Business") started by Sports Industry of India ("SII"), in 2016. Through a series of contracts, the rights to the Business were assigned to MOGO by SII and its affiliates beginning in October of 2021. MOGO is now building out and expanding the business created by SII, which is focused on the rapidly growing esports industry, with special emphasis on India and other South Asian markets. The Indian market for esports, and particularly university esports events in India, represent, in management's opinion, one of the largest and fastest growing esports markets in the world.1
SII is an American branding, marketing and sports promotion company that, through subsidiaries and affiliates in India and other South Asian countries, enters into exclusive long-term arrangements with universities for the purpose of promoting, expanding and commercializing university sports programs, creating professional opportunities for university athletes and alumni and developing and marketing university and event-branded merchandise. The SII esports business, which has now been transferred to and is operated by MOGO, is the only business in India to organize and sponsor an officially sanctioned national championship for university esports. SII holds a 15.8% minority common share interest in MOGO but has no controlling interest in MOGO.
---
ETF Launches
Climate change and ESG are clearly the latest flavours of the month for most new ETFs. Nevertheless, here are some new frontier and emerging market focused ETFs:
---
ETF Closures/Liquidations
Frontier and emerging market highlights:
---
Disclaimer: EmergingMarketSkeptic.Substack.com and EmergingMarketSkeptic.com provides useful information that should not constitute investment advice or a recommendation to invest. In addition, your use of any content is entirely at your own risk and it is your sole responsibility to evaluate the accuracy, completeness and usefulness of the content.
Emerging Market Links + The Week Ahead (July 25, 2022) was also published on our Substack.
---
---
---
Emerging Markets Investing Tips + Advice
Emerging Market Skeptic (Website)
Website List Updates + Site Map
Stocktwits @EmergingMarketSkptc
Similar Posts:
Support This Site
Archives