As twenty-five years ago this month marked the beginning of the turmoil that would become known as the Asian Financial Crisis, there are a couple of interesting articles to read about Chinese manufacturing in general (as well as their chip manufacturing abilities):
Experts say Southeast Asian nations and India still have enormous hurdles to overcome in competing with China.
However, Mexico is becoming an increasingly attractive alternative for Chinese manufacturing.
Meanwhile, the Russians will start to demand Rubles for wheat as a number of countries still depend on Russia for grains and fossil fuels. Finally, there are rumblings of trouble in Argentina (yet again)…
Check out our emerging market ETF lists, ADR lists and closed-end fund lists (also see our site map + list update status as the lists are still being updated as of May 2022) along with our general EM investing tips / advice. All links to emerging market newspapers, investment firms, blogs and other helpful investing resources at the bottom of www.emergingmarketskeptic.com or on the menu under Resources have been updated.
---
Suggested Reading
$ = behind a paywall
Crisis to crisis: What Asia learned from the financial chaos of 1997 (Bangkok Post)
Here, in the words of some of the key players during the crisis, is the story of what happened, how the region recovered and what the prospects are for economies facing a new economic crisis. Interviews have been edited for clarity and brevity.
How bad is China's manufacturing exodus? (Caixinglobal.com) $ (NON-PAYWALLED)
Southeast Asian nations, and even India, still have enormous hurdles to overcome in competing with China, trade experts say.
So far, most of the manufacturing leaving China has been in lower-end processes and hasn't hurt China's dominant position, many industry participants say. But the trend is forcing a transformation and upgrade of China's manufacturing toward higher-value goods, creating risks and opportunities for domestic manufacturers, they said.
In Depth: How Chinese factories are finding their way to Mexico (Nikkei Asia / Caixin) $ (Non-Paywalled)
Apart from traditional destinations in Southeast Asia targeted by Chinese producers, Mexico is becoming a new alternative, offering proximity to the U.S., lower labor costs and access to preferential tax treatment under the U.S.-Mexico-Canada free trade agreement.
How realistic are China's chip ambitions? (The Asset)
Despite big aspirations – and big investment – China has struggled to catch up with the US in an economically and strategically vital industry, and will continue to face significant barriers to progress. But a number of factors – from rising US inflation to fast-growing scientific capabilities – could work in its favour.
India's Largest Cement Maker "Circumventing The Dollar" In Russian-Coal-For-Yuan Deal (Zero Hedge)
"This move is significant. I have never heard any Indian entity paying in yuan for international trade in the last 25 years of my career. This is basically circumventing the USD (U.S. dollar)," a Singapore-based currency trader said.
"If the rupee-yuan-rouble route turns out to be favourable, the businesses have every reason and incentive to switch over. This is likely to happen more," said Subash Chandra Garg, a former economic affairs secretary at India's finance ministry.
Who's Still Buying Fossil Fuels From Russia? (Visual Capitalist)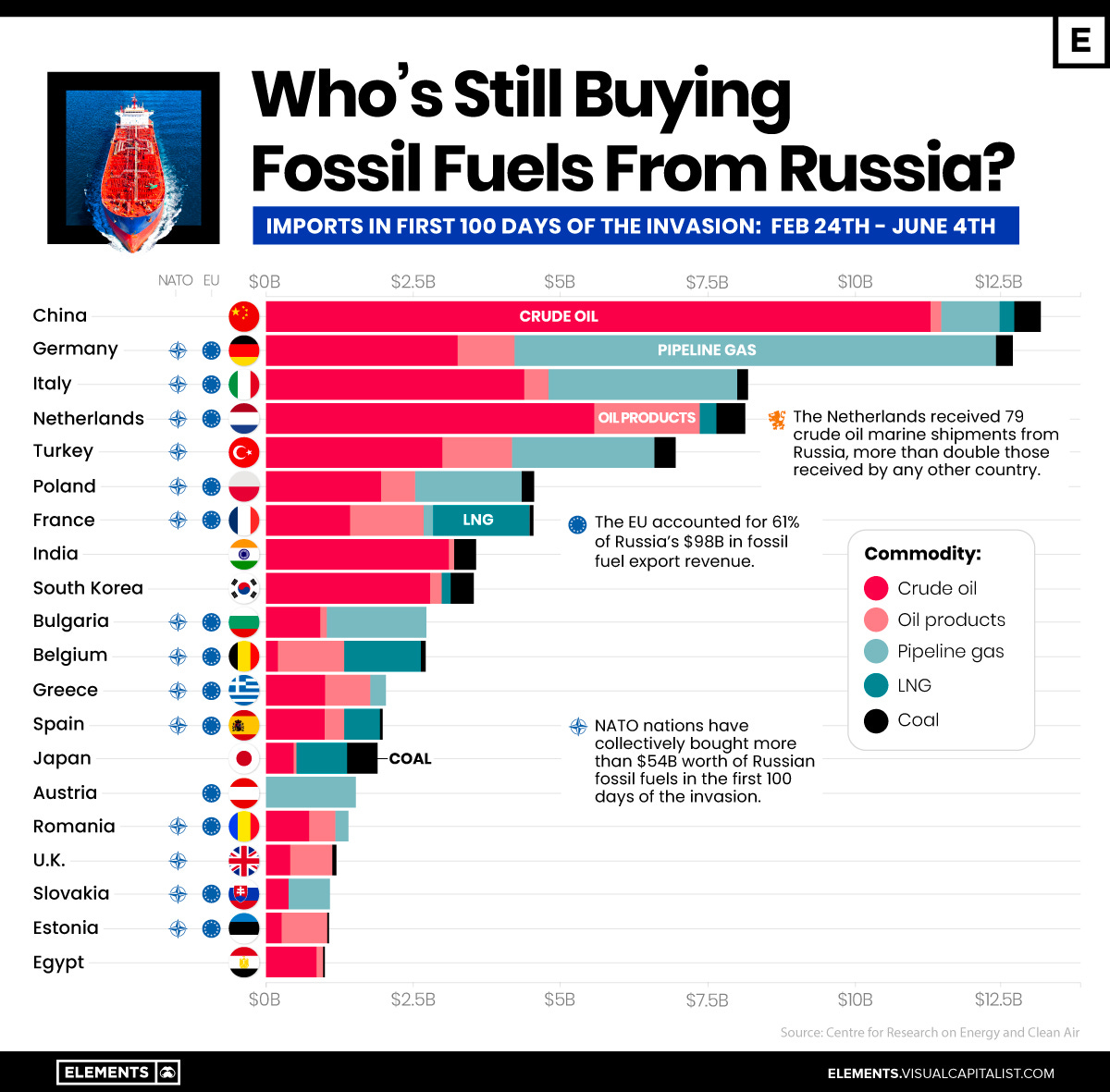 Russia Now Demands Rubles For Grain As World's Largest Wheat Exporter (Zero Hedge)
Via Farmdocdaily: Russia and Ukraine account for 14% of global wheat production and rank 1stand 5threspectively. Both countries are prominent exporters, providing nearly 30% of global wheat exports. The EU, U.S., and Canada are also major producers and exporters of wheat. China and India are major wheat producers, but are net importers and provide relatively small shares of global wheat exports. Other countries with fairly large wheat export shares include Australia (8.4%), Argentina (6.6%), Kazakhstan (4.1%), and Turkey (3.4%).
Analysis: Argentina's economic crisis whack-a-mole goes into overdrive (Reuters)
The South American country, an important global supplier of soybeans, corn and wheat, has seen its bonds sink to record lows, pressure on its peso currency is rising and a high energy import bill is stopping it building up vital dollar reserves.
Three Signs Show That Argentina Is Heading to a Devaluation (Bloomberg)
Peso liquidity and energy costs proving a dangerous cocktail
Central bank may be pushed into a one-time devaluation: BTG
---
Earnings Calendar
Note: Investing.com has a full calendar for most global exchanges BUT you may need an Investing.com account, then hit "Filter," and select the countries you wish to see company earnings from. Otherwise, purple (below) are upcoming earnings for US listed international stocks (Finviz.com):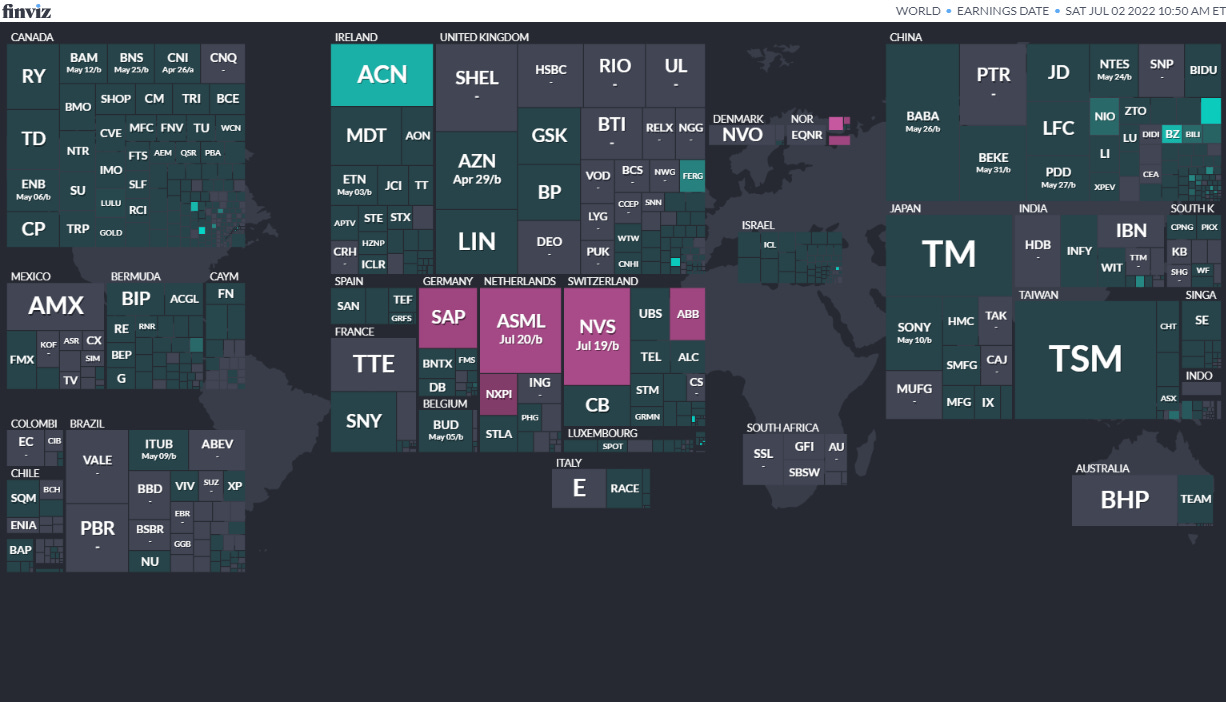 ---
Economic Calendar
Click here for a full weekly calendar from Investing.com (my filter excludes USA, Canada, EU, Australia & NZ). Some frontier and emerging market highlights: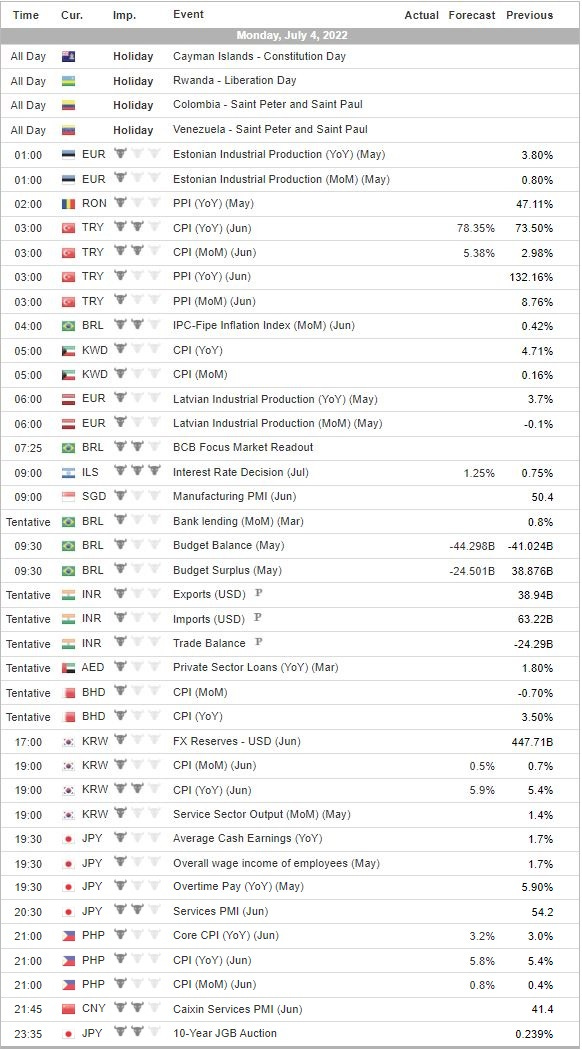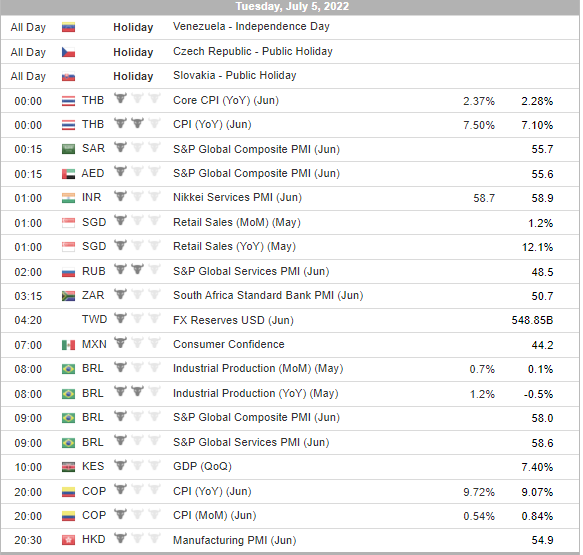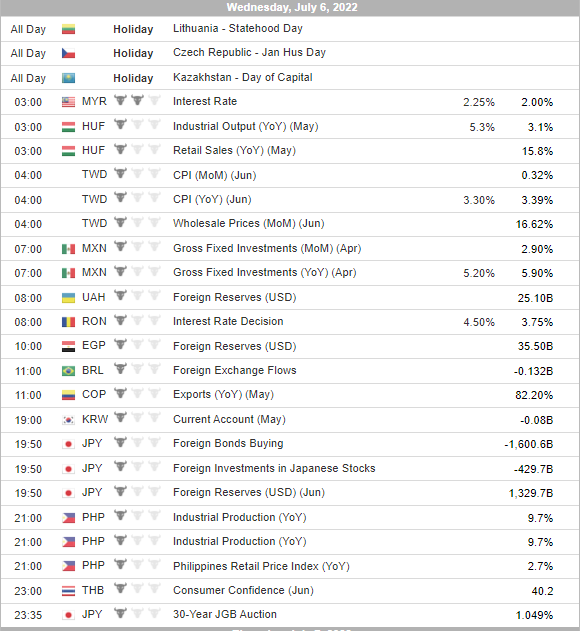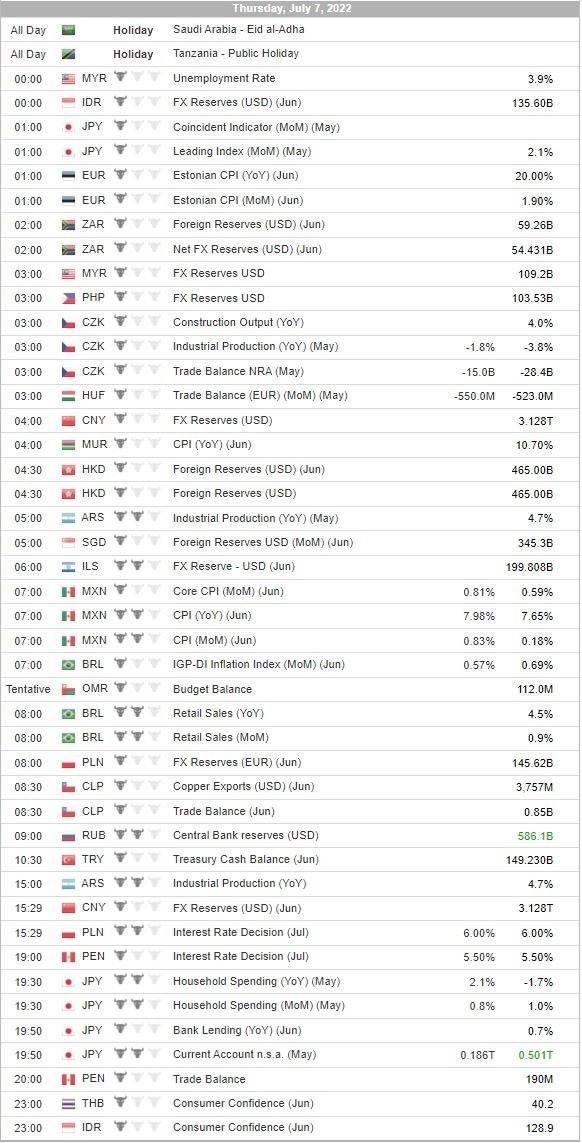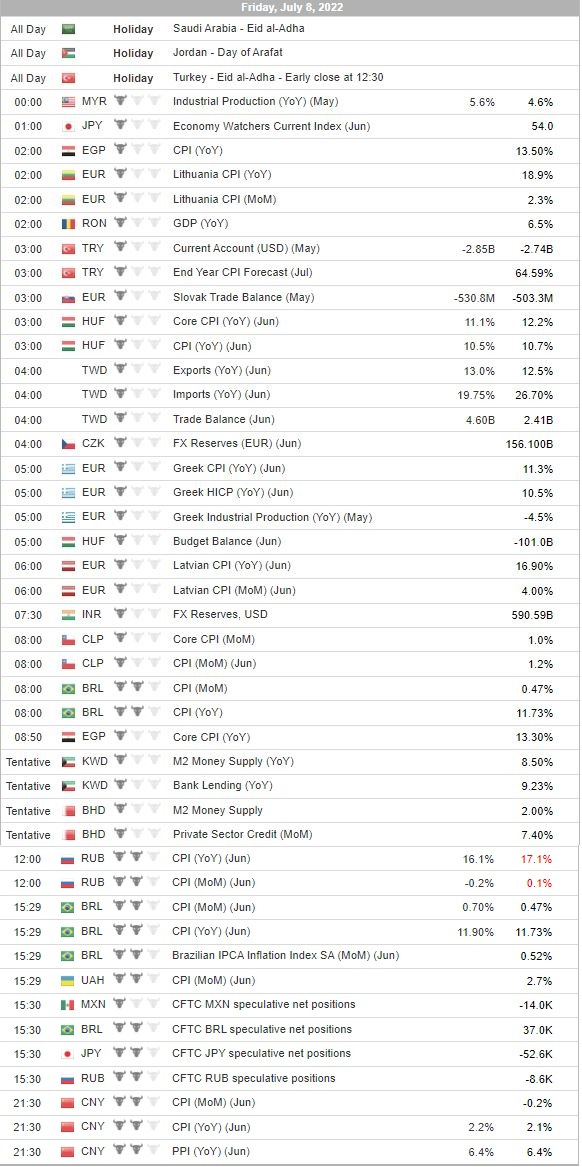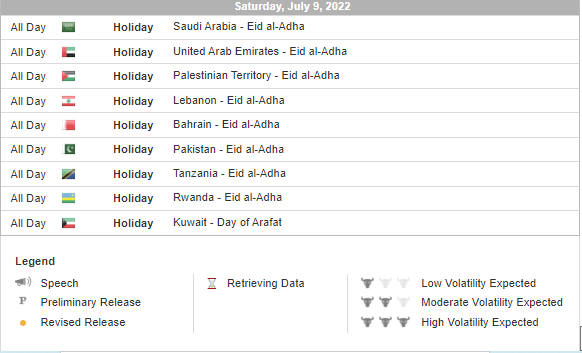 ---
Election Calendar
Frontier and emerging market highlights (from IFES's Election Guide calendar):
Check out: Thoughts for Investors: Bongbong Marcos Wins the 2022 Philippines Elections in a Landslide
---
IPO Calendar/Pipeline
Frontier and emerging market highlights from IPOScoop.com and Investing.com (NOTE: For the latter, you need to go to Filter and "Select All" countries to see IPOs on non-USA exchanges):

Nano Labs Ltd., 3.5M, $9.50-11.50, $36.8 mil, Week of 7/5/2022
We are a leading fabless integrated circuit, or IC, design company and product solution provider in China. (Incorporated in the Cayman Islands)
We are committed to the development of high throughput computing, or HTC, chips, high performance computing, or HPC, chips, distributed computing and storage solutions, smart network interface cards, or NICs, vision computing chips and distributed rendering. We have built a comprehensive flow processing unit, or FPU, architecture, which offers a solution that integrates the features of both HTC and HPC. Moreover, our Cuckoo series is one of the first near-memory HTC chips available in the market with a maximum bandwidth of approximately 2.27 Tbps, as well as one of the first movers of the ASIC-based Grin mining market, according to the F&S report. In June 2021, we established IPOLLO PTE. LTD., our indirect wholly owned subsidiary in Singapore, to facilitate our business expansion in the overseas IC markets
Virax Biolabs Group Limited VRAX, 1.4M shares, $5.00, $6.8 mil, Week of 7/5/2022
We are a holding company incorporated as an exempted company under the laws of the Cayman Islands. As a holding company with no material operations of our own, we conduct our substantial operations in the United Kingdom and Hong Kong with operating subsidiaries in Singapore, China and the British Virgin Islands. We have been operating since 2013.
We are a global innovative biotechnology group that primarily engages in sales, distribution and marketing of diagnostic test kits and med-tech and Personal Protective Equipment ("PPE") products for the prevention, detection, diagnosis and risk management of viral diseases with a particular interest in the field of immunology. Our mission is to minimize the risks of viruses throughout the world via our product offerings.
We intend to apply for an aggregate of four (4) patents in 2022. For one of the pending patents, we are in the process of acquiring it, and we expect to close the acquisition in 2022. Further, we are developing a T-Cell IVD test kit under the Virax Immune brand for COVID-19 initially, which we subsequently intend to adapt for immunological profiling against multiple viral threats. We are also building a proprietary mobile application for Virax Immune, using an in-house code, that will present an individual's immunological profiling data and provide advice on the user's immune system. Based on our management team's analysis, we expect to file a patent for the Virax Immune Cell diagnostic test kit and a copyright for the Virax Immune app in 2022.
---
ETF Launches
Climate change and ESG are clearly the latest flavors of the month for most new ETFs. Nevertheless, here are some new frontier and emerging market focused ETFs:
---
ETF Closures/Liquidations
Frontier and emerging market highlights:
---
Disclaimer: EmergingMarketSkeptic.Substack.com and EmergingMarketSkeptic.com provides useful information that should not constitute investment advice or a recommendation to invest. In addition, your use of any content is entirely at your own risk and it is your sole responsibility to evaluate the accuracy, completeness and usefulness of the content.
Emerging Market Links + The Week Ahead (July 4, 2022) was also published on our Substack.
---
---
---
Emerging Markets Investing Tips + Advice
Emerging Market Skeptic (Website)
Website List Updates + Site Map
Stocktwits @EmergingMarketSkptc
Similar Posts: