As of early this morning, it appears that the leftist candidate has narrowly won Colombia's runoff election for President. Given the backtracking towards statist economics that is happening in Mexico under a leftist President, this may not bode well for the Colombian economy, stocks and ETFs while much of the rest of Latin America continues to be threatened by food inflation (and the political unrest that comes with it).
Meanwhile, Mark Mobius thinks China has hit bottom, likes India and that the US Dollar will continue to strengthen – something that will surely impact emerging markets. And a former NYSE President thinks capital markets will be dead for a long time…
Check out our emerging market ETF lists, ADR lists and closed-end fund lists (also see our site map + list update status as the lists are still being updated as of May 2022) along with our general EM investing tips / advice. All links to emerging market newspapers, investment firms, blogs and other helpful investing resources at the bottom of www.emergingmarketskeptic.com or on the menu under Resources have been update.
---
Suggested Reading
$ = behind a paywall
Russia's bourse to start trading HK stocks (Asia Times)
Russia's Saint Petersburg Stock Exchange has announced it will allow the trading of 12 Hong Kong stocks from Monday, June 20, raising concerns that Russians may use Hong Kong to evade western sanctions. It remains unclear how the proposed cross-border stock trading can be done without the SWIFT.
A Chinese Invasion Of Taiwan Could Unleash An Economic Disaster (1945)
Taiwan presently accounts for 92% of the world's semiconductor manufacturing capacity, and should China invade the sovereign territory, those manufacturing facilities may wind up destroyed. Last year, American academics recommended that Taiwan threaten to destroy its own factories to deter a Chinese invasion.
China's property troubles have pushed one debt indicator above levels seen in the financial crisis (CNBC)
Driving the new record high in risky ratings was a spate of downgrades on Chinese real estate developers as worries grew over their ability to repay debt.
Moody's said it issued 91 downgrades for high-yield Chinese property developers in the last nine months.
That's a record pace, the agency said, considering it issued only 56 downgrades for such companies in the 10 years ending December 2020.
US Quietly Urges Russia Fertilizer Deals to Unlock Grain Trade (Bloomberg)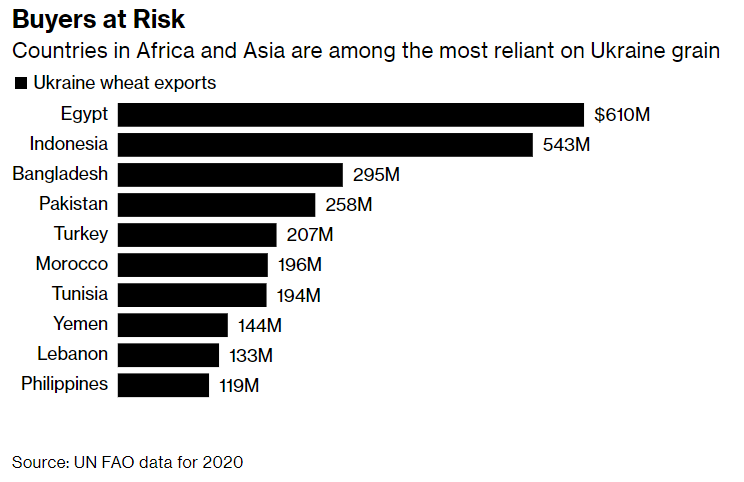 Mexico Takes Aim at Private Companies, Threatening Decades of Economic Growth (WSJ) $ (NON-PAYWALL)
Latin America's Vicious Circle is a Warning to the West (The Economist) $ (NON-PAYWALL)
Latin America is stuck in a worrying development trap, as our special report this week explains. Its economies have suffered a decade of stagnation or slow growth. Its people, especially the young, who are more educated than their parents, have become frustrated by their lack of opportunity. They have turned this anger against their politicians, who are widely seen as corrupt and self-serving. The politicians, for their part, have been unable to agree on the reforms needed to make Latin America's economies more efficient. The region's productivity gap with developed countries has widened since the 1980s. With too many monopolies and not enough innovation, Latin America is falling short in the 21st-century economy.
Four Scenarios for Argentina's Inflation Crisis (America's Quarterly)
Previously running around 50% per year, inflation is set to hit 70% in 2022, presenting a massive challenge for the fractious Peronist coalition led by President Alberto Fernández. With the 2023 elections approaching, outsider figures like libertarian Javier Milei have emerged as contenders, bringing with them ideas for radical solutions to inflation, such as dollarization of the economy.
How Food Inflation is Swallowing Latin America's Dietary Staples (Financial Times) $ (NON-PAYWALL)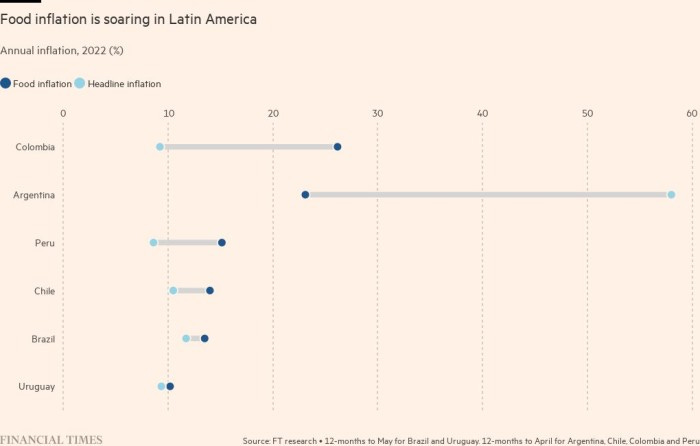 Meanwhile in Ecuador:
Mark Mobius thinks China has hit bottom, likes India and that the US Dollar will continue to strengthen:
---
Earnings Calendar
Note: Investing.com has a full calendar for most global exchanges BUT you may need an Investing.com account, then hit "Filter," and select the countries you wish to see company earnings from. Otherwise, purple (below) are upcoming earnings for US listed international stocks (Finviz.com):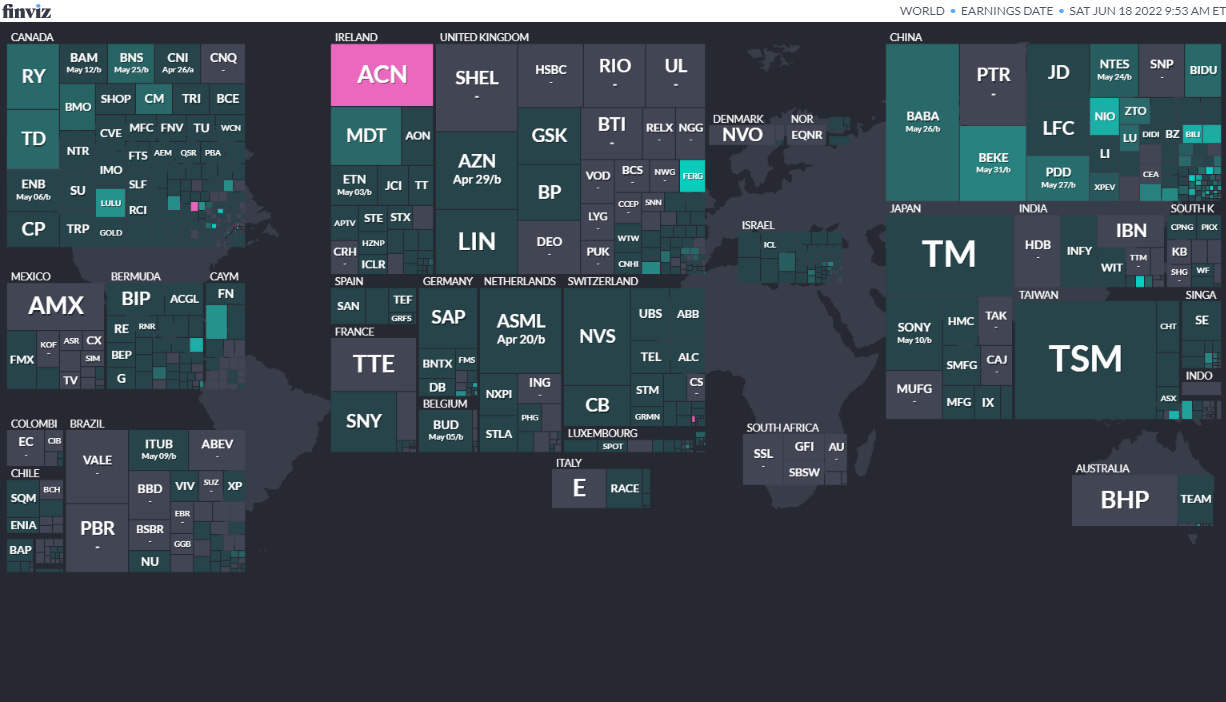 ---
Economic Calendar
Click here for a full weekly calendar from Investing.com (my filter excludes USA, Canada, EU, Australia & NZ). Some frontier and emerging market highlights: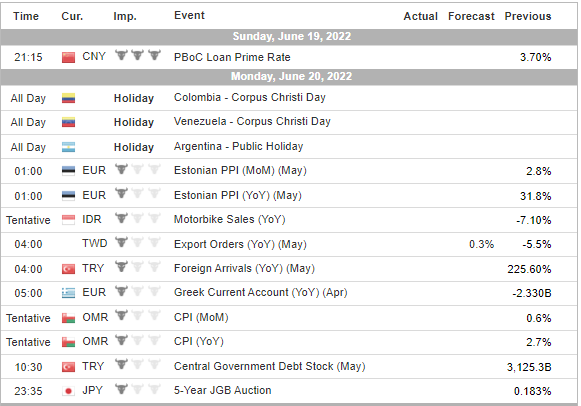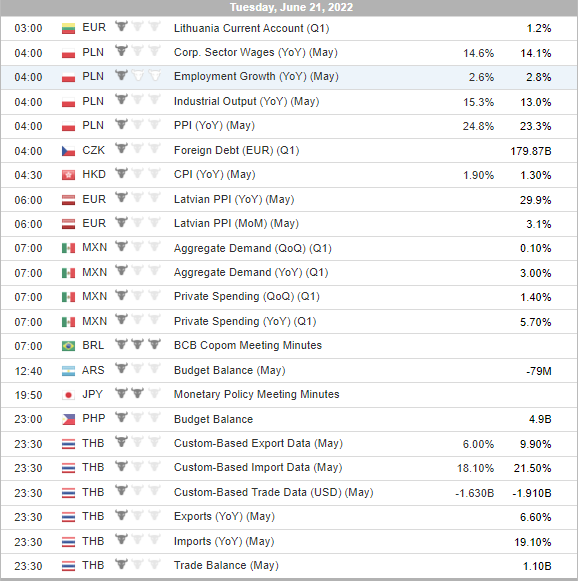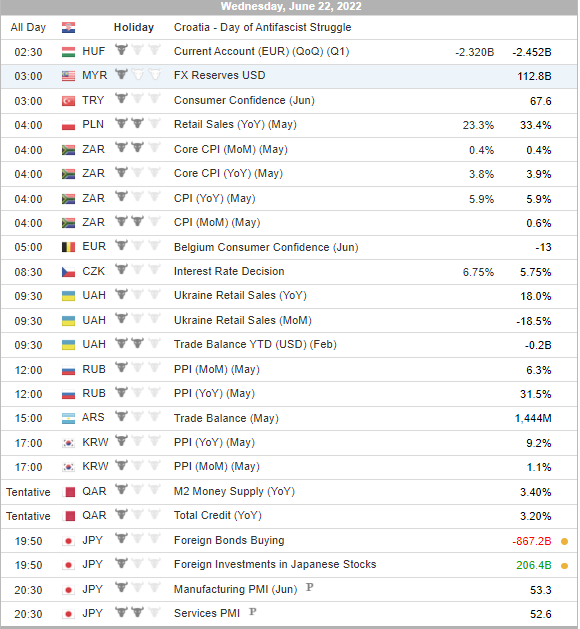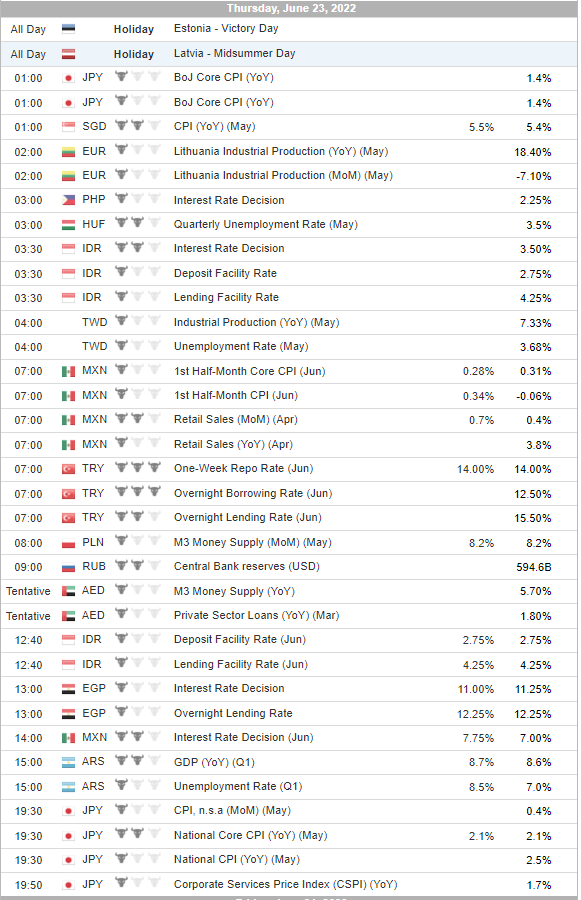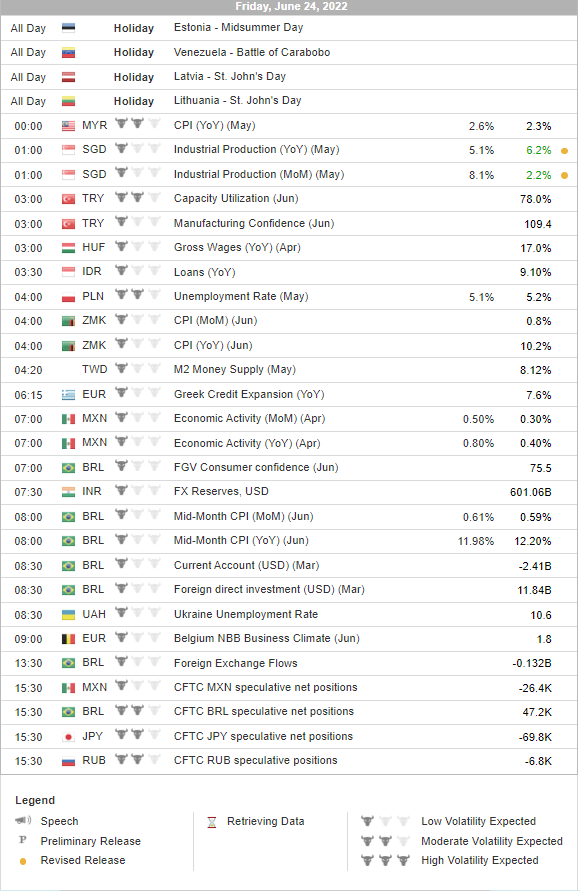 ---
Election Calendar
Frontier and emerging market highlights (from IFES's Election Guide calendar):
Check out:Emerging Market SkepticThoughts for Investors: Bongbong Marcos Wins the 2022 Philippines Elections in a LandslideLike many people nowadays, I don't spend much time looking at my Facebook feed anymore. When I did late last night, I noticed that a friend (a member of a Filipino political clan that has produced a number of politicians and even a President or two) had posted a meme about moving to Canada. That's when I remembered to check the 2022 Presidential electio…Read more4 months ago · Emerging Market Skeptic
---
IPO Calendar/Pipeline
Frontier and emerging market highlights from IPOScoop.com and Investing.com (NOTE: For the latter, you need to go to Filter and "Select All" countries to see IPOs on non-USA exchanges):
Golden Sun Education Group LimitedGSUN 4.44M shares, $5.00, $19.8 mil, 6/22/2022 Wednesday
"We are a leading provider of Spanish tutorial services in China in 2019, according to the Industry Report. Established in 1997 and headquartered in Shanghai, China, we have over twenty years of experience providing educational services that focus on the development of each of our student's strengths and potential, and the promotion of life-long skills and interests in learning. Prior to the Reorganization, we operated one premium primary private school and one premium secondary private school through two VIEs, in addition to our current operations that include tutorial centers for children and adults, one educational company that partners with high schools to offer language classes to their students, and one logistics company that provides logistic and consulting services. . Since the Reorganization, we no longer operate primary or secondary private schools and no longer use a VIE structure."
"Our China-based subsidiary, Golden Sun Wenzhou, and its subsidiaries, operate tutorial centers in China."
Mobilicom LimitedMOB 2.2M shares, $4.65, $ 10.0 mil, 6/23/2022 Thursday
(Note: This is an IPO of American Depositary Shares (ADS) on the NASDAQ. The ordinary shares trade on the Australian Securities Exchange.)
"We are a provider of hardware products and software and cybersecurity solutions that we design, develop and manufacture and that are embedded into small drones or small unmanned aerial vehicles, which we refer to as SUAVS, and into robotic systems, or robotics. We hold both patented technology and unique know-how. We are aiming to further develop our global customer base by increasing our number of design wins and targeted pilot projects and ultimately cross-sell our other solutions to those same customers in order to become a leading end-to-end provider to SUAV and robotics systems manufacturers, or OEMs, who, in turn, sell their systems into the security and surveillance, process industry (processing of bulk resources into other products), infrastructure inspection, first responders, homeland security and courier market segments. By "design win" we are referring to the large-scale and exclusive adoption of our component products by our OEM customers on an ongoing basis. The "pilot projects" refer to initial small-scale sales and implementation. As an "end-to-end" provider is one that provides all of the key components its customers need for their products… Our solutions have been deployed by our various customers worldwide, including in the United States, Europe, Israel, Japan and other Asian countries."
FYI:
---
ETF Launches
Climate change and ESG are clearly the latest flavors of the month for most new ETFs. Nevertheless, here are some new frontier and emerging market focused ETFs:
---
ETF Closures/Liquidations
Frontier and emerging market highlights:
---
Disclaimer: EmergingMarketSkeptic.Substack.com and EmergingMarketSkeptic.com provides useful information that should not constitute investment advice or a recommendation to invest. In addition, your use of any content is entirely at your own risk and it is your sole responsibility to evaluate the accuracy, completeness and usefulness of the content.
Emerging Market Links + The Week Ahead (June 20, 2022) was also published on our Substack.
---
---
---
Emerging Markets Investing Tips + Advice
Emerging Market Skeptic (Website)
Website List Updates + Site Map
Stocktwits @EmergingMarketSkptc
Similar Posts: