As China's problems continue to mount along with those of Western economies, it seems that emerging markets offering some kind of relative insulation from these increasingly troubled Western economies are likely to attract investment interest.
One country that comes to mind is Brazil – where the presidential campaign is set to kick off on Tuesday. Given that Bolsonaro is a populist and deeply disliked by western media and Washington DC, its extremely difficult to find non-partisan articles or to get an accurate feel for where the Brazil elections may be heading…
Check out our emerging market ETF lists, ADR lists (updated) and closed-end fund (updated) lists (also see our site map + list update status as the ETF lists are still being updated as of Summer 2022) along with our general EM investing tips / advice. All links to emerging market newspapers, investment firms, blogs and other helpful emerging market investing resources at the bottom of www.emergingmarketskeptic.com or on the menu under Resources have been updated.
---
Suggested Reading
$ = behind a paywall
Secret to Enduring Stagflation Sends Traders to Emerging Markets (Bloomberg)
In general, nations offering some kind of relative insulation from the Western economies are likely to attract investment interest. This could take the form of lower vulnerability to imported inflation, less need for foreign capital or monetary-policy divergence. Sue Trinh, the head of macro strategy for Asia at Manulife Investment Management, identifies Indonesia, Malaysia and Vietnam as examples. Investors have already begun favoring the dollar bonds of these nations, sending their sovereign-risk premiums to the lowest in seven, nine and two months, respectively.
Brazil is an oasis in Latin America, a continent where the overall mood is one of gloom over persistent inflation and growth constriction brought on by policy tightening.
Given that stagflation could leave most countries with anemic real rates, Brazil's yield is a potential lure for carry traders. China and Vietnam may also find their positive returns giving them an edge.
China Unexpectedly Cuts Rates As Terrible Econ Data Confirms "Alarming" Slowdown, Yields Plunge (Zero Hedge)
Has Beijing finally realized it will need to step in aggressively if it wants to avoid an economic collapse?
2022, Xi Jinping's Annus Horribilis: Or is it? (Asia Society)
The year 2022 is proving to be a difficult one for China and for President Xi Jinping. Choices like Xi's embrace of Russia and the zero-COVID policy have prompted sporadic outbursts from the Chinese public and a backlash abroad. Unsurprisingly, this has spawned speculation that Xi is facing political difficulties at home that could hamstring or even disrupt his plan to remain China's top leader after the 20th Party Congress later this year. Despite the real challenges Xi and the party have faced in 2022, however, this paper will argue that such narratives rest on a series of faulty assumptions about the impetus for Xi's consolidation of power, the presence of powerful opposition voices within the Chinese Communist Party (CCP) system, and the judgment that Xi's policy approach amounts to a series of blunders that may help his critics as they try to diminish him at the party congress.
Graft scandal casts long shadow over China's chipmaking ambitions (Caixin via Straits Times)
Since mid-July, several senior executives connected to China's largest semiconductor industry investment fund and a high-profile chipmaker have been placed under investigation, sending shockwaves through the industry.
The probes have brought down Ding Wenwu, the president of the China Integrated Circuit Industry Investment Fund, Lu Jun, a former head of the fund's sole manager Sino IC Capital and several others. A graft scandal has also rocked Tsinghua Unigroup, the biggest recipient of the fund's support with former company chairman Zhao Weiguo and two other executives detained by authorities.
Five Chinese state-owned companies to delist from NYSE (Reuters)
Five Chinese state-owned firms including China Life Insurance (601628.SS) and oil giant Sinopec (600028.SS) said Friday they would delist from the New York Stock Exchange, amid heightened diplomatic and economic tensions with the United States.
The companies, which also include Aluminium Corporation of China (Chalco) (601600.SS), PetroChina (601857.SS) and Sinopec Shanghai Petrochemical Co (600688.SS), said in separate statements that they would apply for delistings of their American Depository Shares from later this month.
Holding Foreign Companies Accountable Act ("HFCAA") (SEC)
Includes a provisional list of issuers identified under the HFCAA and a conclusive list of issuers identified under the HFCAA.
Baby bust: China's looming demographic disaster (Spectator)
Today, every 100 working-age Chinese need to support 20 retirees. If trends continue, by the turn of the next century, every 100 workers will have to support 120 retirees. This means China will have the largest drop in working-age population among any of the G20 economies by 2030, with more than 23 million fewer Chinese. In percentage terms, Japan and South Korea will shrink even faster – but they became rich before birth rates began plummeting.
Chinese families with their own apartments find that the space is tight and that having more than one child is tricky. Government propaganda is no substitute for spare bedrooms and spacious living quarters, which are in short supply, as is affordable childcare.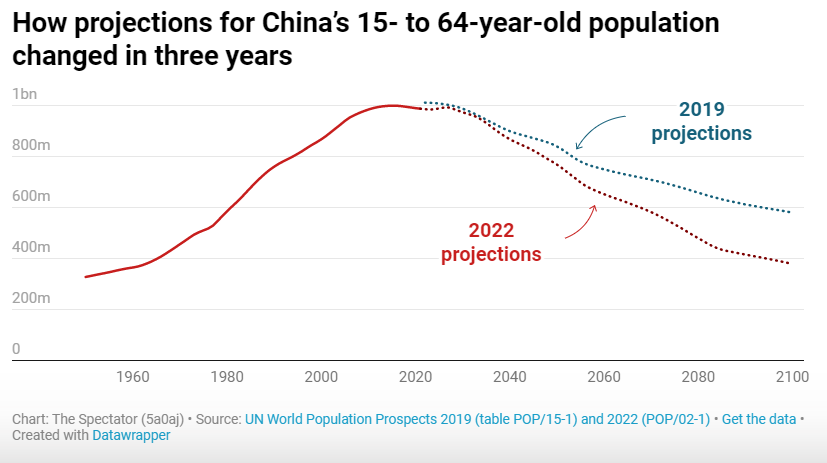 Fifty million empty flats threaten to plunge China's troubled property market further into crisis, warns think tank (SCMP)
The average vacancy rate in mainland China is 12.1 per cent, according to BRI, meaning millions of empty units could flood the market.
Now the property boom is over, the unoccupied homes are beginning to feel like a burden for their anxious owners.
Some 21 major developers have defaulted on their unmanageable debts in the last year, most notably China Evergrande Group. Thousands of homebuyers staged a mortgage boycott last month, adding to the woes.
Bolstering building blocks and silicon shields (Franklin Templeton)
Dina Ting, Head of Global Index Portfolio Management, Franklin Templeton Exchange-Traded Funds, offers reflections on Taiwan and its investment potential as a dominant force in the semiconductor industry.
The FTSE Taiwan Index appears to be attractively valued on a price-to-earnings basis relative to recent year-end figures.
Coca-Cola bottler to detail costs of exiting Russia (Reuters)
Coca-Cola Co's bottler Coca Cola HBC AG will on Thursday detail the cost of stopping production and sales of Coke in Russia, a goal that has taken five months to reach as the company used up its existing supplies.
The Swiss-based bottler, in which Coca-Cola has a 20% stake, has since then been using up its remaining stock.
The government in March adopted a decree allowing Russian businesses to use patents from countries deemed "unfriendly," such as the United States and United Kingdom, without paying the owner of the intellectual property.
---
Earnings Calendar
Note: Investing.com has a full calendar for most global stock exchanges BUT you may need an Investing.com account, then hit "Filter," and select the countries you wish to see company earnings from. Otherwise, purple (below) are upcoming earnings for US listed international stocks (Finviz.com):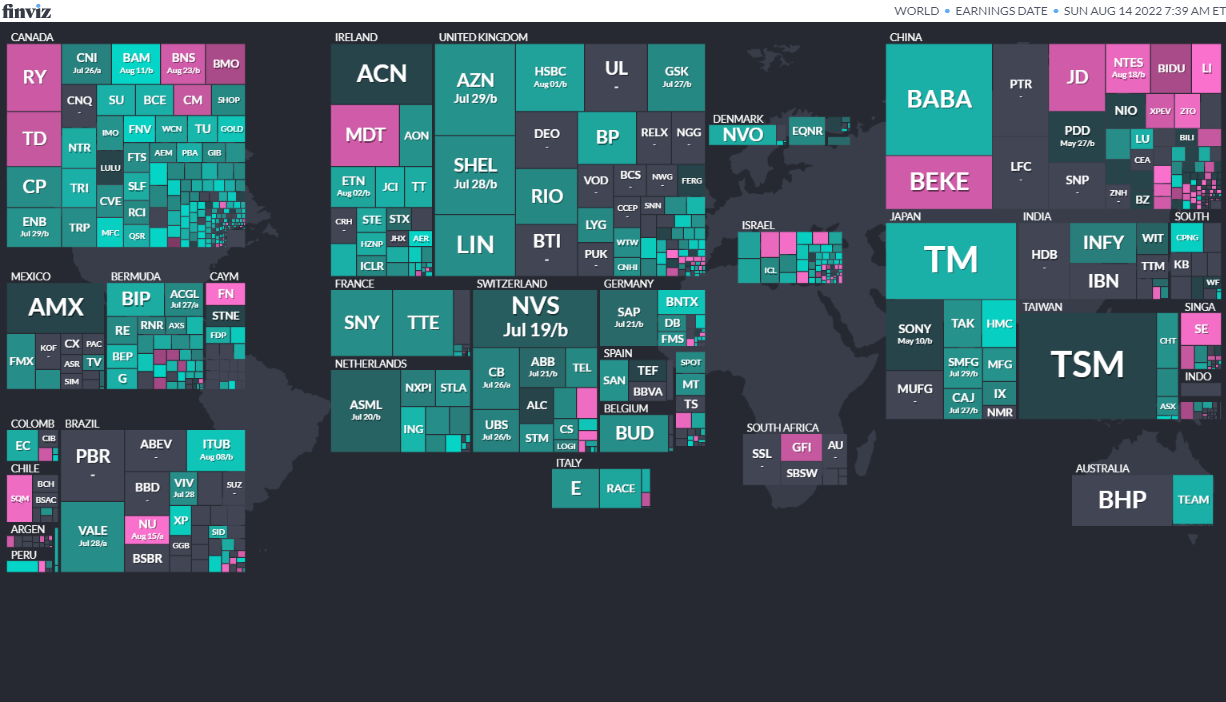 ---
Economic Calendar
Click here for the full weekly calendar from Investing.com containing frontier and emerging market economic events or releases (my filter excludes USA, Canada, EU, Australia & NZ).
---
Election Calendar
Frontier and emerging market highlights (from IFES's Election Guide calendar):
Check out: Thoughts for Investors: Bongbong Marcos Wins the 2022 Philippines Elections in a Landslide
---
IPO Calendar/Pipeline
Frontier and emerging market highlights from IPOScoop.com and Investing.com (NOTE: For the latter, you need to go to Filter and "Select All" countries to see IPOs on non-USA exchanges):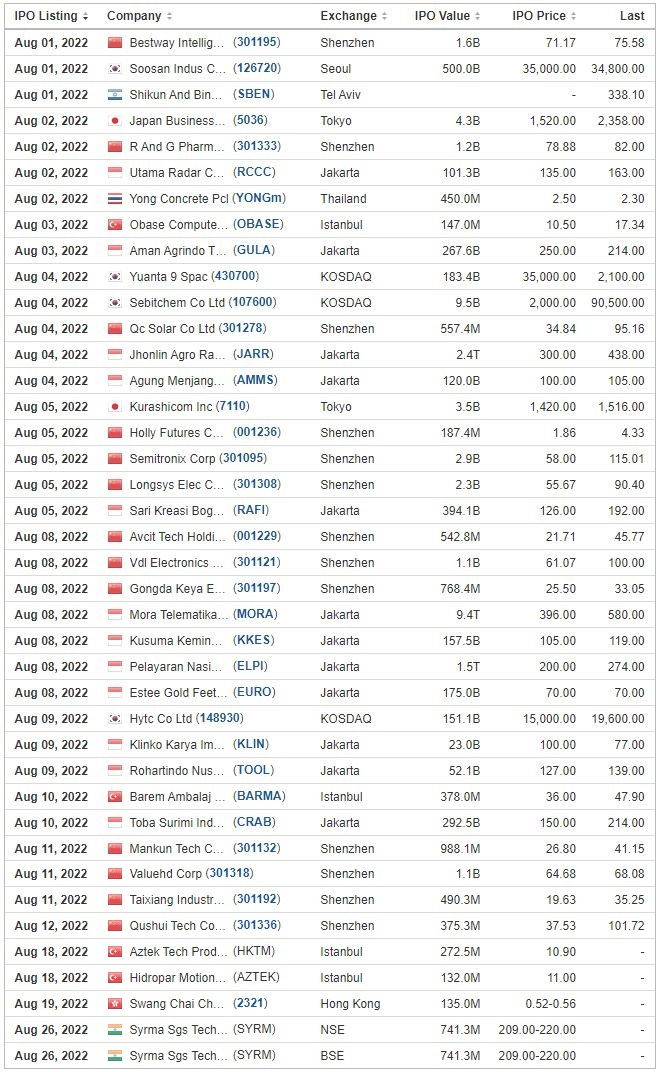 ---
ETF Launches
Climate change and ESG are clearly the latest flavours of the month for most new ETFs. Nevertheless, here are some new frontier and emerging market focused ETFs:
---
ETF Closures/Liquidations
Frontier and emerging market highlights:
---
Disclaimer: EmergingMarketSkeptic.Substack.com and EmergingMarketSkeptic.com provides useful information that should not constitute investment advice or a recommendation to invest. In addition, your use of any content is entirely at your own risk and it is your sole responsibility to evaluate the accuracy, completeness and usefulness of the content.
Emerging Market Links + The Week Ahead (August 15, 2022) was also published on our Substack.
---
---
---
Emerging Markets Investing Tips + Advice
Emerging Market Skeptic (Website)
Website List Updates + Site Map
Stocktwits @EmergingMarketSkptc
Similar Posts: