There are a couple of recent and interesting articles about China – including a reality check for international creditors and a lengthy Tabloid piece about Chinese "Ghost Cities" which the western media always likes to play up (NOTE: I tend to think that some so-called ghost cities will be filled up eventually while others will be "left to rot" like the ones shown in the article).
Meanwhile, I found an interesting Joe Studwell podcast interview (The surprising secrets of growth in emerging markets) from August. He is a former journalist in Asia who is the author of two must-read books (Asian Godfathers: Money and Power in Hong Kong and Southeast Asia which I just re-read) and How Asia Works (which I am reading now) before becoming a co-founder of influential research house Gavekal Dragonomics and becoming an independent director on the board of Baillie Gifford's top-performing Pacific Horizon Investment Trust (PHI).
Finally, I just saw the following Jalopnik article from mid-December: The VinFast VF8 Is Simply Not Ready for America. Although the title probably sums up the Vingroup's EV, the article is rather amusing as it was written by an American who clearly needs to get out of his Midwest American bubble a little more (he may also be on the Tesla bandwagon or their PR payroll!). On the other hand, the Vietnamese clearly have more to learn when it comes to dealing with, performing due diligence on, and getting American "journalists" or so-called "influencers'" to write positively about their products.
---
Suggested Reading
$ = behind a paywall
China is a minefield for international creditors (Washington Examiner)
The Chinese government is struggling to survive revenue shortfall when three-year-long pandemic mismanagements take a toll on its economy. There is simply no spare fund for a private company whose collapse is only a matter of time. Even if the government had the resources, an Evergrande rescue would encourage thousands of Evergrande-in-the-making to follow suit — that is, borrow to expand and default to be rescued.
These borrow-first-default-later attitudes are bad, but the drive underneath is uglier: The Chinese government might see those offshore debts as a threat to its own foreign reserves. Although China has the largest foreign reserves (approximately $3 trillion), over half of that is from foreign direct investments, which need to be paid out when the investments leave China, as many are doing already.
With its foreign reserves coffer shrinking due to the loss of export steam, offshore debt repayments would be a drain on China's foreign reserves. That is why the Chinese government actively encourages firms to roll over their overseas debts and may even be quietly encouraging defaults.
The big debate: 'Is China flashing green? No, it's not' (City Wire)
'There's enough murk out there. I don't need to have that lack of clarity as well. When I look at the opportunity set, is China flashing green at me? No, it's not,' he said [David Coombs, manager of the multi-asset £1.8bn Rathbone Multi-Asset Strategic Growth fund].The increased concentration of power in president Xi Jinping, as seen at the CPC's National Congress in October, is another factor making Coombs nervous.The CCP's track record of sweeping regulatory shifts makes investing in China difficult. Last year, Beijing cut off foreign investment into China's private education industry as the government sought to prevent companies from profiting from education, effectively wiping out foreign investors overnight.
LEFT TO ROT Inside China's apocalyptic 'ghost cities' where 65million homes lay deserted as Communist Party faces economic chaos (The Sun)
Max Woodworth, an expert in Chinese urbanisation, said China's developers and buyers have "tremendous faith" that the value of their property will steadily creep up – and prices won't crash. He told Sun Online: "Even people who purchased homes in so-called ghost cities, in my experience, rarely express regrets…. They have come to believe time is on their side and these cities will fill out over time and keep the home values steadily rising."
"Ghost cities are still a real problem if we understand the phenomenon as a surfeit of real estate."And governments get massive sales revenue from leasing the land out to developers. "It remains a cornerstone of local economies," Woodworth said. "The land system in China produces strong incentives for city governments to promote real estate and land development as a way to raise to revenue and generate economic growth."
Roger Garside, Associate Fellow at the Henry Jackson Society, told Sun Online that China is facing "debt mountain". Mr Garside said: "The Communist regime has known full well for over a decade the risks that have been building in its economy… It has been relying excessively on debt to fuel growth since 2008, a reliance which is most strikingly illustrated by the property sector, until it now has a debt mountain of a height such that no nation has ever succeeded in reducing it significantly without either inflation or recession. "Its return on investment has been steadily declining. More and more of its economic activity has been unprofitable."
Live Event – Back to Business for China & 2023 Outlook (Krane Shares)
NOTE: For a positive take on China as Krane Shares is focused on the country.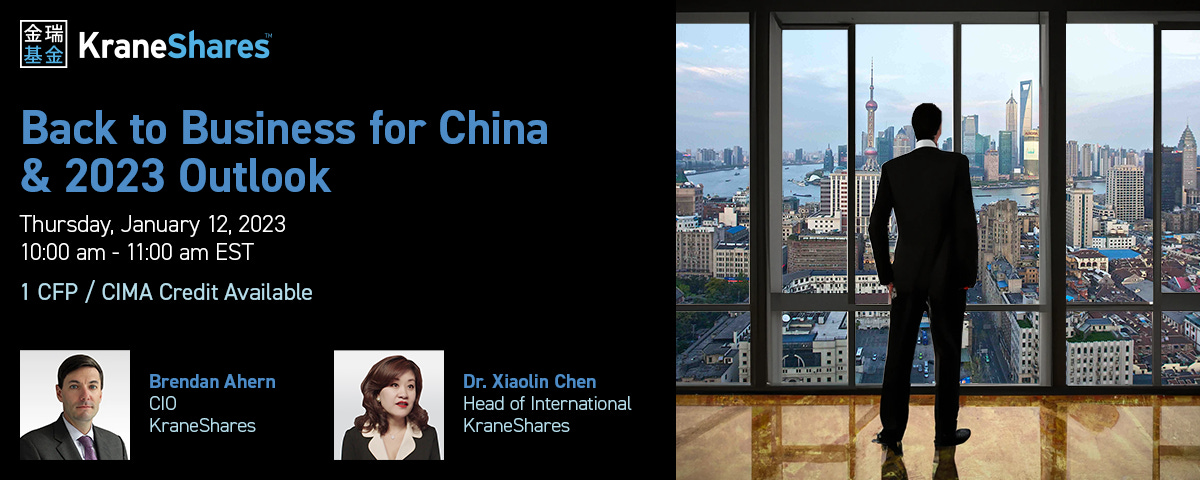 During the webinar, we will cover:

Market review of 2022
Insights on US-China relations, dynamic zero-COVID, and real estate policies
Post-CEWC commentary on domestic consumption
Outlook for 2023
Comprehensive Q&A
The VinFast VF8 Is Simply Not Ready for America (Jalopnik)
The electric-car startup brought me to its Vietnam headquarters to drive its first EV meant for the U.S. market. It was the most bizarre experience of my life.
VinFast flew me from Columbus, Ohio, to San Francisco, put me in a really nice hotel for one night, then flew me and at least 100 other journalists, influencers, YouTubers, TikTokers, VinFast reservation holders (called VinFirst), VinFast employees, and other persons of interest from SFO to Vietnam on a chartered plane, all so we could sample the company's new EVs. We stayed at two private-island resorts and spent a night in Hanoi at the same hotel where Donald Trump and Kim Jong Un met for the first time.
Vingroup has businesses all over Vietnam. You might buy groceries at VinMart and clothing at VinPlaza. Your family vacations might be at a Disney-style VinWonder theme park, or you might book a grown-up getaway at a VinPearl resort. Your phone might be a VinSmart. Your office might be owned by Vincom Office, your house or apartment building part of VinHomes. Your child could be born at a VinMec hospital, attend VinSchool, and upon graduation, matriculate at the recently-launched VinUniversity. The setup feels like a modern spin on the 19th-century American company town, but it's not dissimilar to what Samsung and Hyundai did in South Korea in the 1990s.
Countdown Begins to Nigeria's Crucial 2023 Elections (Crisis Group)
Nigeria ETFs List.
Nigeria's forthcoming general elections, with four presidential candidates of note, will be hard fought. In this Q&A, Crisis Group outlines what is at stake and how key actors are preparing for the polls.
In November, a nationwide survey by an Abuja-based institute, NOI Polls, reported that 26 per cent of registered voters said they would be willing to sell their votes for monetary or other material gain. That means about 24 million votes could be up for sale. Massive vote buying would deeply compromise the election's integrity and undermine confidence in the result.
The surprising secrets of growth in emerging markets (City Wire: The Funds Fanatic Show) 50 Minutes
NOTE: Joe Studwell interview from August. He is the author of two must-read books: Asian Godfathers: Money and Power in Hong Kong and Southeast Asia and How Asia Works.
Studwell (pictured) explains how east Asian countries like Japan, South Korea and latterly China have supercharged their development since the second world war while Southeast Asian nations have generally become stuck in a rut, as well as the role – or sometimes lack thereof – for foreign investors in that process.
Studwell also discussed:

What being an investment trust director involves.
The 'one two three' model that the most successful developing countries have all followed.
Why often-brutal land reform has been a key driver of agricultural development.
Why the auto industry is still a touchstone for developing economies.
And why the banking sector and stock market flourishing often signal bad news.
---
Earnings Calendar
Note: Investing.com has a full calendar for most global stock exchanges BUT you may need an Investing.com account, then hit "Filter," and select the countries you wish to see company earnings from. Otherwise, purple (below) are upcoming earnings for US listed international stocks (Finviz.com):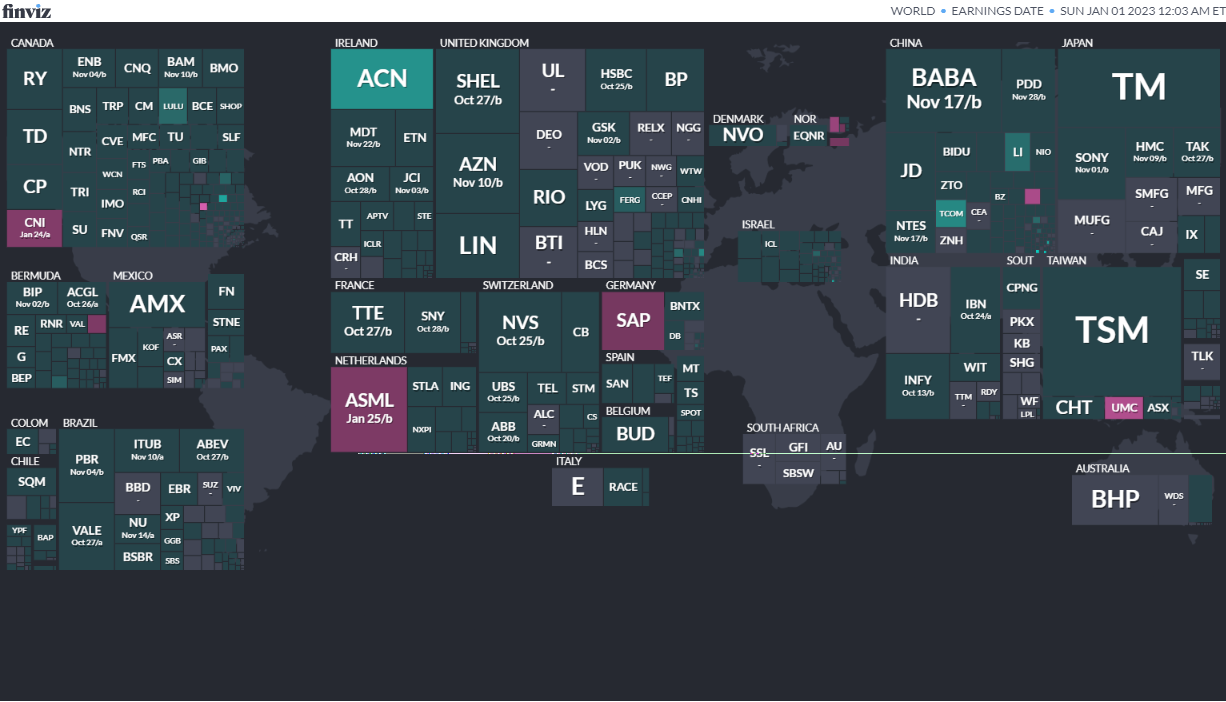 ---
Economic Calendar
Click here for the full weekly calendar from Investing.com containing frontier and emerging market economic events or releases (my filter excludes USA, Canada, EU, Australia & NZ).
---
Election Calendar
Frontier and emerging market highlights (from IFES's Election Guide calendar):
---
IPO Calendar/Pipeline
Frontier and emerging market highlights from IPOScoop.com and Investing.com (NOTE: For the latter, you need to go to Filter and "Select All" countries to see IPOs on non-USA exchanges):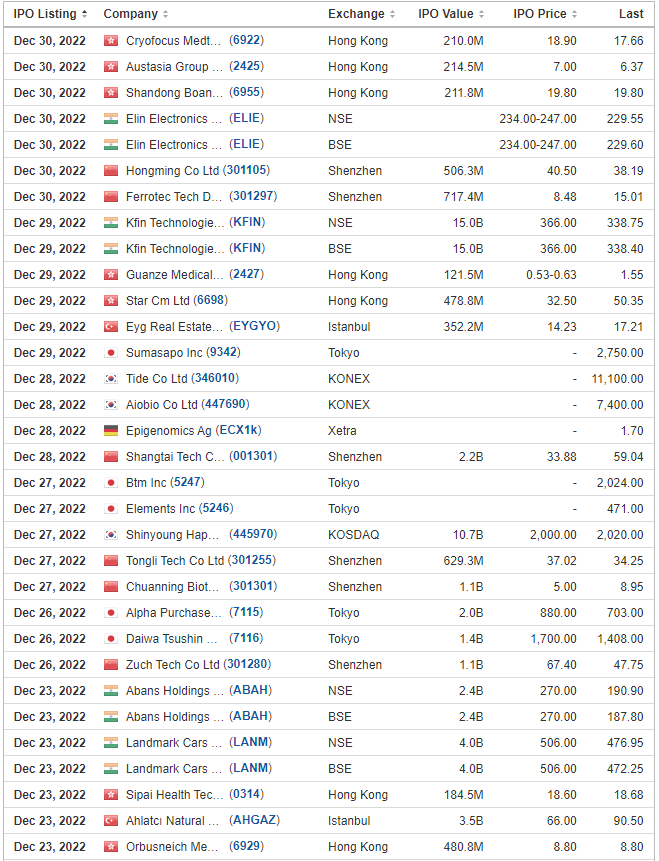 ---
ETF Launches
Climate change and ESG are clearly the latest flavours of the month for most new ETFs. Nevertheless, here are some new frontier and emerging market focused ETFs:
---
ETF Closures/Liquidations
Frontier and emerging market highlights:
---
Check out our emerging market ETF lists, ADR lists (updated) and closed-end fund (updated) lists (also see our site map + list update status as some ETF lists are still being updated as of Summer 2022).
I have changed the front page of www.emergingmarketskeptic.com to mainly consist of links to other emerging market newspapers, investment firms, newsletters, blogs, podcasts and other helpful emerging market investing resources. The top menu includes links to other resources as well as a link to a general EM investing tips / advice feed e.g. links to specific and useful articles for EM investors.
Disclaimer: EmergingMarketSkeptic.Substack.com and EmergingMarketSkeptic.com provides useful information that should not constitute investment advice or a recommendation to invest. In addition, your use of any content is entirely at your own risk and it is your sole responsibility to evaluate the accuracy, completeness and usefulness of the content.
Emerging Market Links + The Week Ahead (January 2, 2023) was also published on our Substack.
---
---
---
Emerging Markets Investing Tips + Advice
Emerging Market Skeptic (Website)
Website List Updates + Site Map
Stocktwits @EmergingMarketSkptc
Similar Posts: