The longest emerging market stock bear market may be coming to an end soon as the US dollar appears to be peaking and EM valuations are looking good, but investors still need to be selective about what markets invest in.
Finally, Malaysia's elections have concluded with (as expected) a hung parliament:

Pakatan Harapan chief Anwar Ibrahim and Perikatan Nasional chief (and former Prime Minister) Muhyiddin Yassin are both claiming to have the numbers to take charge. However, long time Malaysia watchers know that Anwar claiming to have the numbers to become Prime Minister has usually meant the opposite happening plus the Agong (king) has enormous discretion when it comes to appointing Prime Ministers. Nevertheless, this time may be different as there is talk that PH and Barisan Nasional (BN), the coalition who ruled Malaysia from the 1970s until 2018, could succeed in forming a government with Anwar has PM.
For more coverage or news, check out MalaysiaKini and their election coverage page plus GE15 Analysis and Casualties of GE15 on the Murray Hunter Substack (Also see our lists: Malaysia ADRs and Malaysia ETFs).
---
Suggested Reading
$ = behind a paywall
FedEx Parks Planes, Maersk Cancels Sails: World Trade Appears To Be Rapidly Deteriorating (Zero Hedge)
Economic storm clouds are gathering worldwide as some of the largest shipping companies warn about sliding global trade. US shipper FedEx and Danish shipping giant A.P. Moller-Maersk A/S have been vocal about emerging signs of a global slowdown. Both of these companies are widely seen as a barometer for international trade.
Bursa Malaysia (KLSE) (Profit Hunting blog)
Malaysia's stock exchange looks cheap based on historical earnings, lets look further.You can't buy it with Interactive Brokers, I trade KLSE stocks with a Singapore broker.TLDR: Everything depends on KLSE trading volume, which is unpredictable, I think this stock is too expensive now.
Foreign investors might prefer China soon as Indian market valuation expensive (CNBC)
"India has always traded at a premium but this time around it has gone way beyond the normal range of about 40-60 percent," said Pratik Gupta, CEO and Co-Head-Institutional Equities at Kotak Securities.
India Economic Boom: 2031 Growth Outlook (Morgan Stanley)
"We believe India is set to surpass Japan and Germany to become the world's third-largest economy by 2027 and will have the third-largest stock market by the end of this decade," says Ridham Desai, Morgan Stanley's Chief Equity Strategist for India. "Consequently, India is gaining power in the world order, and in our opinion these idiosyncratic changes imply a once-in-a-generation shift and an opportunity for investors and companies."
Empty Rooms: Investing in Africa (Capital Allocators Podcast) [1:05 Hour]
NOTE: Good overview for those interested in investing in African stocks.
Colin Smith and Farouk Miah, founders of All Africa Partners, a concentrated, public equity fund they launched last year with backing by three of the most successful investors in the region.Our conversation covers their backgrounds and the opportunity set on the continent, including Africa's market size, investable countries, liquidity, market performance, businesses, valuations, and currencies. We then turn to All Africa's investment process across sourcing, due diligence, decision making, trading, portfolio construction, and examples. We close discussing risks in the region and lessons learned from Colin's winning a silver medal at the 2008 Beijing Olympics.
Why now might be a good time for risk-tolerant investors to buy into emerging markets (Globe and Mail)
"China looks much more attractive from a valuation standpoint," says Mr. Langham, who is RBC Global Asset Management's senior portfolio manager and head of emerging market equities (U.K.)The fund is also paying attention to the emerging market consumer, given the strong possibility of a global recession on the horizon."Generally, EM does better when the U.S. dollar is weak," he says. "For EM to perform well, of all the factors that I can think of, the most important one would be a turn in the performance of the U.S. dollar."
"Emerging markets are very cheap on a relative basis to developed markets, like they were in 2002," says Jean-Pierre Couture, an economist and senior portfolio manager with DGAM. "Looking at valuations, it is the best in 20 years and despite all the narrative on the political side, there is no de-globalization. Global trade is increasing more rapidly than global GDP."
Kiplinger's Personal: Don't give up on developing markets (Kiplinger's Personal Finance)
China is by far the largest emerging market, representing about one-third of the Emerging Market Index. But its economy is suffering self-harm: a severe response to the COVID pandemic and a crackdown on technology companies, which are seen as a threat to the notion of "common prosperity." Also, the United States is intent on eliminating China from supply chains. I recommend that investors go light on Chinese shares or buy funds such as iShares MSCI Emerging Markets ex China, an ETF that owns no Chinese stocks at all.
India is the biggest and the best of the emerging markets, and banks with broad retail and commercial diversification provide an easy way to invest in the entire domestic economy. Among them: HDFC and ICICI. HDFC's shares are up by about a third over the past five years; ICICI's have more than doubled.Brazil is the largest South American market, and although it suffers from political volatility, it has strong companies worth considering. I prefer firms that target the domestic market, including banks Bradesco and Itau Unibanco; BrasilAgro, whose businesses are rural real estate and farming; and Companhia Brasileira de Distribuição, a retailer that sells food, clothing, electronics and gasoline.
The current slump may last for years, so you need a long perspective. But putting up to 10% of your assets in a mix of developing-country stocks and funds today could give your portfolio a boost in the decade ahead.
Emerging markets debt outlook: A glass half full or half empty? (Wellington Management)
This is an excerpt from our 2023 Investment Outlook, in which specialists from across our investment platform share insights on the economic and market forces that we expect to influence portfolios in the year to come. This is a chapter in the Bond Market Outlook section.
Most EM central banks were well ahead of their DM peers, having collectively raised interest rates significantly as of this writing, thereby helping to lift EM local-market yields to attractive levels.
Over the longer term, we anticipate that proactive actions by many EM central banks and a wider US external trade deficit (the EM trade balance has rapidly shifted to deficit over the past 12 months) likely will help bolster EM currencies.
Lastly, technicals in EM local markets indicate that they are generally under-owned by foreign investors, suggesting less demand amid more muted supply.
EM Equity In 2023: Will The Longest Bear Market In History Continue? (Wellington Management)
This is an excerpt from our 2023 Investment Outlook, in which specialists from across our investment platform share insights on the economic and market forces that we expect to influence portfolios in the year to come. This is a chapter in the Equity Market Outlook section.
At 632 days (since 17 February 2021), this is now the longest emerging markets (EM) equity bear market on record.
Until that US-dollar pivot and the emergence of a more favorable environment for broader emerging markets, we believe investors should look to take advantage of the wide dispersion across EM countries next year. In our view, it will be critical to focus on the markets that can still thrive in a world with higher inflation, rising rates, and heightened tensions from deglobalization.
---
Earnings Calendar
Note: Investing.com has a full calendar for most global stock exchanges BUT you may need an Investing.com account, then hit "Filter," and select the countries you wish to see company earnings from. Otherwise, purple (below) are upcoming earnings for US listed international stocks (Finviz.com):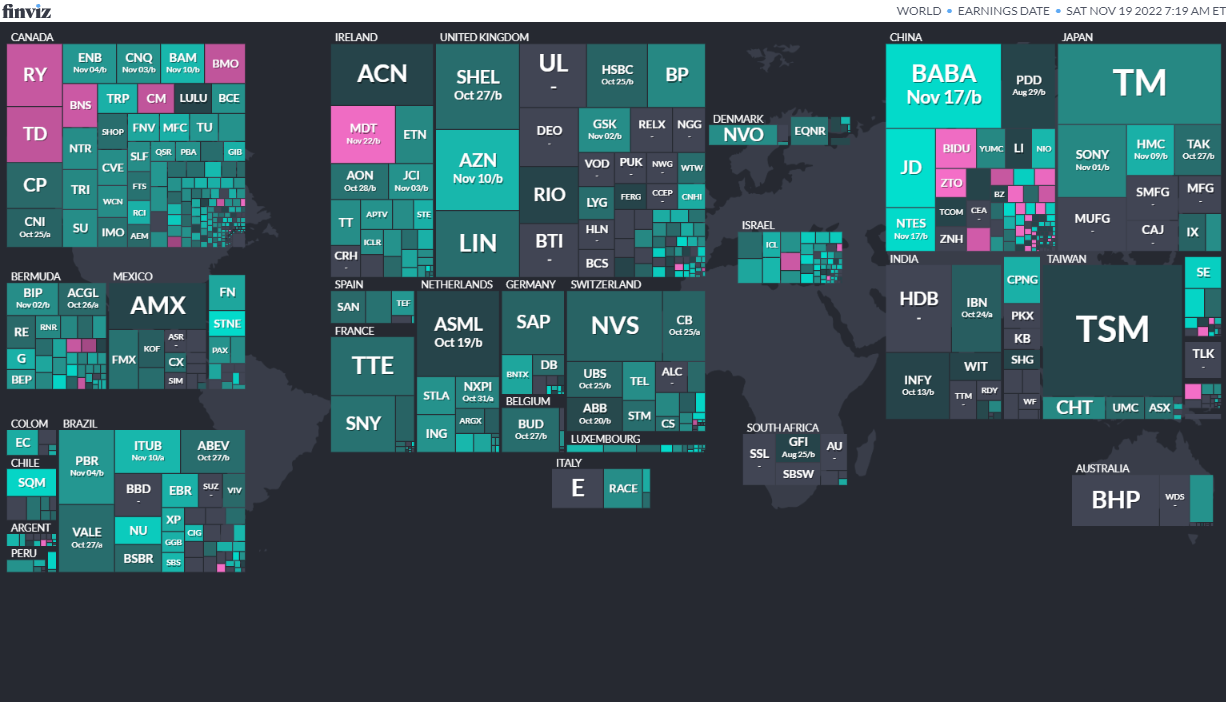 ---
Economic Calendar
Click here for the full weekly calendar from Investing.com containing frontier and emerging market economic events or releases (my filter excludes USA, Canada, EU, Australia & NZ).
---
Election Calendar
Frontier and emerging market highlights (from IFES's Election Guide calendar):
NOTE: Malaysia's Prime Minister Ismail Sabri Yaakob on October 10 announced the dissolution of parliament with a general election for November 19th.
---
IPO Calendar/Pipeline
Frontier and emerging market highlights from IPOScoop.com and Investing.com (NOTE: For the latter, you need to go to Filter and "Select All" countries to see IPOs on non-USA exchanges):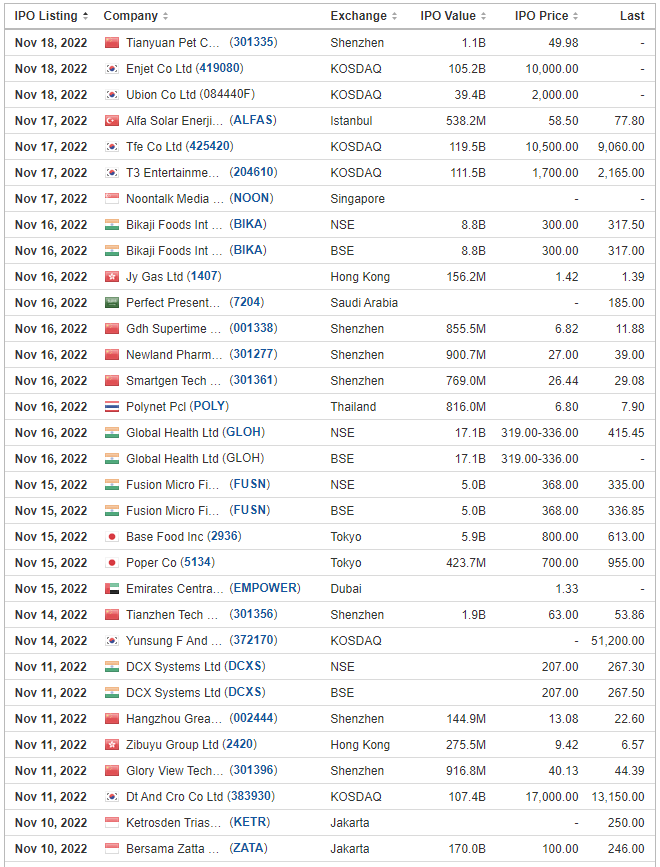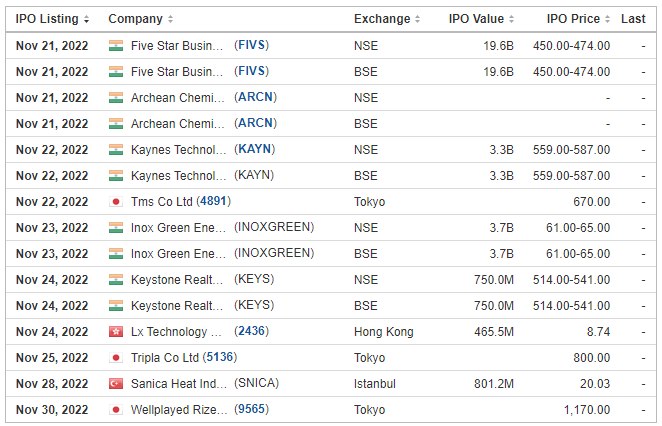 ---
ETF Launches
Climate change and ESG are clearly the latest flavours of the month for most new ETFs. Nevertheless, here are some new frontier and emerging market focused ETFs:
---
ETF Closures/Liquidations
Frontier and emerging market highlights:
---
Check out our emerging market ETF lists, ADR lists (updated) and closed-end fund (updated) lists (also see our site map + list update status as some ETF lists are still being updated as of Summer 2022).
I have changed the front page of www.emergingmarketskeptic.com to mainly consist of links to other emerging market newspapers, investment firms, newsletters, blogs, podcasts and other helpful emerging market investing resources. The top menu includes links to other resources as well as a link to a general EM investing tips / advice feed e.g. links to specific and useful articles for EM investors.
Disclaimer: EmergingMarketSkeptic.Substack.com and EmergingMarketSkeptic.com provides useful information that should not constitute investment advice or a recommendation to invest. In addition, your use of any content is entirely at your own risk and it is your sole responsibility to evaluate the accuracy, completeness and usefulness of the content.
Emerging Market Links + The Week Ahead (November 21, 2022) was also published on our Substack.
---
---
Share
Leave a comment
---
Emerging Markets Investing Tips + Advice
Emerging Market Skeptic (Website)
Website List Updates + Site Map
Stocktwits @EmergingMarketSkptc
Similar Posts: