Emerging Market Links + The Week Ahead (November 28, 2022)
Posted June 6, 2023 by Comments
The COVID protests in China have gotten serious enough for western corporate and business-financial media to start acknowledging them (otherwise, see alternative media such as Zero Hedge: COVID Lockdown Protests Erupt In Beijing, Xinjiang After Deadly Fire and Zero-Tolerance: Chinese Lockdown Protests Intensify In Rare Display Of Defiance; plus the Daily Mail: Chinese police clash with thousands protesting draconian COVID lockdowns as unprecedented civil unrest grips country – after ten died in fire when building doors were locked to stop virus spread).
Its hard to gauge how serious and widespread the COVID protests are and whether they will be enough to get the CCP to pivot away from zero-COVID – in an orderly manner. However, what is clear is that unlike the coup rumours just before the 20th Party Congress, this is NOT another western intelligence psyop being run strictly on western social media for the benefit of western audiences. The protests show once again that China is NOT the stable investment paradise that some large western institutional investors and corporate media have convinced themselves to be.
Finally and in Malaysia, the Agong (King) had made it clear that after four Prime Ministers in five years, he wanted a stable unity government. Anwar Ibrahim was able to form a multi-party multi-racial government to become the country's tenth Prime Minister. However, do note that Putrajaya (Malaysia's capital) voted for the now opposition coalition block which consists mainly of Malay parties (including the Islamist PAS party). Given the antipathy they have towards Anwar and DAP (the Chinese party that makes up his coalition), whether they will significantly undermine his government from within remains to be seen.
---
Suggested Reading
$ = behind a paywall
Carriers 'in panic mode' as recession bites, offering 'crazy' ocean rates (The Lodestar)
"The westbound market seems like it's in panic," a UK-based forwarding executive told The Loadstar this week."I am getting approximately 10 emails a day from random agents offering very low rates. Today, I had $1,800 into Southampton, which is crazy; it seems to be panic," he said. "There hasn't been a Christmas rush on westbound and I put that down to the recession. As a country, we are not buying like we used to during the pandemic."He said he was hearing that carriers were blanking sailings right up to Chinese New Year, which falls on 21 January, to drive up rates, but, he added, "personally, I don't think that the volume is there".
China reopening, oil, and doing nothing (Profit Hunting Blog)
My "China reopening play" is oil. Zero-covid reduced demand by an estimated 0.5 to 1.5m bpd. Long term I think oil goes up anyway, but China makes me buy it now. Bought more CNQ and Equinor in the last 2 weeks, now its a 9% position (at buying price). 1% more to go.
Its a very oily portfolio: 10% in oil producers, plus another 35% in things correlated to oil (Gas pipelines, palm oil and LNG).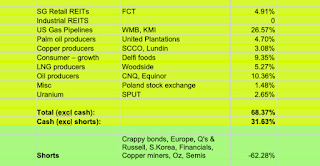 In emerging markets, the bulls are back again (Globe and Mail)
UBS, for example, expects EM stocks and fixed income to earn between 8 per cent to 15 per cent in total returns after a 15-per-cent to 25-per-cent pummeling this year.A "bullish" Morgan Stanley expects a near 17-per-cent return on EM local currency debt. Credit Suisse "particularly" likes hard currency debt, while BofA's latest global fund manager survey shows "long EM" is the top "contrarian" trade."It's a kind of a wholesale de-grossing of risk," said T. Rowe Price EM portfolio manager Samy Muaddi, who has started dipping his toe back into what he describes as "well-anchored" EM countries such as Dominican Republic, Ivory Coast and Morocco.
Blocked in the West, Huawei eyes emerging markets (Asia Times)
Chinese tech giant outlines plan to sustain its international business with rural and clean-energy projects in Africa, Middle East and SE Asia
Wednesday's forum appeared to outline at least one aspect of the company's new international strategy. The event was attended via the internet by ministers and regulators in Cambodia, Nigeria, Bangladesh, Pakistan and South Africa. Industry experts from South Africa, Belgium and Germany were also in virtual attendance.
"We expect the Middle East to become a major technology hub in the future," [chairman] Liang [Hua] said. "The Middle East can build more data centers and use their high-computing power and artificial intelligence technologies to build smart cities and boost the digital economy."
Latin America's Pink Wave Faces Investor Skepticism (The Emerging Markets Investor)
A pink wave of leftist governments has swept across Latin America. In recent years, first Mexico, then Argentina, Peru, Chile and Colombia and finally Brazil, have all elected governments with ambitious social agendas and plans for bringing back the state as the agent of economic development. Unfortunately for them, investors, both local and foreign, are not sticking around to see how this will work out.
Analysis: Mexican companies could resort to more spinoffs to enhance market value (Reuters)
Mexican telecommunications giant America Movil(AMXL.MX) kicked off the trend late last year when its shareholders approved the spinoff of its cell tower business. Conglomerate Alfa(ALFAA.MX) did the same, with its investors approving a plan in July to distribute its stake in subsidiary Axtel(AXTELCPO.MX) to existing Alfa shareholders.
Then, late last month, broadcaster Televisa(TLEVISACPO.MX), whose shares have plunged more than 40% so far this year, pitched a plan to spin off its sports and gaming operations, arguing that the move would cut corporate expenses.Some analysts said both Alfa and Televisa may consider further spinoffs as they look to boost their depressed valuations. Other companies, like Coke bottler and retailer Femsa(FEMSAUBD.MX), whose shares are down 3.3% year-to-date, after gaining 6% in 2021, may follow suit.
Conservatism Grows in Brazil, Despite Leftist President's Win (Wall Street Journal)
Conservative politicians backed by a wealthy agricultural sector cement their presence in Congress, churches and commerce despite right-wing President Bolsonaro's election loss
Come Jan. 1, about 65% of senators who will take office will either be allied to Mr. Bolsonaro or not in opposition to him—"a markedly more conservative" senate, according to an analysis by Congress in Focus, a congressional monitoring group.In the lower house of Congress, 36% of federal deputies who will take office have expressed support for Mr. Bolsonaro, while only 24% have backed Mr. da Silva, according to the group. "The lower house has a strengthened rightwing…and a weakening of Brazil's most traditional political parties," Congress in Focus said in the analysis.Brazil's farming belt is at the heart of the political shift in this nation of 215 million people, a transformation made possible in large part because of China's demand for grains and meat.
While China is now facing its worst economic slowdown in years, that should have little effect on Brazil's agricultural sector, said Kelly Luostarinen, a director and China expert at PwC in São Paulo. China's arable land accounts for only 12.7% of the Asian giant's territory according to 2020 data from the World Bank.
---
Earnings Calendar
Note: Investing.com has a full calendar for most global stock exchanges BUT you may need an Investing.com account, then hit "Filter," and select the countries you wish to see company earnings from. Otherwise, purple (below) are upcoming earnings for US listed international stocks (Finviz.com):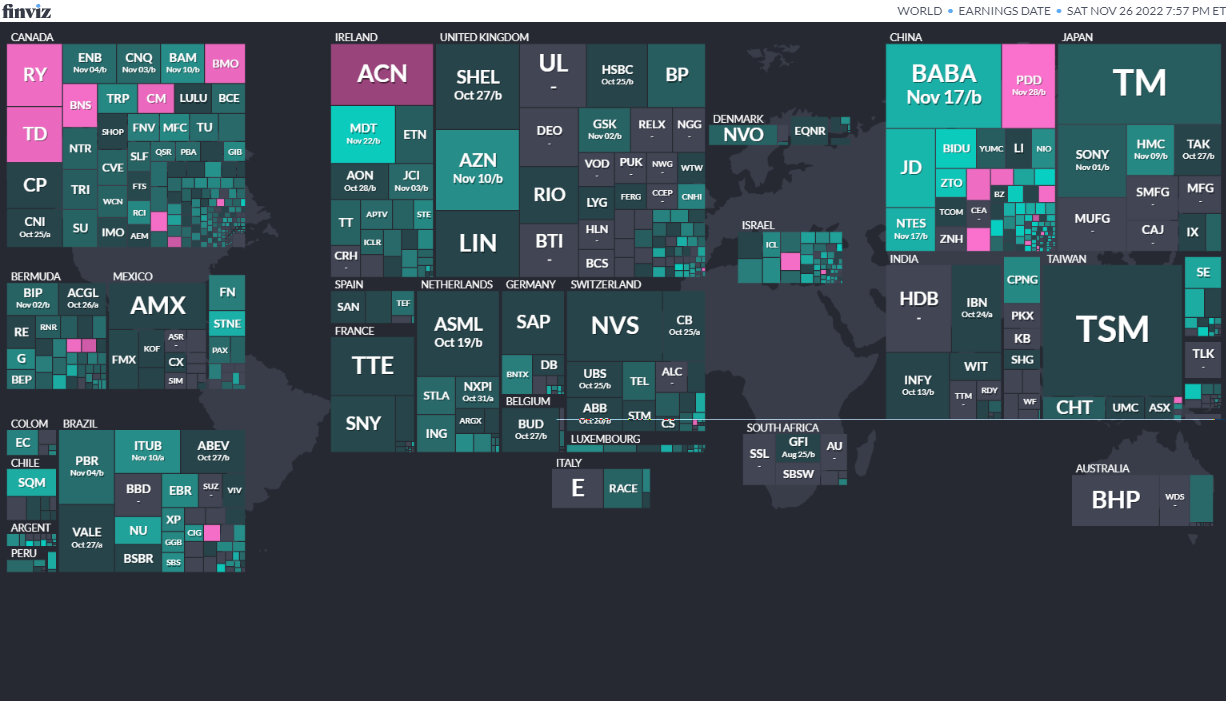 ---
Economic Calendar
Click here for the full weekly calendar from Investing.com containing frontier and emerging market economic events or releases (my filter excludes USA, Canada, EU, Australia & NZ).
---
Election Calendar
Frontier and emerging market highlights (from IFES's Election Guide calendar):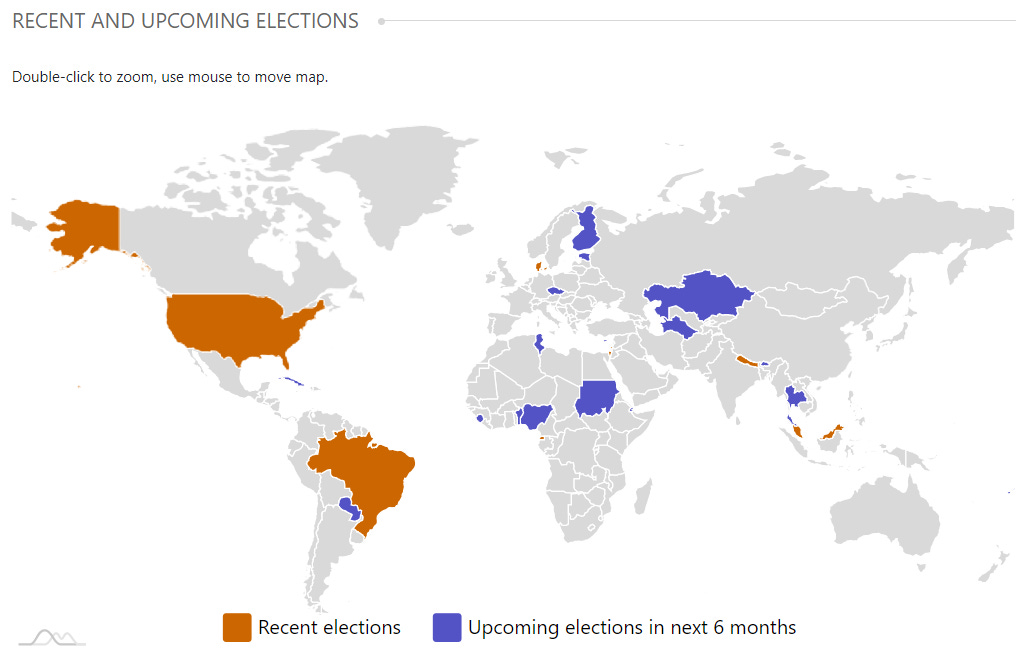 ---
IPO Calendar/Pipeline
Frontier and emerging market highlights from IPOScoop.com and Investing.com (NOTE: For the latter, you need to go to Filter and "Select All" countries to see IPOs on non-USA exchanges):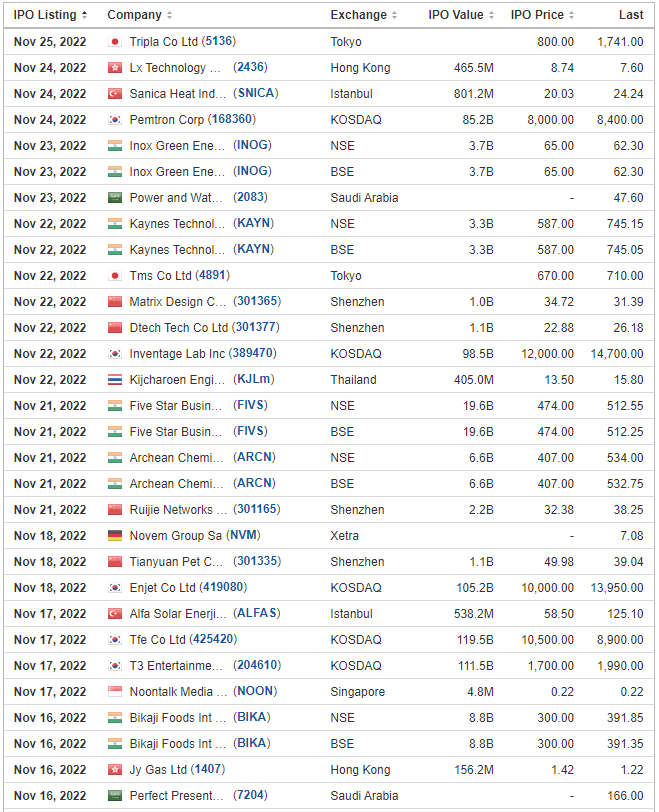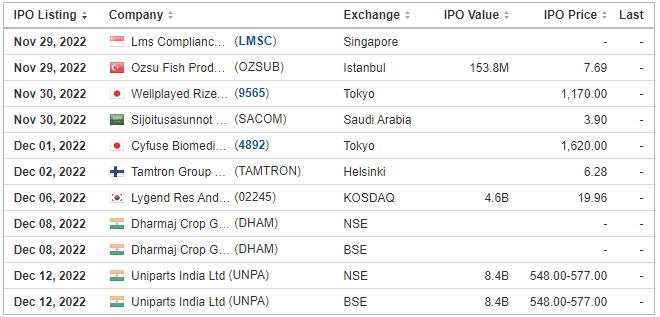 Erayak Power Solution Group Inc.RAYA 3.0M, $4.00-4.00, $ 12.0 mil, 12/1/2022 Thursday
Erayak Power Solution Group Inc. was formed in 2019 under the laws of the Cayman Islands. We conduct business primarily through our wholly owned subsidiaries, Zhejiang Leiya and Wenzhou New Focus, in the People's Republic of China, or the PRC. Our company specializes in the manufacturing, research and development ("R&D"), and wholesale and retail of power solution products. Zhejiang Leiya's product portfolio includes sine wave and off-grid inverters, inverter and gasoline generators, battery and smart chargers, and custom-designed products. Our products are customized and built to order, or BOT. Our BOT business model maximizes our flexibility in production scheduling, material procurement and delivery to meet our customers' unique demands.Our products are used principally in agricultural and industrial vehicles, recreational vehicles ("RVs"), electrical appliances and outdoor living products. Our primary office is located in Zhejiang province, where we serve a large customer base throughout PRC and expand our reach to international clients. Our goal is to be the premier power solutions brand and a solution for mobile life and outdoor living. We seek to leverage our flexibility and passion for quality to provide a personalized mobile living solution for each customer.Since the founding of Zhejiang Leiya in 2009, it has grown to be a manufacturer that not only designs, develops and mass produces our own brand of premium power solution products, but has also established e-commerce channels in the retail chain. We, through our PRC subsidiaries, also offer our products in Japan, England, Germany, France, Spain, Switzerland, Sweden, the Netherlands, the U.S., Canada, Mexico, Australia, Dubai and nine other countries. Zhejiang Leiya manufactures all of our products in factories operating under quality management systems accredited by the International Organization for Standardization (ISO 9001:2015).We generated revenue mostly from three types of products: (1) inverters constituted approximately 82% and 86% of our total revenue for the fiscal years ended December 31, 2021, and 2020, respectively; (2) chargers, which generated approximately 7.52% and 7.39% of our total revenue for the fiscal years ended December 31, 2021, and 2020, respectively; (3) gasoline generators generated approximately 8.28% and 4.91% of our total revenue for the fiscal years ended December 31, 2021, and 2020, respectively.
---
ETF Launches
Climate change and ESG are clearly the latest flavours of the month for most new ETFs. Nevertheless, here are some new frontier and emerging market focused ETFs:
---
ETF Closures/Liquidations
Frontier and emerging market highlights:
---
Check out our emerging market ETF lists, ADR lists (updated) and closed-end fund (updated) lists (also see our site map + list update status as some ETF lists are still being updated as of Summer 2022).
I have changed the front page of www.emergingmarketskeptic.com to mainly consist of links to other emerging market newspapers, investment firms, newsletters, blogs, podcasts and other helpful emerging market investing resources. The top menu includes links to other resources as well as a link to a general EM investing tips / advice feed e.g. links to specific and useful articles for EM investors.
Disclaimer: EmergingMarketSkeptic.Substack.com and EmergingMarketSkeptic.com provides useful information that should not constitute investment advice or a recommendation to invest. In addition, your use of any content is entirely at your own risk and it is your sole responsibility to evaluate the accuracy, completeness and usefulness of the content.
Emerging Market Links + The Week Ahead (November 28, 2022) was also published on our Substack.
---
---
---
Emerging Markets Investing Tips + Advice
Emerging Market Skeptic (Website)
Website List Updates + Site Map
Stocktwits @EmergingMarketSkptc
Similar Posts:
Support This Site
Archives