Cynical views towards India have not paid off. Since its inception nearly thirty years ago, the MSCI China Index has delivered no returns to investors while the MSCI India Index returned a whopping 2,000% and the MSCI Emerging Market Index rose over 160%. Manufacturing's shift to India also looks here to stay as a consequences of China's zero-COVID policy. Note that India's population is expected to surpass China's next year with the former's population set to plateau around 2063 while the latter's population is already peaking.
In addition, Malaysia will have general elections on November 19th. For analysis and interesting perspectives of what might happen politically, I would suggest checking some of the latest articles posted on Murray Hunter's Substack. In addition, I had written Malaysian Elections: Will The Malaysia ETF Rally or Sink? and The Malay Dilemma: Is the Malaysia ETF a Safe Emerging Market Investment? for Seeking Alpha almost a decade ago for further perspectives. (Also see our lists: Malaysia ADRs and Malaysia ETFs).
Finally, HSBC's Under the Banyan Tree podcast talked to ASEAN Economist Yun Liu about Malaysia and Vietnam – two ASEAN economies with a bright outlook thanks to low inflation and having climbed up the electronics value chain. In addition, Malaysia benefits from higher commodity prices while Vietnam has largely become self sufficient in oil.
---
Suggested Reading
$ = behind a paywall
East vs West, 'Stuff' vs 'Finance' (Oilprice.com)
It seems increasingly apparent that the focus on "finance" will be less rewarding and the focus on "stuff" will become more important to the nations of the world.
In advanced countries, the percentage of the total economy devoted to services has long exceeded that devoted to goods.
All service industries remain completely dependent on the raw materials and manufactured goods sectors to function.
How China has dragged down investor returns over the past decade (Forbes India)
With a cynical view of India, global investors had bet big on Chinese equities. Now, decades later, the MSCI China Index has delivered no returns, but the MSCI India Index has gained a whopping 2,000 percent.
"China has increasingly started focusing on reducing inequalities—large companies and big tech companies are being systematically cut down to size to reduce their economic power. This, coupled with an over-leveraged financial system, has led to corporate profits being under pressure," says Mihir Vora [senior director and CIO, Max Life Insurance].
'Once-in-a-lifetime opportunity': How a mass lockdown at the world's biggest iPhone factory is India's big chance to beat out China as Apple's favorite supplier (Fortune)
Note: See India ADRs, India ETFs and India Closed-End Funds.
The consequences of China's zero-COVID policy is an "absolute gut punch for Apple in its most important holiday quarter," Dan Ives, managing director at investment firm Wedbush Securities, tweeted last week. "We estimate this negatively impacting roughly 3% of iPhone sales this quarter based on…China production [and] supply issues. The albatross continues in China," he said.
"Foxconn moving production to India from China is also about getting closer to a high-growth market, rather than, say, following U.S. policy signaling to contain China," Terry said. Apple also wants to dominate India's fast-growing high-end smartphone market, which is expected to hit 10% next year from 7%, Pathak said.
Apple isn't alone in diversifying its production to India. Rivals like Samsung, Xiaomi, and Google (which makes the Pixel smartphone), are also shifting production to India. From 2021 to 2022, India's smartphone production surged 126%, making the country the world's second-biggest smartphone manufacturer behind China.Companies like "Apple, Abbott, Boeing-Tata, Flex, Pratt & Whitney…are just the start of this wave" of multinationals shifting to India, Gunjan Bagla, India managing director at business consultancy Amritt and business professor at Arizona State University, told Fortune.
Manufacturing moving to India from China, but trade deficit a concern, says Mark Mobius (ThePrint)
Veteran investor says government's swift actions to ease doing business in India will ensure that manufacturing remains in the country and does not shift back.
Visualizing India's Population Growth From 2022-2100 (Zero Hedge)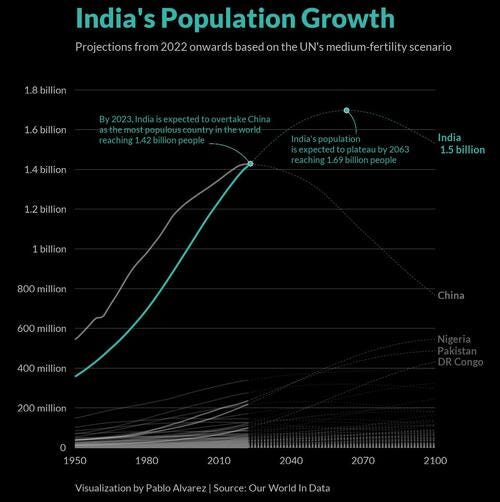 Money rushing into the US will reverse (Moneyweb.co.za) 6.48 Min
Developed markets are not nearly as attractive as emerging markets, reckons Feroz Basa from Sanlam Investments.
Now [if] you bring that back to EMs, if you look at the emerging markets currently [they are] trading on very, very low earnings multiples, and the earnings level is low, whereas developed markets' earnings are high. Valuations are starting to come off, but they're not nearly as attractive as emerging markets.
In emerging markets there are a number of state-owned entities, particularly in China. If you look at the index – China, India, and some of these other indexes – you've got to be very careful [of] those state-owned entities. I mean, we look at Eskom, Denel and all these other state-owned entities. [They are] not run for shareholders.Similarly in emerging markets you need to navigate those markets quite carefully and spend time. There are really very, very good companies, but you need that bottom-up, fundamental-focused fund that can pick those stocks for you to give you that outperformance longer term.
Investors in Emerging Market ETFs should 'look under the hood' (Reuters Video) 6 Min
MarketVector's Steven Schoenfeld says there are ways to mitigate risk, but investors need to "look under the hood" to see how these ETFs are constructed.
They focus on operational risk and "watch what they do, not what they say." Schoenfeld noted that the "era of believing that an overall allocation to emerging markets, while you're blind to how the governments how governments are run and corporate governance at the company level, I think that era is over." Investors "need to look at it with very rigorous metrics and lenses; and also look beyond the standard emerging markets into the frontier markets and even beyond looking looking for newly emerging markets."
Schoenfeld believes Brazil small cap and domestic stocks have upside. South Korea and Vietnam have been hit by energy costs and China vs. Taiwan and North vs. South Korea conflicts, but there are opportunities to buy the dip.
With China on 'extended' path to reopening, emerging market equities will outperform peers in developed economies, record double-digit growth, Allspring analyst says (SCMP)
Double-digit upside is backed by better economic recovery and earnings growth into next year, portfolio manager [Allspring Global Investments] focusing on emerging market equities says.
China is in a position to easily introduce more supportive economic policies and its economic recovery into 2023 could still look rosy.
Emerging economies will hold up better than developed markets, whose central banks are lagging behind the curve when it comes to raising interest rates, Tse said. Emerging markets will benefit from their rich resources – for example oil in Gulf countries, and copper, lithium and aluminium in Latin America – in a commodity cycle.
Back in Hong Kong stocks (Turtles all the way down! Substack)
---
Earnings Calendar
Note: Investing.com has a full calendar for most global stock exchanges BUT you may need an Investing.com account, then hit "Filter," and select the countries you wish to see company earnings from. Otherwise, purple (below) are upcoming earnings for US listed international stocks (Finviz.com):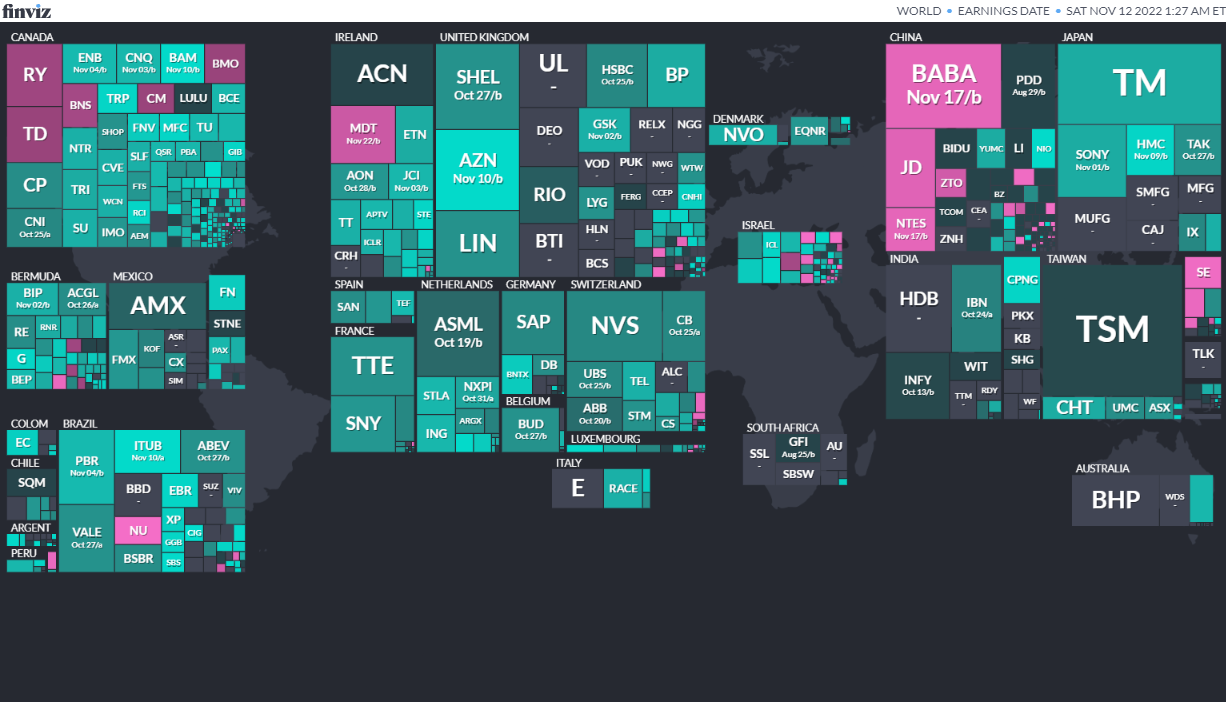 ---
Economic Calendar
Click here for the full weekly calendar from Investing.com containing frontier and emerging market economic events or releases (my filter excludes USA, Canada, EU, Australia & NZ).
---
Election Calendar
Frontier and emerging market highlights (from IFES's Election Guide calendar):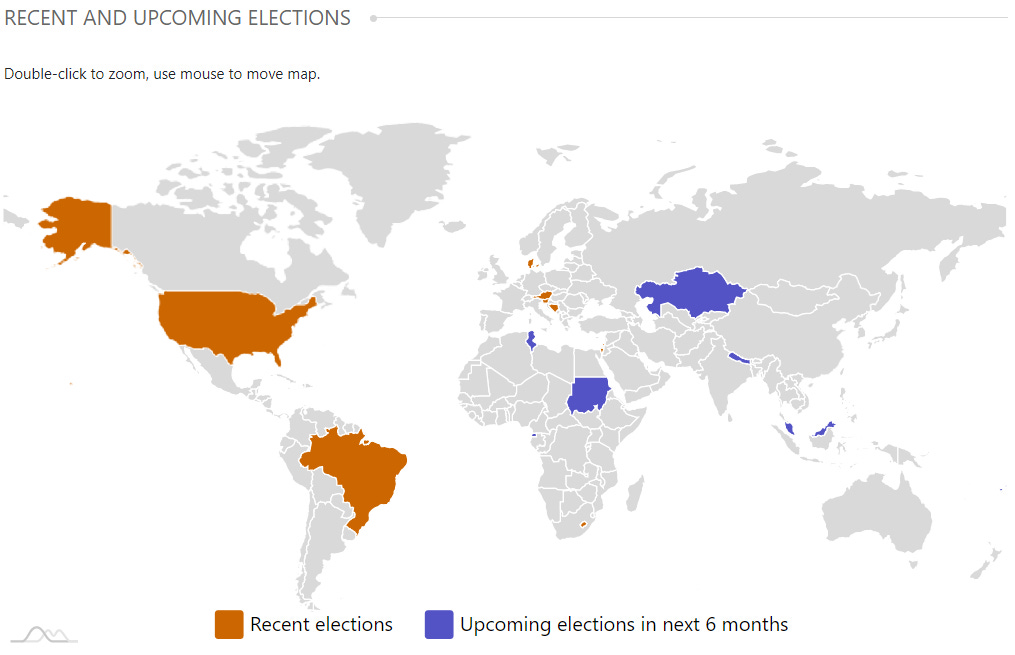 NOTE: Malaysia's Prime Minister Ismail Sabri Yaakob on October 10 announced the dissolution of parliament with a general election scheduled for November 19th.
---
IPO Calendar/Pipeline
Frontier and emerging market highlights from IPOScoop.com and Investing.com (NOTE: For the latter, you need to go to Filter and "Select All" countries to see IPOs on non-USA exchanges):
Atour Lifestyle Holdings LimitedATAT 4.8M Shares, $11.00-11.00, $52.3 mil, 11/11/2022 Priced
Setting out as an upper midscale hotel chain group, we are now a leading lifestyle brand in China.We are the largest upper midscale hotel chain in China in terms of room number as of the end of 2020, according to Frost & Sullivan.As of June 30, 2022, our hotel network covered 834 hotels spanning 151 cities in China, with a total of 96,969 hotel rooms, including 801 manachised hotels with a total of 91,911 manachised hotel rooms, in addition to a pipeline of 343 hotels with a total of 37,795 rooms under development. Our guests can book a stay with us and access our rich product and service offerings through offline and online channels, including our mobile app and Weixin/WeChat mini program. We built our A-Card loyalty program to enhance our engagement with guests and provide them with a unique and personalized experience. As of June 30, 2022, our A-Card loyalty program had amassed approximately 32 million registered individual members. In 2021, approximately 39.7% of our room-nights were sold to our A-Card members. In addition, we are the first hotel chain in China to develop a scenario-based retail business, according to Frost & Sullivan. We design our guest room amenities, work closely with manufacturers to deliver top-quality products, and carefully place the relevant products in guest rooms. Each of our guest rooms incorporates a fully immersive shopping destination, enabling us to further strengthen our brand elasticity with our guests.
---
ETF Launches
Climate change and ESG are clearly the latest flavours of the month for most new ETFs. Nevertheless, here are some new frontier and emerging market focused ETFs:
---
ETF Closures/Liquidations
Frontier and emerging market highlights:
---
Check out our emerging market ETF lists, ADR lists (updated) and closed-end fund (updated) lists (also see our site map + list update status as some ETF lists are still being updated as of Summer 2022).
I have changed the front page of www.emergingmarketskeptic.com to mainly consist of links to other emerging market newspapers, investment firms, newsletters, blogs, podcasts and other helpful emerging market investing resources. The top menu includes links to other resources as well as a link to a general EM investing tips / advice feed e.g. links to specific and useful articles for EM investors.
Disclaimer: EmergingMarketSkeptic.Substack.com and EmergingMarketSkeptic.com provides useful information that should not constitute investment advice or a recommendation to invest. In addition, your use of any content is entirely at your own risk and it is your sole responsibility to evaluate the accuracy, completeness and usefulness of the content.
Emerging Market Links + The Week Ahead (November 14, 2022) was also published on our Substack.
---
---
Share
Leave a comment
---
Emerging Markets Investing Tips + Advice
Emerging Market Skeptic (Website)
Website List Updates + Site Map
Stocktwits @EmergingMarketSkptc
Similar Posts: