There are different points of view concerning whether or not China will invade Taiwan as Xi's "common prosperity" cabinet grapples with the country's growing problems. Either way, Chinese stocks and funds look to be a no-go zone for awhile; but the ASEAN region appears to be on the rebound.
Meanwhile, there are "gold whales" buying gold by the ton as a couple of gold South African gold mining stocks report results.
Finally, keep an eye on both Brazil and Peru in alternative media or social media along with in equity or fund research reports. While the mainstream media will not report it, there are growing and widespread protests against the election results in Brazil (where the military still has the right or power to intervene) which have apparently inspired renewed protests against embattled Peruvian President Pedro Castillo (who took office in July of last year and has already survived two impeachment attempts for corruption).
---
Suggested Reading
$ = behind a paywall
Why China Probably Won't Invade Taiwan (Twitter Thread)
Xi's removal of Hu points to 'common prosperity,' not Taiwan invasion (Asia Nikkei) $ (Web Cache)
Chinese president's dissent-free cabinet hints at unpopular decisions ahead
Why does he want a cabinet with no dissent? Some may say he is preparing to be leader for life. But China is not North Korea. It is hard for a politician like Xi, with little to show in terms of achievements, to stay atop the country for so long.
"That's a reform cabinet in disguise. It's a common prosperity cabinet," said Lauren Johnston, associate professor of the China Studies Centre at the University of Sydney.
"The new leadership is a task force," Zhu [Jianrong, a professor at Toyo Gakuen University in Tokyo] said. "Now that the strategy has been decided, the priority is to execute and implement the policies, not to debate about the path." As for risk, "Xi now has his back against the wall," Zhu said. "He got his team and will now have to deliver." If at the end of five years Xi has not advanced toward his lofty goals, it would be difficult to suggest a fourth term.
If dividing the cake is the top priority, it makes little sense to embark on a lengthy battle over Taiwan that would drain China's coffers and result in a smaller cake. "The unification of Taiwan and the effort to build a modern socialist country contradict each other," Zhu said. "The goal is to win without fighting. China will prioritize catching up with the U.S. in overall national power while avoiding a full-front conflict until then at all costs… It's a new version of Deng Xiaoping's 'biding time' strategy."
Why China's Marriage Crisis Is An Existential Threat To The Country (Epoch Times via Zero Hedge)
Behind the bombastic rhetoric, however, there lies a truly sobering fact: new policies probably won't be enough to arrest China's demographic decline. Here's why.In China, a hyper-traditional society, having a child out of wedlock is still frowned upon. Childbearing and childrearing are synonymous with marriage. Last year, the communist nation saw marriage rates hit a 35-year low. The sharp drop in marital vows comes at the same time China faces an impending demographic crisis. 2021 saw 7.6 million marriage registrations, the fewest since 1986. With falling birth rates and a rapidly aging population, China faces problems that are very much existential in nature.
Term Three for Xi: Chinese Stocks are a No-Go (Tip Ranks)
Bargain hunters might be tempted to look abroad and scoop up seemingly-cheap shares of private China-based businesses. The appropriate tone is concern, however, as a status-quo leader clings to power.
Traders know full well that another Xi term means a continuation of highly business-restrictive and sometimes unpredictable policies. It also means geopolitical uncertainty as Xi may still have his sights set on Taiwan; plus, he may now feel emboldened to tighten his grip on China's already-struggling tech firms.
The Great ASEAN Economic Rebound (Murray Hunter Substack)
SE Asia ADRs, closed-end funds & ETFs.
Demand is growing again, making the region look like there was never any pandemic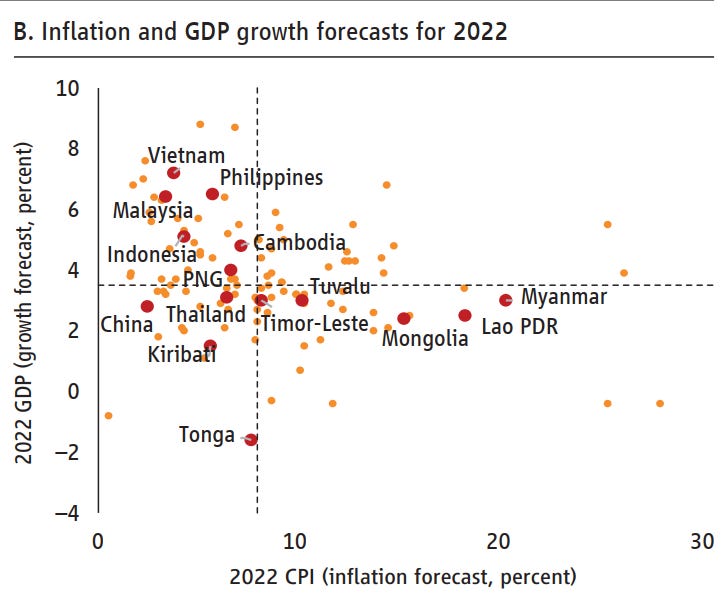 Gold Market Roiled As Mystery Buyer Waves In 300 Tonnes (Zero Hedge)
There Are Massive, Record Breaking "Mystery Buyers" In Gold All Of A Sudden (QTR Finance Substack)
Which brings me to the latest massive canary in the coalmine for precious metals: all of a sudden we have a sovereign "mystery buyer" in the gold market. And they appear to have an insatiable appetite for the precious metal.Reuters reported this week: "Central banks bought a record 399 tonnes of gold worth around $20 billion in the third quarter of 2022, helping to lift global demand for the metal, the World Gold Council (WGC) said on Tuesday."
Bloomberg called the buyers "mystery whales" and postulated that the mystery buyers were likely either China, Russia, Saudi Arabia or India.
Cash-rich AngloGold Ashanti caught up in JSE rout despite stronger quarter (IOL)
Higher ore grade across AngloGold Ashanti's gold mining operations helped lift bullion production for the quarter period to the end of September, the company reported yesterday, with cash flows and Ebitda earnings also spiking.
Gold Fields flags slight drop in production (IOL)
In its operational update for the quarter ended September 30, 2022, the group, which operates gold mines across three continents, said yesterday that gold production recoiled by 1.5% year on year in the reported period and 3.9% quarter on quarter to 597 000 ounces.However, the South Deep mine, near Johannesburg, delivered a strong quarter, with gold production up 2.32% to 87 900 ounces.
Some shareholders had expressed concern that Gold Fields' proposed acquisition of Yamana was too expensive, too dilutive of Gold Fields shares and would negatively impact returns for existing shareholders. Under the deal, Gold Fields has offered 0.6 of one of its shares for each Yamana share.The group will know the outcomes as the voting on the deal will take place on November 22, during the firm's annual general meeting.
'Just so full of autocracies': For the Freedom 100 Emerging Markets ETF, outperformance in 2022 goes beyond nixing China (Market Watch)
Life + Liberty Indexes founder Perth Tolle weighs in on why emerging-markets funds that exclude China don't go far enough, as well as on the Freedom 100 Emerging Markets ETF's performance this year.
China, Russia and Saudi Arabia are among the countries that have never been in the index tracked by the Freedom 100 Emerging Markets ETF, according to Tolle.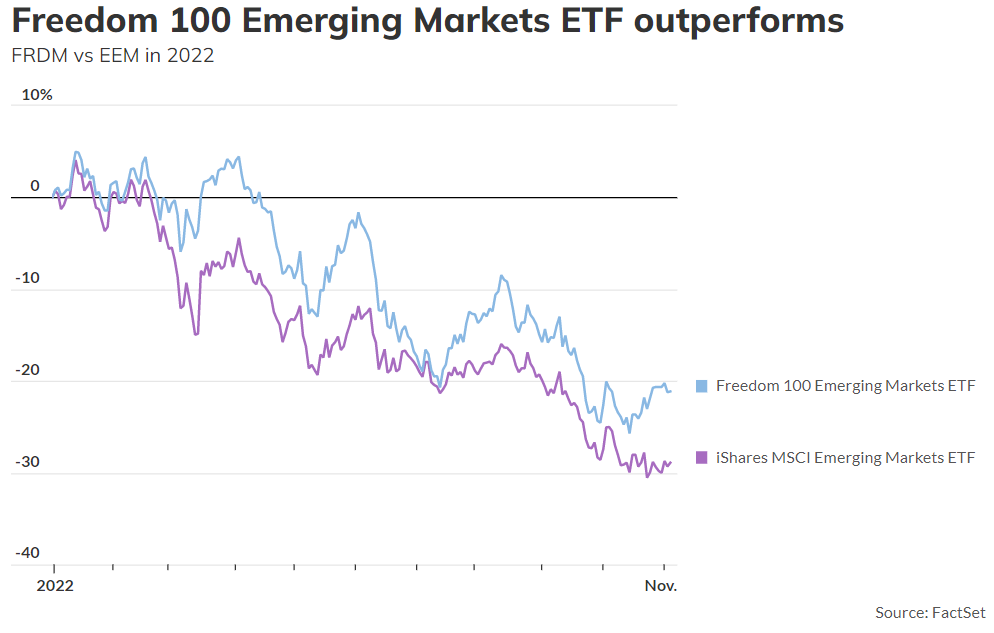 Mapping the region's ideological landscape (Latin America Risk Report Substack)
Latest factsheets of abrdn Closed-End Funds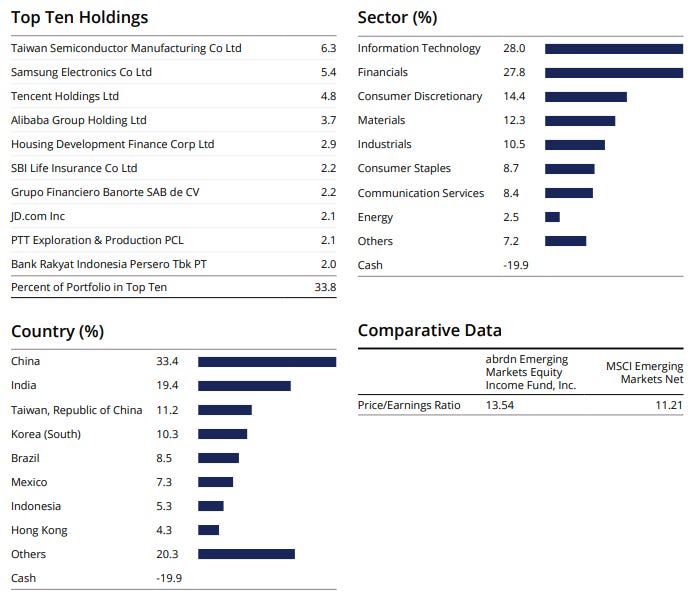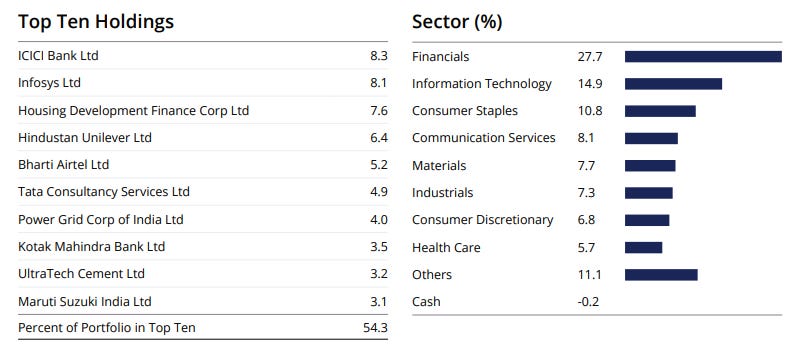 ---
Earnings Calendar
Note: Investing.com has a full calendar for most global stock exchanges BUT you may need an Investing.com account, then hit "Filter," and select the countries you wish to see company earnings from. Otherwise, purple (below) are upcoming earnings for US listed international stocks (Finviz.com):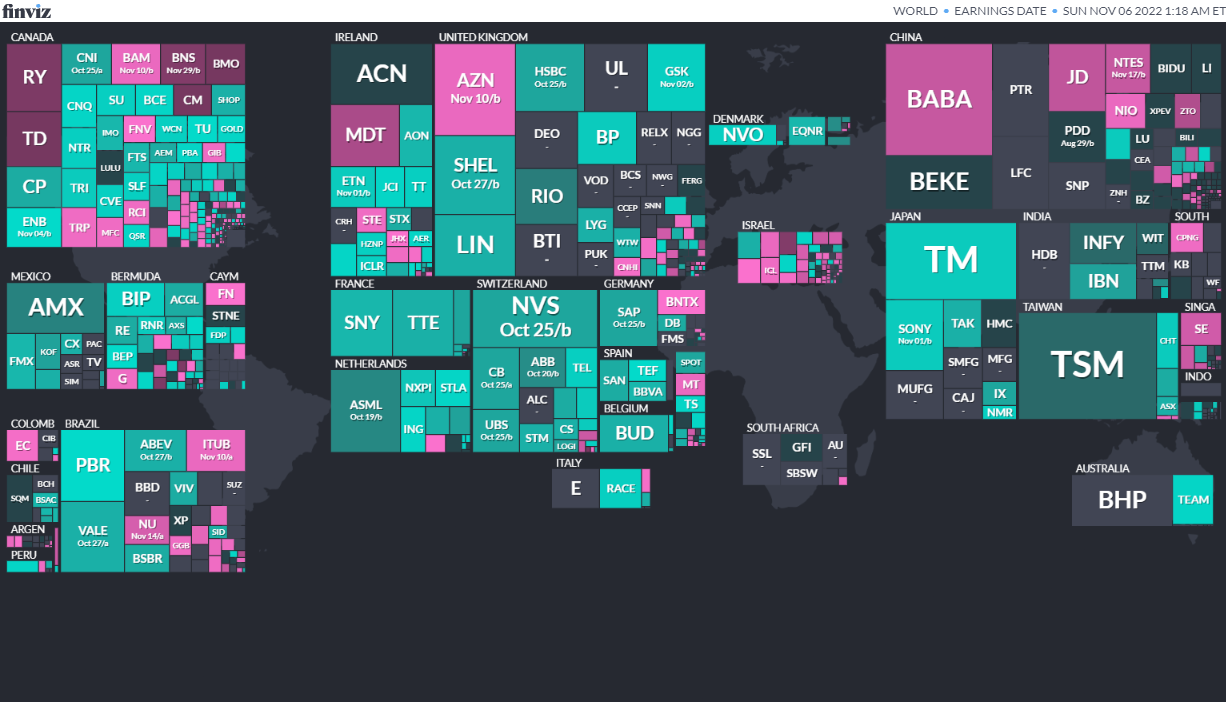 ---
Economic Calendar
Click here for the full weekly calendar from Investing.com containing frontier and emerging market economic events or releases (my filter excludes USA, Canada, EU, Australia & NZ).
---
Election Calendar
Frontier and emerging market highlights (from IFES's Election Guide calendar):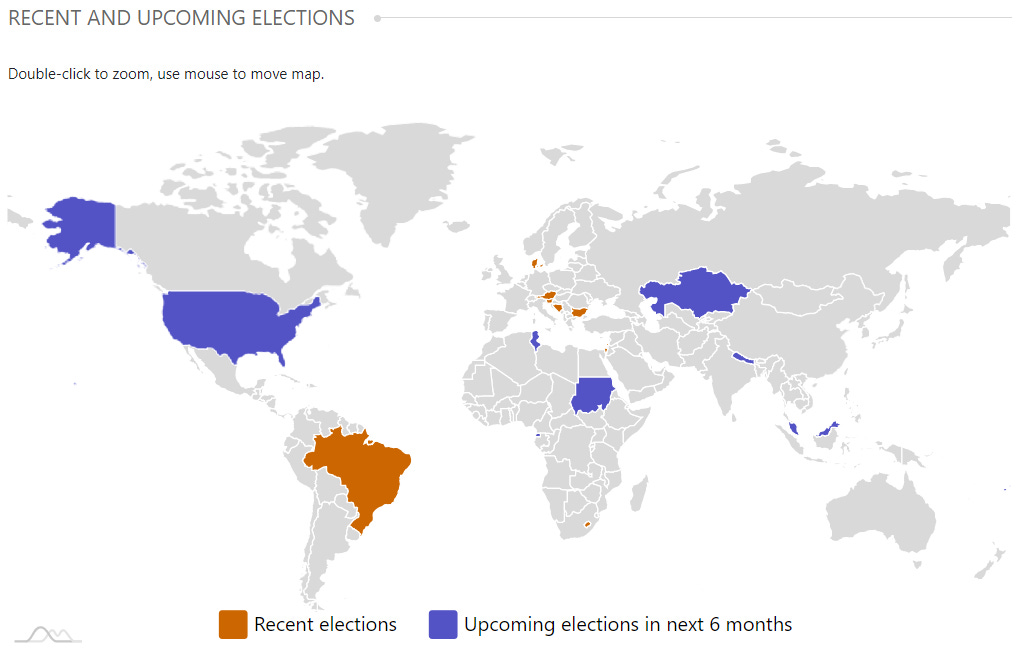 NOTE: Malaysia's Prime Minister Ismail Sabri Yaakob on October 10 announced the dissolution of parliament with a general election scheduled for November 19th.
---
IPO Calendar/Pipeline
Frontier and emerging market highlights from IPOScoop.com and Investing.com (NOTE: For the latter, you need to go to Filter and "Select All" countries to see IPOs on non-USA exchanges):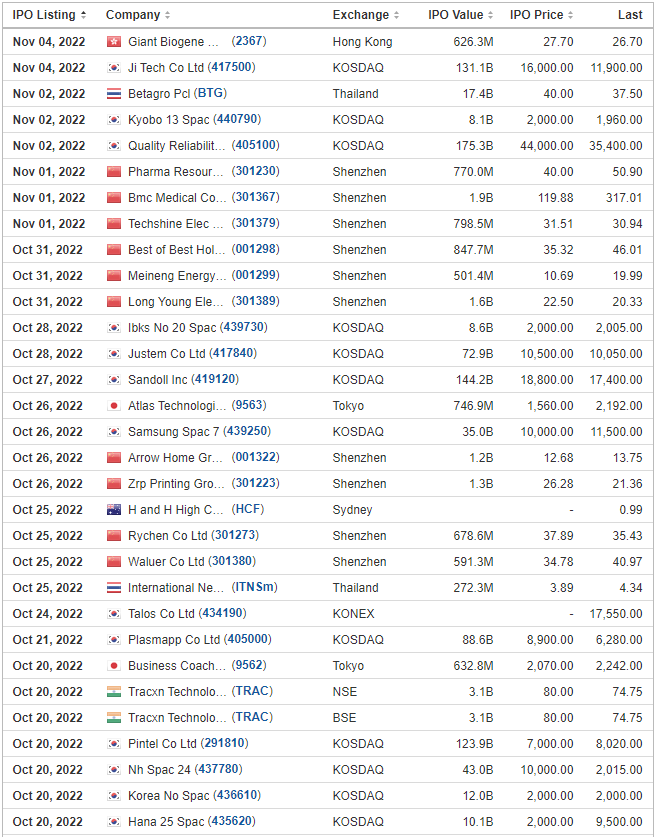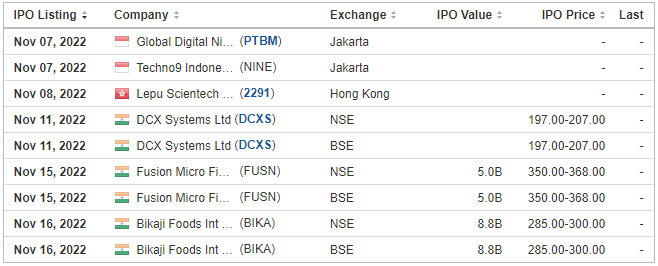 ASP Isotopes Inc.ASPI, 1.5M Shares, $4.00-$5.00, $6.8 mil, 11/9/2022 Wednesday
We were incorporated in Delaware in September 2021 to acquire assets and license intellectual property rights related to the production of isotopes using Aerodynamic Separation Process ("ASP technology"), originally developed and licensed to us by Klydon Proprietary Ltd ("Klydon"). We have an exclusive license to use the ASP technology for the production, distribution, marketing and sale of all isotopes.
Our initial focus is on the production and commercialization of enriched Molybdenum-100 ("Mo-100"). Klydon has agreed to provide us a first commercial-scale Mo-100 enrichment plant located in South Africa with a manufacturing capacity of 20 kg/year of 95% enriched Mo-100 when fully operational. We believe that the Mo-100 we may develop using the ASP technology has significant potential advantages for use in the preparation of nuclear imaging agents by radiopharmacies and others in the medical industry…
… We operate principally through subsidiaries: ASP Isotopes Guernsey Limited (the holding company of ASP Isotopes South Africa (Proprietary) Limited), which will be focused on the development and commercialization of high value, low volume isotopes for highly specialized end markets (such as Mo-100 and others, including Silicon-28); Enriched Energy LLC, which will be focused on the development and commercialization of uranium for the nuclear energy market; and ASP Isotopes UK Ltd, which is the licensee of the ASP technology under the exclusive license agreement with Klydon.
---
ETF Launches
Climate change and ESG are clearly the latest flavours of the month for most new ETFs. Nevertheless, here are some new frontier and emerging market focused ETFs:
---
ETF Closures/Liquidations
Frontier and emerging market highlights:
---
Check out our emerging market ETF lists, ADR lists (updated) and closed-end fund (updated) lists (also see our site map + list update status as some ETF lists are still being updated as of Summer 2022).
I have changed the front page of www.emergingmarketskeptic.com to mainly consist of links to other emerging market newspapers, investment firms, newsletters, blogs, podcasts and other helpful emerging market investing resources. The top menu includes links to other resources as well as a link to a general EM investing tips / advice feed e.g. links to specific and useful articles for EM investors.
Disclaimer: EmergingMarketSkeptic.Substack.com and EmergingMarketSkeptic.com provides useful information that should not constitute investment advice or a recommendation to invest. In addition, your use of any content is entirely at your own risk and it is your sole responsibility to evaluate the accuracy, completeness and usefulness of the content.
Emerging Market Links + The Week Ahead (November 7, 2022) was also published on our Substack.
---
---
---
Emerging Markets Investing Tips + Advice
Emerging Market Skeptic (Website)
Website List Updates + Site Map
Stocktwits @EmergingMarketSkptc
Similar Posts: