China's new leadership makeup looks set to accelerate friendshoring trends as investors increasingly vote with their feet.
Meanwhile, Brazil elections are over. Do note that "Bolsonaro won every region of Brazil except for the one which coincidentally happens to be the most corrupt part of the country, Nordeste, which is controlled by drug traffickers and gangs."
Finally, a couple of Asian emerging market or frontier market funds have issued their quarterly reports. These are well worth reading for country, fund or stock investing ideas.
---
Suggested Reading
$ = behind a paywall
Meet The 7 Men Who Will Rule China (Epoch Times / ZeroHedge)
Note: I realize Epoch Times is anti-CCP but this article sticks with the facts by giving the bios of the men.
No 'adults in the room': Xi Jinping catches global investors off guard (FT)
Exclusion of moderates from China's leadership spurs record stock outflows
Analysts and fund managers had expected Xi to balance his seven-man leadership team by including at least a couple of moderates. Instead, it became clear that he had taken sole charge of the world's second-largest economy. "Investors were imagining a scenario where Xi basically got his own way, but there would still be some adults in the room with some kind of pro-market pushback," said Thomas Gatley, an analyst at Gavekal Dragonomics in Beijing.
Gatley at Gavekal pointed to China's education industry as an example of what can happen when there is no pushback against punitive policymaking.
One fund manager who divides his time between the US and Asia said he would no longer invest in any Chinese companies after the party revealed its new leadership line-up. "[Xi] purged all the competent people who knew about how to grow the economy with a bunch of puppets," the fund manager said. "I think there were still people who were hoping that this was just a cyclical phase to ensure his third term, but the purge fully demonstrated this is a permanent ideological shift, and there's no turning back."
You Probably Own More Crashing Chinese Stocks Than You Think (Investor's Business Daily)
"Vanguard FTSE Emerging Markets (VWO), iShares Core MSCI Emerging Markets ETF (IEMG), and iShares MSCI Emerging Markets ETF (EEM) have between 25% and 33% of recent assets invested in Chinese companies," said Todd Rosenbluth, head of research at VettaFi. "So investors are heavily exposed to risks and the rewards tied to China's economy and politics."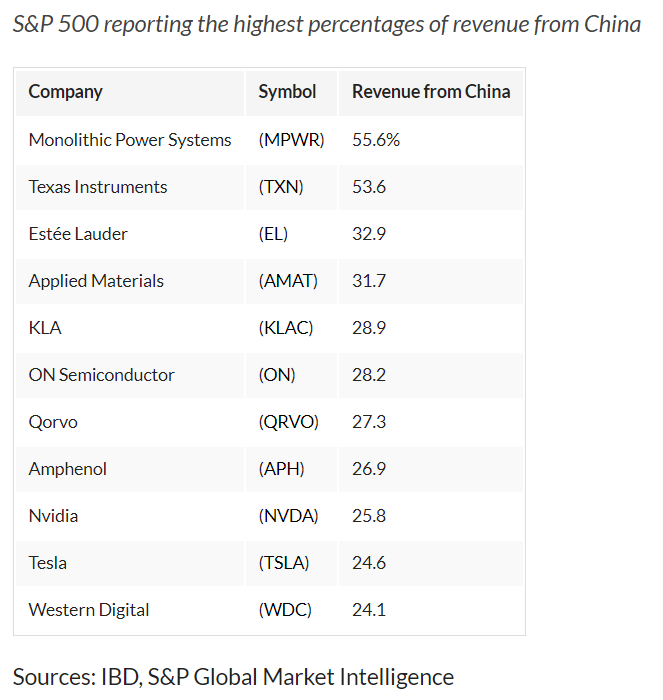 As US-China relations worsen, expect supply chain chaos (Freight Waves)
Leland Miller, the CEO of China Beige Book, a firm that tabulates independent Chinese economic data, said last week that the country was undergoing a "paradigm shift" in its governance and economic models that will complicate its further development, including the end of debt-fueled growth. It will be difficult to track this shift accurately, given the unreliability of official data.
Finally, if the U.S. and China decide to pursue a policy of mutual divestment, we should expect a more diverse, less China-centric trans-Pacific trade. There are other exciting economies in the region that the United States is connected to, including Vietnam, the Philippines, Taiwan, Korea, Japan and Indonesia. Eastbound freight flows may have more widely distributed origins as China's share diminishes. Ports like South Korea's Busan, Malaysia's Port Klang, Taiwan's Kaohsiung and Japan's Yokohama could become relatively more important.
The change in network structure could threaten the stability of the container-ship alliances that control capacity in the trans-Pacific and make the 20,000-plus twenty-foot equivalent unit mega-ships built to serve the largest ports harder to fill and less competitive. Capacity could structurally loosen on what are now the densest lanes, like Shanghai to Los Angeles, while slots could be harder to find on more obscure but growing lanes. The upshot here is that even a prudent trade strategy seeking to de-risk China by sourcing goods in other Asian countries will be exposed to knock-on effects from the challenges the U.S.-China trade is fated to face.
"Confidence Shaken:" US Firms In China Look Elsewhere As 'Friendshoring' Gathers Steam (Zero Hedge)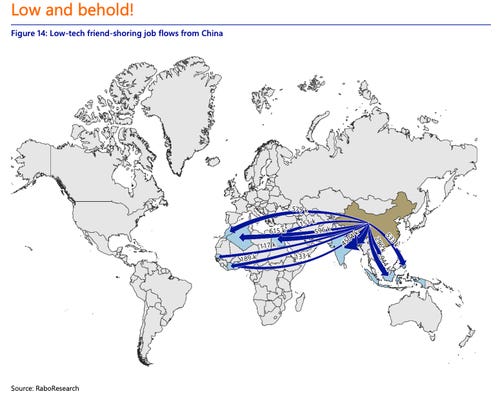 India, Turkey, and Brazil could be the top beneficiaries of medium-tech jobs.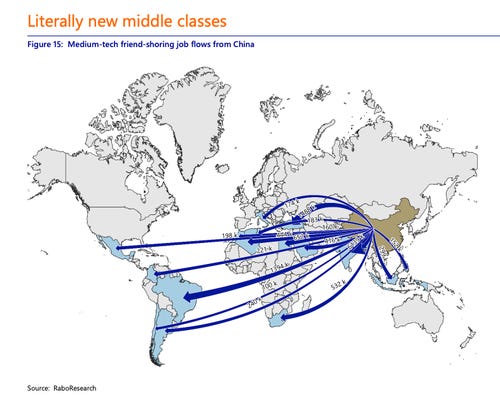 China's economy will not overtake the US until 2060, if ever (Financial Times)
The consensus that Beijing can achieve whatever target it sets ignores the pace of slowdown in recent years
Before the 2008 crisis, China's debts held steady at about 150 per cent of GDP; afterwards it began pumping out credit to boost growth, and debts spiked to 220 per cent of GDP by 2015. Debt binges normally lead to a sharp slowdown, and China's economy did decelerate in the 2010s, but only from 10 per cent to 6 per cent — less dramatically than past patterns would predict.China avoided a deeper slowdown thanks to a tech sector boom and, more importantly, by issuing more debt. Total debt is up to 275 per cent of GDP, and much of it funded investment in the property bubble, where all too much of it went to waste.
Visualized: Why Do Indians Buy Gold During Diwali? (Visual Capitalist)
Note: Diwali was October 24, 2022.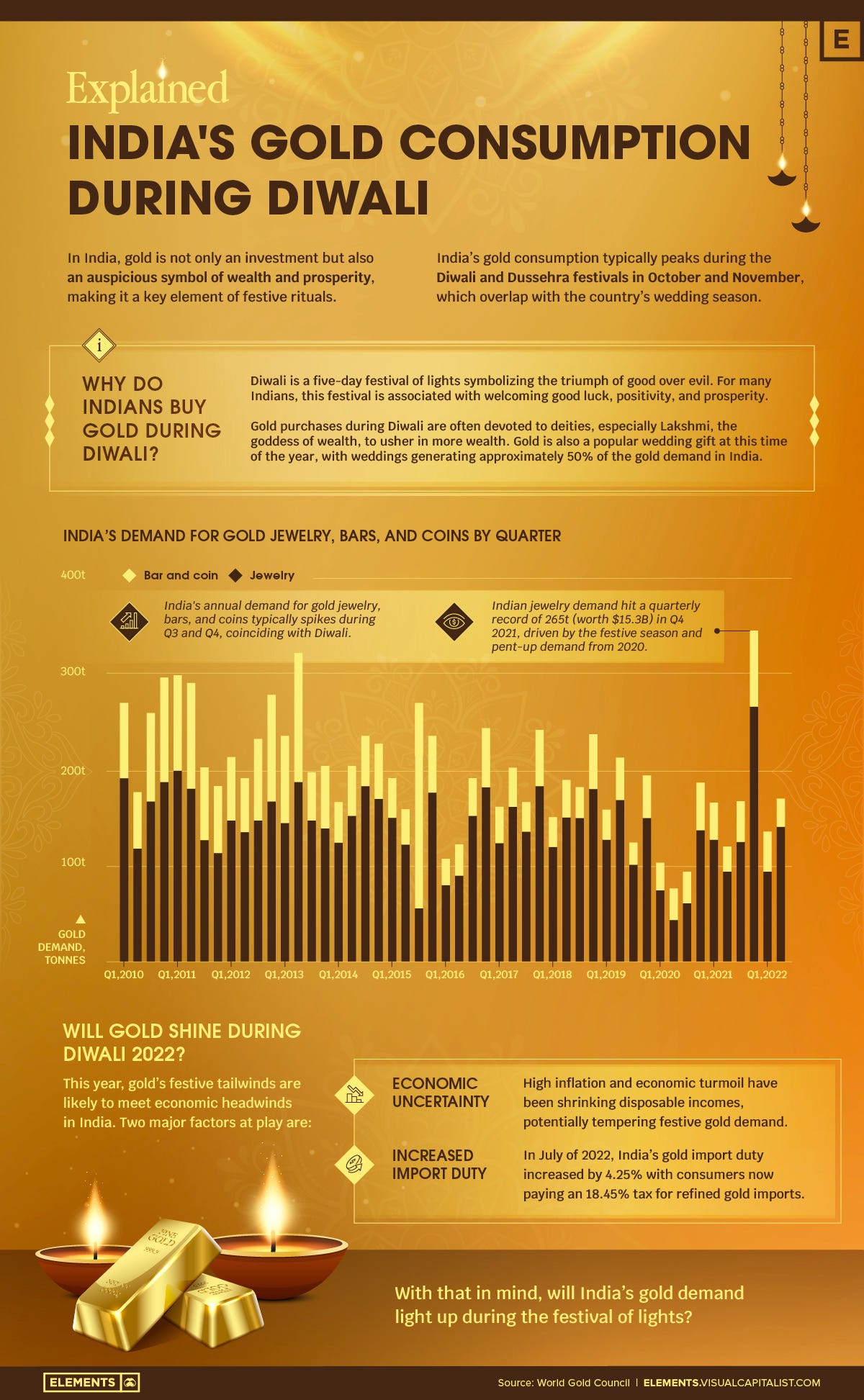 Brazil: Setting the stage for a brighter future? (Franklin Templeton)
In the last few years, Brazil has seen a crowding-in of the private sector. In the financial system, government-controlled banks had the largest share of loans, but that percentage has dropped in recent years, and the private sector has moved in. We think this is one of the most important barometers of market change.Oil giant Petrobras has been selling non-core assets, and after paying down tens of billions of inherited debt, became the world's largest dividend payer. An oil-industry creation has been replacing a de-facto monopoly.
Analysis: Donations from Brazil farm sector boost Bolsonaro's re-election bid (Reuters)
Agribusiness leaders contributed the lion's share of financing for President Jair Bolsonaro's re-election campaign, underscoring his close ties with farm interests, while his leftist challenger relied almost exclusively on public party funding.Individual donors contributed nearly 80% of Bolsonaro's campaign funds, and 33 of his 50 biggest donors had ties to agribusiness, according to a Reuters analysis of data from electoral authority TSE.
By contrast, Lula and his Workers Party (PT) have ties to the Landless Workers Movement (MST), which has challenged traditional property rights, stoking tensions with landowners.Bolsonaro is a harsh critic of the MST and has also sided with farmers in land conflicts involving indigenous claims.
Scottish Oriental Smaller Companies Trust – Annual report for year ended Aug 31, 2022
Scottish Oriental continued its positive performance over the last 12 months. Its net asset value rose by 10% for the year ended 31 August 2022, compared to a decline of 0.9% for the MSCI AC Asia ex-Japan Small Cap Index and a decline of 7.1% for the MSCI AC Asia Ex Japan Index. The largest contributors to performance were the holdings in India and Indonesia. The biggest detractors from performance were the portfolio's holdings in South Korea and the Philippines.

Platinum Asset Management: Asia ex-Japan market update
Looking at the specific holdings that have been impacting our Asia ex-Japan strategy's performance, the three largest positive contributors over the past 12 months to 30 September 2022 were Jardine Cycle & Carriage, a holding company for automotive and commodity operations predominantly in Indonesia, Indian bank ICICI, and Chinese property developer China Overseas Land & Investment.
The largest detractors from performance over the same period were Samsung Electronics, Taiwan Semiconductor Manufacturing, and Tencent.
It's worth reflecting on those top contributors and detractors. To reiterate, one of our top three contributors was a Chinese property developer, in fact, two of our top 10 contributors were Chinese property developers. While on the negative side, the two positions that hurt performance the most were Korean and Taiwanese tech companies, which were both sold off on concerns around softening global demand.
Polen Global Emerging Markets Growth: Portfolio Manager Commentary – September 2022 (PDF file)

Asian Frontier Markets Update (AFC Asia Frontier Fund)
Some slide highlights from their webinar update on October 28th which they have posted on their Youtube page here: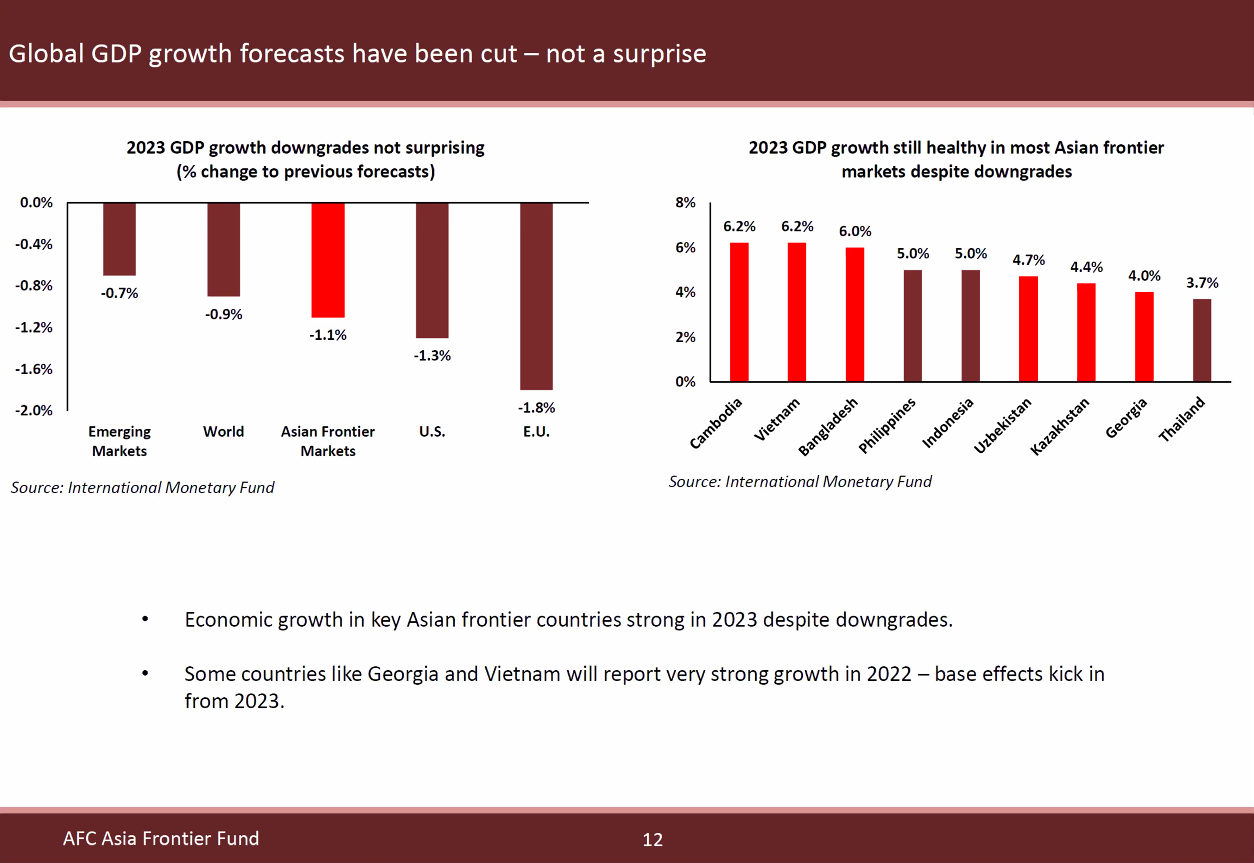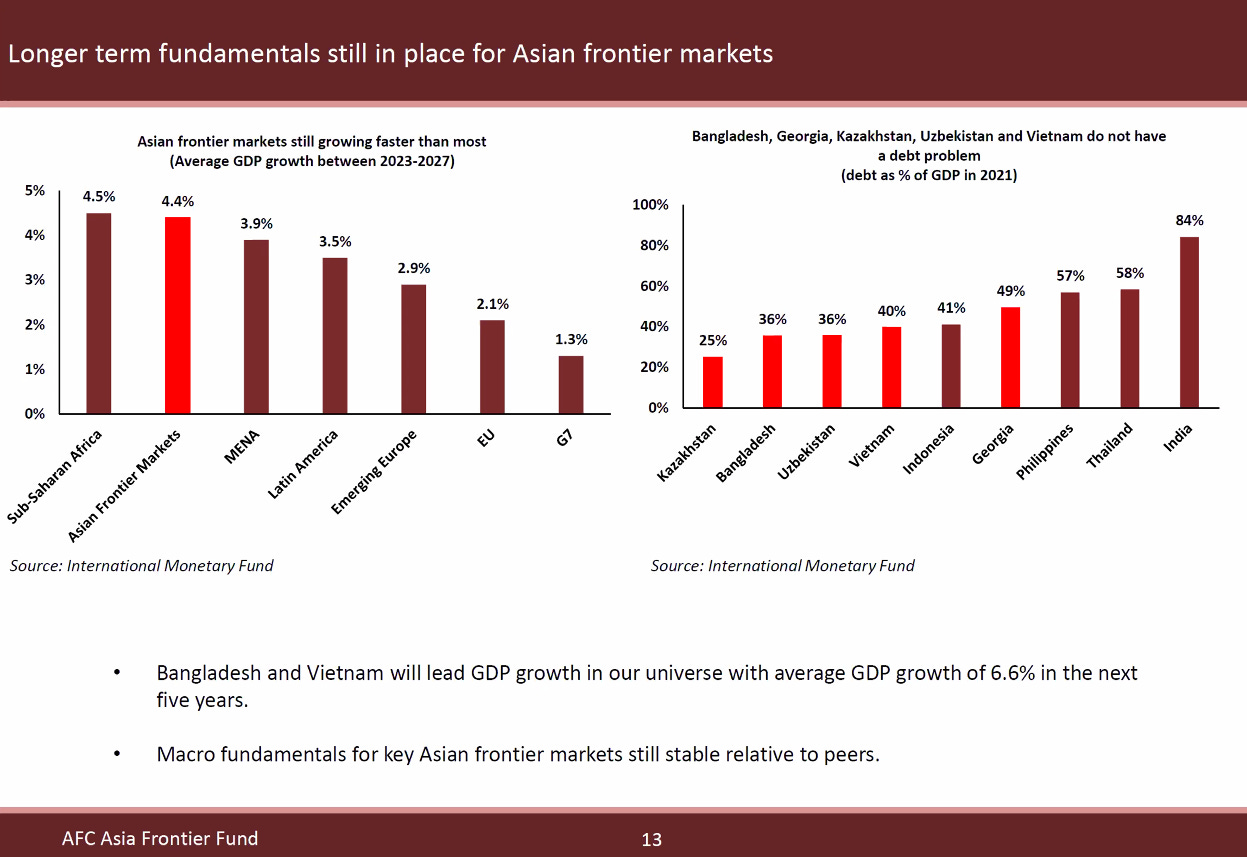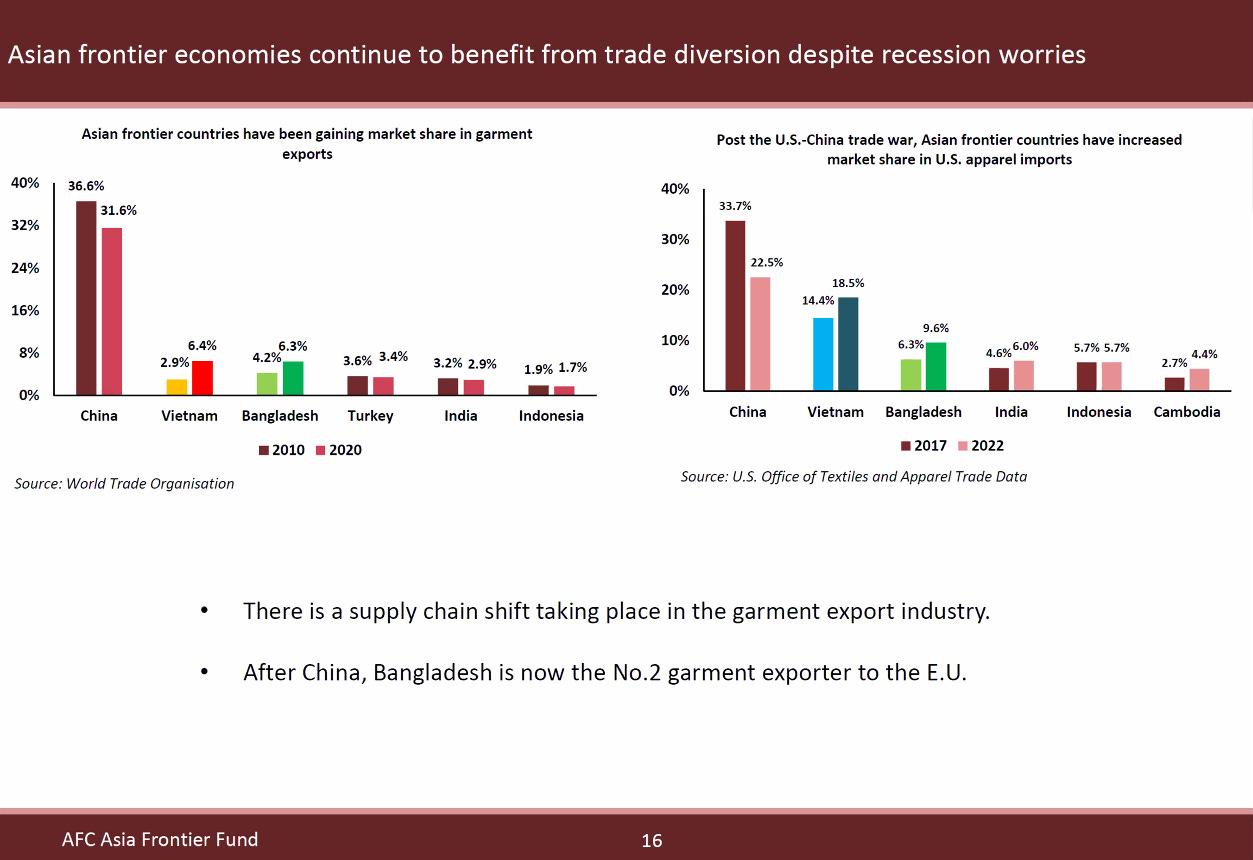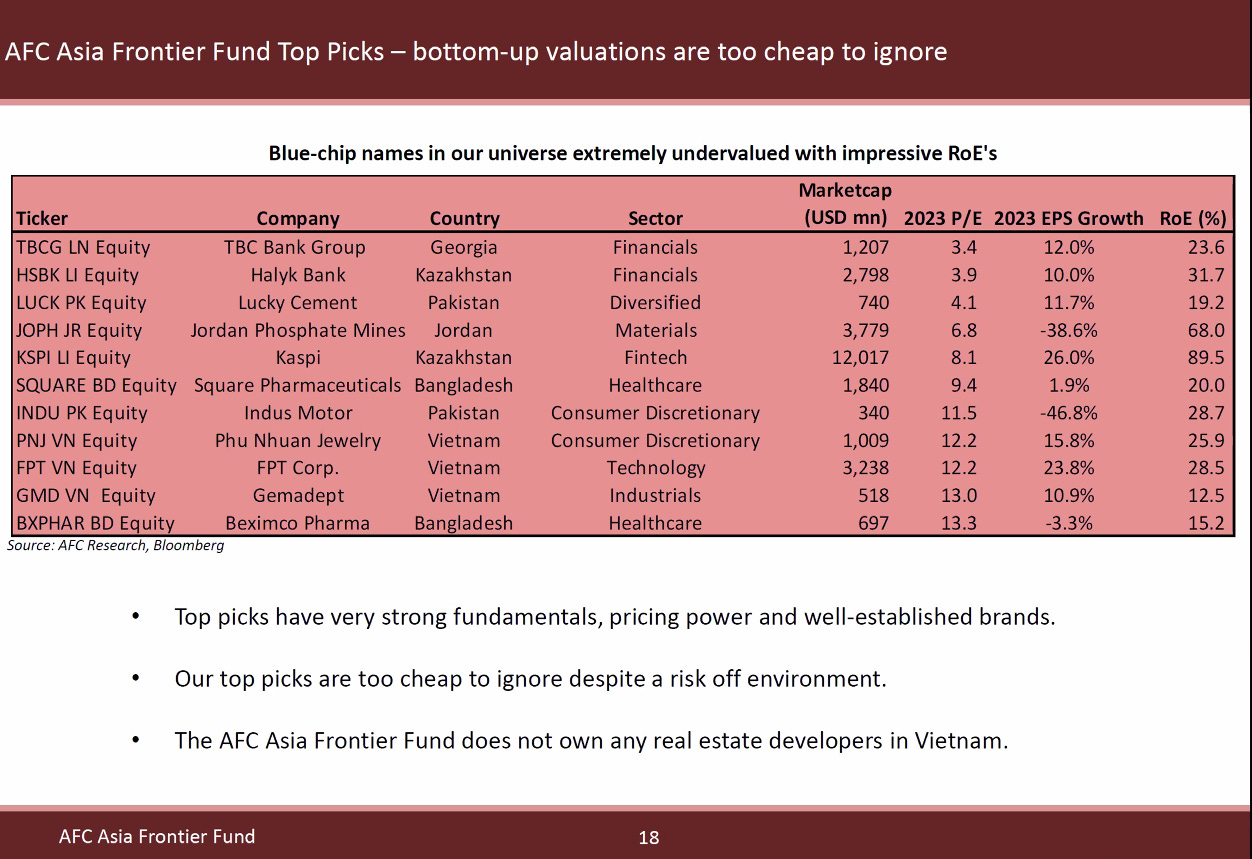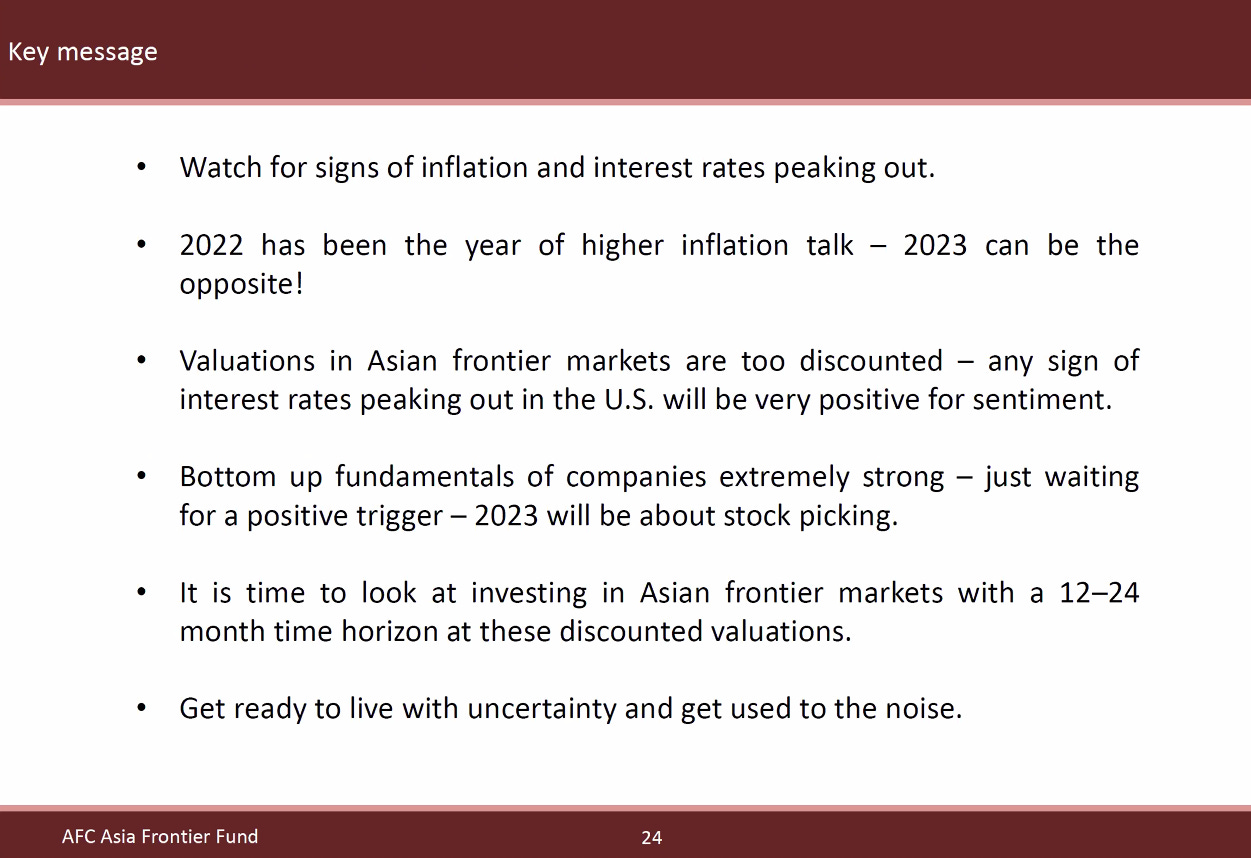 Emerging market companies face high refinancing risk as tight financial conditions persist (Moody's)
In this episode of Moody's Talks – Emerging Markets Decoded, Thaddeus Best of the Emerging Markets team joins host Scott Phillips to discuss how tight financial conditions and capital outflows from emerging markets are affecting lower-rated issuers' ability to refinance maturing international bonds.

---
Earnings Calendar
Note: Investing.com has a full calendar for most global stock exchanges BUT you may need an Investing.com account, then hit "Filter," and select the countries you wish to see company earnings from. Otherwise, purple (below) are upcoming earnings for US listed international stocks (Finviz.com):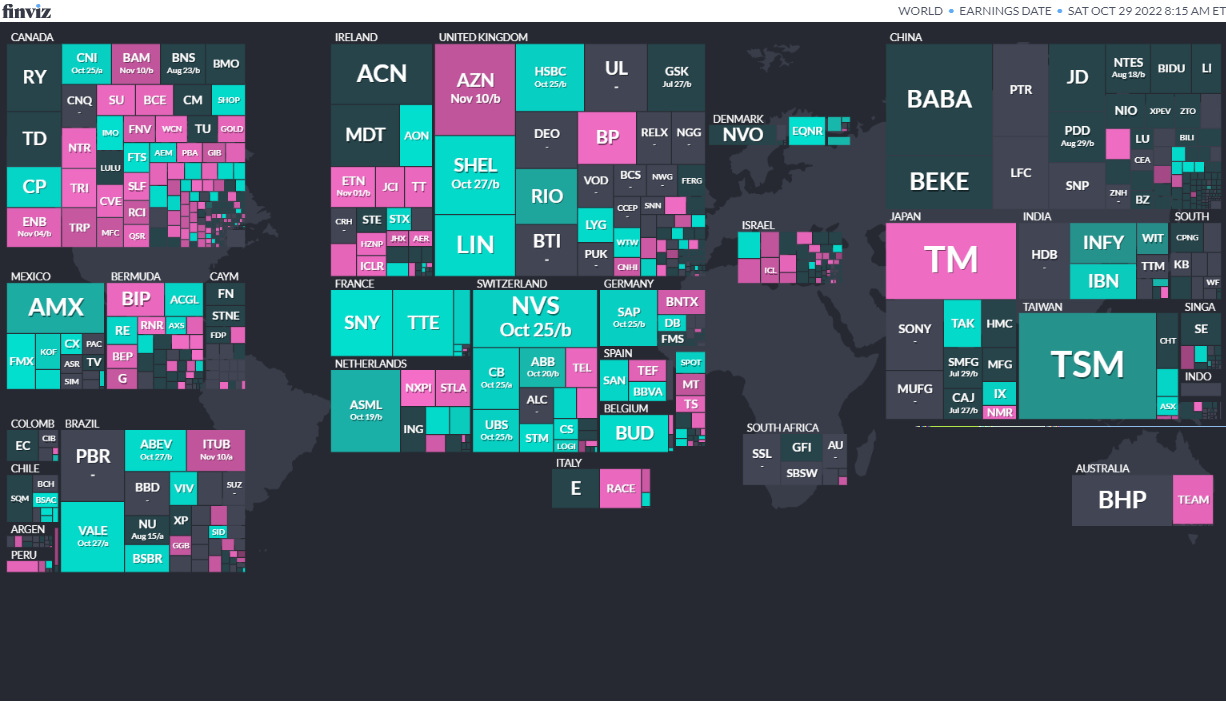 ---
Economic Calendar
Click here for the full weekly calendar from Investing.com containing frontier and emerging market economic events or releases (my filter excludes USA, Canada, EU, Australia & NZ).
---
Election Calendar
Frontier and emerging market highlights (from IFES's Election Guide calendar):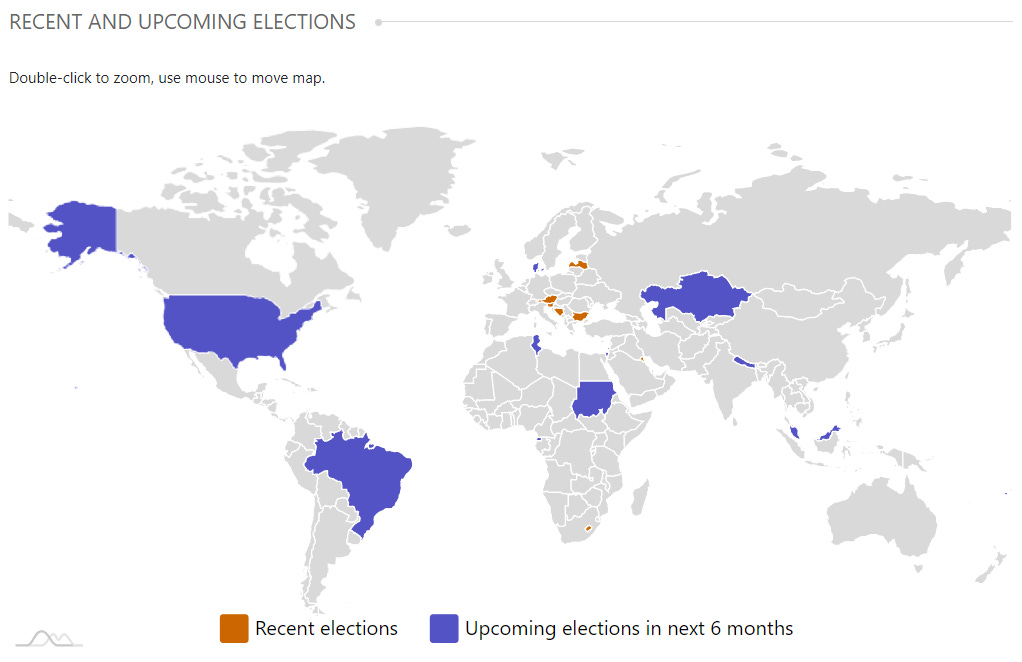 NOTE: Malaysia's Prime Minister Ismail Sabri Yaakob on October 10 announced the dissolution of parliament with a general election scheduled for November 19th.
---
IPO Calendar/Pipeline
Frontier and emerging market highlights from IPOScoop.com and Investing.com (NOTE: For the latter, you need to go to Filter and "Select All" countries to see IPOs on non-USA exchanges):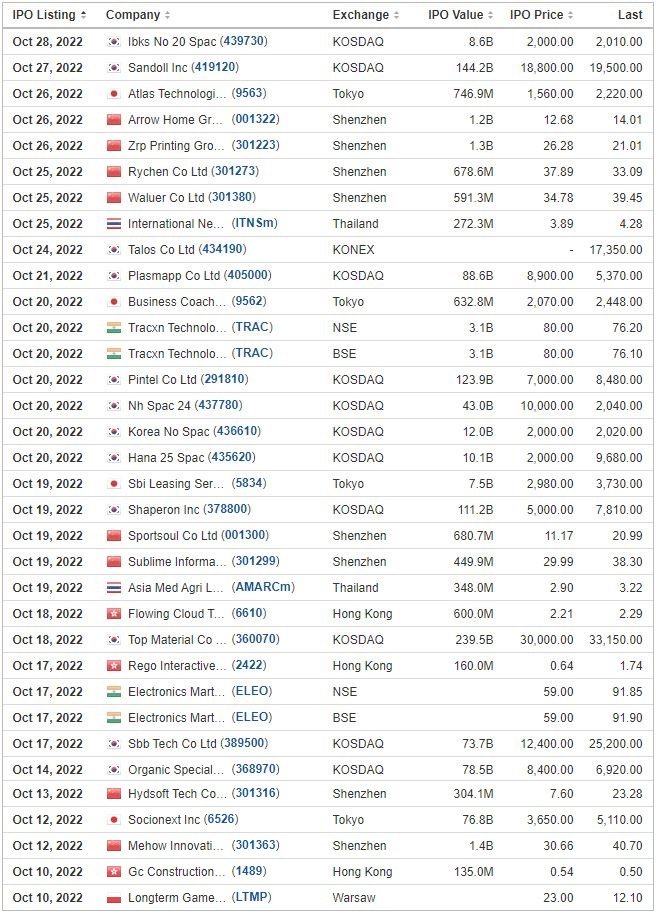 ASP Isotopes Inc.ASPI, 2.0M Shares, $5.00-$7.00, $12.0 mil, 11/2/2022 Wednesday
We were incorporated in Delaware in September 2021 to acquire assets and license intellectual property rights related to the production of isotopes using Aerodynamic Separation Process ("ASP technology"), originally developed and licensed to us by Klydon Proprietary Ltd ("Klydon"). We have an exclusive license to use the ASP technology for the production, distribution, marketing and sale of all isotopes.
Our initial focus is on the production and commercialization of enriched Molybdenum-100 ("Mo-100"). Klydon has agreed to provide us a first commercial-scale Mo-100 enrichment plant located in South Africa with a manufacturing capacity of 20 kg/year of 95% enriched Mo-100 when fully operational. We believe that the Mo-100 we may develop using the ASP technology has significant potential advantages for use in the preparation of nuclear imaging agents by radiopharmacies and others in the medical industry…
… We operate principally through subsidiaries: ASP Isotopes Guernsey Limited (the holding company of ASP Isotopes South Africa (Proprietary) Limited), which will be focused on the development and commercialization of high value, low volume isotopes for highly specialized end markets (such as Mo-100 and others, including Silicon-28); Enriched Energy LLC, which will be focused on the development and commercialization of uranium for the nuclear energy market; and ASP Isotopes UK Ltd, which is the licensee of the ASP technology under the exclusive license agreement with Klydon.
---
ETF Launches
Climate change and ESG are clearly the latest flavours of the month for most new ETFs. Nevertheless, here are some new frontier and emerging market focused ETFs:
---
ETF Closures/Liquidations
Frontier and emerging market highlights:
---
Check out our emerging market ETF lists, ADR lists (updated) and closed-end fund (updated) lists (also see our site map + list update status as some ETF lists are still being updated as of Summer 2022).
I have changed the front page of www.emergingmarketskeptic.com to mainly consist of links to other emerging market newspapers, investment firms, newsletters, blogs, podcasts and other helpful emerging market investing resources. The top menu includes links to other resources as well as a link to a general EM investing tips / advice feed e.g. links to specific and useful articles for EM investors.
Disclaimer: EmergingMarketSkeptic.Substack.com and EmergingMarketSkeptic.com provides useful information that should not constitute investment advice or a recommendation to invest. In addition, your use of any content is entirely at your own risk and it is your sole responsibility to evaluate the accuracy, completeness and usefulness of the content.
Emerging Market Links + The Week Ahead (October 31, 2022) was also published on our Substack.
---
---
Share
Leave a comment
---
Emerging Markets Investing Tips + Advice
Emerging Market Skeptic (Website)
Website List Updates + Site Map
Stocktwits @EmergingMarketSkptc
Similar Posts: