The 20th party congress in China has concluded with analysts trying to read the tea leaves about the direction Xi will be taking China in.
Its worth noting that Liu He (71-years old when 68 is the official retirement age), who has a Master of Public Administration from Harvard Kennedy School and who oversaw negotiations with Trump's White House, did not enter the new composition of the CCP Central Committee. This has some speculating that Xi no longer needs the services of someone who has experience negotiating with Americans. However, his younger aides were elevated to the Central Committee.
Finally, the Brazil Presidential runoffs are on October 30th. As stated before, its nearly impossible to find any objective coverage in the Western or English media (who hate Bolsonaro). However, Lazard AM and Amundi have issued research notes providing at least some objective advice for investors in Brazil.
---
Suggested Reading
$ = behind a paywall
All the Emperor's men: How Xi Jinping became China's unrivalled leader — and how he plans to expand his power base (Financial Times) $ (Google Cache)
For more than a decade, Xi has exploited the idiosyncratic rules and implicit conventions within the Chinese Communist party with ruthless efficiency.
The highest-level political body is the standing committee. It is currently composed of seven members, but had nine as recently as 2007.Beneath the standing committee is the 25-member politburo, the stepping stone to the top positions in the party.Below that is the central committee of around 205 cadres composed of government ministers, provincial leaders, military officers and top regulators.The selection process for China's top leaders is opaque, with positions determined only after brokering behind closed doors and negotiations between incumbent and past members of the politburo.For decades after Deng Xiaoping's reforms in the 1990s, the leaders followed unwritten rules, such as ensuring a balance of ages and political factions across the highest echelons of the party and ceding their posts at the end of two five-year terms. This system had ensured peaceful transitions of power after 30 years of increasingly chaotic rule under Mao.
China Congress Ends As "Dictator For LIfe" Xi Stacks Inner Circle With Loyalists; Equity Market Implications (Zero Hedge)
As Nikkei reports, Shanghai party chief Li Qiang was the first member behind Xi to walk into a room packed with journalists, confirming his second-in-command rank and signaling that he will become the country's next premier. The pair were followed by anti-corruption chief Zhao Leji, ideology tsar Wang Huning, Beijing party head Cai Qi, top Xi adviser Ding Xuexiang and Guangdong province chief Li Xi.
Below we summarize and excerpt the key points on the now concluded Chinese Congress from the Goldman economics team, which focuses on the new appointments, and the equity market implications…
Economic and finance shake-up on China's Central Committee heralds new era in face of global uncertainty (SCMP)
The 20th party congress adopted development security, tech self-reliance and common prosperity as new overriding guidelines. Reshuffle follows Central Committee retirements, banking crises and Xi Jinping's anti-corruption campaign but scope of changes prompts uncertainty.
Vice-Premier Liu He, President Xi Jinping's top economic adviser and chief trade negotiator with the United States and the European Union, has moved out of the Central Committee…
The retirement of the 71-year-old – who helped draft China's economic structural reform, de-risking and innovation policies over the past 10 years – has long been expected because of the party's unofficial age limit of 68, but there is speculation he may be retained as a special adviser in another capacity.Liu's aides on trade negotiations and the Central Economic and Financial Affairs Commission, including 59-year-old Han Wenxiu, 56-year-old deputy commerce minister Wang Shouwen and 58-year-old Han Jun, governor of northeast China's Jilin province, were elevated to the Central Committee for the first time.
Why China is gaining an edge in emerging markets while the West tries to 'impose hegemony on a shoestring' (SCMP)
Although success has been a "mixed-bag" in some markets, Chinese companies, particularly in the tech sector, have proven successful at adapting their operations to align with the development goals of emerging economies.
US and European companies have not been able to match the price or quality of Chinese offerings, said Kadi, whose study on Chinese localisation efforts in North Africa was published by the Carnegie think tank in April. [How Huawei's Localization in North Africa Delivered Mixed Returns – PDF file]
How is TSMC Still Growing? (Asianometry)
Thoughts on TSMC Q3 2022 Earnings
TSMC believes that the semiconductor industry – moving in line with the economy – is going to take a bath next year.
I don't really have anything to add right now except I think China is going to get a lot better at semiconductor manufacturing after this – which I reckon is going to spill a lot of ink and headlines. But at some point their progress will slow. I just wonder where that point is going to be.
Emerging markets interesting for income right now (FT Advisor) [15 Min Video Interview]
The different economic trajectory of many emerging market economies makes them an interesting place for equity income investing right now, says Jacob de Tusch-Lec, manager of the Artemis Global Income fund.
He also finds emerging markets to be interesting right now. This is on the basis that many of those economies raised interest rates last year, and so are "ahead of the curve", relative to Europe.De Tusch-Lec said another factor is that if emerging market economies slow down, policymakers there can cut rates to stimulate growth, and this is not currently an option in the US and Europe.
"We have made good money in Brazil exactly because alot of the return has been currency. And as a global investor, you need to think about currency."
MOBIUS INVESTMENT TRUST: Mobius scans far horizons as China shunned – manager Carlos Hardenberg says he is facing strong headwinds (Daily Mail)
NOTE: Mobius Investment Trust plc ("MMIT") is a closed-ended investment company listed on the London Stock Exchange (LSE: MMIT).
'Although Turkey is suffering from inflation in excess of 80 per cent and its economy is in poor health,' he says, 'the same cannot be said of countries such as India and Vietnam. They are in pole position to benefit from the shift in world manufacturing away from China.'
'I believe that in the next four years, we will see a massive rerating in the shares of the 24 investments we hold,' says Hardenberg confidently. 'Also, our emphasis on high tech companies in the semi-conductor space will reap rewards.' Taiwanese companies make up nearly a quarter of the trust's portfolio… Although Taiwan is the trust's biggest country stake, many of the Taiwanese companies it holds have production facilities all over the world.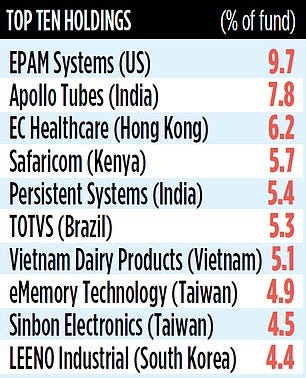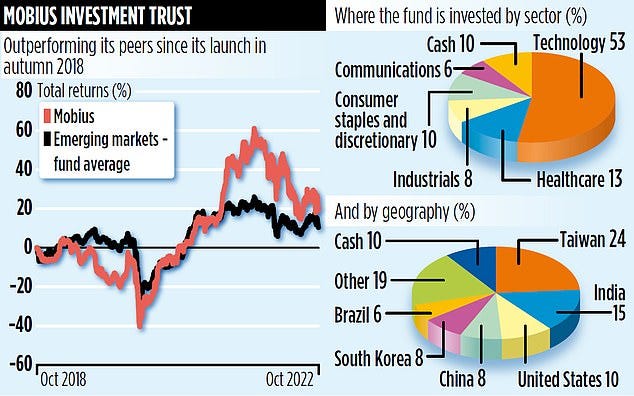 Outlook On Emerging Markets (Lazard AM)
The stronger US dollar, higher inflation, and tighter financial conditions weighed on emerging markets equities in the third quarter. Looking ahead, we are watching elections in Brazil and the National Communist Party Congress in China in October for signs of policy direction.
We believe this is an attractive entry point for emerging markets equities: Valuations are attractive relative to history and to developed markets; profitability, free cash flow, and dividend yields have all moved higher; and earnings growth is expected to recover in 2023.
Emerging markets debt suffered a fifth consecutive quarter of negative returns, and the blended asset class is now well into its worst-ever drawdown. However, bottom-up fundamentals are generally solid, valuations are attractive, and investor positioning is light.
With recession warning signs flashing, we are currently positioned very conservatively in emerging markets debt. We have reduced US interest rate duration and moved up in credit quality as we await better entry points to increase risk.
Exhibit 2: Bolsonaro vs. Lula: Policy Proposals Diverge, Especially on Fiscal Policy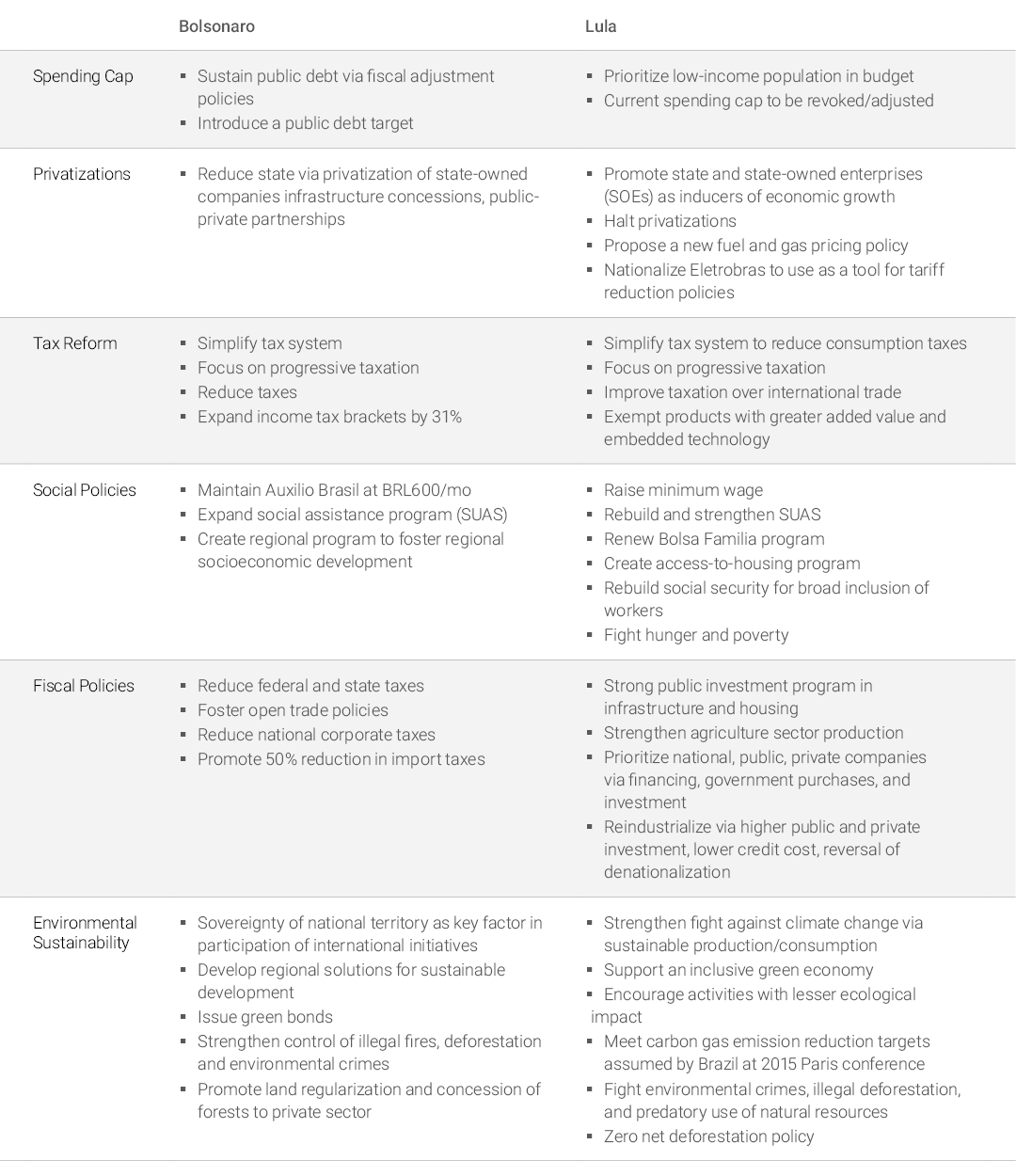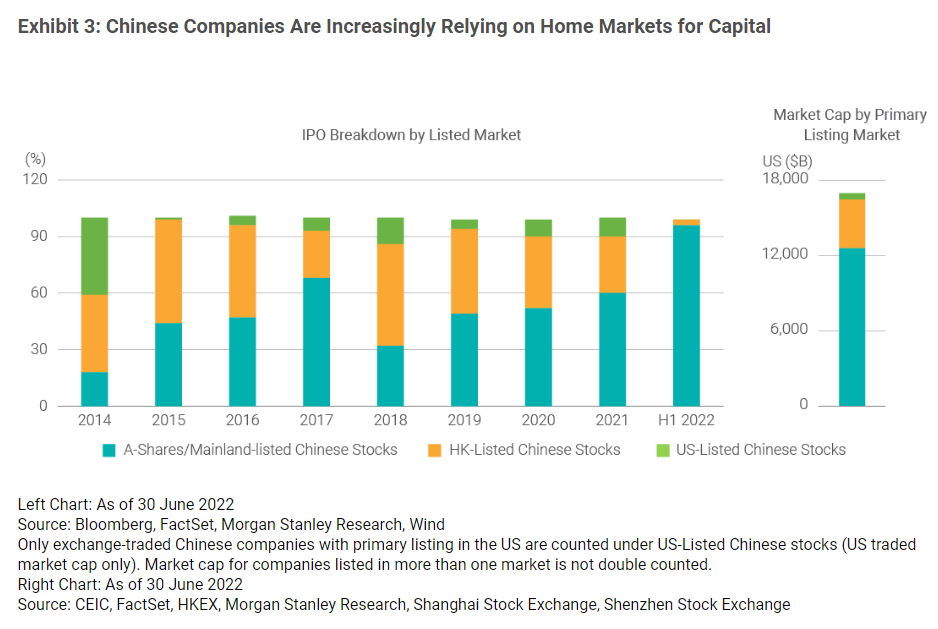 Relaxed financial markets look at Lula's comeback (Amundi)
On equities, we expect the Brazilian equity market to rise under any final election outcome, due to various factors. Firstly, we believe the fiscal situation – a key element of Brazil's financial stability – to be neither good nor catastrophic under either outcome. If Lula wins, he will probably not get enough support in Congress to pass all the social spending he wants to. Secondly, Brazil's CB began its tightening cycle one year before the Fed's and should be among the very first countries around the world to ease its monetary policy. This should help growth to resume. Valuations are also extremely cheap. Brazil is insulated from geopolitical turmoil, is self-sufficient energy-wise, and should benefit in the long run from its agro-power status.
However, Brazilian equities will probably rise more if Bolsonaro wins, as state-owned enterprises and banks would fare better. This is testified by Lula's statements. For instance, Lula's announced that he wants fuels produced by Petrobras to be sold at 'cost plus', instead of at international prices. At the sector level, we favour consumer discretionaries and corporates levered to declining long-term interest rates, such as infrastructure and real estate.
How much?! The absurdity of inflation in Argentina – photo essay (The Guardian)
Cash is virtually worthless, it's cheaper to cover walls with peso bills than to buy wallpaper, and simple shopping trips turn into expeditions to find the best deals … Photographer Irina Werning captures the chaos
Webinar – Asian Frontier Markets Update on Friday, 28th October 2022
AFC will hold its quarterly update webinar on Friday, 28th October 2022 at 9:00am NY, 2:00pm UK, 3:00pm Swiss and 9:00pm HK/SG time. As usual, the webinar will discuss the outlook for Asian frontier markets with a focus on our AFC Asia Frontier Fund, AFC Iraq Fund, AFC Uzbekistan Fund and AFC Vietnam Fund.
The webinar will highlight the following key points:
Impact of a hawkish Fed on Asian frontier economies and stock markets
Impact of slower global growth on Asian frontier economies
Which countries are still benefitting from a supply chain shift despite a global economic slowdown?
What is the investment outlook for Asian frontier markets?
Outlook for the AFC Asia Frontier Fund / AFC Iraq Fund / AFC Uzbekistan Fund / AFC Vietnam Fund

---
Earnings Calendar
Note: Investing.com has a full calendar for most global stock exchanges BUT you may need an Investing.com account, then hit "Filter," and select the countries you wish to see company earnings from. Otherwise, purple (below) are upcoming earnings for US listed international stocks (Finviz.com):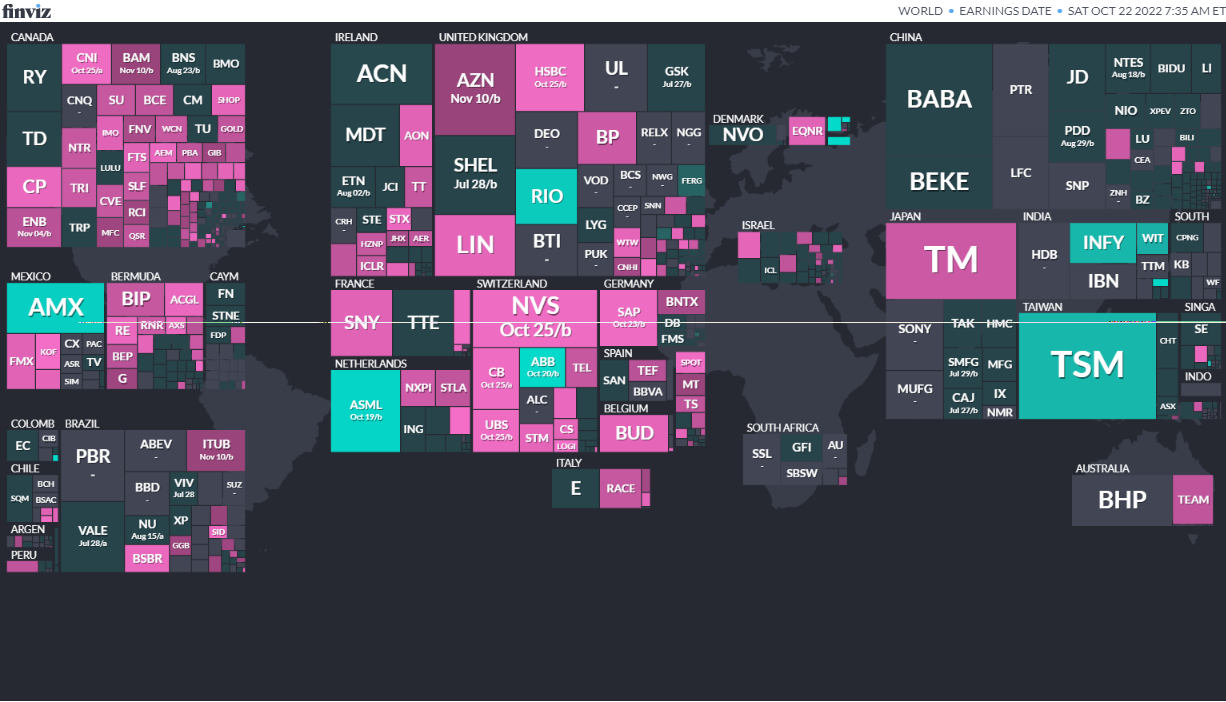 ---
Economic Calendar
Click here for the full weekly calendar from Investing.com containing frontier and emerging market economic events or releases (my filter excludes USA, Canada, EU, Australia & NZ).
---
Election Calendar
Frontier and emerging market highlights (from IFES's Election Guide calendar):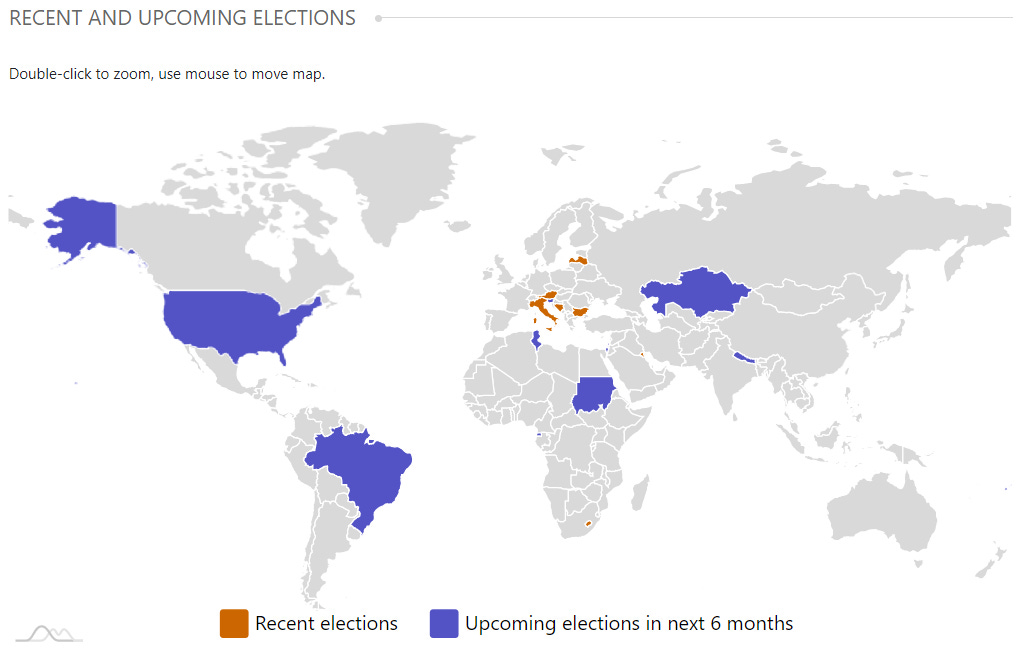 NOTE: Malaysia's Prime Minister Ismail Sabri Yaakob on October 10 announced the dissolution of parliament with a general election scheduled for November 19th.
---
IPO Calendar/Pipeline
Frontier and emerging market highlights from IPOScoop.com and Investing.com (NOTE: For the latter, you need to go to Filter and "Select All" countries to see IPOs on non-USA exchanges):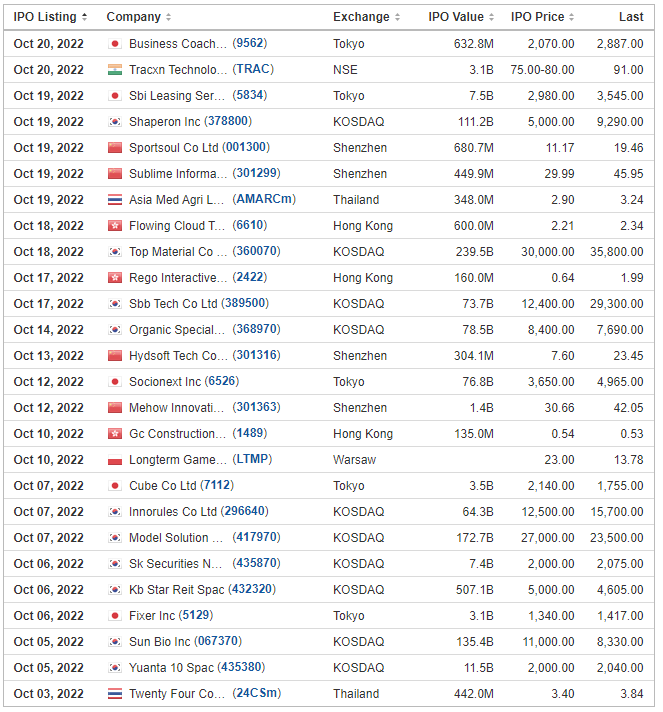 Mobileye Global Inc.MBLY, 41.0M, $18.00-$20.00, $779.0 mil, 10/26/2022 Wednesday
(Note: Mobileye Global Inc., Intel's self-driving car unit, filed terms for its IPO – 41.0 million shares at $18.00 to $20.00 to raise $779.0 million – in an S-1/A filing dated Oct. 18, 2022. Assuming mid-point pricing at $19.00, Mobileye would have a valuation of about $15.13 billion – less than a third of the $50.0 billion market cap that was estimated in December 2021. Mobileye, an Israeli company, had filed its long-awaited S-1 for its IPO on Sept. 30, 2022, for a deal that some IPO experts had estimated at that time could raise up to $2.5 billion. This is a NASDAQ listing. Mobileye did not disclose terms nor did it give a customary placeholder estimate of IPO proceeds in its S-1 filing. The company submitted confidential IPO documents to the SEC on March 2, 2022.)
---
ETF Launches
Climate change and ESG are clearly the latest flavours of the month for most new ETFs. Nevertheless, here are some new frontier and emerging market focused ETFs:
---
ETF Closures/Liquidations
Frontier and emerging market highlights:
---
Check out our emerging market ETF lists, ADR lists (updated) and closed-end fund (updated) lists (also see our site map + list update status as some ETF lists are still being updated as of Summer 2022).
I have changed the front page of www.emergingmarketskeptic.com to mainly consist of links to other emerging market newspapers, investment firms, newsletters, blogs, podcasts and other helpful emerging market investing resources. The top menu includes links to other resources as well as a link to a general EM investing tips / advice feed e.g. links to specific and useful articles for EM investors.
Disclaimer: EmergingMarketSkeptic.Substack.com and EmergingMarketSkeptic.com provides useful information that should not constitute investment advice or a recommendation to invest. In addition, your use of any content is entirely at your own risk and it is your sole responsibility to evaluate the accuracy, completeness and usefulness of the content.
Emerging Market Links + The Week Ahead (October 24, 2022) was also published on our Substack.
---
---
---
Emerging Markets Investing Tips + Advice
Emerging Market Skeptic (Website)
Website List Updates + Site Map
Stocktwits @EmergingMarketSkptc
Similar Posts: