On Sunday, Chilean voters went to the polls to vote on a proposed constitution that was extremely long and vague. Official figures show that with 99.92% of votes counted on Sunday evening, 61.87% of voters rejected the change. Participation was mandatory.
Although no longer the free market export powerhouse that it once was, Chile remains the world's biggest copper producer and its second-biggest exporter of lithium. This means any radical economic or political changes will have global repercussions.
Meanwhile, the Civil Unrest Index (CUI) has hit record levels. Only a significant reduction in global food and energy prices can arrest the negative global trend in civil unrest risk. Recession fears are also mounting and inflation is expected to be worse in 2023 than in 2022.
Finally, US business optimism in China has tumbled to an all-time low while Chinese stocks are predicted to plunge by 20% if real estate troubles get any worst and one of the country's biggest commodity traders faces a liquidity crisis.
Check out our emerging market ETF lists, ADR lists (updated) and closed-end fund (updated) lists (also see our site map + list update status as some ETF lists are still being updated as of Summer 2022).
I have changed the front page of www.emergingmarketskeptic.com to mainly consist of links to other emerging market newspapers, investment firms, newsletters, blogs, podcasts and other helpful emerging market investing resources. The top menu includes links to other resources as well as a link to a general EM investing tips / advice feed e.g. links to specific and useful articles for EM investors.
---
Suggested Reading
$ = behind a paywall
"Worst Has Yet To Come": Civil Unrest Set To Surge Worldwide As Socioeconomic Pressure Builds, Report Warns (Zero Hedge)
101 countries witness rise in civil unrest in last quarter (Verisk Maplecroft)
The world is facing an unprecedented rise in civil unrest as governments of all stripes grapple with the impacts of inflation on the price of staple foods and energy, according to the latest edition of our Civil Unrest Index (CUI). The data, covering seven years, shows that the last quarter saw more countries witness an increase in risks from civil unrest than at any time since the Index was released. Out of 198 countries, 101 saw an increase in risk, compared with only 42 where the risk decreased.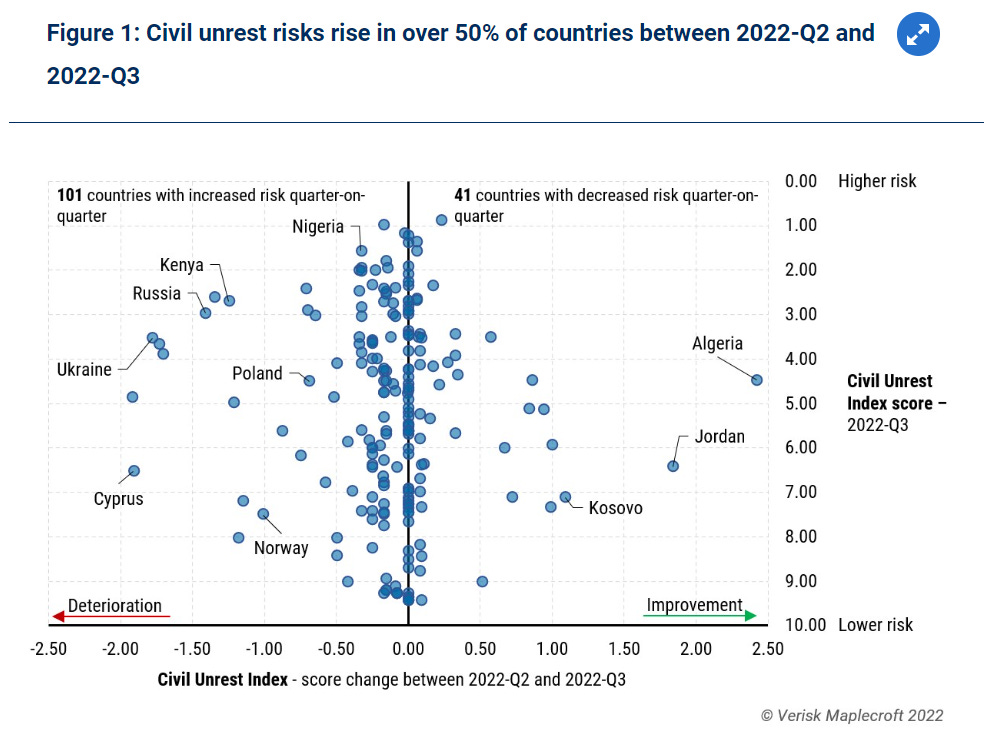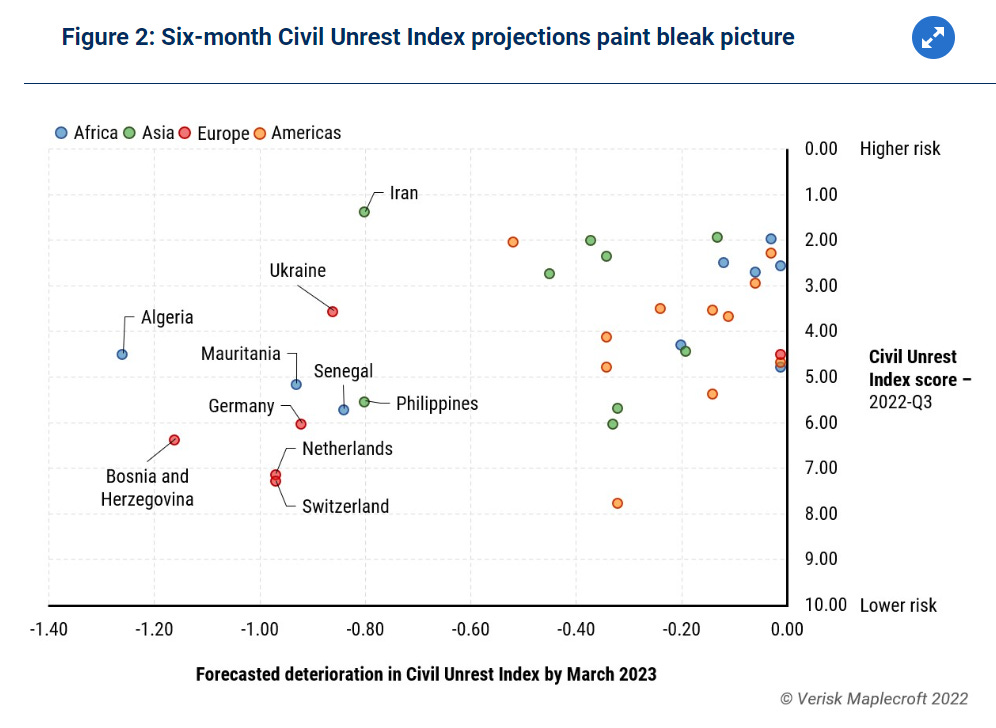 Korea, Japan companies expanding in Vietnam (The Asset)
Southeast Asian country gains as growing geopolitical tensions spur shift in supply chains.
US business optimism in China tumbles to an all-time low, with zero-Covid and geopolitical tension top concerns (SCMP)
NOTE: US-China Business Council's annual survey results.
Coronavirus control measures, US-China relations and Beijing's data and cybersecurity rules are top concerns
Impacts on consumer demand said to 'undermine' confidence in overall business environment in China
One Of China's Biggest Commodity Traders Faces Liquidity Crisis (Zero Hedge)
Chinese Copper Giant Maike Seeks Help With Liquidity Issues (Bloomberg)
Maike is suffering "temporary difficulties in logistics, transportation and product sales due to Covid flareups in China," He said by phone. It has delayed payments on some cargoes, and some suppliers have canceled deliveries due to concerns over the company's liquidity, He said.The cash crunch has prompted BHP and Chile's Codelco, the biggest global copper producer, to pause sales to Maike.
Chinese stocks could plunge by 20% if real estate troubles get much worse, Morgan Stanley says (CNBC)
Morgan Stanley analysts laid out an economic scenario for China if authorities do not provide enough funding and other support to stabilize the real estate market.
Chinese stocks would plunge, GDP would slow and unemployment would rise, the analysts said.
However, they said spillover from real estate to the rest of China's economy "remains manageable so far."
Russia's Top Gold Producer Sells $670 Million of Bonds in Yuan (Caixin)
PJSC Polyus, Russia's largest gold producer, became the second company in the country to sell bonds in Chinese currency as Russian businesses increasingly turn to China and the yuan for borrowing in the face of sweeping sanctions imposed by Western countries.Polyus issued 4.6 billion yuan ($670 million) of yuan-dominated bonds Tuesday, according to bond sales documents. The five-year debt instruments have a coupon rate of 3.8%. Proceeds will be used for general corporate purposes and investments, the documents showed.Russian aluminum producer United Co. Rusal International PJSC carried out a 4 billion yuan bond sale earlier this month. It was the first offering ever of yuan-denominated bonds in Russia aiming to lure Asian investors.
The Cuba Files – Court Documents For Distressed Debt Investors (Undervalued Shares)
Cuba has signed agreements for debt owed to Russia, China, and a host of other foreign debtors. As the largest claim holder, Russia was the first to agree to a solution, which is why it got the worst deal – just 10% repayment with generous payment terms, with the remaining 90% of the debt forgiven. Japan (with smaller claims) managed to get Cuba to agree to a repayment of 20% of the outstanding claim. Up to now, Cuba has negotiated agreements for USD 53bn of old debt, or about 85% of the outstanding claims. At times when Cuban debt was still trading more actively, these claims attracted prices of up to 42% of the outstanding amount.
The last parties to agree to a deal (the so-called "hold-outs") usually get the best deal. Such was the case with Argentina, which had defaulted on USD 93bn of sovereign debt in 2001. During the first wave of debt restructuring, the country settled with 93% of the bond holders and agreed to repay them 25-30% of the original amount. The remaining 7% had to wait until 2016 and go through the international court system, but repaid them between 75-100% of the original amount. Elliott Management, the New York hedge fund, famously made around USD 2bn in profit from its investment in defaulted Argentinean bonds, which it had picked up for the proverbial pennies on the dollar.
Chile's draft constitution is seriously flawed (FT) $ (Reddit Non Paywalled)
See: Chile ADRs and Chile ETFs.
Chile is the world's biggest copper producer and its second-biggest exporter of lithium. But the draft charter creates so much legal uncertainty that it risks deterring the big investments needed for new mines.
Alarmed by its radicalism and suffering a sharp economic downturn, Chileans have turned against the new constitution. Polls show a slim majority rejecting it (though their reliability is unclear).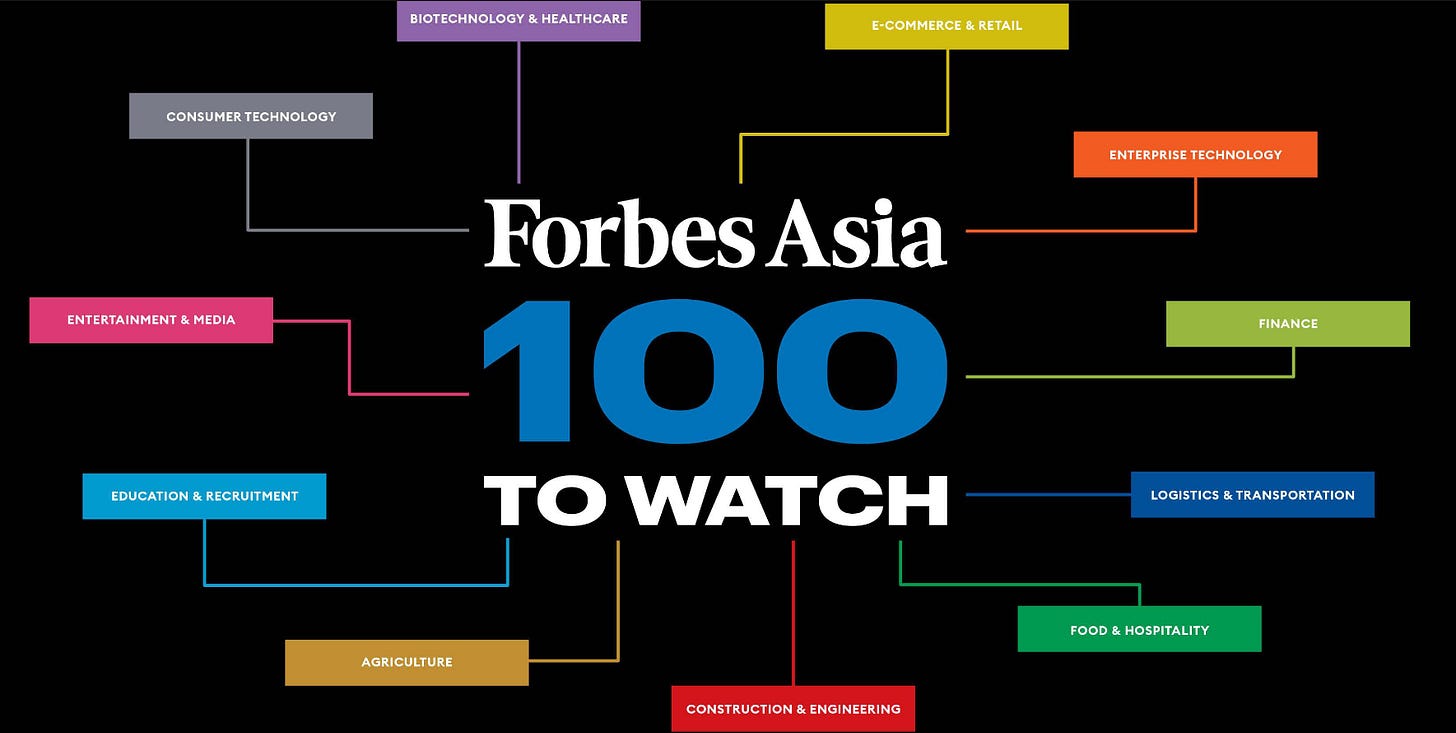 ---
Earnings Calendar
Note: Investing.com has a full calendar for most global stock exchanges BUT you may need an Investing.com account, then hit "Filter," and select the countries you wish to see company earnings from. Otherwise, purple (below) are upcoming earnings for US listed international stocks (Finviz.com):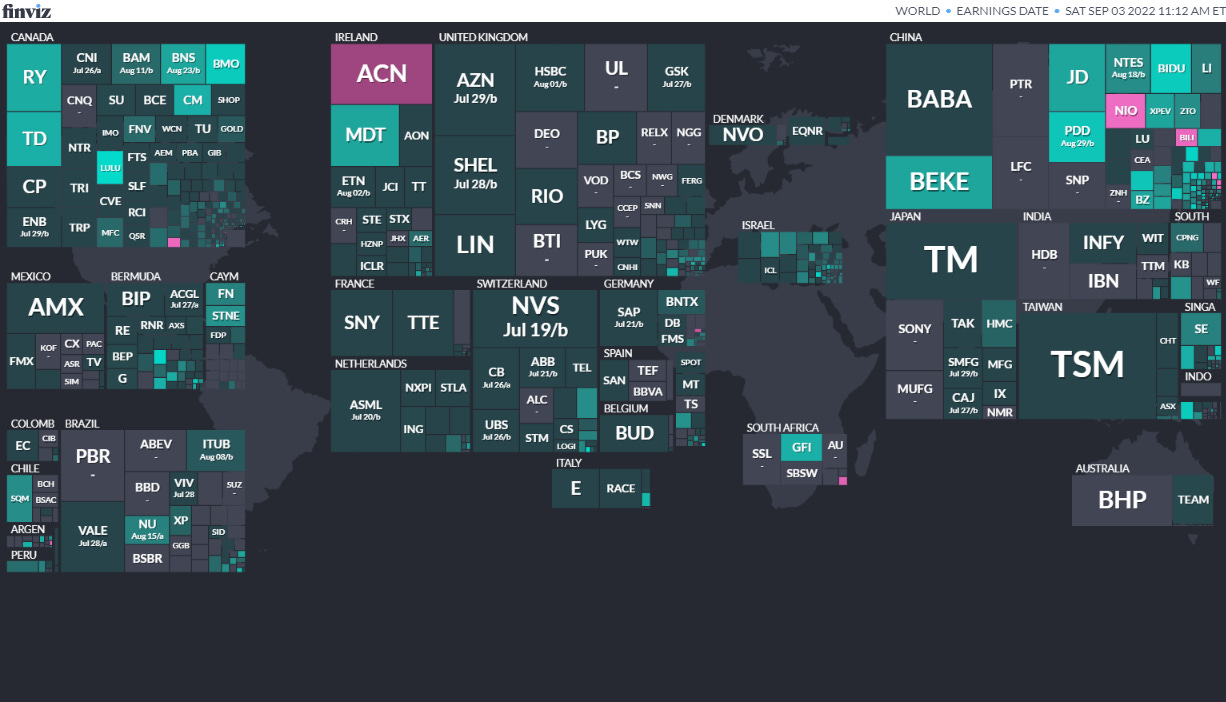 ---
Economic Calendar
Click here for the full weekly calendar from Investing.com containing frontier and emerging market economic events or releases (my filter excludes USA, Canada, EU, Australia & NZ).
---
Election Calendar
Frontier and emerging market highlights (from IFES's Election Guide calendar):
Check out: Thoughts for Investors: Bongbong Marcos Wins the 2022 Philippines Elections in a Landslide
---
IPO Calendar/Pipeline
Frontier and emerging market highlights from IPOScoop.com and Investing.com (NOTE: For the latter, you need to go to Filter and "Select All" countries to see IPOs on non-USA exchanges):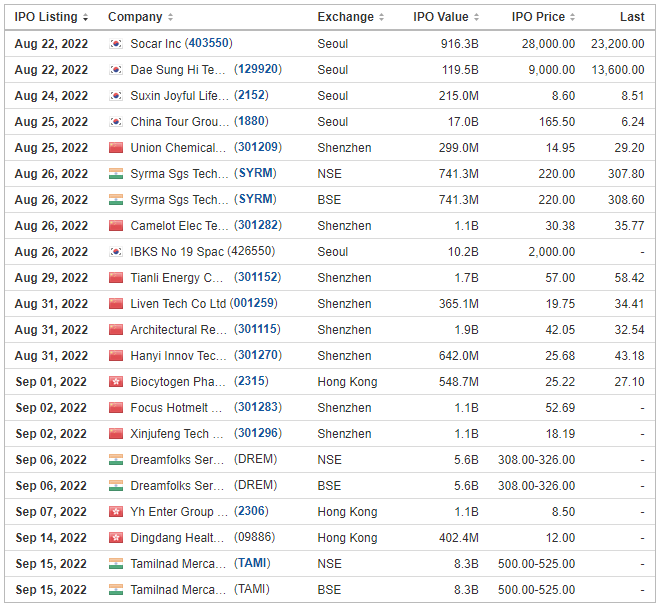 ---
ETF Launches
Climate change and ESG are clearly the latest flavours of the month for most new ETFs. Nevertheless, here are some new frontier and emerging market focused ETFs:
---
ETF Closures/Liquidations
Frontier and emerging market highlights:
---
Disclaimer: EmergingMarketSkeptic.Substack.com and EmergingMarketSkeptic.com provides useful information that should not constitute investment advice or a recommendation to invest. In addition, your use of any content is entirely at your own risk and it is your sole responsibility to evaluate the accuracy, completeness and usefulness of the content.
Emerging Market Links + The Week Ahead (September 5, 2022) was also published on our Substack.
---
---
---
Emerging Markets Investing Tips + Advice
Emerging Market Skeptic (Website)
Website List Updates + Site Map
Stocktwits @EmergingMarketSkptc
Similar Posts: