Last week, we mentioned a couple of interesting articles to read about Chinese manufacturing in general and how Mexico is becoming an increasingly attractive alternative for it e.g. In Depth: How Chinese factories are finding their way to Mexico (Non-Paywalled). However, the Financial Times has a lengthy article saying the predicted economic boom from American companies relocating closer to home has not arrived and many blame Mexico's president who has targeted both American and Spanish companies in particular.
Meanwhile, there is an update on Russian DRSs while a China-Taiwan conflict in conjunction with the Russia-Ukraine conflict will have major oil ramifications when major oil producers take sides (e.g. possibly one-third of daily supply would side with Russia-China rather than the West).
Check out our emerging market ETF lists, ADR lists and closed-end fund lists (also see our site map + list update status as the lists are still being updated as of Summer 2022) along with our general EM investing tips / advice. All links to emerging market newspapers, investment firms, blogs and other helpful investing resources at the bottom of www.emergingmarketskeptic.com or on the menu under Resources have been updated.
---
Suggested Reading
$ = behind a paywall
Why Mexico is missing its chance to profit from US-China decoupling (FT) $ (No Paywall)
A predicted economic boom from American companies relocating closer to home has not arrived. Many blame the president.
Last month the government forced Vulcan Materials, the biggest American producer of aggregates used in US construction, to halt quarrying in the southeastern state of Quintana Roo, with López Obrador warning that an "ecological catastrophe" was taking place…
Companies from Spain, the former colonial power, have also been targeted. That Spain is Mexico's second biggest foreign investor after the US cuts little ice.
While foreign companies have borne the brunt of López Obrador's attacks, the handful of big Mexican businesses that control large parts of the economy have been less affected.
The State of Russian DRS: An Update (Undervalued Shares)
The bad news is, following the brief availability of a solution, we are now back to a point where no immediate solution is available. Still, there is a plethora of activities going on in the background, some of which have not been widely reported by the investment media yet.
Here are the five key points you need to be aware of, as well as an outlook.
Diamonds In The Rough: 3 Top Emerging Market Stocks (Seeking Alpha)
Taiwan Semiconductor Manufacturing Company Limited (NYSE:TSM), Sociedad Quimica y Minera de Chile S.A. (NYSE:SQM) and AXIS Capital Holdings Limited (NYSE:AXS).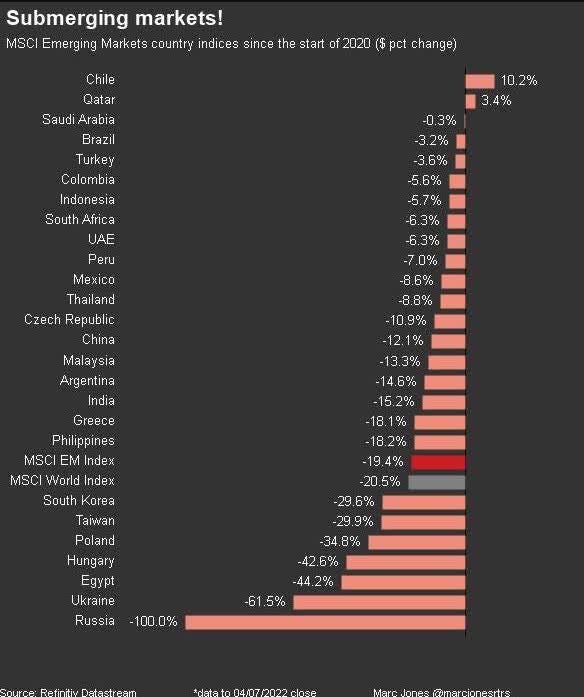 China's Geopolitical Pivot Could Have Huge Ramifications For Oil (OilPrice.Com)
Going down the list from countries most likely to choose to side with China-Russia if and when required – in the event of a Chinese 'special operation' to 'reunite' Taiwan, for example – and in order of timing: Russia can easily produce 11 million barrels per day (bpd), Iran 4.5 million bpd, Venezuela currently under 1 million bpd but can go a lot higher, Iraq 4.5 million bpd, the UAE 3 million bpd, and Saudi 10 million bpd (and if Saudi aligned with China-Russia then Kuwait would follow, adding another 2.5 million bpd). The total of all is 36.5 million bpd, out of usually around 90-100 million bpd used in the world, but readers can add or subtract countries to this figure according to their own views, of course.
Argentina peso drops as left-leaning economy minister named (AP)
Argentina – New finance minister, same crisis (Latin America Risk Report)
There are currently two competing takes on the new minister:

Batakis is a career technocrat who is about as good of a choice as can be hoped for by the Fernández administration. She is doomed to fail.
Batakis is a pro-Kirchner ideologue who is a terrible choice. She is doomed to fail.
The Making of Saudi Inc. (Bloomberg)
As Crown Prince Mohammed bin Salman races to diversify Saudi Arabia's oil-dependent economy, the $620 billion Public Investment Fund (PIF) — which he chairs — is taking center stage, supplanting a pedigreed business class to become one of the most powerful institutions in a fast-changing economy. Receding is the conservative Islamic kingdom of old, which lived off its oil revenues while cautiously investing in safe US treasuries and disbursing lucrative state contracts. This is Saudi Inc. And its self-styled Founder is ripping up the rule book.
Why Nations Fail (Of Two Minds)
There are two dynamics in systemic pressure: forces that weaken resilience and adaptability, and forces that strengthen adaptability. Nations fail when their status quo is focused on protecting the ruling elites at the expense of the nation's overall adaptability to rapidly changing circumstances.
Sri Lanka President To Quit After Palace Stormed By Angry Protesters (Zero Hedge)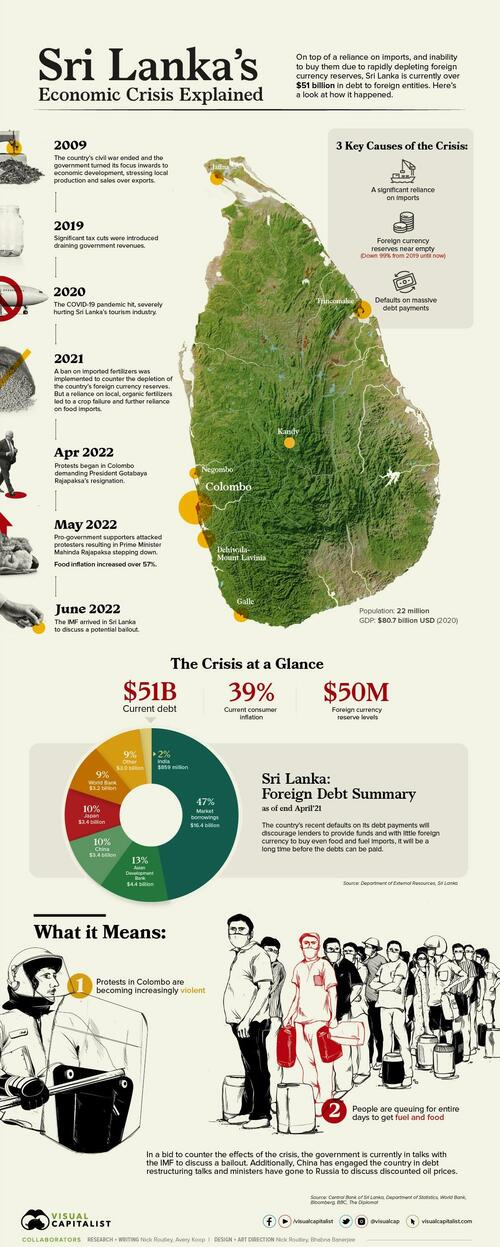 ---
Earnings Calendar
Note: Investing.com has a full calendar for most global exchanges BUT you may need an Investing.com account, then hit "Filter," and select the countries you wish to see company earnings from. Otherwise, purple (below) are upcoming earnings for US listed international stocks (Finviz.com):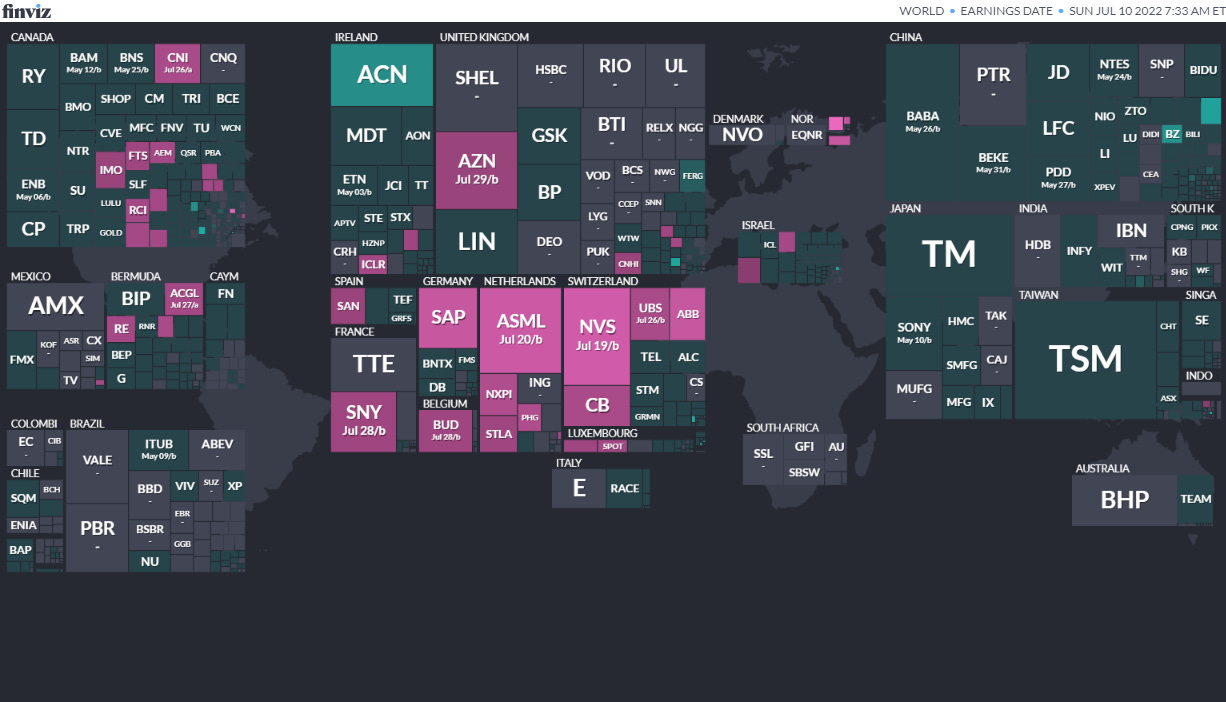 ---
Economic Calendar
Click here for a full weekly calendar from Investing.com (my filter excludes USA, Canada, EU, Australia & NZ). Some frontier and emerging market highlights: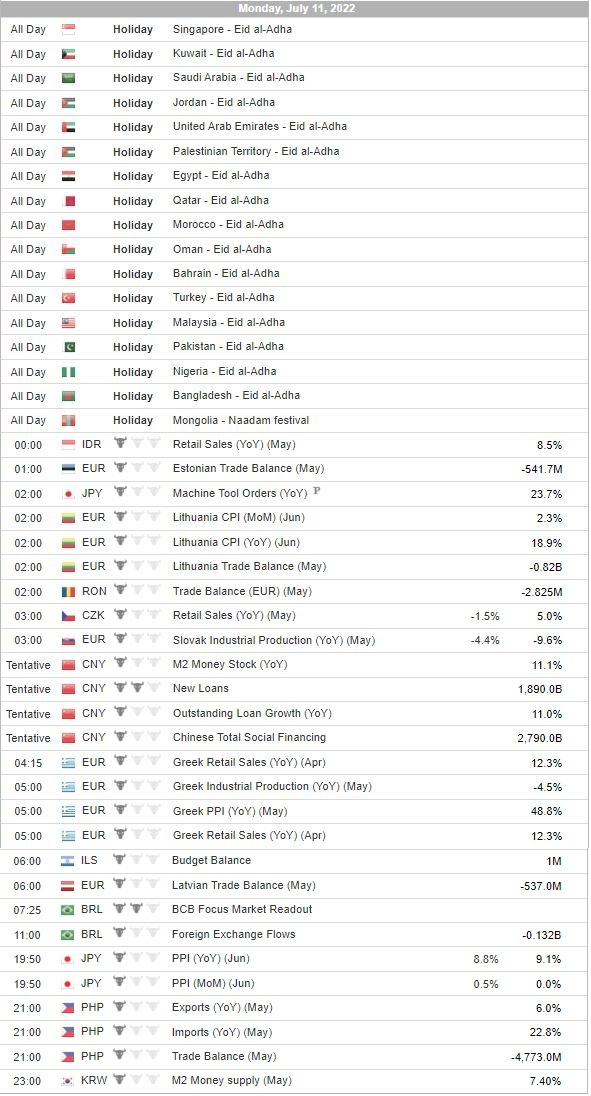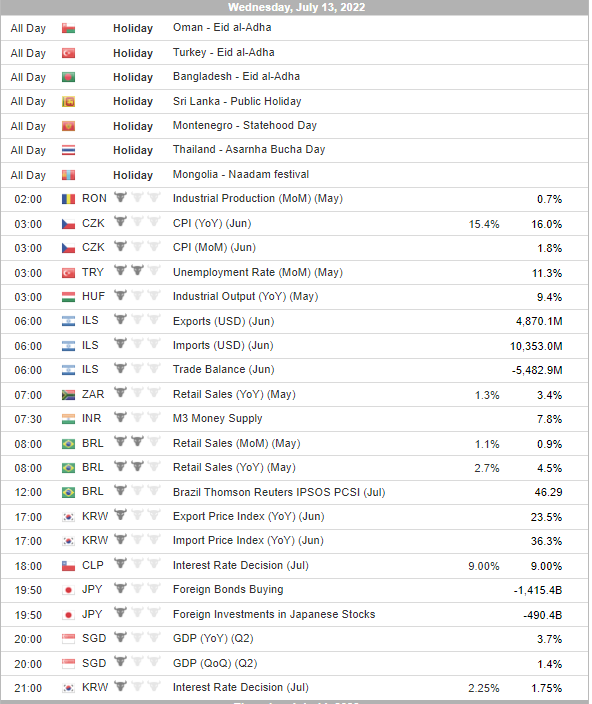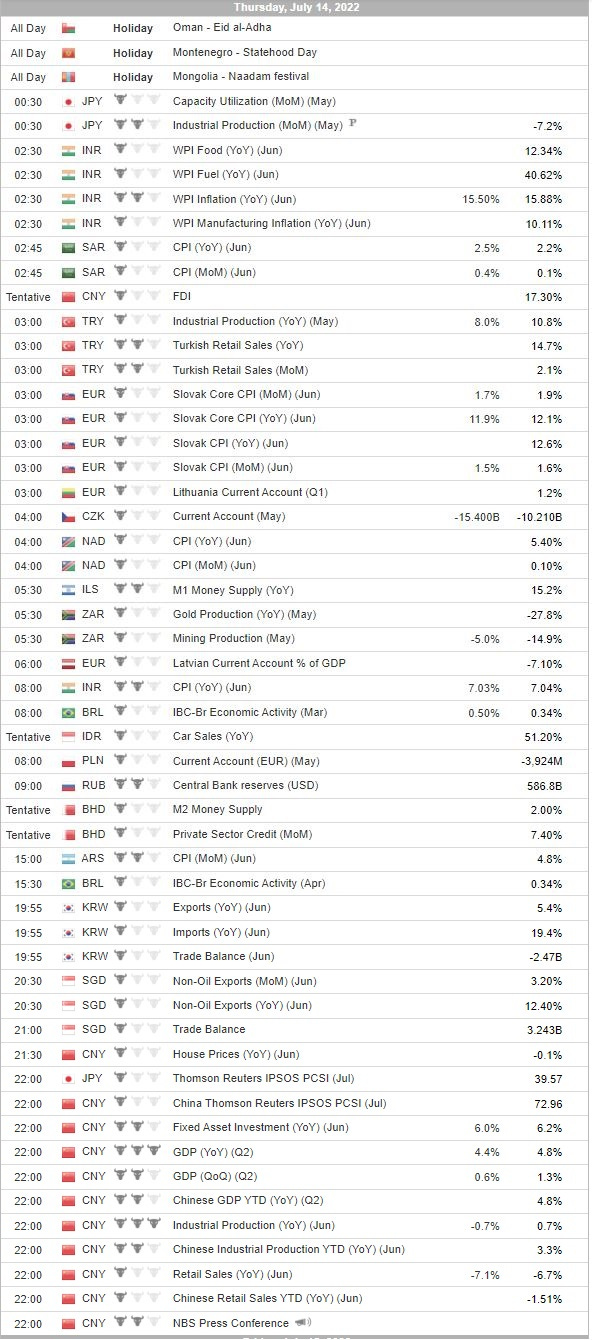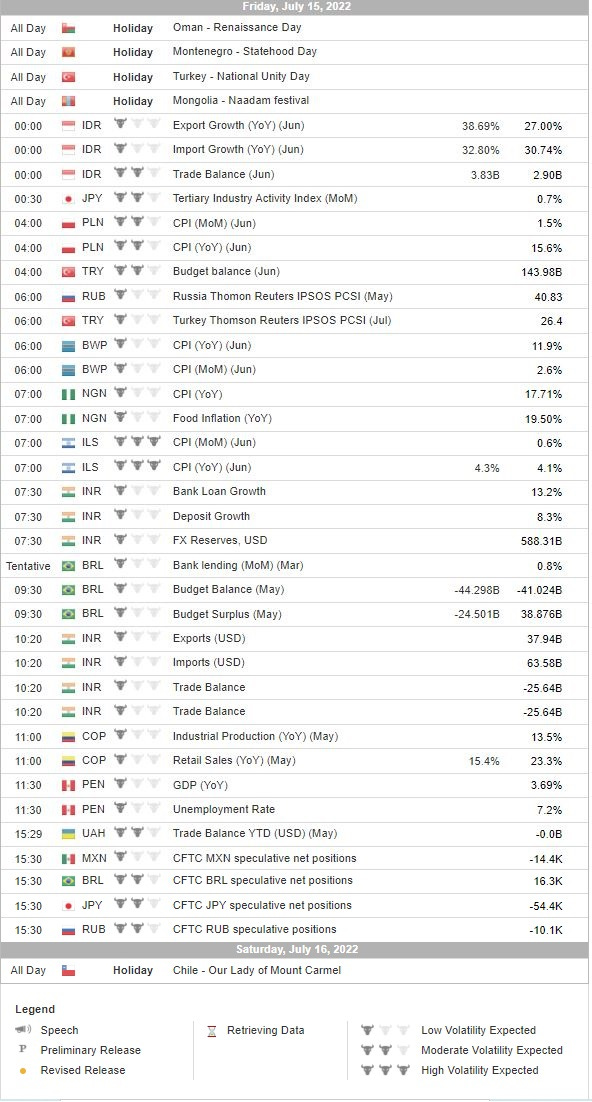 ---
Election Calendar
Frontier and emerging market highlights (from IFES's Election Guide calendar):
Check out: Thoughts for Investors: Bongbong Marcos Wins the 2022 Philippines Elections in a Landslide
---
IPO Calendar/Pipeline
Frontier and emerging market highlights from IPOScoop.com and Investing.com (NOTE: For the latter, you need to go to Filter and "Select All" countries to see IPOs on non-USA exchanges):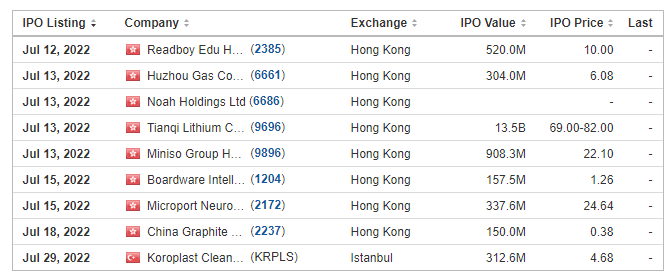 Nano Labs Ltd., 3.5M, $9.50-11.50, $36.8 mil, Week of 7/5/2022
We are a leading fabless integrated circuit, or IC, design company and product solution provider in China. (Incorporated in the Cayman Islands)
We are committed to the development of high throughput computing, or HTC, chips, high performance computing, or HPC, chips, distributed computing and storage solutions, smart network interface cards, or NICs, vision computing chips and distributed rendering. We have built a comprehensive flow processing unit, or FPU, architecture, which offers a solution that integrates the features of both HTC and HPC. Moreover, our Cuckoo series is one of the first near-memory HTC chips available in the market with a maximum bandwidth of approximately 2.27 Tbps, as well as one of the first movers of the ASIC-based Grin mining market, according to the F&S report. In June 2021, we established IPOLLO PTE. LTD., our indirect wholly owned subsidiary in Singapore, to facilitate our business expansion in the overseas IC markets
Virax Biolabs Group Limited VRAX, 1.4M shares, $5.00, $6.8 mil, Week of 7/5/2022
We are a holding company incorporated as an exempted company under the laws of the Cayman Islands. As a holding company with no material operations of our own, we conduct our substantial operations in the United Kingdom and Hong Kong with operating subsidiaries in Singapore, China and the British Virgin Islands. We have been operating since 2013.
We are a global innovative biotechnology group that primarily engages in sales, distribution and marketing of diagnostic test kits and med-tech and Personal Protective Equipment ("PPE") products for the prevention, detection, diagnosis and risk management of viral diseases with a particular interest in the field of immunology. Our mission is to minimize the risks of viruses throughout the world via our product offerings.
We intend to apply for an aggregate of four (4) patents in 2022. For one of the pending patents, we are in the process of acquiring it, and we expect to close the acquisition in 2022. Further, we are developing a T-Cell IVD test kit under the Virax Immune brand for COVID-19 initially, which we subsequently intend to adapt for immunological profiling against multiple viral threats. We are also building a proprietary mobile application for Virax Immune, using an in-house code, that will present an individual's immunological profiling data and provide advice on the user's immune system. Based on our management team's analysis, we expect to file a patent for the Virax Immune Cell diagnostic test kit and a copyright for the Virax Immune app in 2022.
---
ETF Launches
Climate change and ESG are clearly the latest flavors of the month for most new ETFs. Nevertheless, here are some new frontier and emerging market focused ETFs:
---
ETF Closures/Liquidations
Frontier and emerging market highlights:
---
Disclaimer: EmergingMarketSkeptic.Substack.com and EmergingMarketSkeptic.com provides useful information that should not constitute investment advice or a recommendation to invest. In addition, your use of any content is entirely at your own risk and it is your sole responsibility to evaluate the accuracy, completeness and usefulness of the content.
Emerging Market Links + The Week Ahead (July 11, 2022) was also published on our Substack.
---
---
---
Emerging Markets Investing Tips + Advice
Emerging Market Skeptic (Website)
Website List Updates + Site Map
Stocktwits @EmergingMarketSkptc
Similar Posts: