Inflation is returning to Latin America, but the region may prove to be a winner as supply chain woes deepen. The same woes and a weaker Yen are also encouraging Japanese manufacturers to leave China, SE Asia and Russia to return home.
Meanwhile, the crisis in Sri Lanka deepens while South Africa's deteriorating rail infrastructure means the country cannot take advantage of the fallout from Russia's invasion of the Ukraine.
Finally, Presidential elections will be held in Colombia on May 29, 2022. If no candidate receives a majority of the vote, a second round of voting will be held on 19 June. There is an updated list of Colombian ADRs (plus other resources for investing in the country) here and ETFs here.
Check out our emerging market ETF lists, ADR lists and closed-end fund lists (also see our site map + list update status as the lists are still being updated as of May 2022) along with our general EM investing tips / advice. All links to emerging market newspapers, investment firms, blogs and other helpful investing resources at the bottom of www.emergingmarketskeptic.com or on the menu under Resources have been update.
---
Suggested Reading
$ = behind a paywall
Yen, Supply Chain Chaos Send Japan Manufacturers Home (Bloomberg via Yahoo)

According to Imamura [Tokyo Steel Manufacturing MD], more Japanese companies are shifting operations out of China, Southeast Asia and Russia. The move to build new plants in their home country is fueling demand for steel used in construction, with the company receiving nearly 30 orders related to such switches, he said.

Supply chains are never returning to 'normal' (FreightWaves)

Latin America will become a big winner, as it benefits greatly from having direct land transportation networks with North America and seas that are well protected by the U.S. Navy.

Free trade is dead, welcome to 'Freedom Trade' (FreightWaves)

American enterprises and consumers should move away from Chinese dependency and demand that supply chains are orientated toward what I call the "Freedom Trade," a system built on the idea that the rule of law, domestic free markets, human rights, and environmental standards are necessary for global prosperity and peace. Supply chains operate best when there is predictability and peace – and the only way to guarantee this is to ensure that countries operate within the Freedom Trade system.

FLASHBACK: 10 Charts That Explain Russia (Forbes)

According to Russia Derangement Syndrome confounds western thinking (ZeroHedge): "In 2015, Forbes contributorMark Adomanis published an article "10 Charts that Explain Russia" [WEB ARCHIVE]. Adomanis was careful not to add any positive or approving language of his own, but simply presented data that showed positive trends in Russian economy and society. In fact, Adomanis' language was quite defensive: "Some people find this impossible to accept. They 'know' that Putin's malevolence, corruption, and incompetence have spilled over into every corner of Russian society..." But for the offence of violating the fatwa "thou shalt not speak positively about Russia" Adomanis' article was promptly flushed down the memory hole. 404-file not found."

IF you are like me and like dividends, this is an interesting table with a few international (mainly Japanese) names:
---
Earnings Calendar
Note: Investing.com has a full calendar for most global exchanges BUT you may need an Investing.com account, then hit "Filter," and select the countries you wish to see company earnings from. Otherwise, purple (below) are upcoming earnings for US listed international stocks (Finviz.com):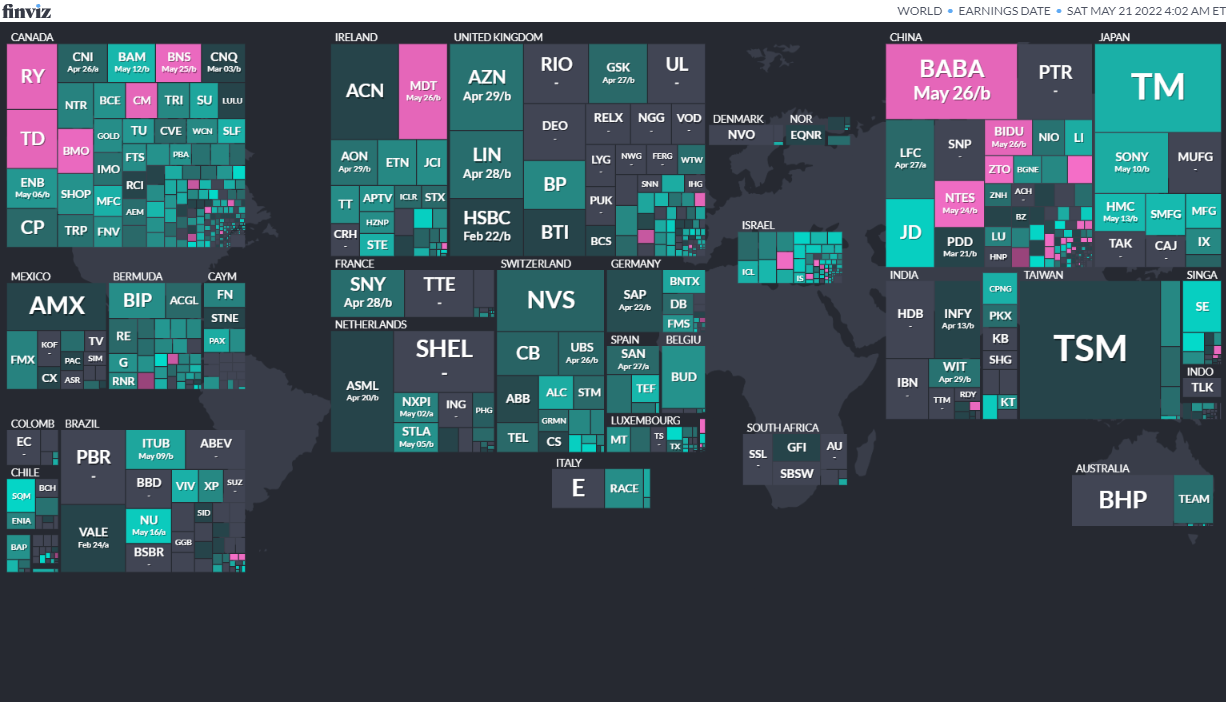 ---
Economic Calendar
Click here for a full weekly calendar from Investing.com (my filter excludes USA, Canada, EU, Australia & NZ). Some frontier and emerging market highlights: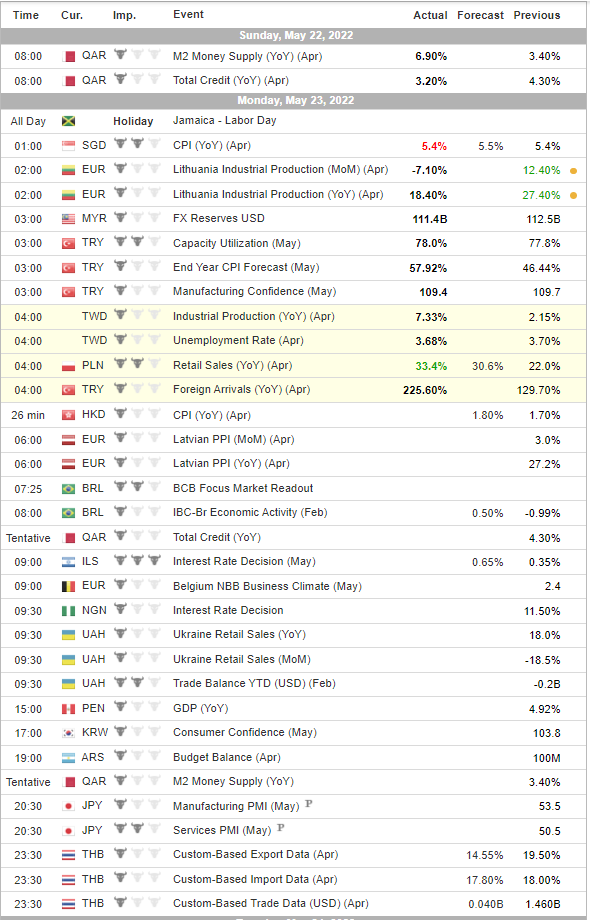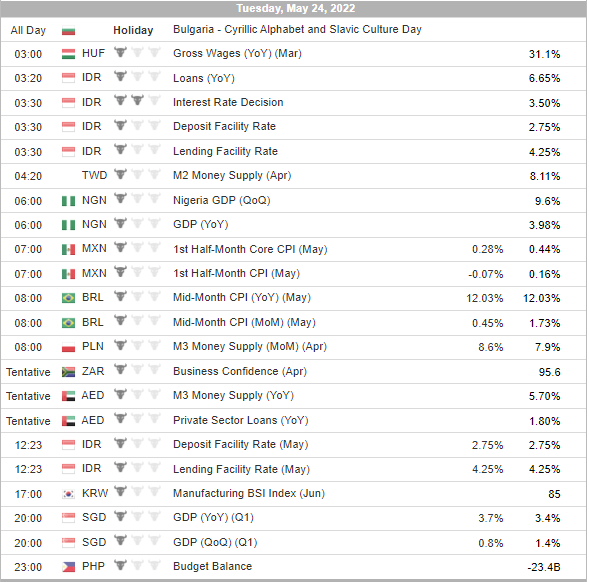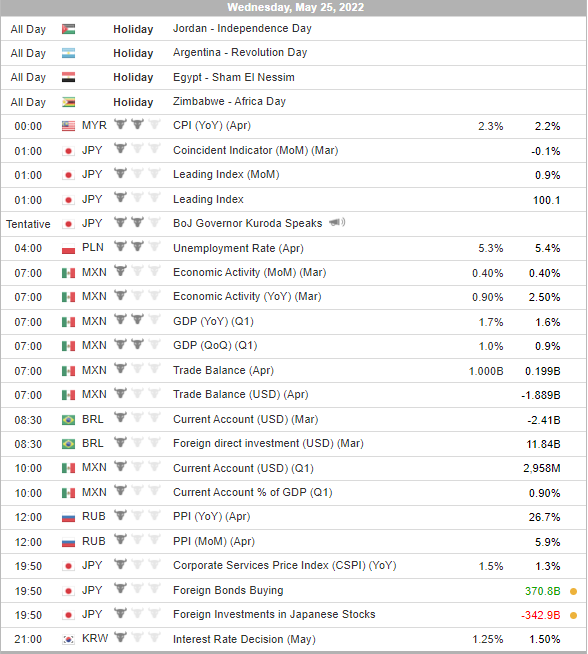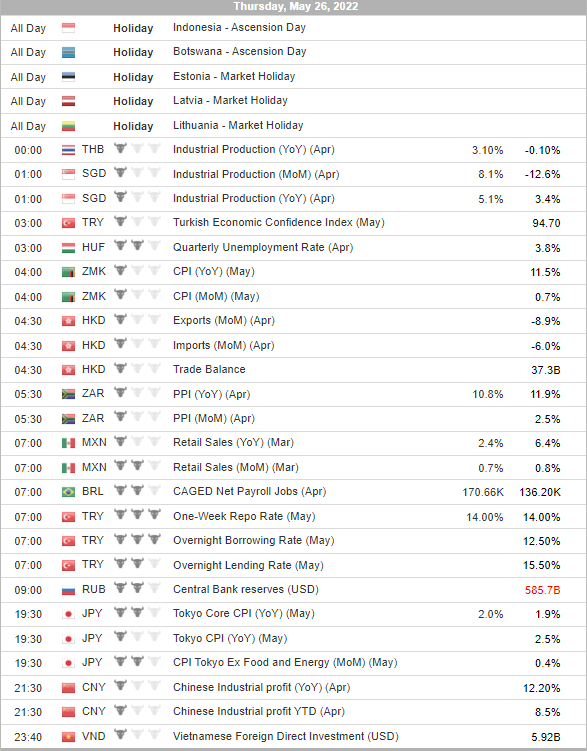 ---
Election Calendar
Frontier and emerging market highlights (from IFES's Election Guide calendar):
Check out: Thoughts for Investors: Bongbong Marcos Wins the 2022 Philippines Elections in a Landslide
---
IPO Calendar/Pipeline
Frontier and emerging market highlights from IPOScoop.com and Investing.com (NOTE: For the latter, you need to go to Filter and "Select All" countries to see IPOs on non-USA exchanges):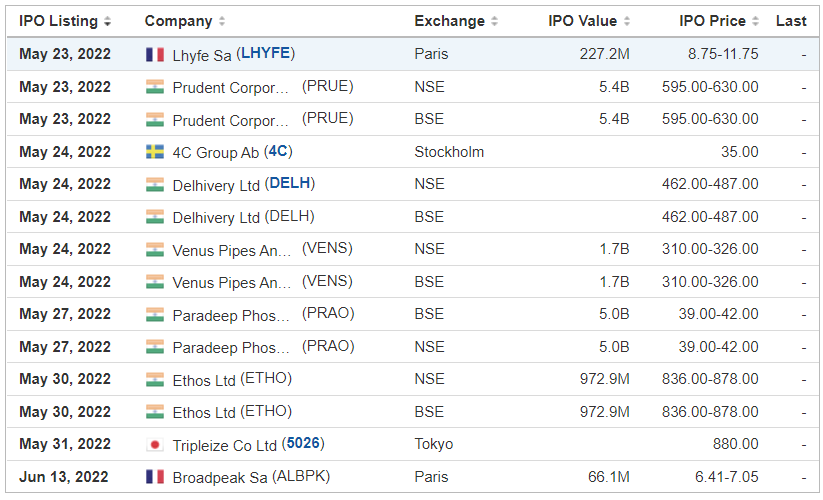 SaverOne 2014 Ltd. SVRE $13.0 mil 5/20/2022 Day-to-Day – NOTE: This is a NASDAQ uplisting from the Tel Aviv Stock Exchange.
Zi TopRun Acquisition Corp. ZTOPU $110.0 mil 5/23/2022 Week of "We intend to pursue prospective targets in the transportation industry with a focus on companiesin North America, Europe and Asia. We expect to acquire one or more growth businesses with a total enterprise value of between $200 million and $600 million. (Incorporated in Delaware)Our search for a target business will include those involved in (i) battery or charging businesses, technology and software, (ii) auto pilot drive and Advanced Driver Assistance Systems (ADAS) related businesses, including both hardware and software, and (iii) general microchip design and production and technology. Our sponsor and certain members of our board of directors and management have significant business ties to the People's Republic of China, including Hong Kong…"
---
ETF Launches
Climate change and ESG are clearly the latest flavors of the month for most new ETFs. Nevertheless, here are some new frontier and emerging market focused ETFs:
---
ETF Closures/Liquidations
Frontier and emerging market highlights:
---
Disclaimer: EmergingMarketSkeptic.Substack.com and EmergingMarketSkeptic.com provides useful information that should not constitute investment advice or a recommendation to invest. In addition, your use of any content is entirely at your own risk and it is your sole responsibility to evaluate the accuracy, completeness and usefulness of the content.
Emerging Market Links + The Week Ahead (May 23, 2022) was also published on our Substack.
---
---
---
Emerging Markets Investing Tips + Advice
Emerging Market Skeptic (Website)
Website List Updates + Site Map
Stocktwits @EmergingMarketSkptc
Similar Posts: