Nancy Pelosi's visit to Taiwan and the Chinese saber-rattling warrants a separate link collection post later this week. In the mean time, its worth pointing out that "friendshoring" trends are accelerating (except for Japanese companies in Russia) while China's economic and demographic problems continue to mount.
Meanwhile, Argentina continues to unravel as the country shows signs of running out of money thanks in part to having state funded programs extending to nearly every aspect of the economy.
NOTE: The table on our China ETF list page has been updated along with our Taiwan ADRs, closed-end fund, and ETF list pages.
Check out our emerging market ETF lists, ADR lists (updated) and closed-end fund (updated) lists (also see our site map + list update status as the ETF lists are still being updated as of Summer 2022) along with our general EM investing tips / advice. All links to emerging market newspapers, investment firms, blogs and other helpful emerging market investing resources at the bottom of www.emergingmarketskeptic.com or on the menu under Resources have been updated.
---
Suggested Reading
$ = behind a paywall
"Friendshoring" Trend Sees Companies Moving Ops To Dodge Tensions And Trade Wars (Zero Hedge)
"Every company that I speak to at the moment is engaged in rethinking their [China-focused] supply chains," Tony Danker, head of the Confederation of British Industry, told the Financial Times, "because they anticipate that our politicians will inevitably accelerate towards a decoupled world from China."
A Rabobank analysis of friendsharing projects that chief beneficiaries will include countries like Vietnam, India, Brazil, Bangladesh, Indonesia, Mexico, Turkey, Egypt and South Africa. However, expect both Eastern and Western European countries will be in on the action too — with the latter most likely to see new high-tech presences.
Foreign Policy provides examples of some recent corporate moves: Apple has begun moving manufacturing from China to Vietnam, where its AirPods Pro 2 are now likely to be produced. Two years ago, Samsungmoved its Chinese manufacturing to Vietnam. Hasbro has moved its Chinese production to India and Vietnam. In July, Volvoannounced that it would open its first European factory in 60 years, in Slovakia. (The Swedish carmaker is owned by Geely of China.) Apparel and footwear companies such as Adidas, meanwhile, have shifted production to Vietnam, though this was primarily motivated by cost.
Japanese Companies Appear To Be "In No Rush" To Exit Operations In Russia (Zero Hedge)
Driven by "fears of being unable to return and having to find new suppliers", RT wrote this week, citing the Japan Times, that no Japanese companies have announced a suspension or cessation of operations in Russia.
Since the beginning of the Russia-Ukraine conflict, the article notes that about 40% of 168 listed Japanese companies in the country have announced intentions to leave. Only 5 of those names, however, have committed to completely withdrawing from the market altogether. The rest have halted some form of operations, the report says.
Finally, a Yale survey revealed that while the UK, Canada and the U.S. have seen 46%, 33% and 27% of their companies exit operations from Russia, Japan has only seen about 5% of its companies leave.
Alibaba added to watch list of Chinese firms facing expulsion from US exchanges, days after primary listing bid in Hong Kong (SCMP)
The US Securities and Exchange Commission on Friday put Alibaba on its watch list of Chinese firms that face removal from American exchanges
More than 150 Chinese companies are currently on the SEC's provisional line-up of firms up for delisting
Maybe Oct before meaningful Macau casino biz: JP Morgan (GGR)
A brokerage says it only expects what it terms "meaningful business" to return to Macau casinos from the October Golden Week, a holiday season in mainland China encompassing the country's National Day on October 1, "assuming no more community outbreaks" of Covid-19 occur in Macau.
China Is Pushing for a Baby Boom. It's Getting a Baby Bust (Sixth Tone)
After China's birth rate plunged to a record low last year, authorities introduced a slew of measures to encourage couples to have more kids. They haven't worked.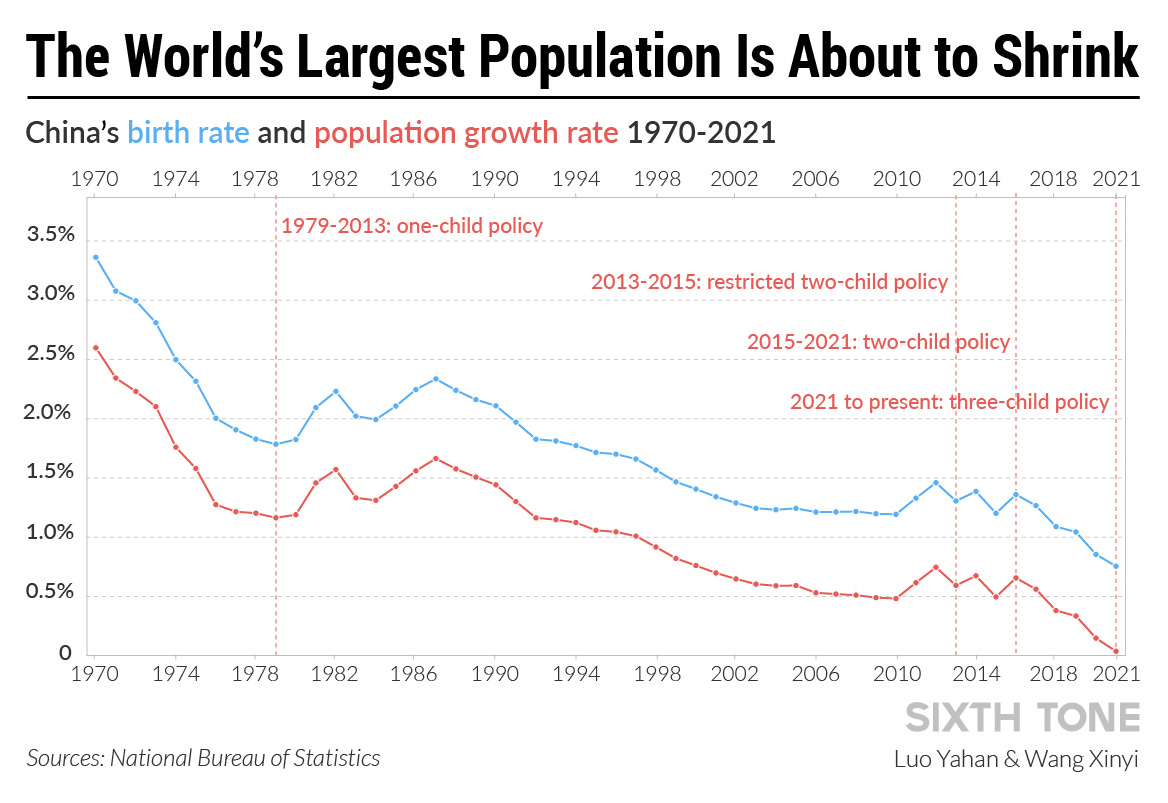 Feed Shortage Leads To Pig Cannibalism, China's Economy Worsens (The Epoch Times / Zero Hedge)
Independent current affairs commentator Tang Jingyuan told The Epoch Times on July 27, that there are two main reasons for Zhengbang Tech's shortage of pig feed. "One is a shortage of funds, and there may even be a break in the capital chain. The other is that the COVID-19 epidemic has caused the logistics system to be blocked, which is the problem with the coordination of logistics distribution and feed mills mentioned in the company's official statement. Behind these two reasons, the root cause is actually that the economic environment in mainland China has deteriorated due to the regime's zero-COVID policy and measures, resulting in a vicious cycle of mutual causation between the two reasons mentioned above.""The deterioration in China's economy is largely caused by policy mistakes rather than a natural disaster. Zhengbang Tech is only one of the countless companies that pay for it," he said.
Can We "Export Inflation?" Yes We Can, Yes We Are (OfTwoMinds Blog)
Interesting observation:
Consider how the price of oil contributed to the collapse of the Soviet Union.
In the mid-to-late 1980s, the price of oil fell and stayed relatively low for years.
In 1986, oil fell under $10/barrel. Adjusted for inflation, this was lower than prices paid in the late 1950s.
Although this ample oil supply was fundamentally a result of super-major oil fields discovered in the 1960s and 1970s coming online, it had a geopolitical consequence few fully appreciate: it pushed the Soviet Union over the fiscal cliff into collapse.
Oil and natural gas exports were the primary source of the Soviets' hard cash it needed to buy goods and commodities from other nations.
Once the oil revenues dried up, the Soviet Union was no longer financially viable.
Was this lengthy "glut" of oil just good luck for the U.S., or was a policy agreement with Saudi Arabia and other oil exporters that "nudged" the price lower also a factor?
Can Anyone Stop Argentina's Great Unraveling? (Americas Quarterly)
A workable solution must address the country's dense web of special privileges.
Argentina Is Running Out of Cash to Stave Off Devaluation (Bloomberg)
Reserves are dropping as analysts try to guess at what remains
Just last week, the central bank hemorrhaged $1.47 billion
Argentina Vows Not To Go Full Weimar, Will Stop Printing Money Amid 60% Inflation (Zero Hedge)
As the Epoch Times noted earlier in the week, the country's state funded programs extend to nearly every aspect of the economy, from wages to utilities, education, and health care. Argentina already spends an estimated 800 million pesos per day—a sum of more than US$6 million—on state benefit programs.
Meanwhile, and perhaps related to Massa's swearing-in, crypto exchange Binance has partnered with Mastercard to launch a 'cryptocurrency power card' for customers in Argentina. It will be used to spend digital currency on everyday items, according to a press release [Bitcoinist].
---
Earnings Calendar
Note: Investing.com has a full calendar for most global stock exchanges BUT you may need an Investing.com account, then hit "Filter," and select the countries you wish to see company earnings from. Otherwise, purple (below) are upcoming earnings for US listed international stocks (Finviz.com):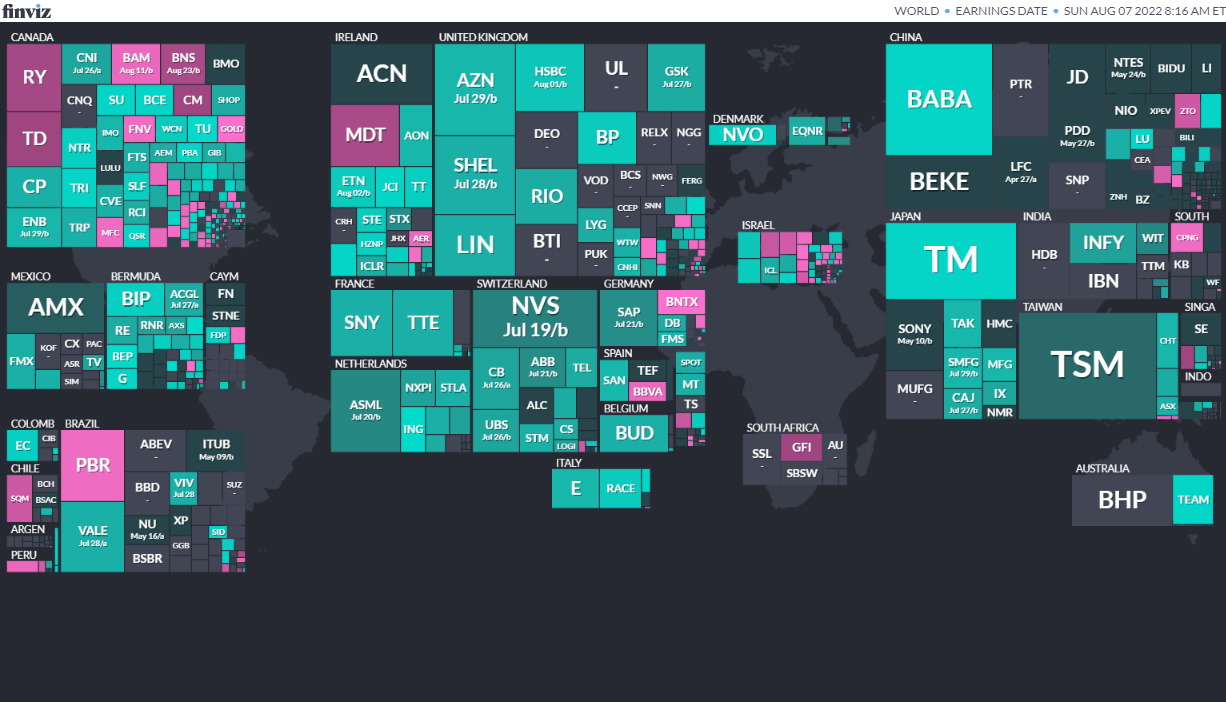 ---
Economic Calendar
Click here for the full weekly calendar from Investing.com containing frontier and emerging market economic events or releases (my filter excludes USA, Canada, EU, Australia & NZ).
---
Election Calendar
Frontier and emerging market highlights (from IFES's Election Guide calendar):
Check out: Thoughts for Investors: Bongbong Marcos Wins the 2022 Philippines Elections in a Landslide
---
IPO Calendar/Pipeline
Frontier and emerging market highlights from IPOScoop.com and Investing.com (NOTE: For the latter, you need to go to Filter and "Select All" countries to see IPOs on non-USA exchanges):

---
ETF Launches
Climate change and ESG are clearly the latest flavours of the month for most new ETFs. Nevertheless, here are some new frontier and emerging market focused ETFs:
---
ETF Closures/Liquidations
Frontier and emerging market highlights:
---
Disclaimer: EmergingMarketSkeptic.Substack.com and EmergingMarketSkeptic.com provides useful information that should not constitute investment advice or a recommendation to invest. In addition, your use of any content is entirely at your own risk and it is your sole responsibility to evaluate the accuracy, completeness and usefulness of the content.
Emerging Market Links + The Week Ahead (August 8, 2022) was also published on our Substack.
---
---
---
Emerging Markets Investing Tips + Advice
Emerging Market Skeptic (Website)
Website List Updates + Site Map
Stocktwits @EmergingMarketSkptc
Similar Posts: