The most underreported story in recent weeks is Russia's plans to challenge the London Bullion Market Association (LBMA) by creating a new market with most of the world's gold producers. It also appears that Russia, China and Saudi Arabia are preparing to do gold related international transactions.
As you can imagine, that will not be good for the future of US Dollar hegemony with the worst case scenario being devastating for the West. At the same time, it appears that Russia is successfully pursuing control of "Mackinder's World Island" (Eurasia) and all the natural resources that comes with it.
Finally, "deglobalization" or "friendshoring" away from China (now suffering a power crisis…) and plans for relisting Chinese stocks on the Hong Kong exchange continues.
Check out our emerging market ETF lists, ADR lists (updated) and closed-end fund (updated) lists (also see our site map + list update status as the ETF lists are still being updated as of Summer 2022) along with our general EM investing tips / advice. All links to emerging market newspapers, investment firms, blogs and other helpful emerging market investing resources at the bottom of www.emergingmarketskeptic.com or on the menu under Resources have been updated.
---
Suggested Reading
$ = behind a paywall
Russia Proposes New Standard To Compete With RIGGED London Bullion Market Association (LBMA) (Capitalist Exploits via Zero Hedge)
"The Finance Ministry wants to make membership in this organization attractive to all market participants, especially China, India, Venezuela, Peru and other South American countries, as well as Africa. It aims to swiftly destroy the monopoly of LBMA and to provide for stable development of the precious metals sector.In essence, Russia proposes to create a market for gold, platinum, etc., which will be regulated by countries that control the resources for these metals. This would be, simply put, a revolution. On the basis of this new market, it intends to further the system of bilateral trade in national currencies that specifically excludes dollars, euros and pounds.And now, some statistics on the world gold supply. The production share of the US and other hostile nations* produce a grand total of 22% of the world's gold. Eurasian Economic Union, BRICS and Africa, together, produce 57%—already a controlling share. Now add Peru and Venezuela, and the number goes up to 62%."
The Fat Russian Lady is Getting Ready To Sing For The LBMA (GoldFix)
Conclusion drawn for the Saudis last month:
Saudis will be taking delivery of more gold
Saudis, Russia, and China are preparing to do Gold related international transactions, likely in Russo-Chinese specs
Stocks, Bonds, Real Estate & The Dollar Are About To Get "Vaporized" (QTR's Fringe Finance)
NOTE: This was an interesting interview…
Andy Schectman lays out a worst case scenario for most dollar denominated assets on my most recent podcast, and, unfortunately, his prognostications don't sound as unreasonable as one might think.
"There are certain signposts along the way, that when you see, it becomes clear we are on a path to de-dollarization," he says. "The dollar hegemony is right about ready to break when you realize that Saudi Arabia is about to join the BRIC nations. Do you think Biden is going to fly there to ask for more oil? He went there to beg them not to join BRIC.""The dollar was made reserve currency only because of our protection of the Saudi kingdom," Andy continues. He then notes that Saudi Arabia has signed new protection agreements with Russia."All of the Eastern European countries that have repatriated their gold. They're all part of the EU but they all trade their own currency. They're all going to break away from the Western system!"
Geopolitics: the world is splitting into two (Goldmoney)
NOTE: A lengthy but interesting read based around predictions or theories in this book from 1919, Democratic Ideals and Reality (PDF file), and how "Russia appears to be successfully pursuing her goal of control of Mackinder's World Island…"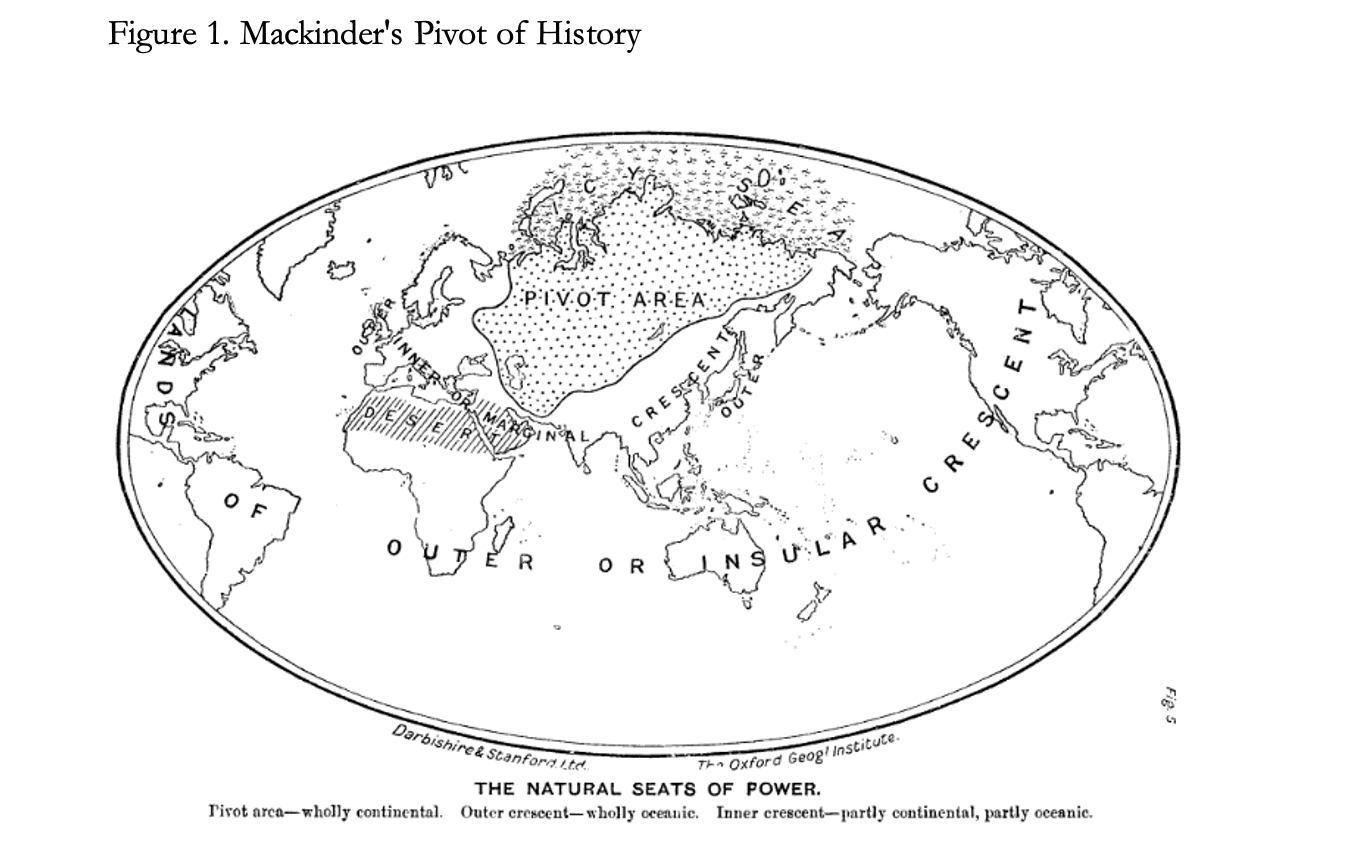 Deglobalization Is Inflationary (Of-Two-Minds)
Globalization was deflationary, Deglobalization is inflationary.
Deglobalization is inflationary because reshoring production increases costs.
Now that resources have been depleted in many producer countries, the costs of producing essential materials is rising. China, a major exporter of rare earth minerals essential to the renewable energy sector, is now exploiting neighbor Myanmar's resources: Myanmar's poisoned mountains.
China Is Preparing To Go To War (19fortyfive.com)
China expert Gordon Chang makes the case that China is preparing for armed conflict – and could happen quite soon.
Last month, a Chinese entrepreneur making medical equipment for consumers told me that local officials had demanded he convert his production lines in China so that they could turn out items for the military. Communist Party cadres, he said, were issuing similar orders to other manufacturers.Moreover, Chinese academics privately say the ongoing expulsion of foreign colleagues from China's universities appears to be a preparation for hostilities.
Companies Draw Up Contingency Plans On Chinese Invasion Risk (ZeroHedge)
Already, according to a fresh Wednesday announcementApple is in the process of moving production of its MacBook and Apple Watch to Vietnam in a major development, though Apple and China have been inextricably linked for close to two decades. As TechCrunch details, "According to Nikkei Asia, Luxshare Precision Industry, Apple's Chinese supplier, and Foxconn, a Taiwan-based supplier, have begun test production of the Apple Watch in northern Vietnam."
Vietnam to make Apple Watch and MacBook for first time ever (Nikkei Asia) $ (Non-Paywalled)
The earphones were among the first Apple products whose assembly was shifted out of China after a trade war between Washington and Beijing broke out under former U.S. President Donald Trump. The move signaled a change of approach for Apple, which had depended on China for almost all of its production needs for decades.
The number of Apple suppliers with facilities in the country has increased to at least 22 from 14 in 2018, according to Nikkei Asia's analysis of Apple's latest available suppliers list and interviews with sources. Many other major electronics manufacturers like Google, Dell and Amazon have also set up production in Vietnam to diversify beyond China, Nikkei Asia has previously reported.
Analysis: China investors hedge U.S. delisting risk with Hong Kong play (Reuters)
Under the U.S. rules, Chinese ADRs will be ejected from exchanges in early 2024 if U.S. regulators cannot have complete and timely access to the Chinese companies' audit working papers – a request so far denied by Beijing on national security grounds.
Equity trading turnover on the New York Stock Exchange and the Nasdaq each was roughly seven times that of the Hong Kong bourse in 2021, according to the World Federation of Exchanges.
Alibaba will likely trigger "a wave" of primary listings in the next 12 months, potentially boosting average daily turnover in those stocks by 50% once they are included in the Stock Connect, Citic Securities estimates.
Alibaba, JinkoSolar Hold Onto Investor Favor After China Stock Sell-Off (Caixin)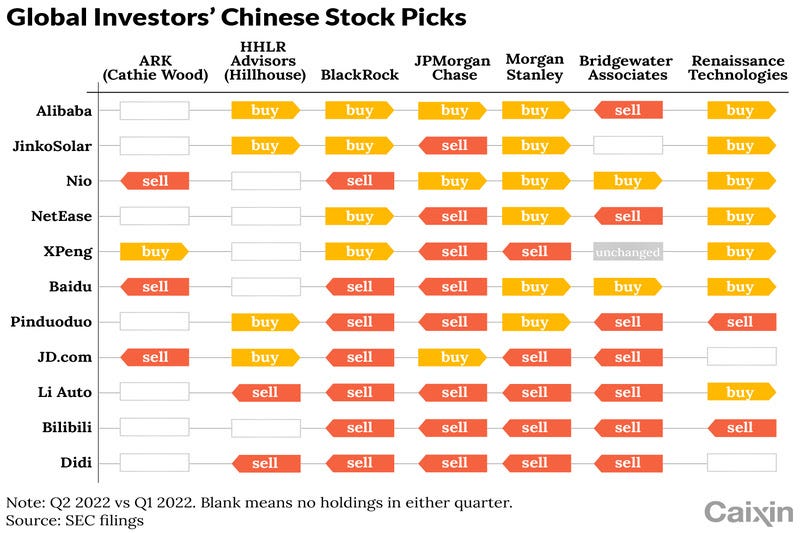 China's Power Crisis Worsens As More Factories Suspend Operations (ZeroHedge)
State-owned Chongqing Changan Automobile, U.S.-based Ford Motor, BYD Auto, and Taiwanese electronics manufacturers are some companies in Chongqing.
China's Trillion-Dollar Research Funds Squandered On Travel and Leisure (Epoch Times via ZeroHedge)
…misusing government research and development (R&D) subsidies and grants is common within China's scientific community.
---
Earnings Calendar
Note: Investing.com has a full calendar for most global stock exchanges BUT you may need an Investing.com account, then hit "Filter," and select the countries you wish to see company earnings from. Otherwise, purple (below) are upcoming earnings for US listed international stocks (Finviz.com):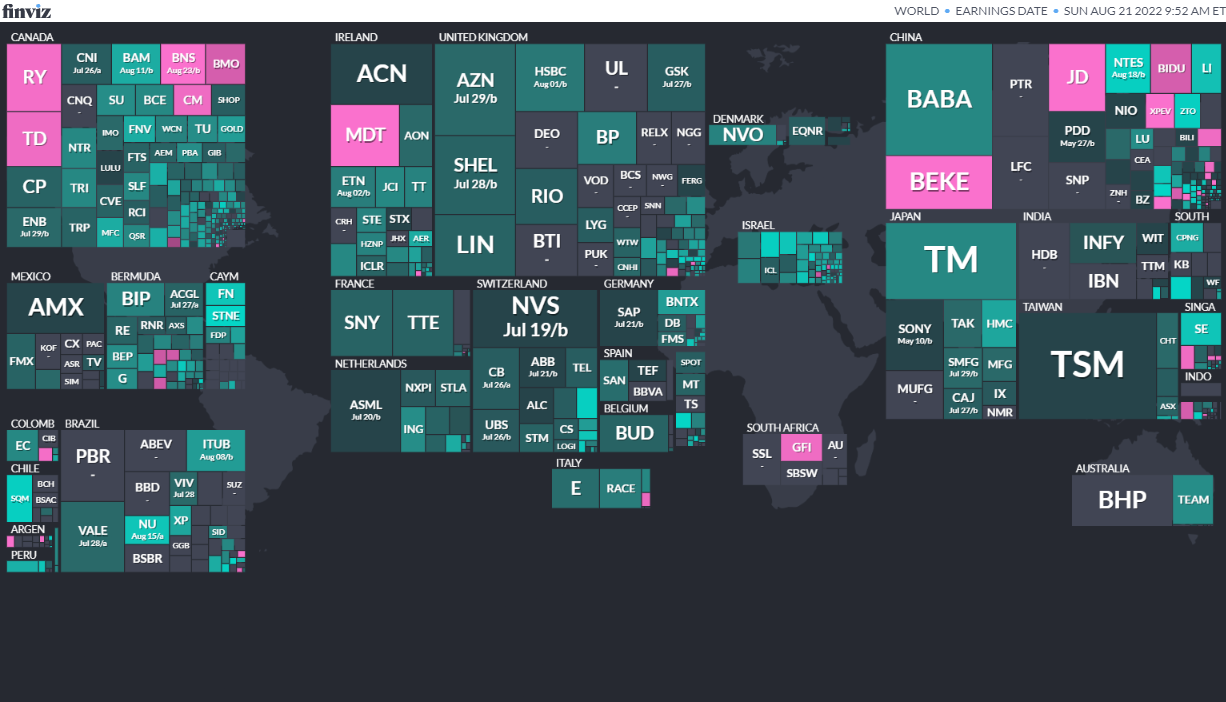 ---
Economic Calendar
Click here for the full weekly calendar from Investing.com containing frontier and emerging market economic events or releases (my filter excludes USA, Canada, EU, Australia & NZ).
---
Election Calendar
Frontier and emerging market highlights (from IFES's Election Guide calendar):
Check out: Thoughts for Investors: Bongbong Marcos Wins the 2022 Philippines Elections in a Landslide
---
IPO Calendar/Pipeline
Frontier and emerging market highlights from IPOScoop.com and Investing.com (NOTE: For the latter, you need to go to Filter and "Select All" countries to see IPOs on non-USA exchanges):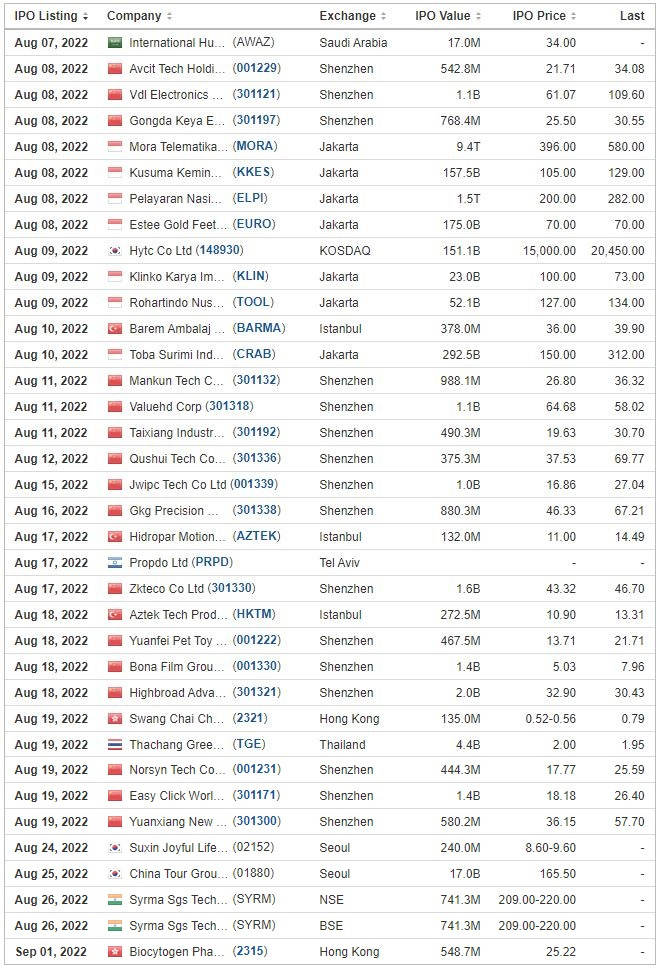 Starbox Group Holdings Ltd.STBX, 5.0M Shares, $4.00 to $5.00, $22.5 mil, 8/23/2022 Tuesday
We are building a cash rebate, digital advertising and payment solution business ecosystem targeting micro, small and medium enterprises that lack the bandwidth to develop an in-house data management system for effective marketing. Through our subsidiaries in Malaysia, we connect retail merchants with retail shoppers to facilitate transactions through cash rebates offered by retail merchants, provide digital advertising services to advertisers, and provide payment solution services to merchants. Substantially all of our current operations are located in Malaysia. (Incorporated in the Cayman Islands)
---
ETF Launches
Climate change and ESG are clearly the latest flavours of the month for most new ETFs. Nevertheless, here are some new frontier and emerging market focused ETFs:
---
ETF Closures/Liquidations
Frontier and emerging market highlights:
---
Disclaimer: EmergingMarketSkeptic.Substack.com and EmergingMarketSkeptic.com provides useful information that should not constitute investment advice or a recommendation to invest. In addition, your use of any content is entirely at your own risk and it is your sole responsibility to evaluate the accuracy, completeness and usefulness of the content.
Emerging Market Links + The Week Ahead (August 22, 2022) was also published on our Substack.
---
---
---
Emerging Markets Investing Tips + Advice
Emerging Market Skeptic (Website)
Website List Updates + Site Map
Stocktwits @EmergingMarketSkptc
Similar Posts: