August is normally a quiet month – except for the fact that World War I and II started during the month. Once again, risks are growing as Pelosi visits Asia ahead of the brief window of time when weather conditions are the most ripe for a Chinese attack on Taiwan starts to open.
To make matters worst, both the USA and China are in desperate need for distractions as the Midterm elections are shaping up to be extra bad for the Democrats while Xi readies for his third term just as China's housing mess continues to grow. US rate hikes also threaten China's export economy along with other Asian countries.
NOTE: The table on our China ETF list page has been updated along with our Taiwan ADRs, closed-end fund, and ETF list pages.
Check out our emerging market ETF lists, ADR lists (updated) and closed-end fund (updated) lists (also see our site map + list update status as the ETF lists are still being updated as of Summer 2022) along with our general EM investing tips / advice. All links to emerging market newspapers, investment firms, blogs and other helpful emerging market investing resources at the bottom of www.emergingmarketskeptic.com or on the menu under Resources have been updated.
---
Suggested Reading
$ = behind a paywall
Powell pushing Asia into a new financial crisis (Asia Times)
The Fed's hikes are their own nightmare for Xi Jinping's China. Rising US rates put China's giant export engine at risk. It complicates things for highly indebted mainland property developers struggling to avoid default. And then there's the nearly US$1 trillion of state wealth parked in US government debt.
The yen's dwindling value – down 18% so far this year – is a crisis in slow motion for Prime Minister Fumio Kishida and Bank of Japan Governor Haruhiko Kuroda. Asia's No 2 economy is importing increasing waves of inflation via food and energy markets.
The Thai baht is already down more than 10% against the dollar this year. In Manila, the new Ferdinand Marcos Jr. regime is struggling with a peso down 9.3%. As costs of food and other vital items surge, millions of Philippine families who escaped poverty over the last decade risk sliding back under the line.
Both the Malaysian ringgit and Indian rupee are down nearly 7%, while the Indonesian rupiah has lost 5% of its value. The won is down more than 9.5% this year, causing its own headaches for the Bank of Korea. From Taiwan to Vietnam, powerful capital outflows into higher-yielding dollar investments are adding to pressures on Asian governments.
Emerging markets hit by record streak of withdrawals by foreign investors (Financial Times) $ (Non-Paywalled)
Investors have also pulled $30bn so far this year from EM foreign currency bond funds, which invest in bonds issued on capital markets in advanced economies, according to data from JPMorgan.
The foreign currency bonds of at least 20 frontier and emerging markets are trading at yields of more than 10 percentage points above those of comparable US Treasury bonds, according to JPMorgan data collated by the Financial Times. Spreads at such high levels are often seen as an indicator of severe financial stress and default risk.
China's housing crisis is an institutional crisis (Andrew Batson's Blog)
[Good overview of how housing presales work in China]
Although developers in many countries are allowed to sell homes before they finish building them, the practice in China is special in two ways.
China's central bank seeks to mobilise $148bn bailout for real estate projects (Financial Times) $ (Non-Paywalled)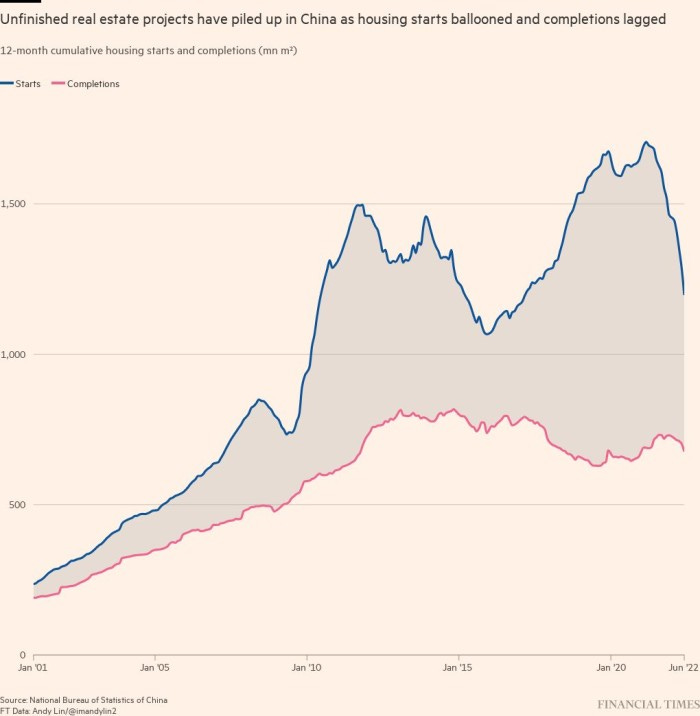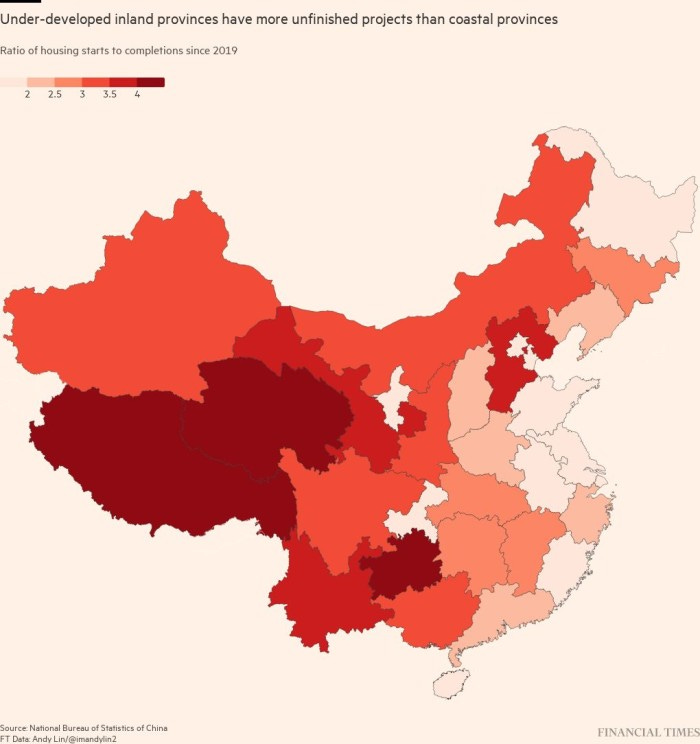 Confiscation Next: China May Seize Undeveloped Land From Distressed Real Estate Companies (Zero Hedge)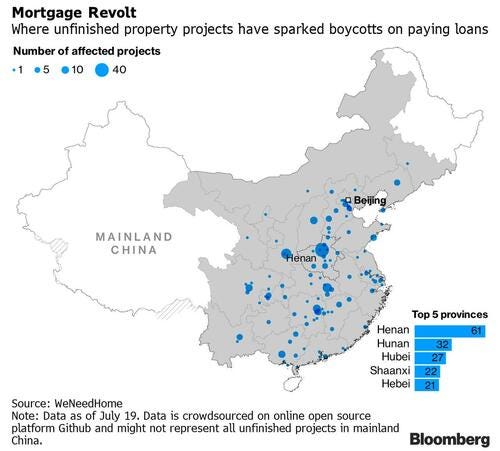 Kitty Special: This month in China, July 2022 (Twitter Thread)
Pelosi Is Irrelevant: China Was Already Planning An Invasion Of Taiwan (Zero Hedge)
It's interesting that Pelosi appears to be scheduling her visit sometime in the next month, so close to when weather conditions are the most ripe for a Chinese attack. Typhoons are expected to strike Taiwan through August and then dissipate in September/October when invasion is preferable.
Macau July GGR lowest month since 2003 show govt data (GGR Asia)
[See our Macau ADRs list]
Macau casino gross gaming revenue (GGR) for July was the lowest monthly tally since currently-published records by the city's authorities, dating back to 2003. The July aggregate of MOP398 million (US$49.2 million) reflects the sort of monthly level not seen since the turn of the century, when the entire market consisted of 11 casinos licensed to the former monopoly interest run by Sociedade de Jogos de Macau SA, and before the effects of liberalisation had seen competition added.
Most Macau casinos reopened on July 23, with limited operations and with business volumes seen depressed, as travel restrictions constrained the number of visitors from mainland China.
Emerging Markets Quarterly Outlook – July 2022 (City of London Investment Management) PDF File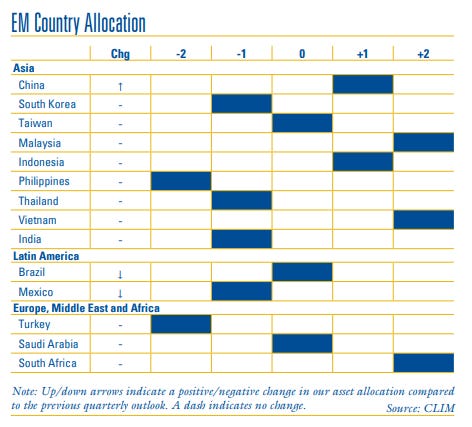 Outlook on Emerging Markets – July 2022 (Lazard AM)
Emerging markets, which offer access to higher economic growth, are trading at a 30% valuation (price to earnings) discount to developed markets while offering investors a higher dividend yield, a higher free cash flow yield, and a return on equity profile that has been improving since the end of 2020.
Quarterly Frontier Markets Recap – 2Q22 (Fitch)
Frontier markets are still recovering from the fallout of the pandemic, with the food and oil price shock from the war in Ukraine, tightening global financial conditions, and slowing growth in developed markets leading to additional stresses. Six frontier markets have been downgraded so far this year, two more than all of 2021. Half of the downgrades in 1H22 took place in the Middle East & Africa (Namibia, Tunisia and Ghana), with the rest being evenly spread across regions (Belarus, Sri Lanka, and El Salvador). This compares to only 3 positive actions in 1H22: Angola's upgrade, and Guatemala and Costa Rica's Outlook revisions to Positive and Stable, respectively.
---
Earnings Calendar
Note: Investing.com has a full calendar for most global stock exchanges BUT you may need an Investing.com account, then hit "Filter," and select the countries you wish to see company earnings from. Otherwise, purple (below) are upcoming earnings for US listed international stocks (Finviz.com):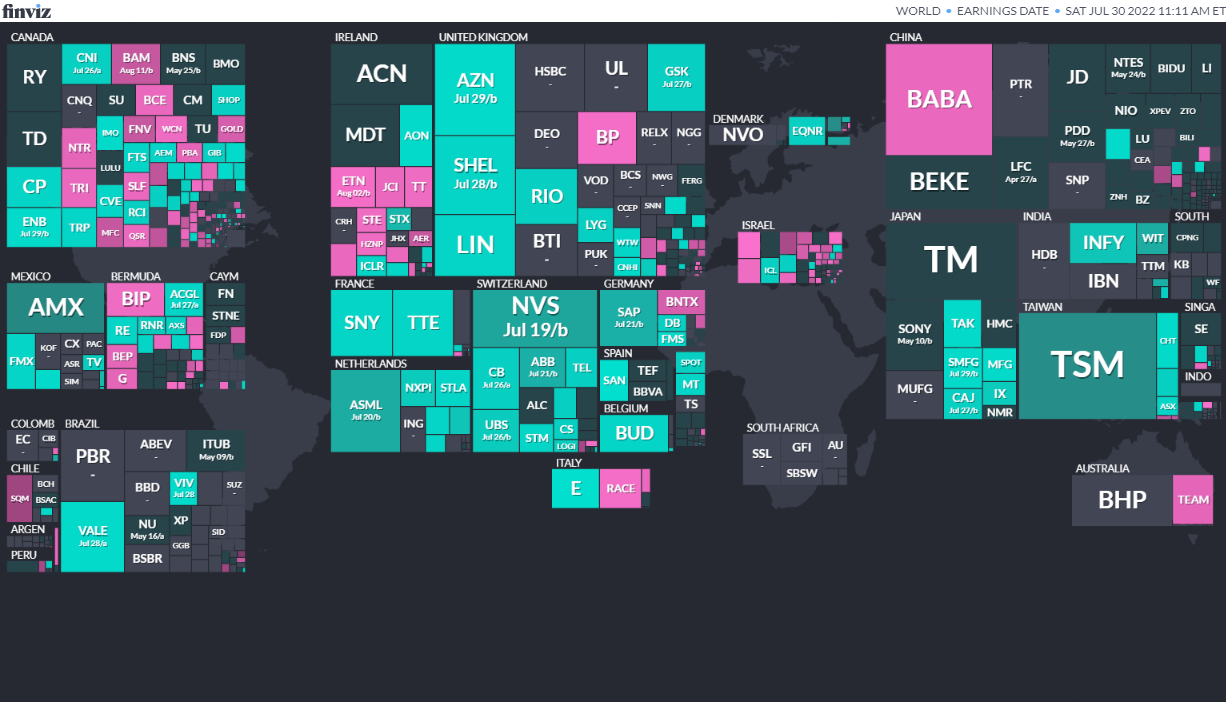 ---
Economic Calendar
Click here for the full weekly calendar from Investing.com containing frontier and emerging market economic events or releases (my filter excludes USA, Canada, EU, Australia & NZ).
---
Election Calendar
Frontier and emerging market highlights (from IFES's Election Guide calendar):
Check out: Thoughts for Investors: Bongbong Marcos Wins the 2022 Philippines Elections in a Landslide
---
IPO Calendar/Pipeline
Frontier and emerging market highlights from IPOScoop.com and Investing.com (NOTE: For the latter, you need to go to Filter and "Select All" countries to see IPOs on non-USA exchanges):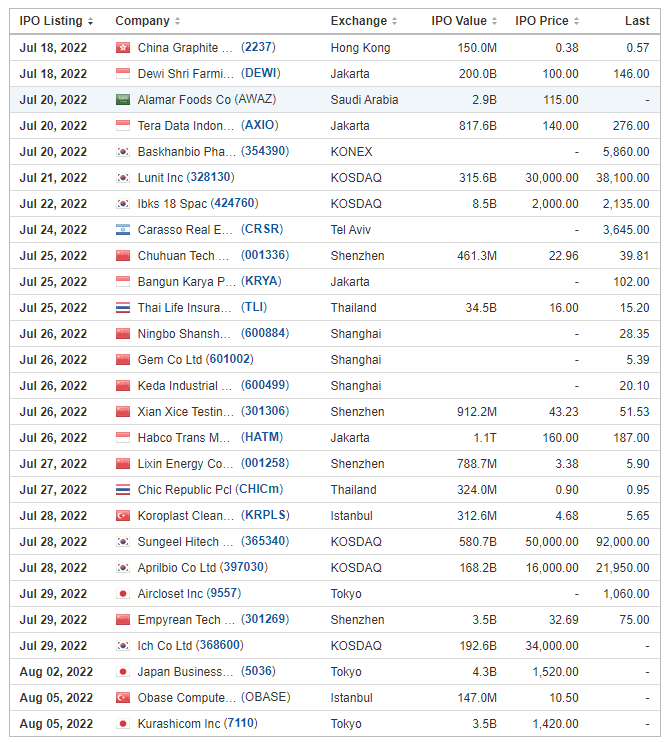 ---
ETF Launches
Climate change and ESG are clearly the latest flavours of the month for most new ETFs. Nevertheless, here are some new frontier and emerging market focused ETFs:
---
ETF Closures/Liquidations
Frontier and emerging market highlights:
---
Disclaimer: EmergingMarketSkeptic.Substack.com and EmergingMarketSkeptic.com provides useful information that should not constitute investment advice or a recommendation to invest. In addition, your use of any content is entirely at your own risk and it is your sole responsibility to evaluate the accuracy, completeness and usefulness of the content.
Emerging Market Links + The Week Ahead (August 1, 2022) was also published on our Substack.
---
---
---
Emerging Markets Investing Tips + Advice
Emerging Market Skeptic (Website)
Website List Updates + Site Map
Stocktwits @EmergingMarketSkptc
Similar Posts: