We have collected a good variety of emerging market related articles and research for investors to consider this week ahead e.g. the performance of Chinese tech stocks indicates that US tech stocks and tech investors are due for more pain. However and while the US markets continue to sink, Asian stocks are trading at historically large discounts while Asian economies are (for the most part) recovering…
Check out our emerging market ETF lists, ADR lists and closed-end fund lists (also see our site map + list update status as the lists are still being updated as of May 2022) along with our general EM investing tips / advice. All links to emerging market newspapers, investment firms, blogs and other helpful investing resources at the bottom of www.emergingmarketskeptic.com or on the menu under Resources have been update.
---
Suggested Reading
$ = behind a paywall
There's a run on Chinese banks and it's being ignored by the world (Asia Markets)
Following the public protests and the PBOC statement, the China Banking and Insurance Regulatory Commission revealed it is investigating fraudulent activity carried about by the Henan New Fortune Group – the largest shareholder of the four banks listed above in the Henan Province. It's understood the commission is working with police to investigate allegations that the Group colluded with bank insiders to misappropriate bank funds.
Asian Equities Well-positioned Against Global Recession (The Asset)
One reason is that Asian equities are currently trading at historically large discounts against their developed-market counterparts. Also, there's positive progress in the reopening of Asian economies in the wake of Covid-19, and the investment outlook for the region is improving.
Indonesia has built up higher foreign exchange reserves and improved its current account. The market is at an early stage of recovery from the pandemic and therefore better positioned to cushion the impact of a potential global recession.
HSBC is overweight on the Asean markets, particularly Singapore, Thailand, and Indonesia, because of the positive progress in the reopening of these markets and strong outlook for economic recovery. In North Asia, HSBC is overweight on Hong Kong stocks because of compelling valuations, and improved outlook for reopening of the economy.
Are Big Tech Stocks Following in the Footsteps of Their Chinese Counterparts? Part Deux (The Felder Report)
The lesson that might be gleaned from China's experience is that a reset in valuations for US tech stocks may not be complete until the Fed's monetary tightening has first been completed. What's more, it's not just the "P" in the PE Ratio that must be considered but also the "E." If valuations continue to revert to more normal levels AND earnings estimates continue to come down (as leading indicators suggest), then the decline in prices may have only just begun.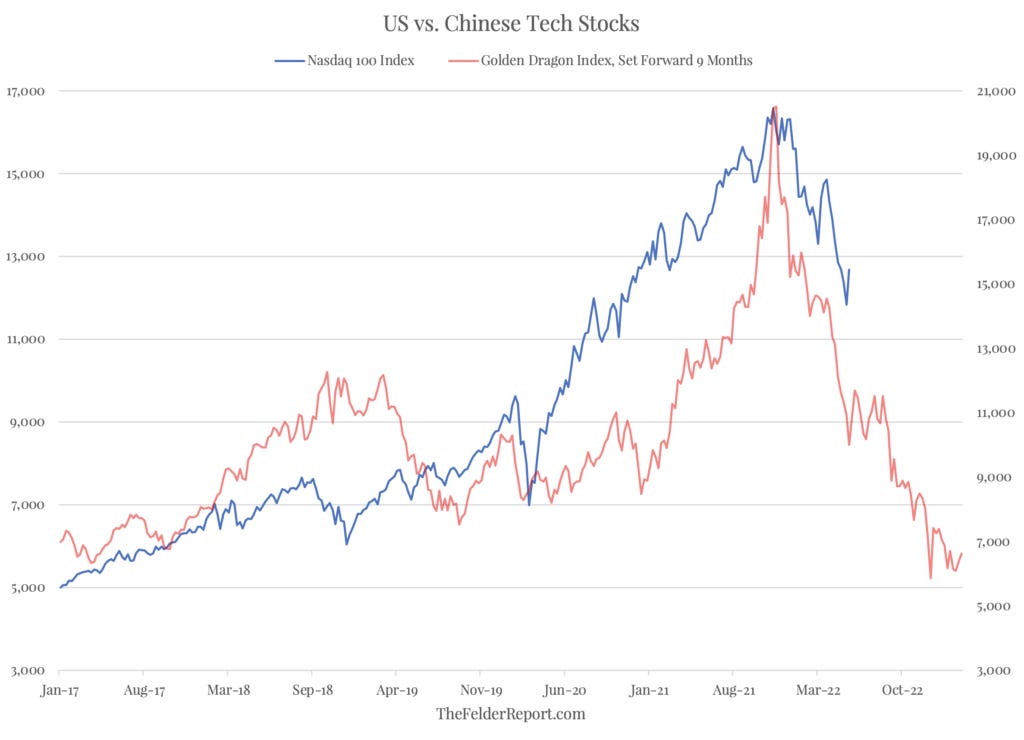 May 2022 Update: Invest Through the Cycle to Generate Long Term Returns (Asia Frontier Capital)
We continue to believe that Bangladesh, Kazakhstan, Uzbekistan, and Vietnam will be able to manage this current period of macro uncertainty. This is not to say that these countries will not grapple with global macro headwinds, but they should be able to manage as they have low levels of debt and it is quite evident that higher debt levels have been the primary cause of economic crisis for some countries as global interest rates and inflation began to increase in the last few months.
Why Newly Listed Chinese Stocks Fall Below Their IPO Prices (Nikkei Asia)
To undercut initial high bidders, crowds of institutional investors often offered lower IPO price quotations that were almost or exactly the same in unison, taking advantage of rules in which at least the highest 10% of total quotes should be rejected. The September rule change cut the percentage to no more than the highest 3%, reducing the effectiveness of previous bid tactics and allowing companies to set loftier IPO prices to raise more money.
Several industry insiders noted that it is good to see market sentiment on new offerings begin to cool down. Even though lofty offer prices still exist, the recent poor performance of new listings will make IPO candidates and underwriters become more cautious about pricing IPOs, they said.
20 rules for investing in Vietnam (Asian Century Stocks Substack)
South Africa's GDP Returns to Pre-pandemic Levels, Increases 1.9% in First Quarter (IOL)
India: Three Themes Driving Growth (Franklin Templeton)
Rising incomes. Urban per-capita annual income will grow to US$4,700 by 2030. This will boost spending power and accelerate the switch from informal to formal retail spending.
Local consumption. Our team has identified three business models featuring the local Indian consumption theme: the sharing economy, service aggregation and subscription services.
Global supply chain diversification. This theme is expected to benefit the technology and renewable energy industries.
Analysis: Colombia's Extractive Industries Watching Election Warily (Reuters) $ (NO PAYWALL)
Petro has promised to stop new exploration for hydrocarbons and construction of new large-scale open-pit mines, and to put an end to investigative fracking pilots and offshore oil and gas projects, some of which already have contracts.
Chile Argues It Can Bring Change Without Scaring Investors (Bloomberg)
The Constitutional Convention is drafting a new charter that will be put to a national referendum on Sept. 4. Put together, many businesses are waiting on the sidelines until there's more legal and regulatory clarity.
Recent polls have shown more voters intending to reject rather than approve the document.
Lost Revenue: SA's Power Crisis Hits April Mining Production Where it Hurts (IOL)
---
Earnings Calendar
Note: Investing.com has a full calendar for most global exchanges BUT you may need an Investing.com account, then hit "Filter," and select the countries you wish to see company earnings from. Otherwise, purple (below) are upcoming earnings for US listed international stocks (Finviz.com):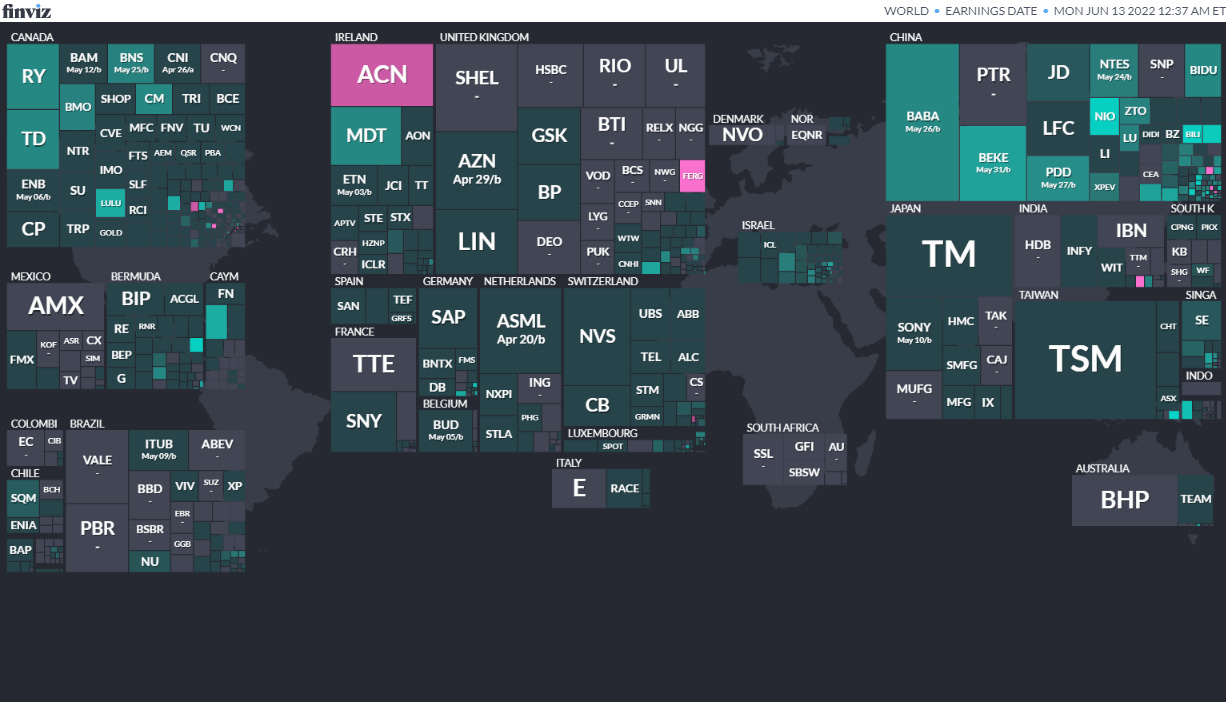 ---
Economic Calendar
Click here for a full weekly calendar from Investing.com (my filter excludes USA, Canada, EU, Australia & NZ). Some frontier and emerging market highlights: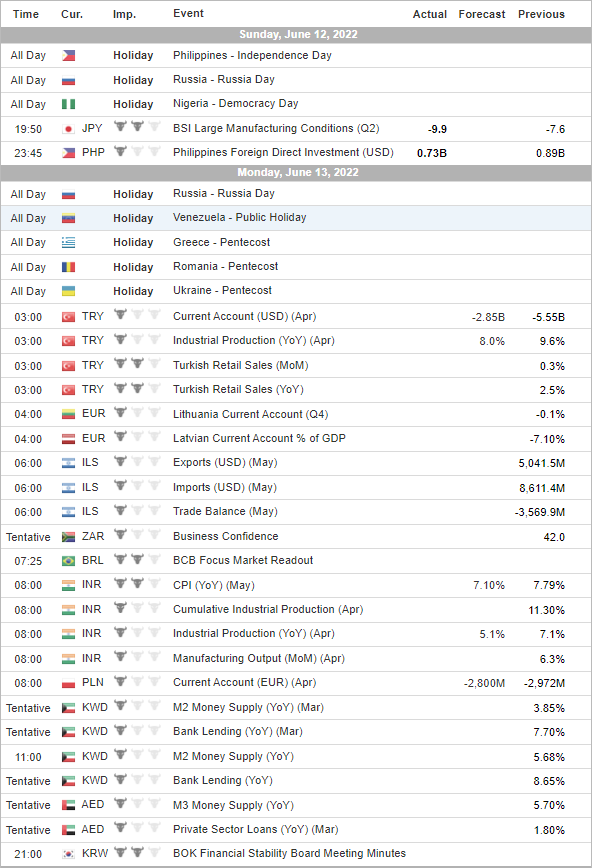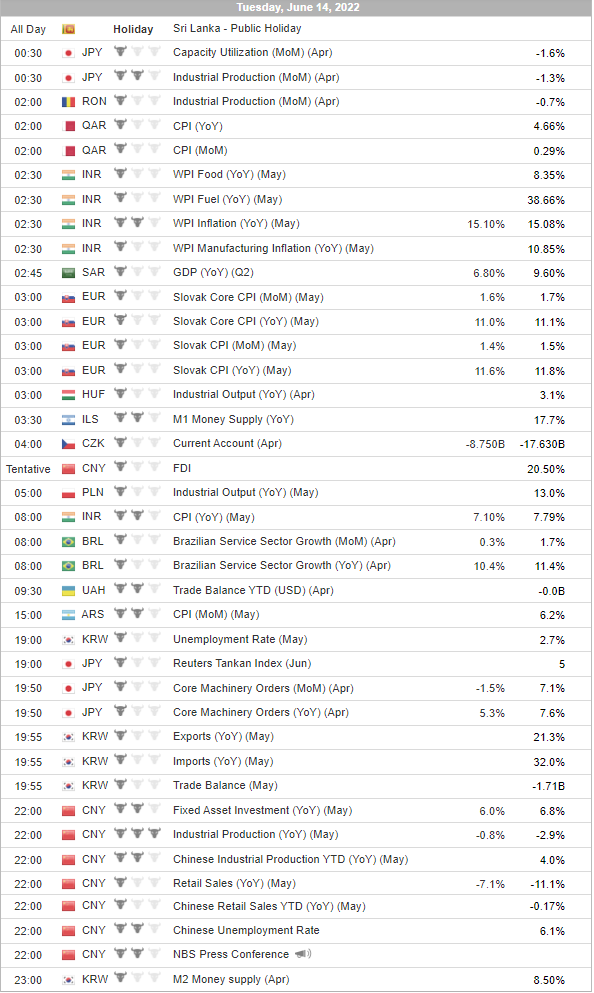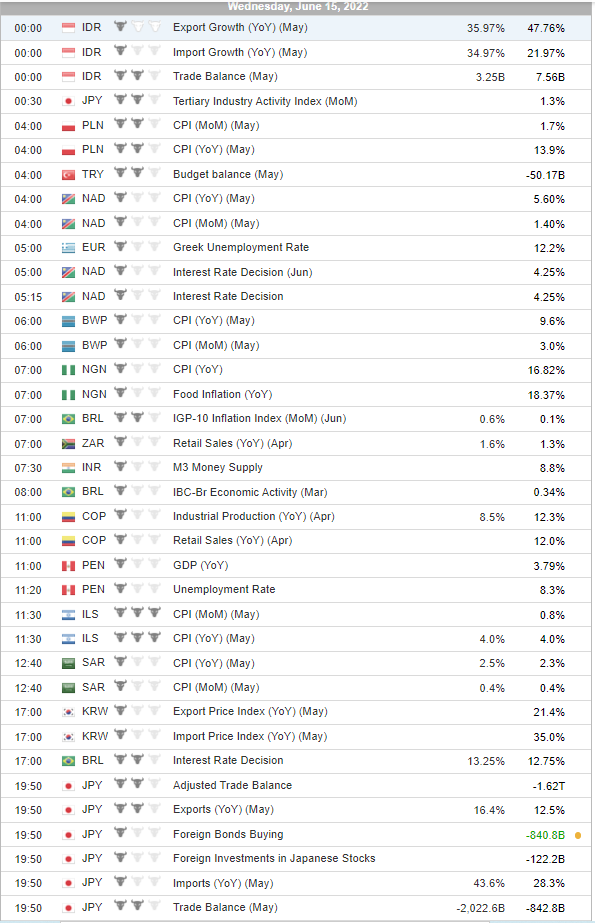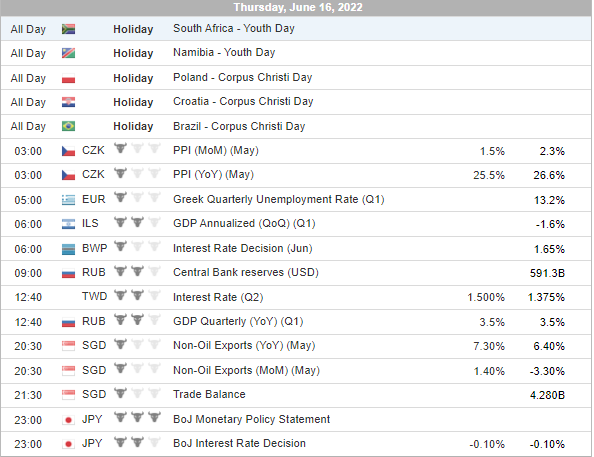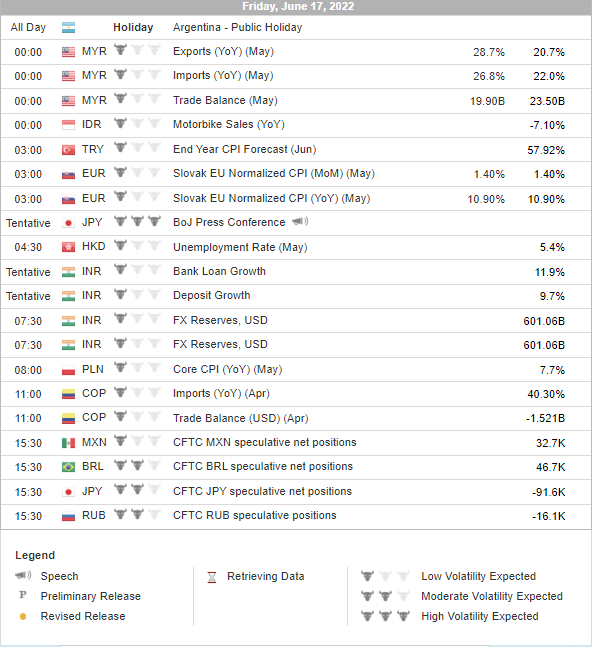 ---
Election Calendar
Frontier and emerging market highlights (from IFES's Election Guide calendar):
Check out: Thoughts for Investors: Bongbong Marcos Wins the 2022 Philippines Elections in a Landslide
---
IPO Calendar/Pipeline
Frontier and emerging market highlights from IPOScoop.com and Investing.com (NOTE: For the latter, you need to go to Filter and "Select All" countries to see IPOs on non-USA exchanges):

Intelligent Living Application GroupILAG 5.15M shares, 5.00, $25.3 mil, Week of 6/13/2022
"Headquartered in Hong Kong, we manufacture and sell high quality mechanical locksets to customers in the United States (US) and Canada and have continued to diversify and refine our product offerings over the past 30 years to meet our customers' needs. We believe we are one of the pioneers of mechanical lockset manufacturing in China."
Mobilicom LimitedMOB 2.2M shares, $4.65, $ 10.0 mil, 6/23/2022 Thursday
(Note: This is an IPO of American Depositary Shares (ADS) on the NASDAQ. The ordinary shares trade on the Australian Securities Exchange.)
"We are a provider of hardware products and software and cybersecurity solutions that we design, develop and manufacture and that are embedded into small drones or small unmanned aerial vehicles, which we refer to as SUAVS, and into robotic systems, or robotics. We hold both patented technology and unique know-how. We are aiming to further develop our global customer base by increasing our number of design wins and targeted pilot projects and ultimately cross-sell our other solutions to those same customers in order to become a leading end-to-end provider to SUAV and robotics systems manufacturers, or OEMs, who, in turn, sell their systems into the security and surveillance, process industry (processing of bulk resources into other products), infrastructure inspection, first responders, homeland security and courier market segments. By "design win" we are referring to the large-scale and exclusive adoption of our component products by our OEM customers on an ongoing basis. The "pilot projects" refer to initial small-scale sales and implementation. As an "end-to-end" provider is one that provides all of the key components its customers need for their products… Our solutions have been deployed by our various customers worldwide, including in the United States, Europe, Israel, Japan and other Asian countries."
---
ETF Launches
Climate change and ESG are clearly the latest flavors of the month for most new ETFs. Nevertheless, here are some new frontier and emerging market focused ETFs:
---
ETF Closures/Liquidations
Frontier and emerging market highlights:
---
Disclaimer: EmergingMarketSkeptic.Substack.com and EmergingMarketSkeptic.com provides useful information that should not constitute investment advice or a recommendation to invest. In addition, your use of any content is entirely at your own risk and it is your sole responsibility to evaluate the accuracy, completeness and usefulness of the content.
Emerging Market Links + The Week Ahead (June 13, 2022) was also published on our Substack.
---
---
---
Emerging Markets Investing Tips + Advice
Emerging Market Skeptic (Website)
Website List Updates + Site Map
Stocktwits @EmergingMarketSkptc
Similar Posts: