There were a couple of interesting articles and a podcast about China covering various topics such as country's retiree problems, "riverboat gambling in their property sector," and why China's elites pay so much attention to the collapse of the USSR and the Soviet Communist Party.
Finally, 2023 promises to be an interesting year for Latin America. While the region offers opportunities for companies seeking to decouple supply chains from China, Panamanian government's moves on First Quantum's (TSX: FM) $10 billion Cobre Panama copper mine highlights renewed risk of asset seizures and arbitrary tax hikes – especially as the continent lurches leftward politically once again.
---
Suggested Reading
$ = behind a paywall
Facing Demographic Doom, China's Army Of Retirees Returns To Work In Post "Zero-Covid" Economic Wasteland (SCMP) $ (Also Zero Hedge)
Mandatory retirement ages in China are among the world's lowest, and experts say Beijing's plans to revise the 70-year-old rules cannot come soon enough
Demographic crisis is poised to result in a long-term decline in China's rapidly ageing workforce, with the state pension fund at risk of drying up
China's working-age population, aged 16-64, is forecast to plunge by more than 60 per cent over the next eight decades, according to a report released by the United Nations in July.
However, over the last decade, the average age of migrant workers in China has increased steadily, as fewer young people enter the workforce and older workers with no pension protection are forced to continue working.
Of course, such willingness will only come if future parents are optimistic about the economic prospects both for them and their children. And that, unlike everything else in China, can not be faked which is why China is about to slip into the demographic spiral of doom. [ZERO HEDGE]
Kyle Bass: China's Xi Intentionally Crashing Property Market, Preparing For War (Epoch Times) (Via ZeroHedge)
Note: "Preparing for war" might be an extreme take, but there were other good China insights in the podcast.
[Kyle] Bass, founder of the asset management firm Hayman Capital and prominent China hawk, claimed the Chinese are in a financial conundrum of their own making. "They have architectural problems," the fund manager said in a Dec. 17 interview on the podcast Forward Guidance.
Blaming the Chinese Communist Party's (CCP) incentives and monetary policies for creating an environment of "riverboat gambling in their property sector," Bass warned of real estate's burgeoning share of Chinese GDP. Estimates of the property market's share in the nation's economy vary, but economist and Harvard professor Kenneth Rogoff estimated it to be around 30 percent, as of September 2021.
Forward Guidance podcast timestamps:
Ivan Zuenko: Why do China's elites pay so much attention to the collapse of the USSR and the Soviet Communist Party? (RT.com)
Note: An interesting read into the psyche of China's leadership.
Among the main reasons for the collapse, according to the Chinese studies, were those associated with the weakening of the party. Namely, the pervasive corruption, the detachment of the its elite from the common people, the emerging consumerism, and the formalism and bureaucratic tendencies of party ideologues and agitators, which led to a total disbelief in the policies imposed from above.
Chinese scholars have been rather harshly critical of the structure of the Soviet economy, above all its centralization, which dates back to the position of Mao Zedong in the 1950s. Another problem for the USSR was the bias towards the military-industrial complex and heavy industry, which led to acute shortages of consumer goods. Although there is little criticism of the economic content of the perestroika agenda in Chinese authors, it is noted that the efforts of Soviet reformers were belated and ill-conceived, and thus failed to address numerous social problems.
Mild recession in the US may aid Asian markets including India: Credit Suisse's Dan Fineman (Money Control)
"I think that India still has some important strengths … it has a very robust economic cycle and a good structural outlook in an environment where developed markets are heading into a slowdown," he said. "India's good growth, I think deserves to trade at something of a premium."
"I think that we can probably expect positive returns for India … you have good earnings growth, there isn't a strong argument for the market to be derating," he said. "If the recession in the US is deeper than we're anticipating, then that would be quite negative for global equities emerging markets."
Investors Trapped in Russian Bonds Find Buyers in Kazakhstan (Bloomberg via Yahoo!)
Registering the debt with a Kazakh clearing house then enables buyers to collect coupon and principal payments, according to the people, who declined to provide additional details or names of companies involved in the transactions.The workaround allows Kazakh firms to reap a quick paper profit for themselves and customers at a time when some international investors remain stuck with billions of dollars worth of ruble debt. Myriad restrictions block foreigners from collecting coupons and principal, but inside the country local investors can receive payments.
PLDT points to Duterte's tirades, 'intense competition' in budget fiasco (Rappler)
In the press release [PDF FILE], PLDT president and chief executive officer Al Panlilio was quoted as saying that the overspending was made due to a confluence of factors, including:

PLDT having to regain network leadership following years of underinvestment in capital expenditures
The threat from Duterte for telcos to shape up or face closure
Intense competition in the telco sector with the then-anticipated entry of Dennis Uy's Dito Telecommunity funded by China Telecom
The emergence of a competitor in the fiber space, Converge
Key themes for Latin America in 2023 (S&P Global)
The region's economy will grow more slowly in 2023; recession risks are increasing.
Lower inflation will allow central banks to begin easing monetary policy in the second half of the year.
Solid external positions will mitigate the risk of sharp currency depreciation.
Banking liquidity levels will decline in 2023, particularly in Argentina, Bolivia, and El Salvador.
The resurgence of the political left will lead to higher tax burdens and expanded state-led development.
Left-wing administrations are appointing centrist finance and economy ministers, who are gaining increased influence that provides greater economic, financial, and political stability.
The cargo transport, extractive, and agricultural sectors face the highest disruption risks from social protests in 2023.
Counterparty risks will increase for companies doing business with Central America.
Efforts by multiple Latin American governments to prioritize investments in the renewable energy sector will face challenges.
Within the process of geopolitically driven restructuring of global supply chains, Latin America presents investment opportunities.
Panama to shut down First Quantum's giant copper mine (Mining.com)
The move, unusual among Latin American countries, came after First Quantum (TSX: FM) missed a Wednesday night deadline to ink a new royalty deal that has been in the works since September 2021.
The company says it has invested around $10 billion in Cobre Panama, the largest private investment ever in the country, and was contemplating expanding the processing capacity of the mine from 85 million tonnes per year to 100 million tpy in 2023. This would have allowed it to boost production to nearly 360,000 tonnes of copper by the end of this year and to 350,000-380,000 tonnes in 2023.First Quantum is one of the world's top copper miners and Canada's largest producer of the metal. It produced 816,000 tonnes of copper in 2021, its highest ever, thanks mainly to record output at Cobre Panama.
Latin America is the region where risks of asset seizures and taxes hikes have increased the most in the past two years, risk consultancy Verisk Maplecroft estimates.
AFC Asia Frontier Fund – Review 2022 and Outlook 2023 (AFC Asia Frontier Fund)
Asian frontier markets are therefore well positioned for a re-rating since valuations for our fund are back to where they were at the start of the pandemic in March 2020. Moreover, we believe the triggers for a re-rating in valuations are in place as investors globally begin to factor in fewer macro headwinds in the form of lower inflation and a peak in interest rates.2022 was all about higher inflation and higher interest rates, and we believe 2023 could be the opposite, which can provide a tailwind for upward re-ratings in Asian frontier valuations.
In this volatile year, there were still positive contributors to fund performance on a country level, with Georgia, Jordan, and the fund's Asian frontier focussed beverage holding in Turkey adding to performance, while the major negative contributors were Mongolia, Bangladesh, Sri Lanka, and Pakistan. However, we must add that both Mongolia and Sri Lanka had very strong performances in 2021 and they were among the world's top performing markets last year.
---
Earnings Calendar
Note: Investing.com has a full calendar for most global stock exchanges BUT you may need an Investing.com account, then hit "Filter," and select the countries you wish to see company earnings from. Otherwise, purple (below) are upcoming earnings for US listed international stocks (Finviz.com):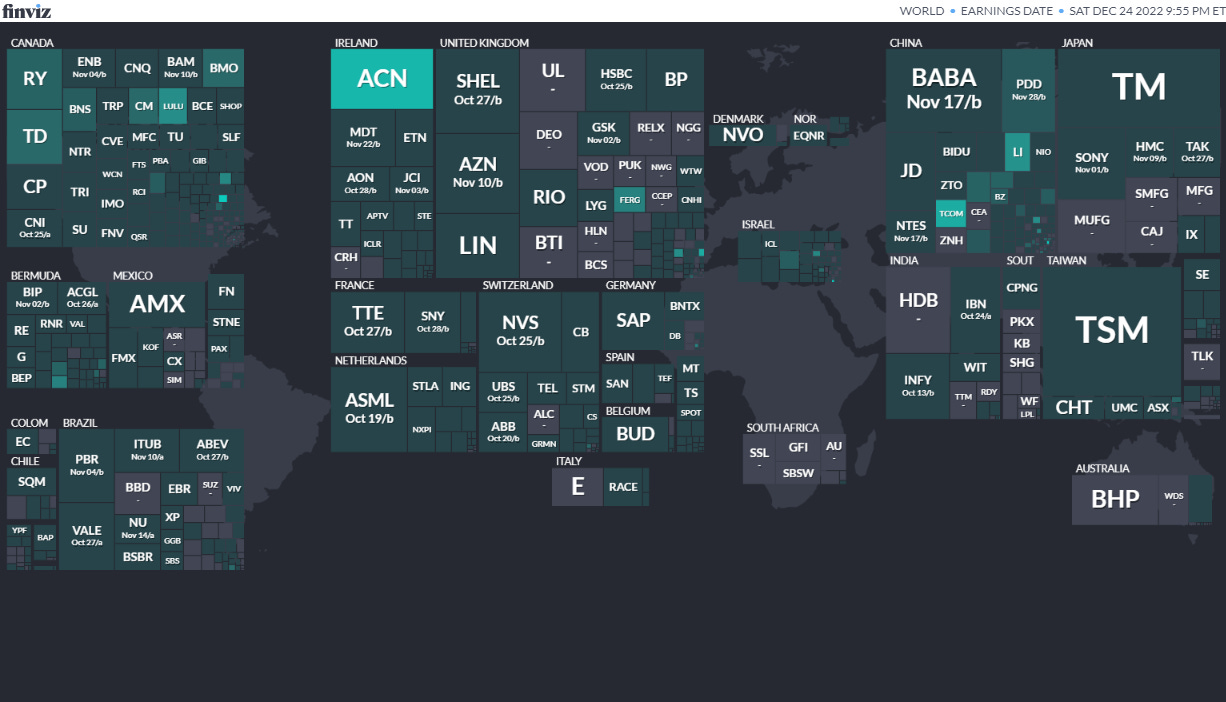 ---
Economic Calendar
Click here for the full weekly calendar from Investing.com containing frontier and emerging market economic events or releases (my filter excludes USA, Canada, EU, Australia & NZ).
---
Election Calendar
Frontier and emerging market highlights (from IFES's Election Guide calendar):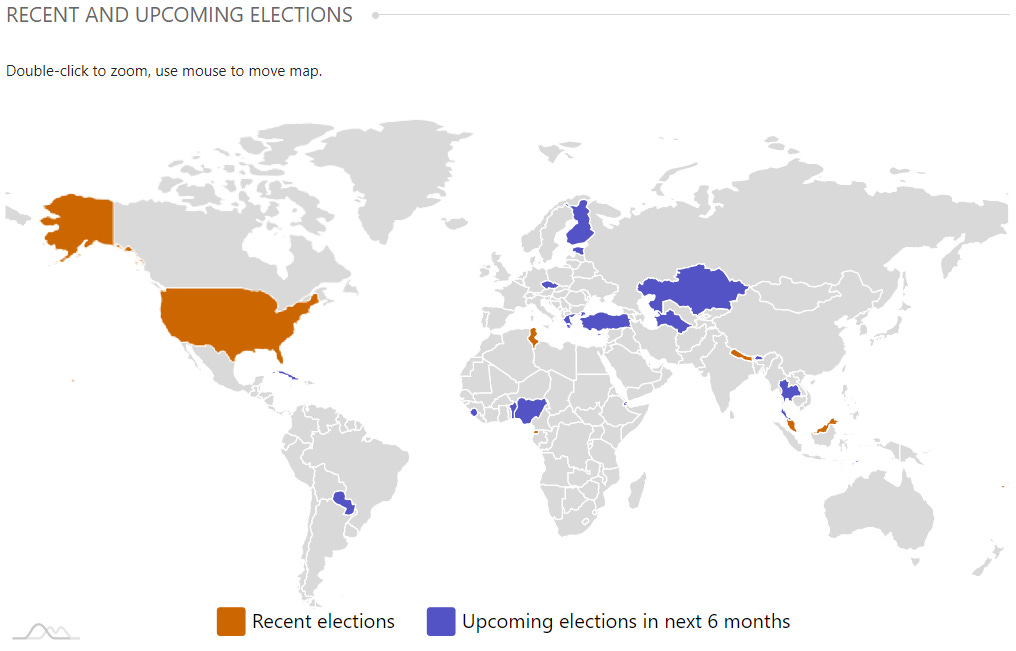 ---
IPO Calendar/Pipeline
Frontier and emerging market highlights from IPOScoop.com and Investing.com (NOTE: For the latter, you need to go to Filter and "Select All" countries to see IPOs on non-USA exchanges):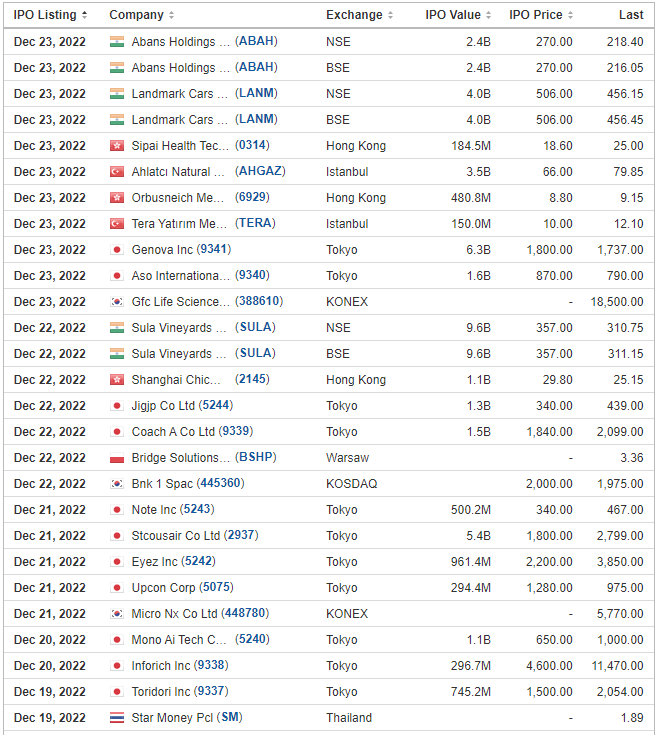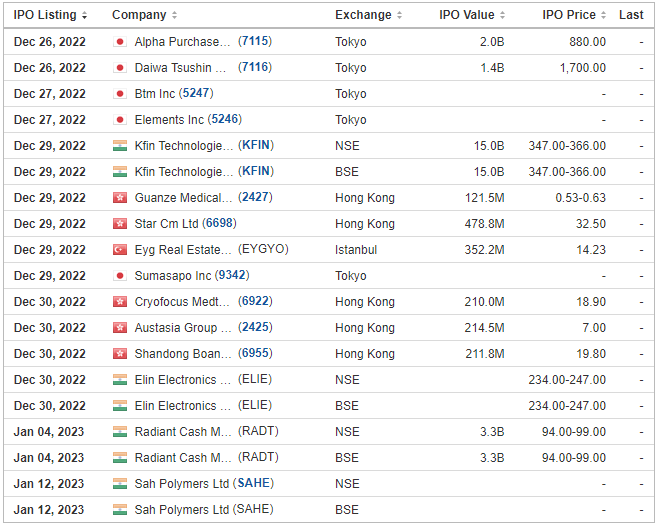 ---
ETF Launches
Climate change and ESG are clearly the latest flavours of the month for most new ETFs. Nevertheless, here are some new frontier and emerging market focused ETFs:
---
ETF Closures/Liquidations
Frontier and emerging market highlights:
---
Check out our emerging market ETF lists, ADR lists (updated) and closed-end fund (updated) lists (also see our site map + list update status as some ETF lists are still being updated as of Summer 2022).
I have changed the front page of www.emergingmarketskeptic.com to mainly consist of links to other emerging market newspapers, investment firms, newsletters, blogs, podcasts and other helpful emerging market investing resources. The top menu includes links to other resources as well as a link to a general EM investing tips / advice feed e.g. links to specific and useful articles for EM investors.
Disclaimer: EmergingMarketSkeptic.Substack.com and EmergingMarketSkeptic.com provides useful information that should not constitute investment advice or a recommendation to invest. In addition, your use of any content is entirely at your own risk and it is your sole responsibility to evaluate the accuracy, completeness and usefulness of the content.
Emerging Market Links + The Week Ahead (December 26, 2022) was also published on our Substack.
---
---
---
Emerging Markets Investing Tips + Advice
Emerging Market Skeptic (Website)
Website List Updates + Site Map
Stocktwits @EmergingMarketSkptc
Similar Posts: