There are two interesting and recent stock pick writeups worth reading, one on Spain based Telefonica (an "attractive mix of legacy Europe play mixed with emerging market South America and Asia growth") and another on Brazilian restaurant group International Meal Company (they operate 562 restaurants in Brazil, Colombia, and the USA).
Meanwhile (and not long after the PLDT accounting issues in the Philippines were revealed), the Americanas accounting "irregularities" situation is shaping up to become the biggest scandal ever seen on the Brazilian stock exchange. Note that PwC was apparently the auditors and 3G Capital (as in Anheuser-Busch InBev, Burger King, Tim Hortons, Popeyes Louisiana Kitchen, Kraft Heinz) is invested in the company.
Finally, The China Fund has a calendar offering a monthly base case, as well as the key risks for China's reopening while Money Control had an insightful interview with the Chairman of Indian financial services firm Motilal Oswal Financial Services.
---
Suggested Reading
$ = behind a paywall
Telefonica: There's A Significant Upside At This Valuation In 2023 (Seeking Alpha)
IR Website: Telefonica
The company's shareholders, chief among them BlackRock (BLK) with 6.7% of the float, with Banks like BBVA, Societe Generale, Caixa, and others in second places, continue to be proponents of the company here. The company is easily the largest telco in Spain, and still holds a dominant market position in its home market. Today, however, you will find Telefonica in around 20 nations around the EU and Americas – the following.Telefonica is an attractive mix of legacy Europe play, where the company has been establishing itself for decades, mixed with emerging market South America and Asia growth, as well as having solid operations in the US as well.
It is also the largest telephone operator in nations such as Chile, Venezuela, Brazil, and Peru, and the largest in Argentina for fixed lines.
International Meal Company – MEAL3 – LATAM Stocks Investment Analysis #11 (Latam Stocks Substack)
IR Website: International Meal Company
This edition covers a Brazilian restaurant group, International Meal Company ("IMC"). They operate 562 restaurants in Brazil, Colombia, and The U.S. Their focus is on four major brands, Pizza Hut, Kentucky Fried Chicken, Frango Assado, and Margaritaville.
I believe IMC has the potential to be a great turnaround story. New management took over in March 2021 and in my opinion, they have been effectively executing their strategy of simplification and financial discipline. The market hated this stock during the covid lockdowns and price never recovered. I believe the stock was overly penalized for heavy interest expenses that caused the company to show net losses.
However, IMC owns plenty of non core assets that management has and will continue to sell. I expect the company's financials to improve significantly in 2023. If management continues to execute their restructuring strategy in 2023, then longer term I think there is huge growth potential for the company's core brands in Brazil.
Brazil's Americanas could face up to $8 billion early debt charges after accounting scandal, court warns (Reuters)
"I think this is the biggest scandal I've ever seen on the Brazilian stock exchange," James Gulbrandsen, NCH Capital's chief investment officer in Latin America, told Reuters.Fabio Alperowitch, a manager at FAMA Investimentos, said he had sold his position in Americanas in 2019 due to the "opacity" of its financial statements. "All the evidence of misconduct was there," he tweeted.Americanas directors sold around 215 million reais ($42 million) in shares between July and September, according to regulatory filings. The company did not report sales by controlling shareholders or members of the board."What draws a lot of attention is the size of the problem. It's not easy to hide 20 billion reais," said Eric Barreto, a professor at Sao Paulo's Insper. "If the operations were on the balance sheet, it was a matter of presentation. But I don't know if they were fully on the sheet."
Americanas: Rial encontra inconsistência de R$ 20 bi nas contas e decide não seguir como CEO (exame invest) [In Portuguese]
Latam Stocks Substack's author also has a short Twitter thread explaining the situation (Investors apparently include "3G capital, Lemann, owners of Kraft Heinz, burger king, Budweiser" according to another Tweet).
IR Website: Americanas
Sinology: A 2023 Calendar for China's Reopening and Recovery (The China Fund, Inc)
In the December 14 issue of Sinology, we explained that China is back on a pragmatic path with the lifting of zero-COVID and property market policies that stalled domestic demand in 2022.
China's leaders continue to take steps designed to remove obstacles to daily life and to support economic growth. Investment Strategist Andy Rothman shares his 2023 monthly outlook on how China's reopening and economic recovery might play out. This calendar offers his monthly base case, as well as the key risks for China's reopening.
Corporate earnings will have to justify the valuations, says Motilal Oswal's Raamdeo Agrawal (Money Control)
Good insights in the interview. Some highlights:
Motilal Oswal Financial Services chairman says corporate earnings will have to justify equity valuations and a 15-17 per cent bump in earnings will activate the bulls.
Tech is my favourite. Right now it is out of favour, so valuations are reasonable.
Midcaps, while smaller, are not small. They can compete with TCS, Infosys, etc. These mid-sized companies are well-positioned. That's where I think you can get 15 to 20 percent growth but finding good returns is going to be tough in tech too. Unless you find some niches that can grow 30 percent maybe. Since the industry is out of favour, you might end up buying them at a PE multiple of 15-18.
With volatiles, if you end up paying a high price, that can crash by 80-90 percent, and then you're stuck. Eventually, you may want to exit at those low prices. So my focus will be to increase the consistents in my portfolio. Only 15-17 percent of the companies are consistent. Rest are all volatile. Making a sector call is actually very tough right now.
Structural change is happening in India. Retail money has been pouring in continuously since 2020. Even though the markets have not been so great of late.
Emerging Markets Insights: Optimism on 2023 outlook (Franklin Templeton)
Emerging Markets vs Developed Markets (Franklin Templeton)
5 reasons emerging markets are better positioned to deliver growth:
Orthodox monetary policies
Dealing with inflation
Lower debt burden
Attractive valuations
Dividends and buybacks show corporate strengthWhile we believe the persistence of high dividend levels is unlikely to remain at the current 4% level, there has been a sea change in how emerging market companies think about capital optimisation and balance sheet management.5 Over the past 20 years, approximately 2.5% of returns have come from dividends.6 so the current; level of dividend support is nearly double the average – which many investors may not realise.
Is it time to invest in emerging markets? (Jerusalem Post)
Maybe, just maybe, after a decade of underperformance, now is the time for emerging markets to shine.
"Emerging markets valuations, on both a price-to-earnings (P/E) and price-to-book (P/B) basis, are cheap in absolute terms and relative to developed markets equities," According to Lazard Asset Management. "Emerging markets have been trading at a 35% discount to developed markets on P/E terms and at a 44% discount on P/B terms, among the cheapest discounts in nearly two decades."
A few years ago, the World Intellectual Property Organization reported that 46.5% of all global patents were registered in emerging markets. And all indications show that number to now be well over 50%, with a surge in Asia. In 2005, just 20% were registered there.
2023 China Outlook: Leaping Back to Growth Potential in The Year of The Rabbit (Krane Shares)
We will also address China's valuations, fundamentals, and economy relative to both historical averages and other countries.
2023 Outlook Contents:

Introduction: Out of Favor?
2022 Review & 2023 Outlook
Economy & Markets Outlook: Pivot, Stabilize, and Grow
Political Outlook: Pragmatism Prevails
Our Best Ideas for 2023
Sector Outlook
---
Earnings Calendar
Note: Investing.com has a full calendar for most global stock exchanges BUT you may need an Investing.com account, then hit "Filter," and select the countries you wish to see company earnings from. Otherwise, purple (below) are upcoming earnings for US listed international stocks (Finviz.com):
---
Economic Calendar
Click here for the full weekly calendar from Investing.com containing frontier and emerging market economic events or releases (my filter excludes USA, Canada, EU, Australia & NZ).
---
Election Calendar
Frontier and emerging market highlights (from IFES's Election Guide calendar):
---
IPO Calendar/Pipeline
Frontier and emerging market highlights from IPOScoop.com and Investing.com (NOTE: For the latter, you need to go to Filter and "Select All" countries to see IPOs on non-USA exchanges):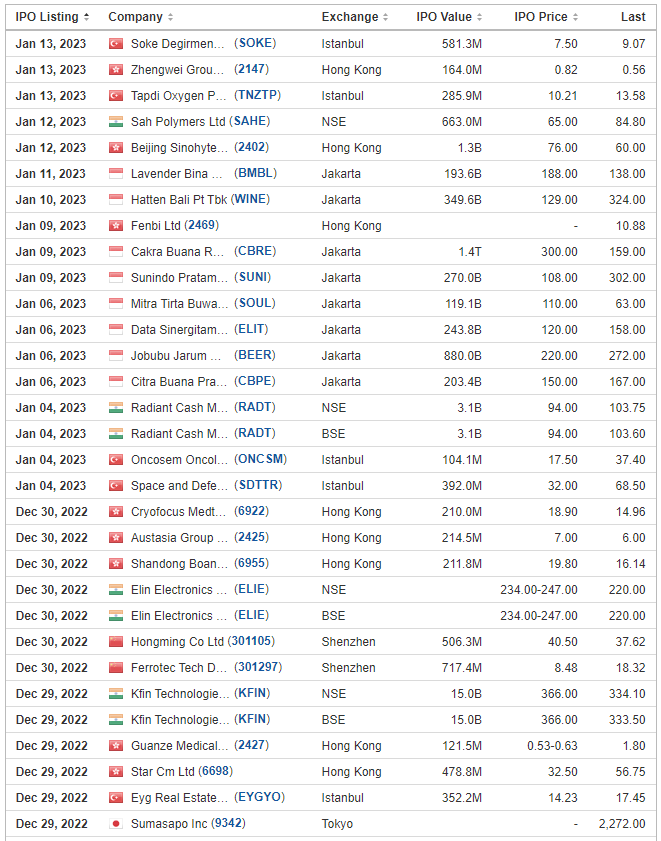 Israel Acquisitions Corp.ISRLU, 12.5M, $10.00-10.00, $125.0 mil, 1/13/2023 Priced
We intend to initially focus our search on Israeli technology companies. (Incorporated in the Cayman Islands) Israel Acquisitions Corp. says its search for target companies will concentrate on those with enterprise values ranging from $800 million to $1.5 billion.(Note: Israel Acquisitions Corp. priced its SPAC IPO on Jan. 12, 2023, in line with the terms in its prospectus: 12.5 million units at $10.00 to raise $125.0 million. Each unit consists of one Class A ordinary share and one redeemable warrant. On the road to going public, Israel Acquisitions Corp. cut its SPAC IPO twice: The most recent cut, which took the deal to the terms in its final prospectus, was a reduction in size to 12.5 million units from 15.0 million units – at $10 each – to raise $125 million, according to an S-1/A filing dated Nov. 22, 2022. Previously Israel Acquisitions Corp. cut the size of its SPAC IPO to 15 million units, down from 20 million units initially, at $10 each to raise $150 million, according to an S-1/A filing dated Aug. 30, 2022. This SPAC filed its S-1 on March 17, 2022.)
QuantaSing Group LimitedQSG, 3.3M, $11.50-13.50, $40.6 mil, 1/20/2023 Friday
QuantaSing Group Limited is a holding company incorporated in the Cayman Islands. **Note: We carry out our business in China through our wholly-owned PRC subsidiary ("WFOE") and its contractual arrangements, commonly known as the VIE structure, with a variable interest entity (the "VIE") and its subsidiaries (collectively, the "affiliated entities") based in China. The VIE structure is used to provide investors with exposure to foreign investment in China-based companies where the PRC law restricts direct foreign investment in certain operating companies, such as certain value-added telecommunication services and other internet related business. Neither QuantaSing Group Limited nor our WFOE owns any equity interests in the affiliated entities. QuantaSing Group is the largest online learning service provider in China's adult learning market for personal interest courses and among the top five service providers in China's total adult learning market, in terms of revenue in 2021, according to the F&S report. We offer easy-to-understand, affordable, and accessible online courses to adult learners under various brands, including QiNiu, JiangZhen, and QianChi, empowering them to pursue personal development.We launched our financial literacy learning services in July 2019 and quickly became the largest online financial learning service provider for adults in China, with a market share of 36.9% in terms of revenue in 2021, according to the F&S report. In August 2021, we expanded our offerings into a selective repertoire of other personal interest courses beyond financial literacy, to leverage the general public's gradual awakening to more diverse needs in pursuing personal development and lifelong learning. In February 2020, we launched our marketing services to financial intermediary enterprises, allowing them to connect with our learners to enlarge their customer base. In June 2022, we launched our enterprise talent management services to provide enterprise customers with online talent assessment, training and learning services for internal employee management. These services have enabled us to broaden our service offerings into enterprise customers and evolve into a two-sided service provider for both individuals and enterprises.Our technology capability forms the bedrock of our business growth. We continuously invest in our proprietary technology and business intelligence, embedding them in every key aspect of our business operations, from content development, live streaming, pre-recording, and intelligent study toolkits, to customer engagement, sales conversion, and operation management. By adopting various self-developed smart tools, we can gain real-time business intelligence during our courses to improve our teaching quality and learner experience, upgrade and enrich our course offerings, and ultimately, enhance the sales conversion for additional and/or more advanced courses.
---
EM ETF Launches
Climate change and ESG are clearly the latest flavours of the month for most new ETFs. Nevertheless, here are some new frontier and emerging market focused ETFs:
---
EM ETF Closures/Liquidations
Frontier and emerging market highlights:
---
Check out our emerging market ETF lists, ADR lists (updated) and closed-end fund (updated) lists (also see our site map + list update status as some ETF lists are still being updated as of Summer 2022).
I have changed the front page of www.emergingmarketskeptic.com to mainly consist of links to other emerging market newspapers, investment firms, newsletters, blogs, podcasts and other helpful emerging market investing resources. The top menu includes links to other resources as well as a link to a general EM investing tips / advice feed e.g. links to specific and useful articles for EM investors.
Disclaimer. The information and views contained on this website and newsletter is provided for informational purposes only and does not constitute investment advice and/or a recommendation. Your use of any content is entirely at your own risk and it is your sole responsibility to evaluate the accuracy, completeness and usefulness of the content. Seek a duly licensed professional for any investment advice. I may have positions in the investments covered. This is not a recommendation to buy or sell any investment mentioned.
Emerging Market Links + The Week Ahead (January 16, 2023) was also published on our Substack.
---
---
---
Emerging Markets Investing Tips + Advice
Emerging Market Skeptic (Website)
Website List Updates + Site Map
Stocktwits @EmergingMarketSkptc
Similar Posts: